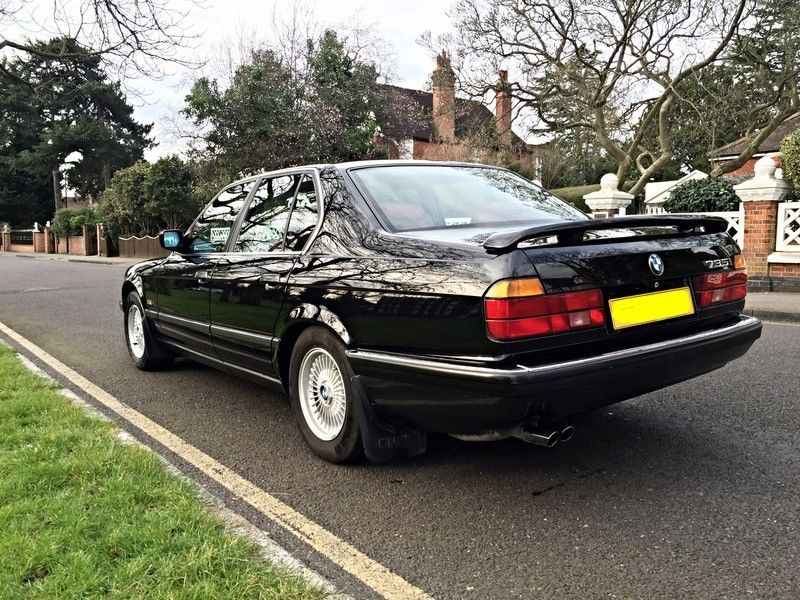 Update 1/13/19: After failing to sell in October 2017 for $8,500, this very rare and special E32 has been relisted for $8,100 today.
The 7-series never really developed the cult following of some of its countrymen or the rest of the BMW lineup. It wasn't as luxurious as either the W126 or W140 Mercedes-Benz competition. It wasn't as clever as the Audi V8 quattro. It wasn't as good a driver as the E30 or E34. There was never a Motorsports division version, and it wasn't quite as good-looking as its successor, the already legendary E38. As a result, the E32 was – in many ways – a disposable luxury car, much like some of the Audis of the period. They're mostly gone and forgotten, but every once in a while a really neat one pops up and is worth a look.
I grew up in my formative driving years with a 5-speed 735i E32 in the family stable, and it was a wonderful car. It rode well, it was comfortable, the 3.5 liter M30 was turned up over 200 horsepower and so it was plenty quick. Generally speaking, the U.S. spec 5-speeds are the most highly sought E32s here and it's easy to understand why. But this particular E32 turns the desirability up a few notches: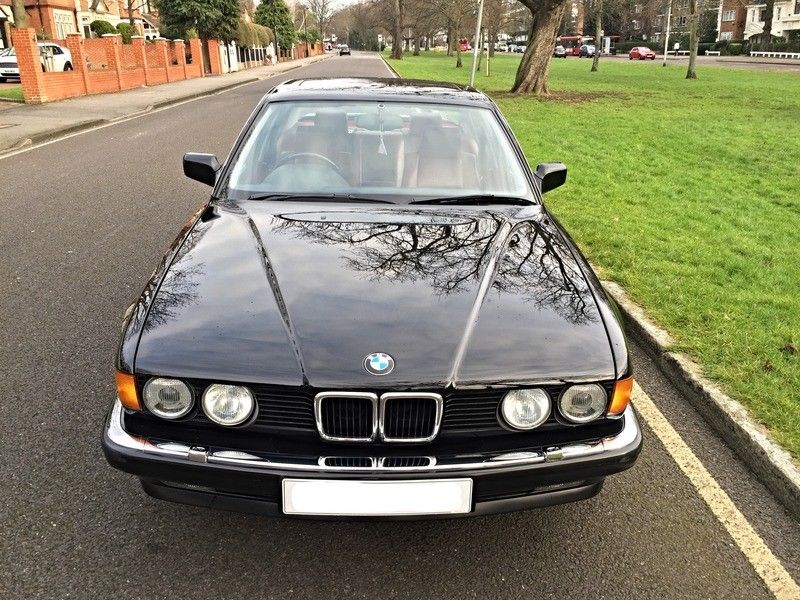 Year: 1990
Model: 735i SE
VIN: WBAGB420X0DB32981
Engine: 3.5 liter inline-6
Transmission: 4-speed automatic
Mileage: 82,682 mi
Price:$8,100 Buy It Now
1990 BMW 735i SE (3.5L) Right-Hand-Drive, imported from UK. Very rare E32 BMW 735i SE, Schwartz Black with fully extended Individual Red Leather Interior. The car has 82,038 miles from new and is supported by a Full Comprehensive Service History – All Main Dealer and Independent BMW specialist – A full folder full of history from day 1 (from UK) Every MOT (Ministry of Transport UK) certificate is present from new and every Invoice accompanying all maintenance and servicing is present. Many photos upon request. Purchased from enthusiast owner and collector for the last 16 years. Dry stored in a heated garage when not used while in UK. Imported into USA 2016. CALIFORNIA-TITLED / Not registered. This is the best example available today not to mention probably the nicest and rarest color combinations. UK original license plates on the BMW. The paperwork which accompanies this car is excellent and complete. This car needs to go to a good home. BMW is parked in my garage in Murrieta, CA and covered. New belts, hoses, batteries (BMW has two batteries, stock), Bosch spark plugs, oil, BMW oil filter, etc… There is a chip on windshield, but professionally filled. BMW has Sony radio and CD disk player in trunk.
The bodywork is lovely and original and the engine and gearbox feel like new. The interior is in excellent shape with no real signs of wear – very slight wear on driver side bolster but that is me being very pedantic. All the electrics work. The condition inside out is breath taking – not just for a 27 year old car – a real head turner and show stopper. 4 x keys, All old MOT's, Every Invoice from new, down to the original Leather Binder and Handbooks are all present. Feel free to ask questions, and you are encouraged to get inspected. Probable move to Europe forces sale. BMW is California -titled, but not registered in CA because CA forces one to change integrity of this classic, original BMW to comply with their smog requirements (even though BMW does in fact have catalytic converter). More pics upon request. BMW will be fully-detailed and leather cleaned and conditioned prior to sale.

Superb History as follows;

08/05/1991 BMW Barons 6,454 miles Service
15/08/1992 BMW Barons 11,555 miles Service
04/08/1993 BMW Barons 14,560 miles Service
14/03/1996 BMW Barons 25,557 miles Service, Brakes, Cam Cover £430 ($700)
06/12/1996 BMW Barons 32,093 miles Service + Radiator + £750 ($1100)
01/04/1997 BMW Barons 34,170 miles Timing cover gasket, Thermostat £349 ($600)
29/12/1997 BMW Royal Ascot 39,419 miles Service, Brake fluid £222 ($350)
28/09/1998 BMW Ashbridge 43,583 miles Brake pads £115 ($175)
25/03/2002 BMW Ashbridge 50,115 miles Service, Brakes, Coolant £520 ($850)
16/06/2003 BMW Tring 58,046 miles Water pump+Fan Belt £274 ($500)
04/04/2005 BMW Tring 61,583 miles Service £120 ($200)
21/03/2006 Stratstone 63,787 miles Service, Exhaust, Full inspection/Correction £790 ($1300)
18/07/2007 Stratstone 66,243 miles Service, Inspection, Mounts £889 ($1500)
08/01/2009 BMW Tring 68,000 miles Service, Injectors £879 ($1500)
23/07/2011 C&S BMW 71,359 miles Service, Full Brakes overhaul £1,061 ($1700)
29/08/2011 C&S BMW 71,520 miles Service, All suspension overhaul £1,253 ($2000)
26/09/2011 C&S BMW 71,752 miles Various Bodywork restoration £385 ($600)
15/01/2014 C&S BMW 76,045 miles Full Automatic Gearbox Overhaul, new Torque Converter £2,157 ($3700)
04/02/2014 C&S BMW 76,164 miles New Fuel tank £350 ($570)
13/02/2015 C&S BMW 77,634 miles Service and full Inspection £181 ($350)
Plus various other small services, maintenance and parts receipts present while in California.

Air Conditioning, Cruise Control, Extended Leather Seats, Power-assisted Steering (PAS), Power Locks, Power Seats, Power Windows, Sunroof, Tilt Steering Wheel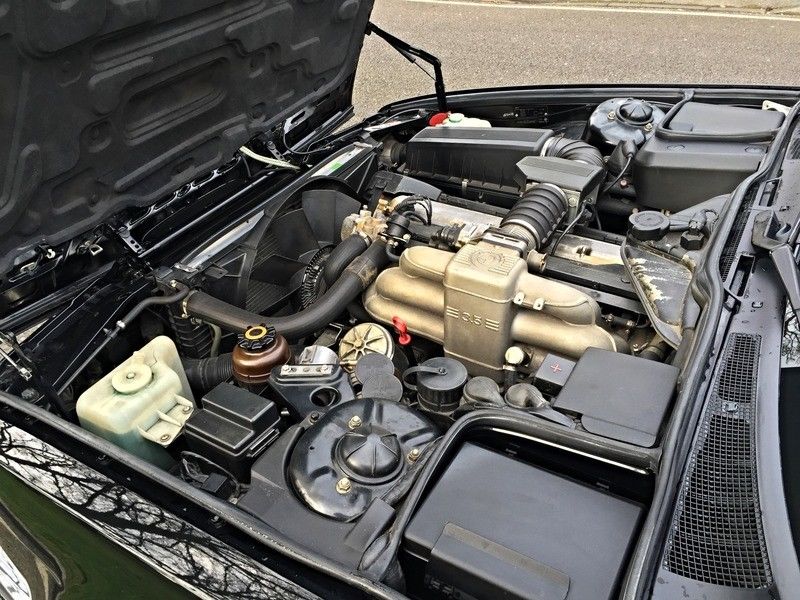 The "SE" spec wasn't offered on U.S. shores, but was a more upscale version of the basic model. They were only available in short-wheel base form. But beyond just being some more bling, there was actually more sport attached to this model. This particular one was specified with limited slip (209) and sports suspension (226), along with lightweight Style 4 15×7″ wheels that were never offered in the U.S.. But the highlight of the 7, and this one in particular, is how it transports people. And in this case, that seating is quite special. It has options 459 and 481 – electric sport seats – along with 560 rear co-pilot seats. But the covering of those seats is what's extra special, as the car was ordered with BMW Individual Karmesinrot (0323) full leather. The car was produced in Dingolfing in January 1990, and also features some interesting options like 213 – hill descent control, extra power supply, automatic air conditioning and headlight washers. U.S. drivers will be surprised to see a non-airbag wheel (not an option here, I'm pretty sure) along with rarely seen factory mudflaps.
Condition throughout is very good to excellent, and the car appears to have a solid service history. The only down side is the addition of the ugly rear spoiler, and the price. While most 7s of this ilk trade at or around $5,000, the asking price here starts at double that amount. However, there are a few reasons to justify the price. At only 80,000 miles, it's got many miles ahead of it. These E32s are notoriously long-lived in M30 configuration. Second, it's likely the only E32 SE in the U.S., and if it's not, it's certainly the only one with this interior. The combination of these factors and rare options lead to this car's ability to impress at a local show, along with being a very comfortable and competent way to get to the show. As an Individual expression, it's a pretty affordable way to stand apart from the crowd.
-Carter