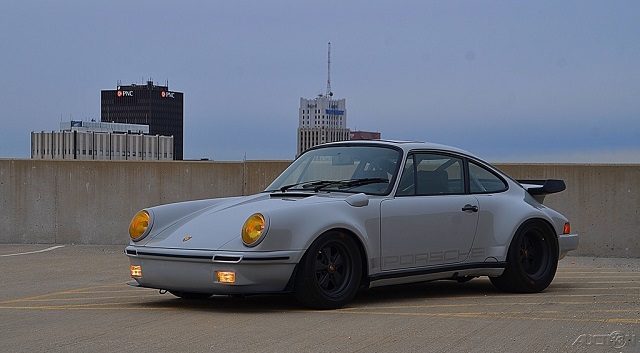 I'm not sure it would be possible to pick worse lighting conditions for photographing this 930. I suppose if it were dark that would be worse. Sorry, I just needed to get that out of the way because I've seen other pictures of this car and it looked incredible. A non-metallic, almost matte, Silver will never be the most jaw-dropping of paint choices but it can look good when executed well. Here it is executed well. Really well. I won't pretend to have any special knowledge of this 930, but there is plenty of information out there for those who want to read about this build. I didn't know it existed until now.
Rob Ida is the primary man behind Rob Ida Concepts and most well known for his work with custom built hot rods. In some cases they are incredibly cool designs with lines that stretch the eye along the car's length creating a sense of movement even while the car stands still. But he's also worked on a few Porsches and here we have for sale his 1986 Porsche 930, which was displayed at SEMA 2016. As SEMA cars go this build actually is quite subtle. For the most part it maintains the basic design of the 930 – why mess with a classic, right? – with the only major change being a revised front end created by Rob Ida himself. The overall package is aggressive, but with very clean lines and not over the top. The wheels are staggered 16″ at the rear and 15″ up front in order to produce a subtle rake. Achieving that rake was the primary motivating force guiding his work and the end result is pretty great. Frankly, it's probably one of the best 930s I've seen.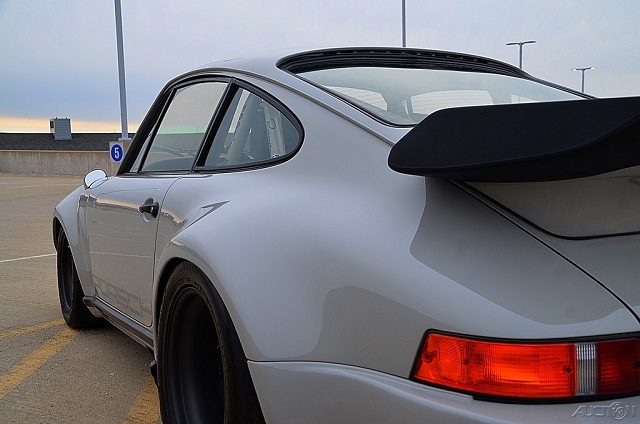 Year: 1986
Model: 911 Turbo
Engine: 3.3 liter turbocharged flat-6
Transmission: 4-speed manual
Mileage: 101,789 mi
Price: $195,000 Buy It Now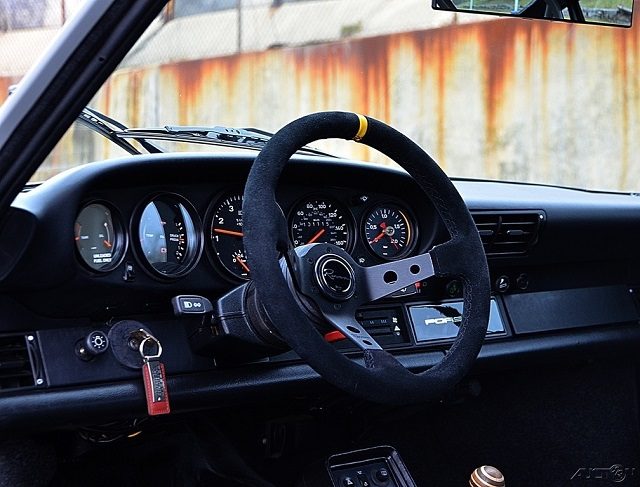 Rob Ida 930 Turbo

2016 SEMA CAR

I have to say that there are some days that I agree with everyone…. "I have the best job in the world". For the most part my 15+ year career of buying, selling, repairing and enjoying exotic cars have jaded me. It takes a lot for me to get behind the wheel of a car and be "impressed", not that I am some critic…. I just have had my butt in a lot of seats. There comes a time every so often that I put my butt into a seat and don't want to get out. This happened the first time I sat into Rob Ida's envision of what the 930 should have been. I have to admit I am biased to the air-cooled Porsche niche… as I myself am a self-proclaimed P-car nut and more so a huge appreciator of the air-cooled genre. In a time where people are taking Porsche turbo's and making them backdated…. Or updated…. Or wider…. this is a breath of fresh air that I can say any Porsche enthusiast will adore. Rob took a step back and actually addressed the problems that he felt in his mind held the car back. The end result is one of the most beautiful, factory looking, fire breathing air-cooled Porsche's I have ever driven or seen. This car has so much character that it seems that it could have been a factory built car, from the Spies Hecker – "Blau Grau Hell" paint, to the K27 turbo that makes all the right noises when provoked. The stance and handling of the car make the "Widow Maker" a lot easier to tame, and the NOS Euro Pirelli P7 Corsa DOT slicks just finish his sentiments of …. This is "MY" 930. My hat is tipped to Mr. Ida for his absolute amazing 930 Turbo and I'm sure that Fernand himself would say…. Job well done!

· 3.3L TURBO

· HODI PERFORMANCE BUILT

· 964 INTERCOOLER

· K27 BORG WARNER TURBO

· CUSTOM EXHAUST AND WASTEGATE

· BRAID USA BZ CLASSIC WHEELS 15X8 16X11

· MOTION CONTROL COILOVER FULL DAMPENER SET UP

· DROP SPINDELS

· SPIES HECKER- BLAU GRAU HELL – PAINT

· NEW DEVLOPENT FABRACTION ROLL BAR

· RCI HARNESSES

· CUSTOM GTS SEATS

· RENOWN USA 100 DARK COMPITEION STEERING WHEEL

Feel free to contact me via text or phone (330-329-3633) if you'd like to do a FaceTime walk around that can also be arranged.

I have been in the Exotic Car business for 15 years, and have been an enthusiast for longer than that. My profession allows me seat time behind most every exotic or classic machine you can imagine, so if this is not the right car for you but you would like advice on another please feel free to call me or text. I can also locate most any car of your dreams quickly and painlessly.

Arthur Knight

330-329-3633
This 930 isn't all just about the exterior. The interior looks simple, yet functional, and very nicely put together combining wonderful basket-weave leather GTS Classics seats with a Renown dark competition steering wheel. A roll bar in the back, painted to match the exterior, completes the package. The engine too received upgrades in the form of a 964 intercooler and K27 Turbo. Power levels aren't indicated here, but I'm sure it'll have no problem holding the driver's attention even with those massive rear tires trying to keep everything pointed in the desired direction.
The asking price for this one-off 930 is pretty high: $195,000. For the right buyer that might be pretty worthwhile. Long term it could even have some nice upside, especially if a few more follow down the line and these 930s become a more established name. There don't need to be many – you probably don't want there to be many – but I think more than 1 will help even if its singular nature does lend this 930 a uniqueness possessed by no other car.
-Rob