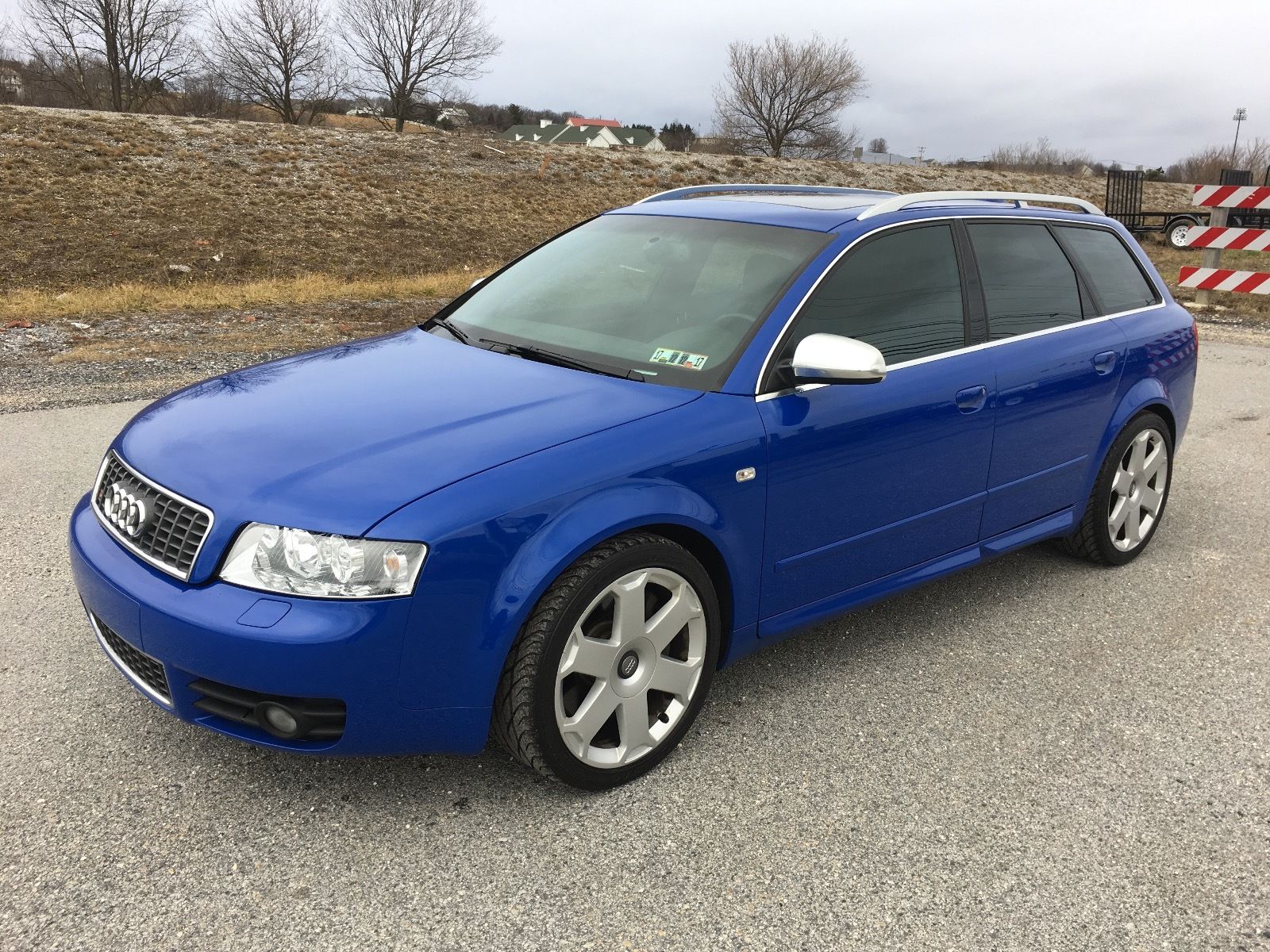 The S4 Avant is no stranger to these pages, offering enthusiasts a "have-your-cake-and-throw-it-squarely-at-that-M3-owner's-face-too" package which combined functionality and sport in a very discrete wrapper. Well, for the most part they were discrete; most were ordered in shades of gray because a fair amount of people ponying up new were conservative with everything but the money they were paying for this small executive wagon. Lightly optioned, an S4 Avant was north of $50,000 in 2004, a price today that would having you knocking on the A7 and S6's base price. That sticker shock masks that the B6 and B7 represented a huge price increase over the B5 generation; out the door, the cost on average about 20% – 30% more only 3 years later – but then, they offered a full 90 horsepower advantage over the twin-turbocharged V6 with that awesome 4.2 V8, which of course could still be combined with a 6-speed manual gearbox. Subtle though the exterior colors may be, the performance on tap was anything but.
But some enterprising individuals chose the vivid colors which had become the signature of the model in B5 form. Nogaro Blue Pearl Effect was, of course, the go-to for all things fast Audi since it was originally called RS Blue on the original super Avant RS2. But a nearly equal amount were requested in Imola Yellow, a staggering, retina-burning banana-toned shade that seems initially out of character with a family wagon, yet raises the cool-bus level to 11. Though Nogaro was replaced in the B7 chassis refresh with Sprint Blue Pearl Effect, Imola carried over for the end of the V8s.
Today, I have one of each – so which is your style?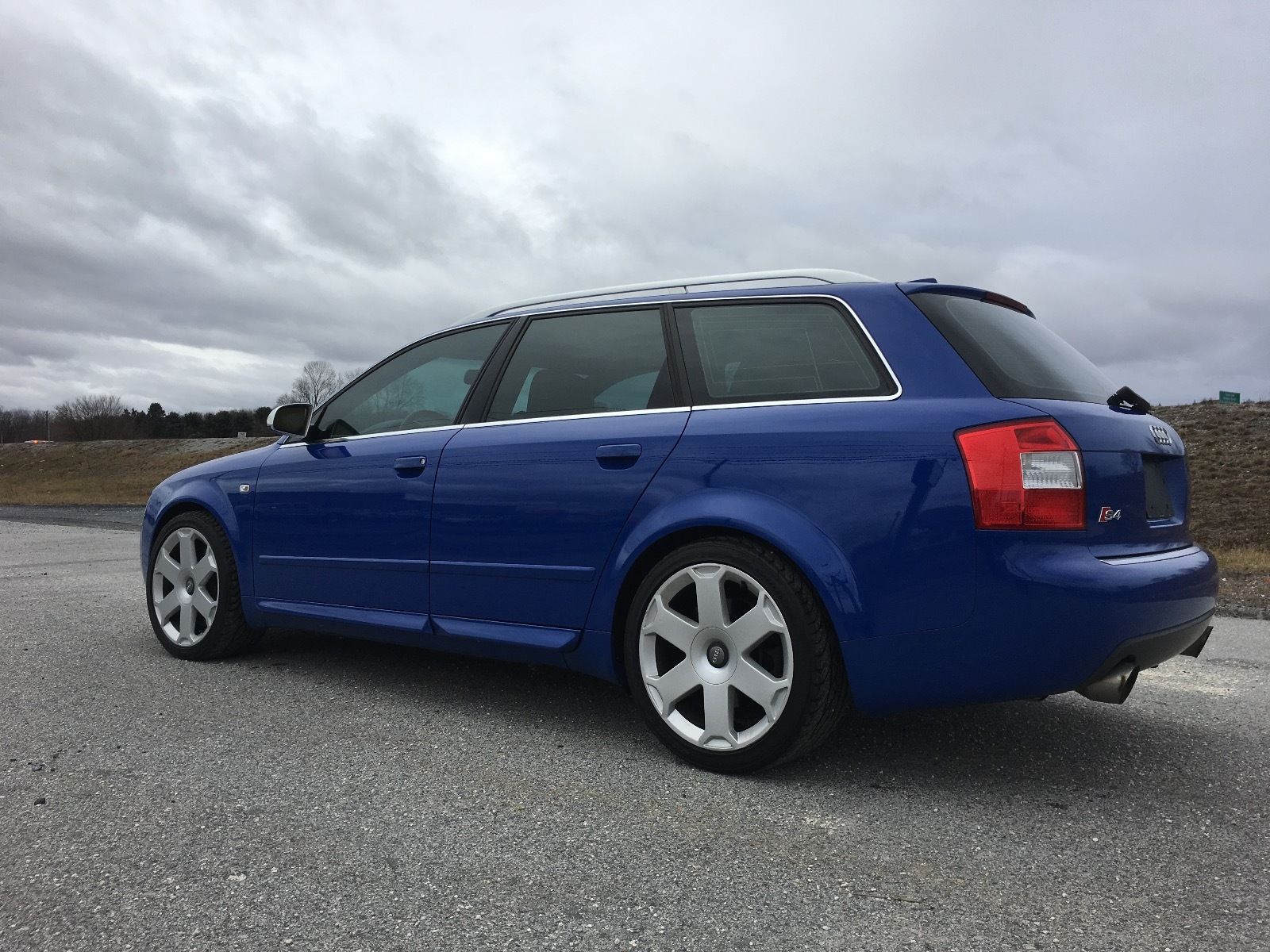 Year: 2004
Model: S4 Avant
Engine: 4.2 liter V8
Transmission: 6-speed manual
Mileage: 143,695 mi
Price: $17,500 Buy It Now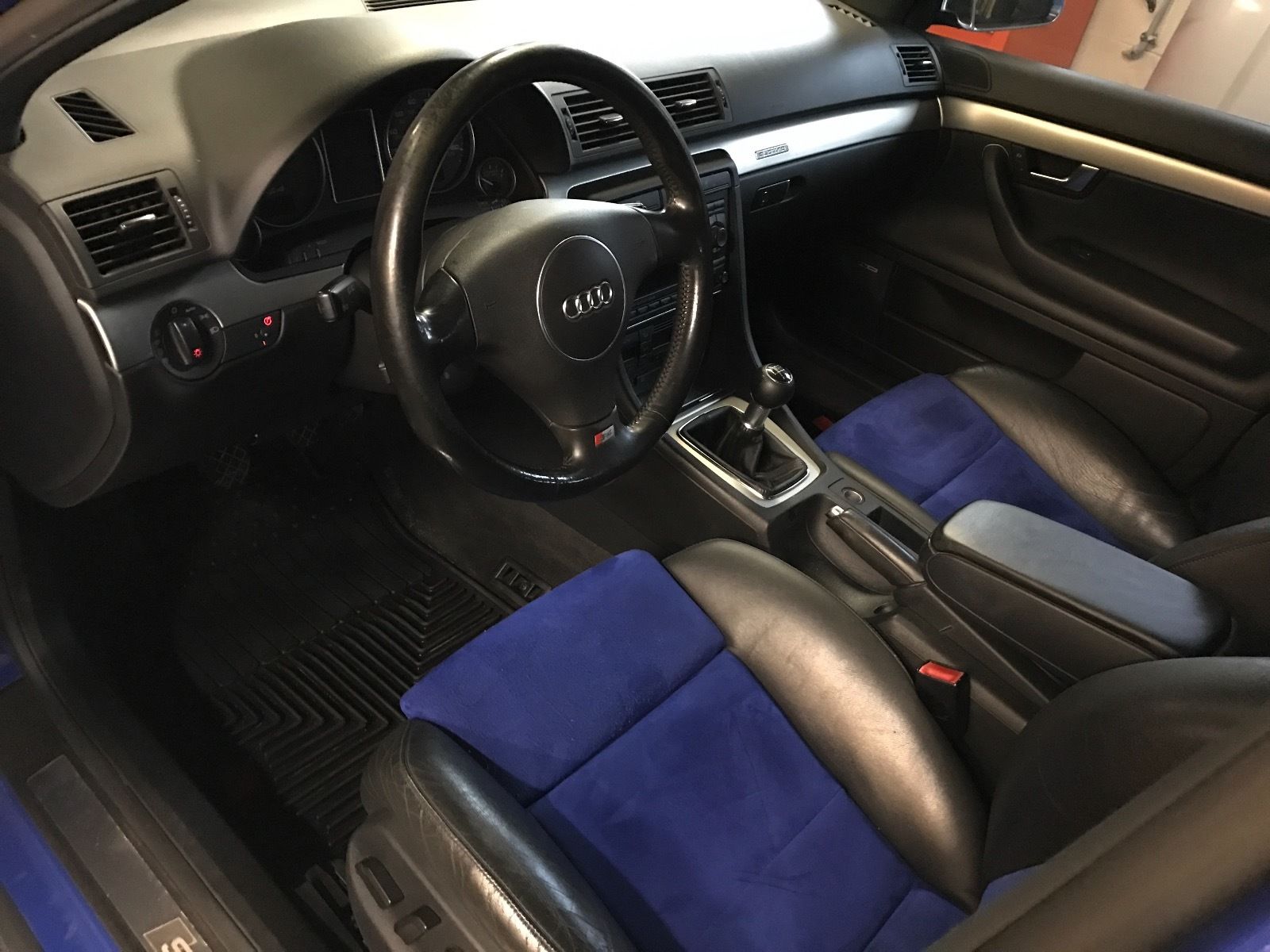 I'm listing for sale an exceptionally clean and rare Nogaro Blue on Nogaro Blue Alcantara Sport interior Avant. This is a 1 of 13 made in a 6 Speed Manual transmission this year. For anyone looking for a B6 generation Audi this was the most desirable color/body/driveline combo. This example is in excellent shape and has been enthusiast owned since 60k miles. All the service is up to date including timing guide/chain replacement at 120k miles by a local VW/Audi specialist shop. Other recent service includes intake manifold, coil packs, plugs, clutch and rear main seal, and of course fluid changes. The car is almost completely stock mechanically with the exception of Millitek Catback exhaust (sounds amazing). Interior is in great shape as well and has been upgraded with the B7 OEM RNSE Navigation Headunit. This is a nice OEM+ upgrade that offers the option to add Bluetooth handsfree, satellite radio, and ipod control with complete factory integration. The exterior/paint on the car are in near perfect condtion and the front end was repainted last year with perfect oem match by a high end body shop. This car shows as almost new, no stone chipping that you'd expect with the mileage. 'd love to keep the car but I've recently picked up a new Audi and don't need both. I did just have the car inspected and gone over before listing for sale and it passed with a clean bill of health. If you have any questions, please feel free to contact me here or text/call my cell at (717)739-4393.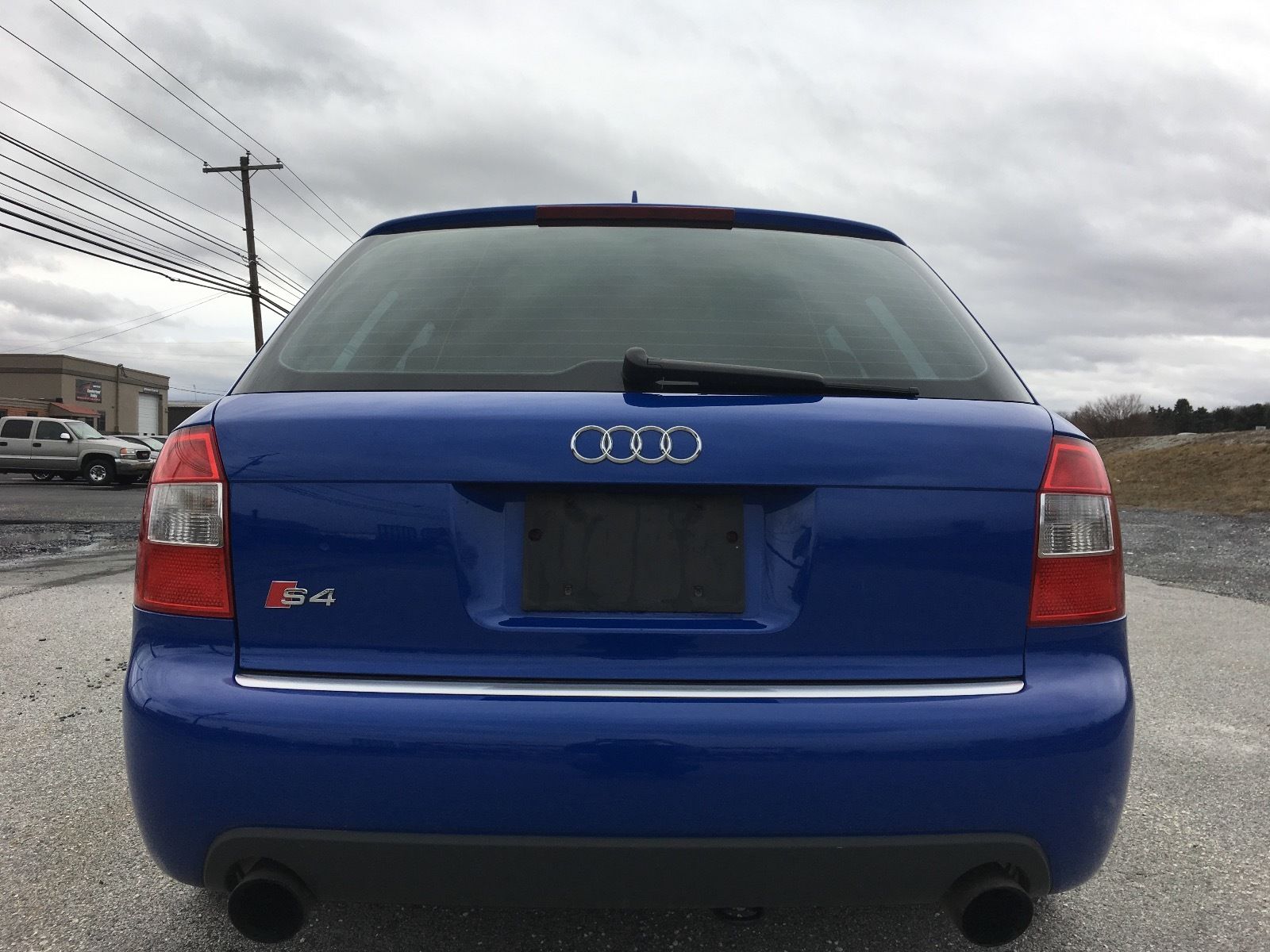 I think the seller sums up this car perfectly with their third line – this is, quite simply, the most desirable Audi B6 for nearly everyone. Sure, you'll get an outlier that will say they'd prefer a Ultra Sport Package 1.8T, but for 99% of Audi B6 enthusiasts this is as good as it gets. The color-matched Alcantara was a no cost option later in the run and looks great here. It does have a tendency to wear more than the leather does; pilling is quite common, but usually more noticeable on the silver color and isn't apparent here. The car has had paintwork but appears near flawless. One thing that stands out to me is that I think the car is wearing spacers on the wheels; as standard, the Ronal-made 18″ Avus wheels (which, incidentally, might be the heaviest wheels ever made but look great) don't poke out of the bodywork nearly as much as the photos suggest. Condition throughout is top notch and masks the odometer reading well. That's backed up by the expensive, engine-out timing chain service. Top notch items like the OEM radio upgrade and Milltek exhaust will heighten rather than hamper your experience. Indeed, the only complaint is that the asking price is quite dear at $17,500. However, consider the condition, color combination and maintenance history for a moment, and the price is probably close to accurate for what is a near irreplaceable package.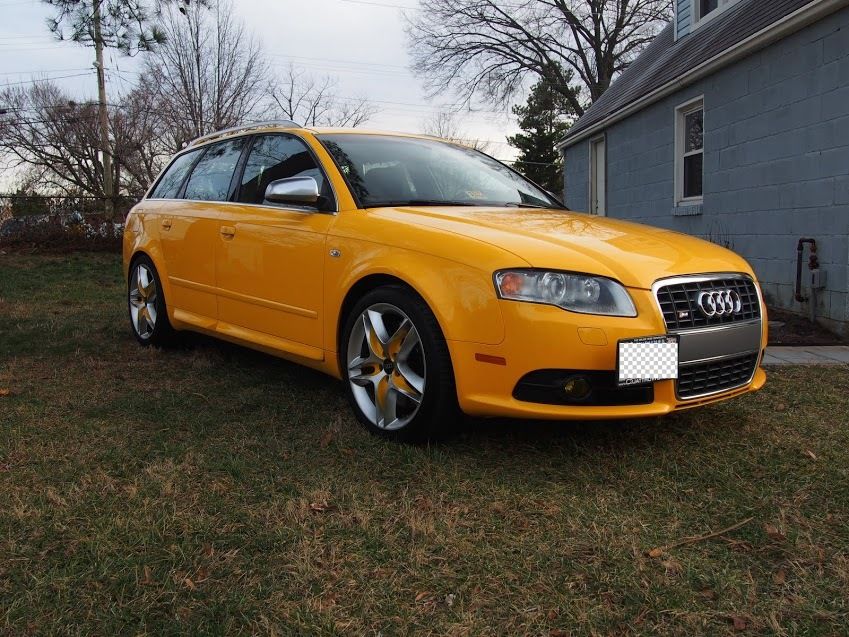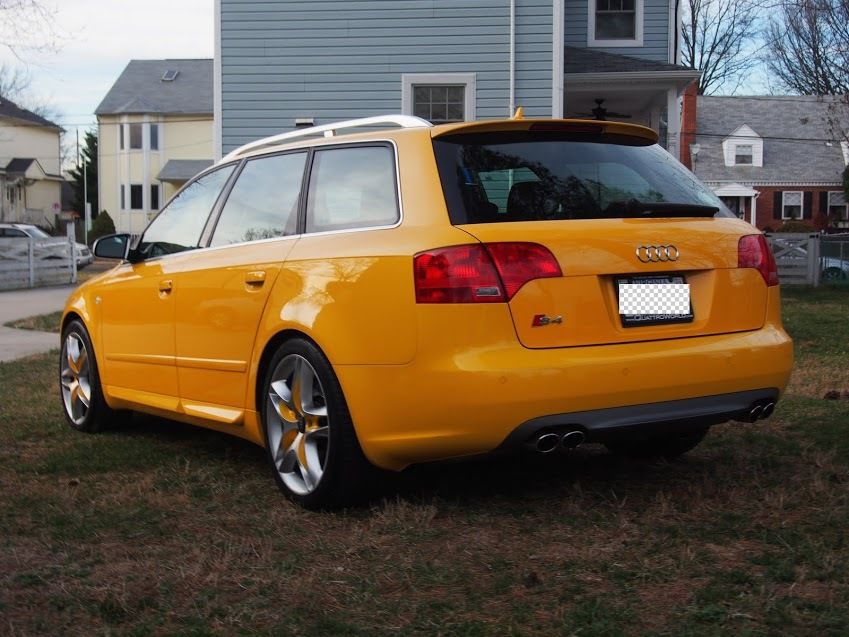 Year: 2007
Model: S4 Avant
Engine: 4.2 liter V8
Transmission: 6-speed manual
Mileage: 77,610 mi
Price: $27,500 Buy It Now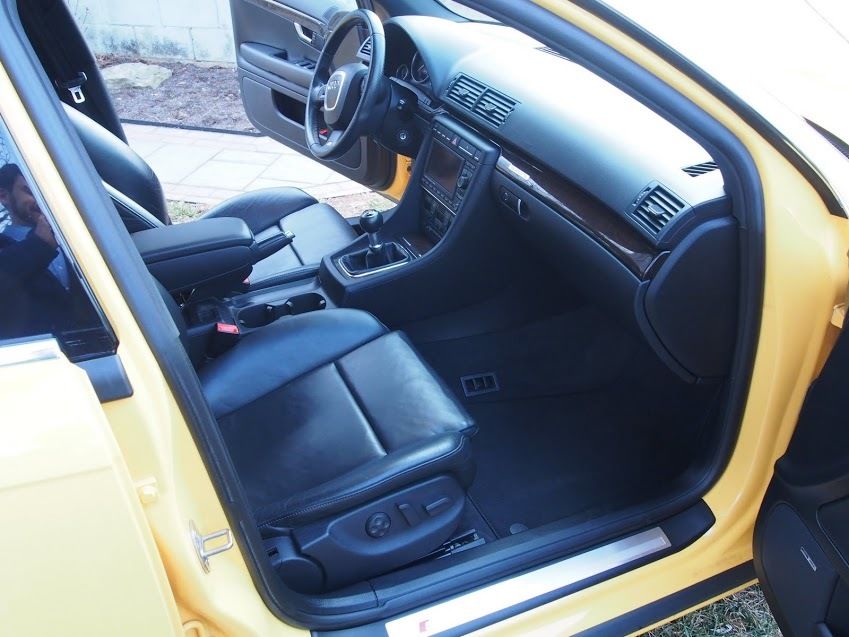 For sale is this beautiful and rare 2007 Audi S4 Avant Quattro with a 6 speed manual transmission. Per Audi USA, this is one of two Imola Yellow Manual Avants in this body style imported in the US. This car has been one-owner enthusiast owned and responsibly driven from day one, the overall cosmetic and mechanical condition of the car is a reflection of its ownership history. This S4 is loaded with every factory option offered including navigation, Audio (BOSE) package, Bluetooth, Gray Birch wood trim, Rear Side Airbags, Parktronic, Heated Rear Seats, and Rear Window shades. Both sets of keys and the complete and detailed maintenance records, original window sticker, and complete owner's manual will be included with the sale. Car currently has 76,700 miles on it.

Exterior condition:

The overall exterior of this car is a 9.5 out of 10. The front does show a couple of very minuscule rock chips from highway driving. That's it. The car has been garaged from day one, and professionally detailed periodically. The paint shines beautifully! Tires are fairly new and have plenty of miles left on them. The Continental summer tires are on a set of Ronal for Audi 18" wheels that are shown in the pictures. The wheels were custom painted by the importer specifically for this car with Imola Yellow. The stock wheels have all season tires on them that are fairly new as well, and will be included in the transaction. The only modification is European yellow fog lights, and LED parking lights.

Interior condition:

The interior of this car is immaculate. All the electronics work perfectly as they should including the navigation system. The leather side bolsters has almost zero wear. Everything is in beautiful condition. Stereo, navigation, seat heaters front and rear, AC, windows, door locks, sunroof, power seats, memory function, etc all work perfectly as they should.

Mechanical:

The car runs and drives beautifully and is a pleasure to drive every day. This car has been dealership maintained by Audi of Tysons Corner for its entire life, these service visits have been documented. Currently the car has zero issues that the next owner should address. Even the troublesome adaptive xenon headlamp module works flawlessly. The car runs and drives perfectly. The motor pulls strong and does not leak or burn any oil. The transmission shifts smoothly and the clutch feels great.

This is a perfect example of the iconic S4 Avant with the hard to find 6 speed manual transmission. They have not imported very many S4 wagons, and even fewer with a manual, and only two of those are Imola Yellow. Don't miss out on this well maintained example. Considering the rarity of the car, the overall condition, and the maintenance that has been performed, I have priced the car accordingly.

If you have any questions or concerns, please feel free to text or call me (text preferred) with any question you have at 703-459-0561 Buyer will be responsible for transporting the car once purchased. There is no lean on the car, the title is free and clear. No warranty is offered or implied.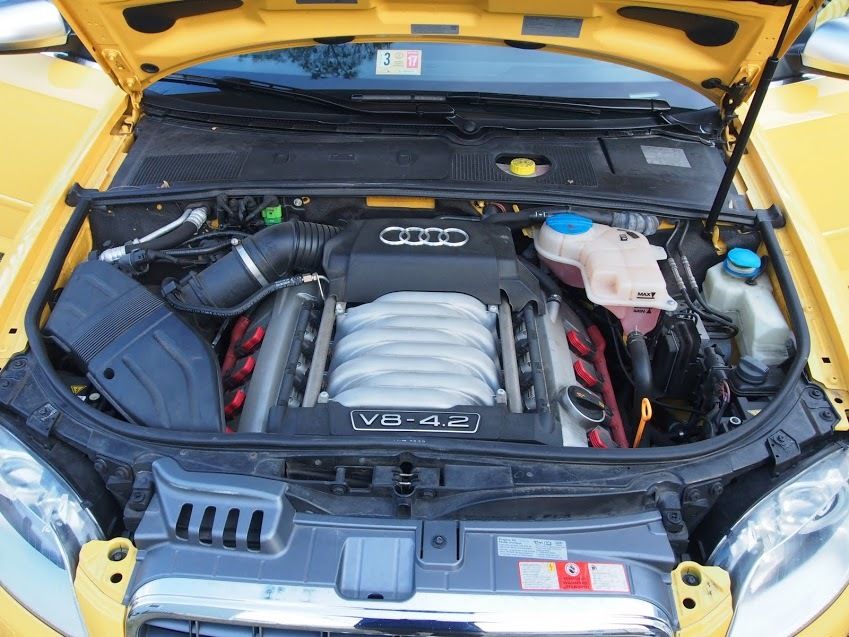 The B7 upgrades were a fresh face a look that generally worked well on the Avant. I have to admit that initially I liked the post-2005 update a lot more than the outgoing B6, which to me when new always looked a little too boxy and heavy. Somehow the B7 lightened the look while retaining the essence of what made the B6 great. This particular B7 comes to the market in much better condition than most, with under 80,000 miles since new and in even a more rare configuration than the Nogaro example. Interestingly, the seller claims this was a 1-of-2 combination – well, a friend of mine who had a Nogaro Blue B6 S4 traded it in and got a 2007 S4 Avant in Imola Yellow new, but as that car was totaled a few years back (unfortunately, immediately after a complete engine replacement under warranty by Audi to the tune of about $27,000. No, I'm not joking.) this may be the only remaining one.
The original buyer (which may be the seller, too – the car is claimed to be a one-owner) went all out when ordering. The base price in 2007 for the 6-speed was $48,500. Added to that was the $750 special order paint, $1,000 for the Convenience Package, a further $1,000 for the Bose/Sirius radio, $625 for the Cold Weather Package (it was an extra $200 to heat the rear seats), $500 for Bluetooth, $1,950 for Audi Navigation, $350 for Park Distance, $350 for Rear Side Airbags, $150 for shades, $400 for the special order Gray Birch Trim and – though not disclosed – I'm sure they probably selected the $250 Tire Pressure Monitoring. Then, there was a $1,700 gas tax and further $720 destination charge. All in, the only way this car could have been more expensive would have been to select the Tiptronic transmission, which thankfully they did not. On top of that, the car has custom-painted Ronal LZ wheels. To me, they don't work with the design and I'd pop back on the original Speedline-made split 7-spoke wheels which are included. The car is in immaculate condition, both inside and out. As the seller notes, it has been priced accordingly and is some $10,000 more dear than the 2004. However, don't forget that only a decade ago this was a $58,000 car at the dealer – and you can't go buy one anymore. Still, it's pretty impressive to consider this model has retained nearly 50% of its value downstream after a decade – I can't think of another Audi outside of the R8 and Sport Quattro that has managed that.
Which is the one to get? A lot of that comes down to personal preference. Of the two, I think I prefer the look of the 2004 more. The presentation is top notch, the maintenance should give you some miles before major concerns, and there will be a larger audience willing to snap this up down stream than the Imola Yellow 2007, though that one might be more rare. But in each example there is a very unique package which is hard to replace, so while both are expensive relative to their more normal-toned counterparts, there's value in each.
-Carter