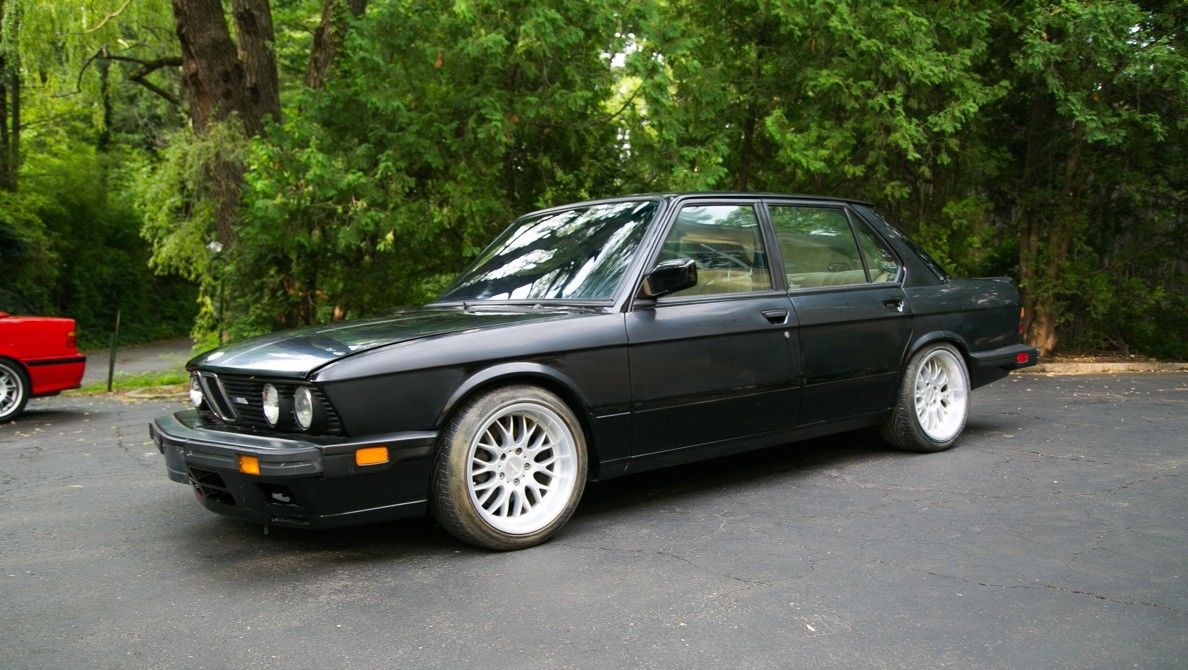 The M5 might not have been the original super sedan. It wasn't even the first hot 5-series. But just like the GTI is synonymous with the hot-hatch segment, the M5 became the standard by which all other super-sedans were judged the moment it rolled onto the scene in 1985. Power seemed other-worldly; 280 plus horsepower from the race-derived M88/3 hunkered down with beefy suspension upgrades and huge (for the time) alloy wheels linked with a limited-slip differential. At a time when "fast" cars had 180 horsepower, BMW's first M-offering in the sedan range might as well have been a space ship.
BMW promised limited production for the U.S. market, too – and, indeed, only 1,200 were produced for the U.S. with the slightly de-tuned S38. Unfortunately, that was 700 more than BMW had promised to make, and that led to a lawsuit. It also wasn't very long before the M5's power reign was eclipsed; first by its replacement E34 model, then by the whole range of new V8 models emerging on the market, from the 1992 Audi V8 quattro to the 500E. Values quickly fell as these old-looking (even when new) boxy rockets fell out of favor, and they remained there for quite some time.
But recently there's grown a much greater appreciation for all things 80s M, and though the E30 has grabbed the headlines as the market star, outside of the M1 it is the E28 M5 that was brought here in fewest numbers. Even fewer have survived, and finding clean, lower mile examples can be tough. It can also be very, very expensive – Enthusiast Auto Group currently has four great ones on offer, but the lack of listed prices is an indication of some of the market volatility. Hagerty now values condition 1 cars at $98,000, and even poor examples are quite pricey. So is there room in the budget to improve upon one that's listed at a bargain rate?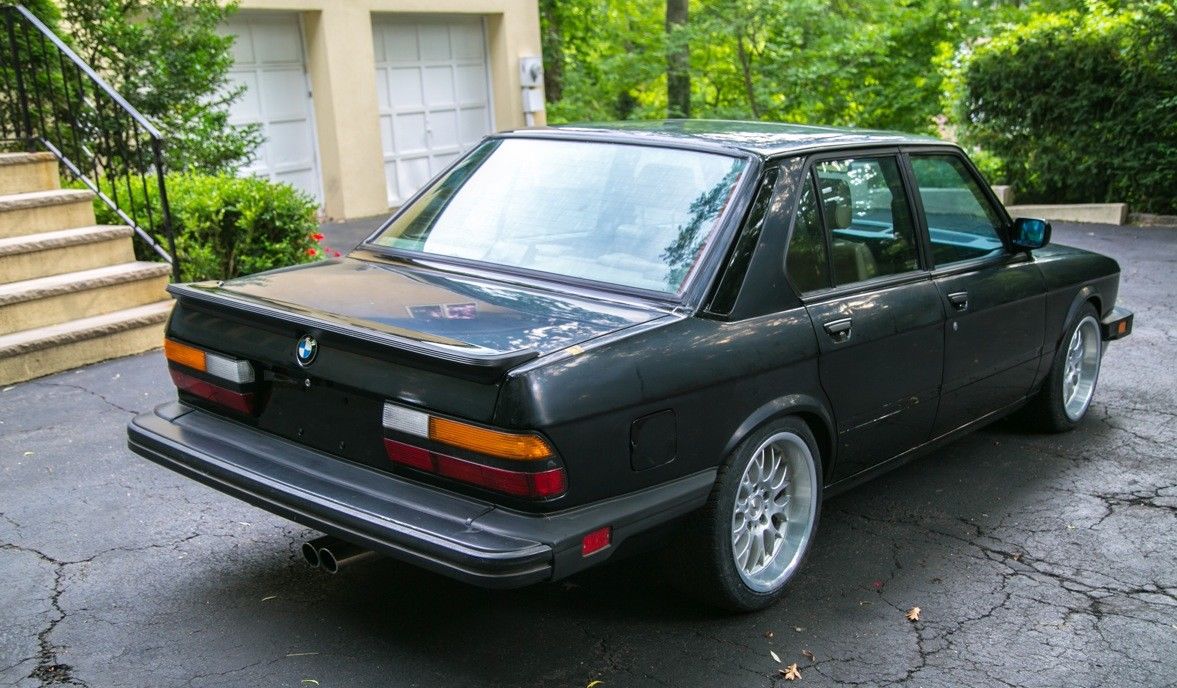 Year: 1988
Model: M5
Engine: 3.5 liter inline-6
Transmission: 5-speed manual
Mileage: "65,000" mi
Price: $15,250 Buy It Now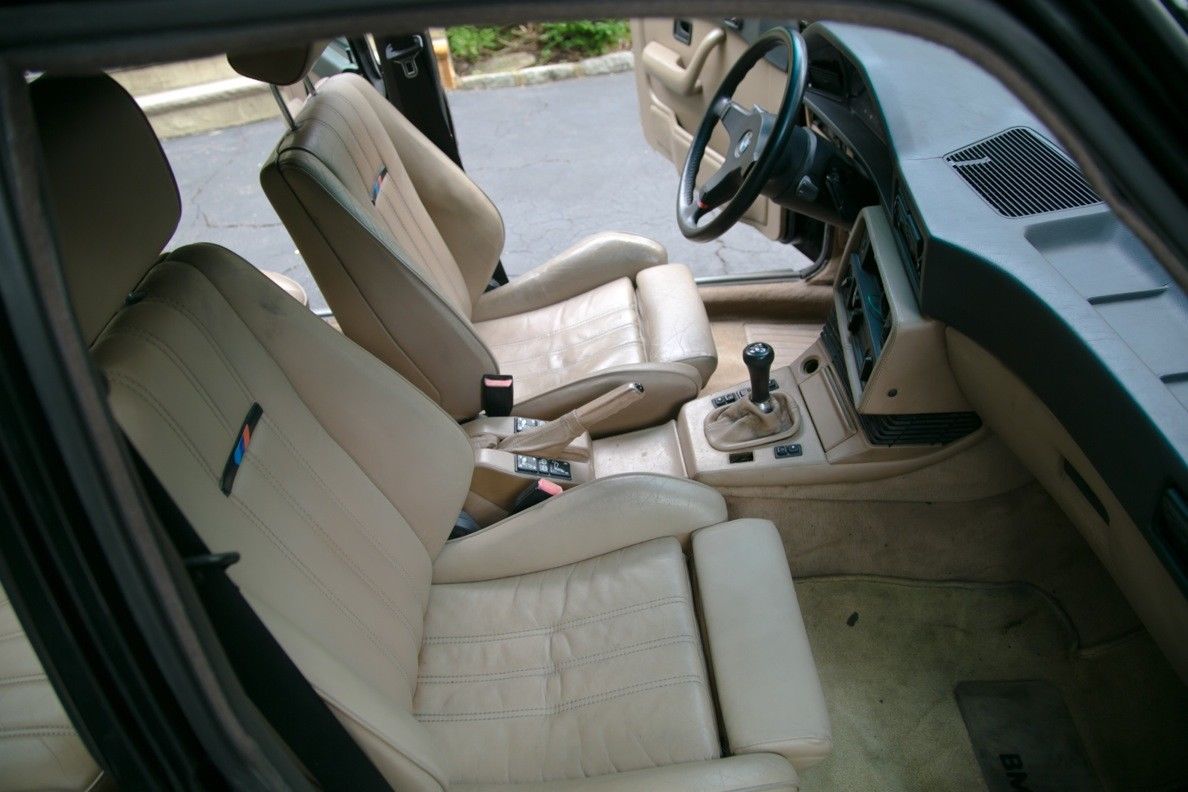 BMW 28 M5
Selling this bmw e28 m5 one of 1200 ever made . The legendary feel and handling of this incredible ultimate driving machine is now available for sell .
here are the specs on the car and history as best as i know and if you need more information regarding this m5 please feel free to contact me as i be happy to discuss the car . Please read full description before you email or call . for more info 1646 8089118

The body .
The car at some point was in a light accident clearly on record .The body was partially wet sanded a couple of years ago by previous owner . I recommend a professional polish to bring it back to gloss black . I know my bmw and i can't however see any signs at all of damage or replace body parts . The right and left fenders along with hood line up perfectly and so does the front bumper . The front lower valance is perfect but missing fog light . The fenders and hood however do not have the vin stickers intact . The doors are original with matching vin numbers and line up perfect to the body with all its original glass there . The front windshield glass is original . The trunk is also original to the car and shows no sign or replacement or ever removed with vin sticker intact and most of the tool kit there with its original spoiler . The car shows absolutely zero rust anywhere .

The interior .
The front seats are in very good condition all around along with the rear . No rips on the original leather and its still pretty firm and soft . The headliner is in very good condition with no sag or damage and yes its original . The sunroof works and no leaks . The dash has a very small crack i would say about 2 inches or so and thin . The carpet could use some cleaning but nothing major at all . A few window trim moulding have been remove when it got wet sanded but i have the rubbers and their in very good condition soft and no cracks or dry sign . all the door panels are there . The rear deck is dry clean and original never touched . The shift knob leather boot could use replacement .The radio is out but i do have it . The trunk interior carpet is very clean and all panels are there .

Undercarriage.
The car is spotless clean of rust . No signs work ever performed . Video is available just ask . No i will not take of wheels for pictures no need to shocks and tower are perfect. All fuel lines have been check and no leaks . The transmission has not leaks either and very clean . The floor and rear under trunk are clean with no signs of work or even surface rust .

The mechanics .
The car does run and drive very well . The s38 sounds very nice and its complimented by a performance header and exhaust . The car shifts fine with no issues at all . The shifter is a bit loose to my taste but easy adjustment . The engine sound great with no sounds of low compression or leaks . Ive had the car sit for a couple of months and it started up with zero issue other than a battery boost . I have video of the engine running so feel free to request to be better educated on your buy and peace of mind . The suspension is bisltein all with h&r so the self levelly has been disengage makes for better handling and stunning stance . The suspension is only about 2 years old along with headers and exhaust which has all new pipes please ask for video .

History .
The car was owned by a bmw collector with a few bmw e30 m3 which i bought one and ended up selling it .The car was a s50b30 euro spec swap car which is still running and its new owner a collector of e30 m3 is having lots of fun with still. The previous owner of this particular bmw e28 m5 was a great guy . I said great as he has passed away . He loved this car and wanted to do paint correction and bring it up to speed with modern parts . Their was a folder of list of item that was lost in translation which i am still trying to locate which details parts and mechanic specs .

The ugly parts ….
Please understand the history of this car before you rush to judge as many have without knowledge or good acting to offer $8k. I am totally aware of its history and respect your opinion but doesn't mean i will give it away . Yes the car does have a rebuilt title . The car has however being register and has passed New york inspection with no issues in the passed . This is still however a very good compression motor with just 65,000 miles and its body its better than most out there .Please do your homework before you contact me . No parts are missing for this car all there .

Legal crap …..
I am selling the car locally so i reserved the right to remove this listing at anytime . I will required a $2,000 non refundable deposit after you clicked on buy it now. Please make sure if you wanna buy it and have funds don't be that guy . All inspection must be done before purchase as i will not negotiable after you bought it lets me gentlemen about things and i will be the same . I will help with shipping to anywhere but buyer pays all fees and any extra storage that might rise . I will not hold the car for a month unless you wanna paid for a storage fee . The car comes as is with a bill of sale and New york title ready to be register anywhere . I will give you a couple of days to pay in full after that i will cancel your transaction and will relist . Sorry but this is to keep real buyers from non paying ones .

Pictures and video …
i have lots of picture and video of the car all around and engine running . Please just ask as ebay only allows me to place only so much . For videos please send me your mail or number . Yes the car is located in new york (queens ) area .

Me.
I wanted to track the car . I thought how cool would it be to perhaps have the only e28 m5 at Lime rock one day running around . I actually love the flat black look of the car with the roundels wheels . I am a current owner of a couple of bmw as perhaps most of you know who i am . I love my e30's and this m5 also but i just can't see myself keeping it for the long run . I have also little space left and just took on another project so funds are also welcome . I will be submitting the car to BAT if no sale here on the next couple of day as much as i don't want to. Ive rather have a smooth and easy transaction . Please feel free to check out my instagram bmw_mgroup . I also have a bmw e30 m3 coming up for sale a rare evo sport in may/june . Sorry to sound off but just wanna be on point with potential buyer .please feel free to reach out at 646 8089118

Price .
I am asking $15,250 for it . I however would be happy to negotiate a bit or trade for other bmw such as e30 m3 / e24 m6 / e36 m3 / e30 Mtech and yes of course i be happy to add cash or take depending on what you have . Please if you don't like my price just moved all due respect to the bmw community and local members which i know .I am super happy to chat and provide as much as i know so you are able to make or not a educated purchase . This is not for everyone i understand . Have a bless day and thanks for checking out my listing .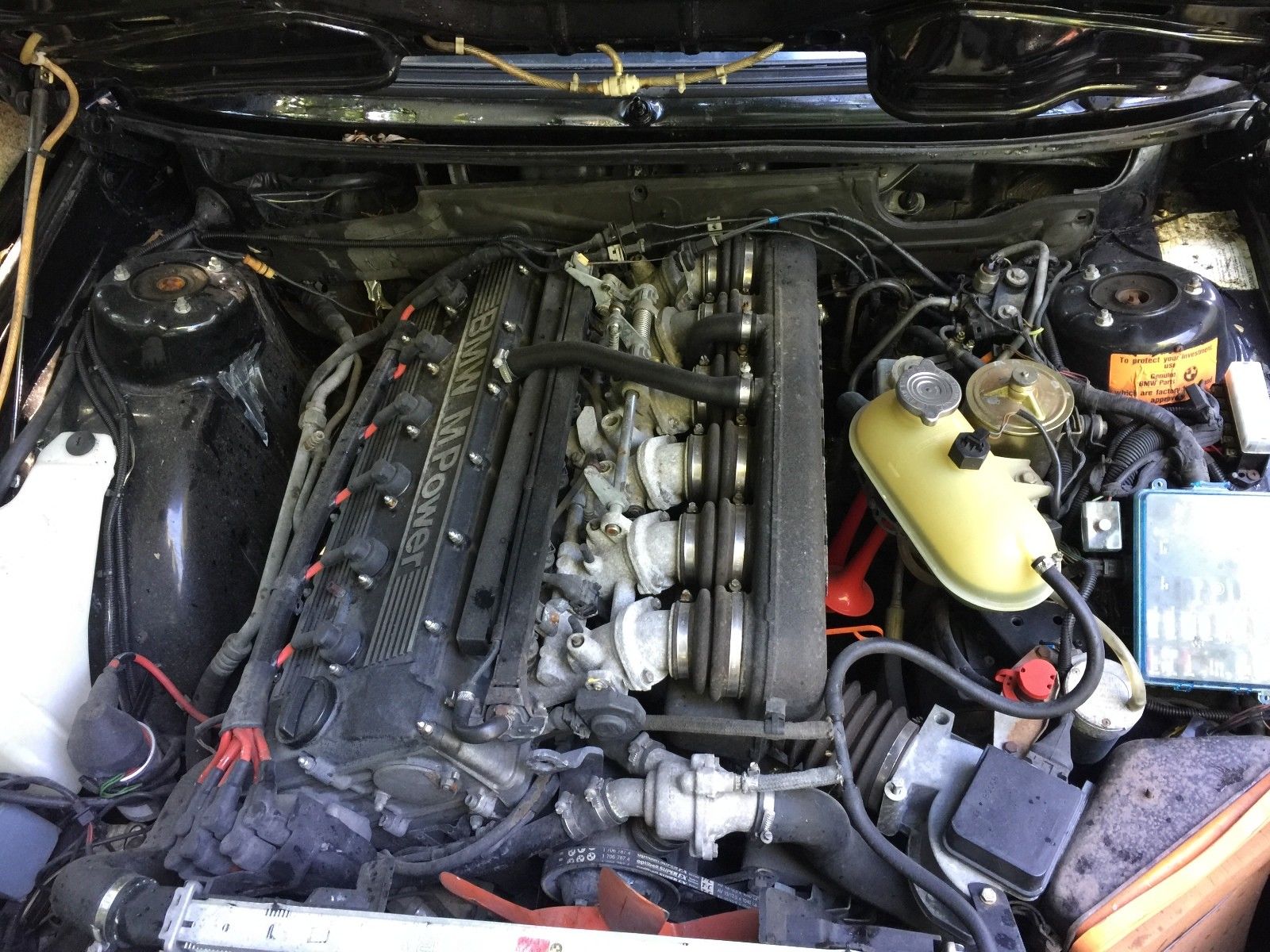 Looking at this car can certainly be a bit daunting. There are quite a few unknowns, but if you look beyond the slightly ruined exterior, there's a lot to like. The interior is far above average, and the body panels themselves look good. Having recently color-sanded my 530xi (I really should do an article on that!), I'd also be slightly optimistic that an afternoon with a random orbital and some aggressive pads and polishes could bring back the paint reasonably well with minimal cost. The wheels aren't to my taste, but are easily replaced. The bumper covers also look better than normal, though the exterior needs some refurbishment outside of just the polish and a set of foglights, with trim missing all around.
Mechanically, the suspension and brakes are claimed newer, but you'd probably want to do a compression test on the S38 before diving in, as you could easily spend most of the asking price on a proper S38 rebuild. Also unknown, and not disclosed, seems to be that the car had an odometer replacement at some point; the title clearly shows the mileage as 'exempt'. It could be a clerical error, but under the hood looks like the chassis has covered more mileage than the 65,000 claimed.
Does that matter? If you're a DIYer and have the tools, the exterior isn't as scary as you might think at first. But, it also probably won't come out perfectly. Nor, with a branded title, will this car ever be a Concours example. But if the engine is healthy and you don't mind some grunt work, this car looks like a reasonable deal for a driver.
-Carter