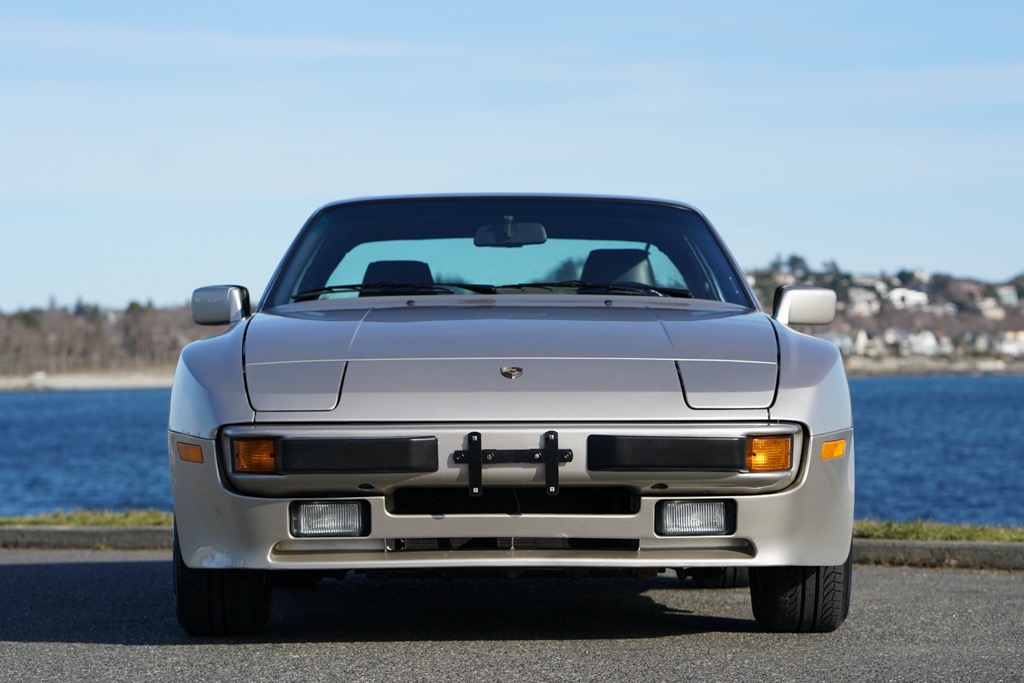 It's no great revelation that values of the transaxle Porsches are all over the place. I looked at two of the most expensive you could buy recently with the twin low-mileage Turbo S Silver Rose examples:
Double Take – 25,000 Miles Total: 1988 Porsche 944 Turbo S Silver Rose
In impeccable condition, it was no surprise that the asks were out-of-reach for nearly all enthusiasts. On the other end of the spectrum sits the lowly 924; you recently had your choice of either of these very clean examples for about $4,000, both special in their own way:
Face Off: 1980 Porsche 924 Turbo v. 1988 Porsche 924S Special Edition
But I have to say, the one I covered recently that bothered me the most was the $20,000 ask for the 1988 944 Special Edition, or "Celebration", model. Sure, it had one of the coolest interiors offered by Porsche in the period, though it's soundly outdone by the Silver Rose.
But I just can't wrap my head around why you'd want to pay a premium for one. For the 924S Special Edition, it makes sense, in a way. The delta between normal and SE values is small and there are tangible performance gains for the Special Edition. But the Celebration was effectively just a loaded 944 with a neat interior. Surely, there must be a better option?
There was.
Alongside the appearance package offered on the regular 944, Porsche introduced the "Super" 944. The new M44/40 double overhead cam motor upped power output substantially to nearly 190, but outside of the subtle "S" badge on the rear and the embossed "16 Ventlier" on the side trim, there were no signs of the performance gains under the hood. There was a substantial change, however, to the base price, which cut the middle ground between the ~$32,000 944 and ~$40,000 Turbo at around $37,000. I always felt like Porsche's pricing versus power gains on these models seemed a little too convenient; you got the impression that they could do more with the model, but didn't want to tread on the 911's toes. Apparently, so did buyers at the time. The 944S failed to sell as well as the normal 944 or the Turbo, with about 8,800 imported over the short two year production cycle before it was replaced by the even more potent and better looking S2. Few appear today like this 15,000 mile Zermatt Silver Metallic one does: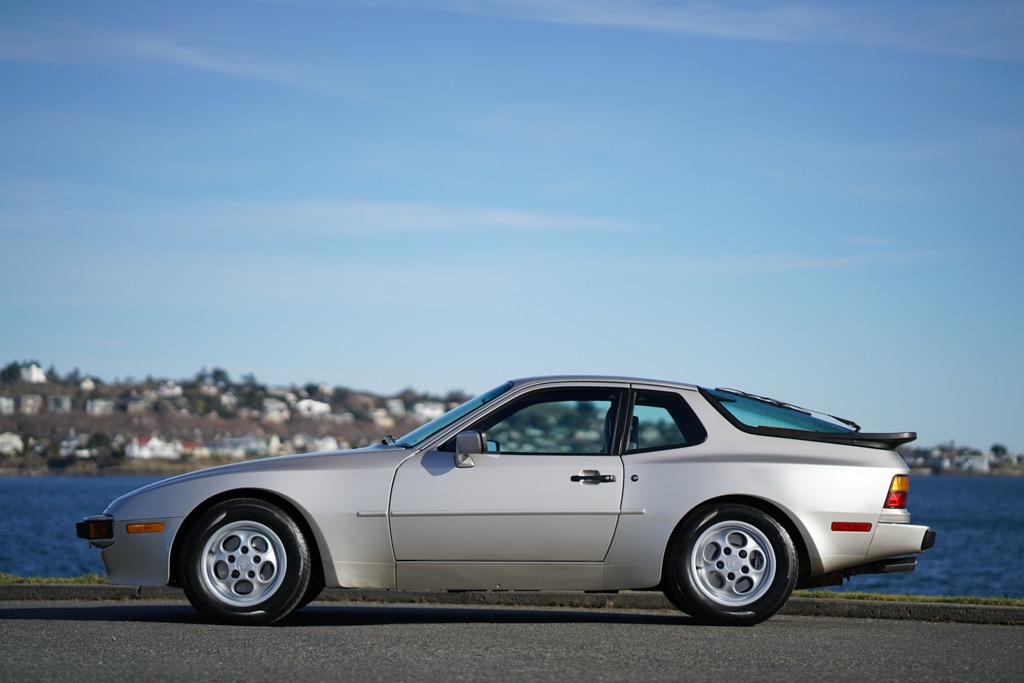 Year: 1987
Model: 944S
Engine: 2.5 liter inline-4
Transmission: 5-speed manual
Mileage: 15,005 mi
Price: Reserve Auction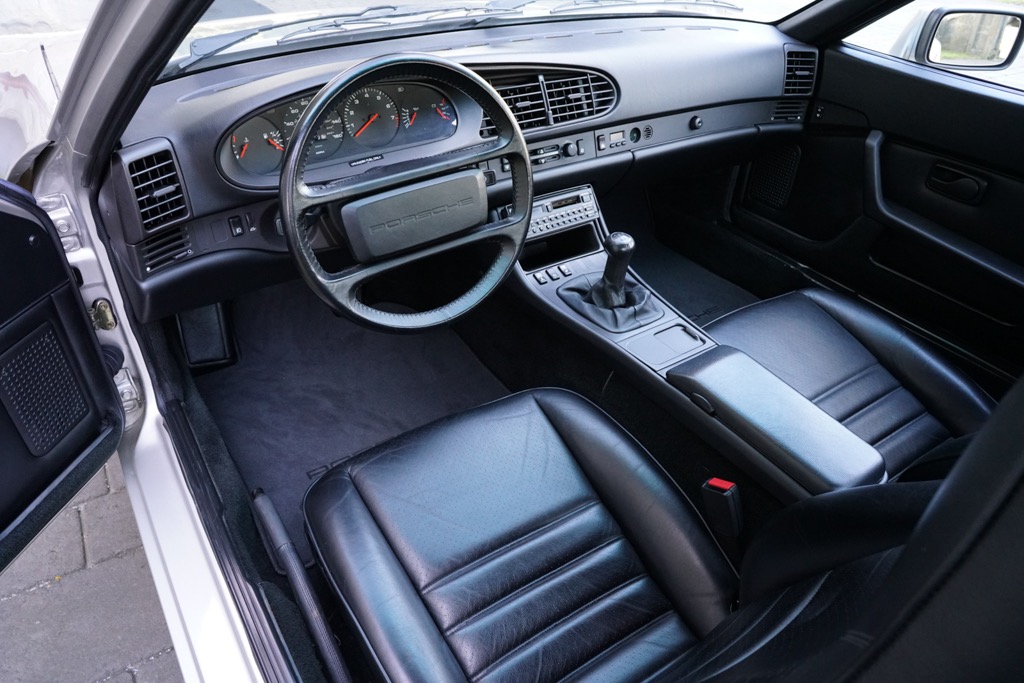 Seller: Silver Arrow Cars Ltd. #40218
Office Location: Victoria, BC, Canada
Vehicle FOB: Victoria, BC Canada (nearest US port/border crossing is Blaine, Washington)

1987 Porsche 944 S Coupe

VIN. WP0AA0944HN452281

2,479cc DOHC 16 Valve Inline 4-Cylinder Engine
Electronic Fuel Injection
190bhp at 6,000rpm
5-Speed Manual Transaxle
4-Wheel Independent Suspension
4-Wheel Disc Brakes

*Exquisite example of the iconic 944 S
*Only 15,005 miles – highly original condition
*Desirable 16-Valve S model with manual transmission
*Offered with CARFAX and original owner's manual

THE PORSCHE 944

Announced in 1981, the 944 was the third of Porsche's new family of front-engined sports cars. Beneath the bodywork (which was 50mm wider than the 924 predecessor) was a 2.5-liter, overhead-camshaft 'four' – in effect half of the 928's V8 bored out – fitted with twin balancer shafts to counter the vibration often encountered in such units. The rear transaxle (a five-speed affair this time) was retained, while the 924-type running gear was suitably up-rated to cope with the 944's superior performance. Subsequent developments included a Turbo, 16-valve 944S/S2 and a cabriolet.

Porsche has not made anything like it since and today this appreciating modern classic enjoys an enthusiastic following worldwide.

THE MOTORCAR OFFERED

Offered here is what must be one of the best-kept 944 S Coupes available anywhere. Completed at the Neckarsulm-based Porsche factory in the initial production year, the 944 S was equipped for and delivered to the American market, accompanied by a long list of options and extras. According to the CARFAX report, the 944 S has remained in New Jersey since new, and has had just one previous owner.

Today, this sporting Porsche remains in highly original and extremely well-preserved condition, covering just 15,005 miles since new. Recently serviced, this 944 S continues to impress in the factory original livery of Zermatt Silver Metallic over a black interior. All compartments are clean with the factory applied decals in place and the car's original owner's manual is still present. These very usable Porsches offer sprite performance in a well-balanced sports car and should be recognized as some of the all-time greats from the Stuttgart manufacturer. This extremely well-presented, low mileage 5-speed example deserves serious consideration.

CodeOption Description
418Protective side mouldings
425Rear wiper
431Leather steering wheel 363mm
454Automatic speed control
533Alarm system
593Antilock brake system
650Sunroof
946Leather/leatherette seats

Please call Robert at +1 (250) 532-6547 to have any additional questions answered or to see the car in person.

Terms & Conditions

Used vehicles are sold "as is", "where is" with no warranties either expressed or implied. We do not accept refunds.
Winning bidder must contact us within 24 hours of the auction end, and make arrangements for payment at that time.

A $2,000.00 deposit is due within 24 hours of end of auction.

The remainder is due within 7 days of auction end. If no contact is made within 24 hours, we reserve the right to re-list the vehicle, sell it to the next high bidder, or sell it otherwise.

If the car is advertized elsewhere. We reserve the right to end the listing if the vehicle is no longer available for sale.

Seller accepts Paypal or Credit Card for deposit only.

Make sure if financing that your financial institution accepts the year and miles of this vehicle before bidding.

Please arrange financing prior to bidding.

Please do not bid on this auction unless you are serious about owning this vehicle. All non-paying high bidders will be reported to eBay, and negative feedback will be posted.

Price does not include any applicable taxes or duties in your area/country. Canadian buyers will be charged sales tax on top of winning price (varies by Province).

Buyer is responsible for pickup or shipping of this vehicle. F.O.B. Victoria, BC Canada

We can assist buyer with export/import to the United States or Europe or other any intercontinental destinations.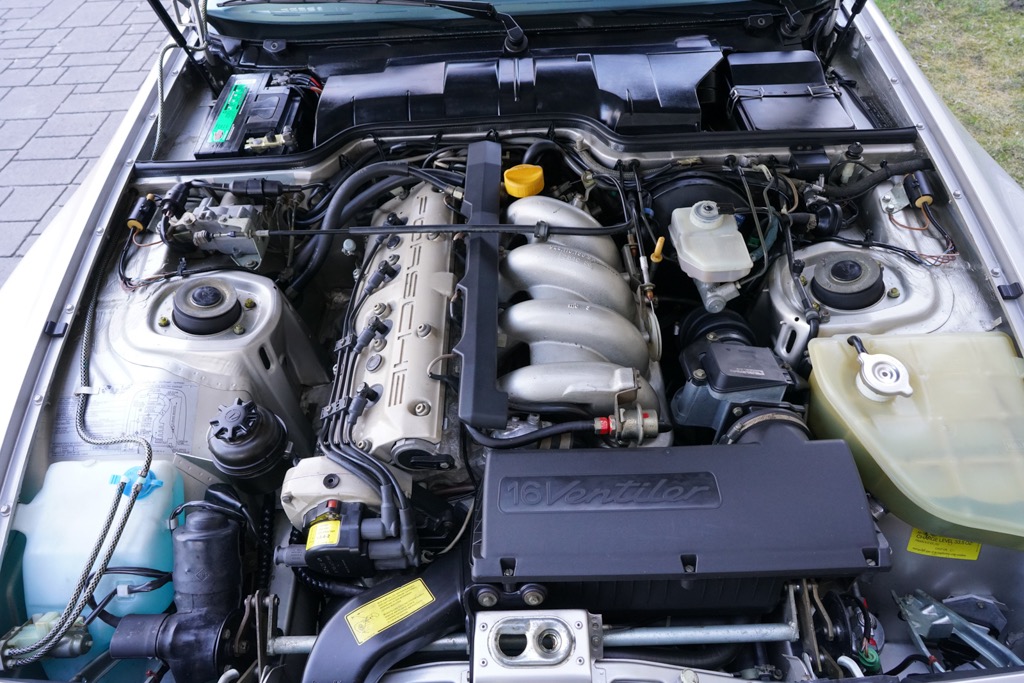 Bidding has been active with around $13,600 committed so far, but the reserve is still on. But a trip to the dealer's website gives us an idea what they're hoping for: $39,900 Loonies. That equates to about 31,550 dead Presidents today. What do you get for your money? Well, this 944S certainly must be one of the best out there. It's a subdued but pretty color combination in superlative condition. With only a quarter the mileage of the Special Edition, this is much more collector friendly for the pickled-loving crowd. The "S" should, at least on paper, be the more desirable model of the two as well – traditionally, Super Porsches have carried heavier price tags in the Porsche community.
Still, though, the problem remains; are you going to drop over $30,000 on an excellent 944 – even a DOHC one – when you could have several very nice Turbos for less? This is one of those no-mans-land Porsches; trapped between being too nice to be a driver but too expensive for the people that really like them. Perhaps if market trends continue for a few more years that asking price won't be all that outrageous, but as it sits it seems unlikely that more miles will be added to the odometer anytime soon.
-Carter