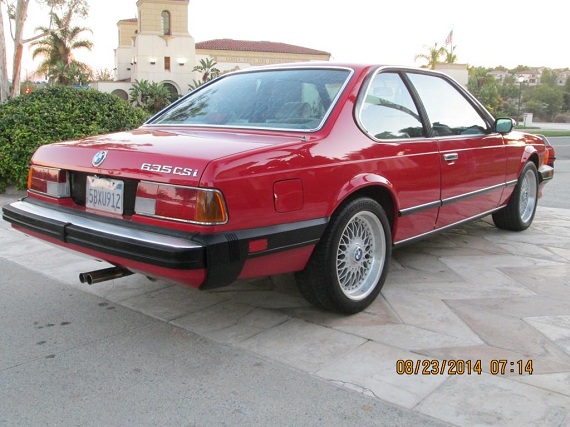 In my recent write up of two pretty overpriced 318ti M-Sports, I suggested that a vintage 635CSi would probably be a better option if you were looking for a collectable BMW for around the same ask of those two models. To put my theoretical money where my unfortunately quite real mouth is, here's a lineup of the venerable E24 grand tourers. For a modest price you get a tremendous amount of style, sport, near bulletproof engine and drive train and a potential investment. I have five examples to look at; interestingly, four of them are the last of the run, rare to see mid-88 and up refresh models. Also interesting though less surprising is that none of them sits on their original wheels. That, and their birthplace may be the only thing that links them though, as they're all quite different. Which would be the one you'd choose? Let's take a look at the oldest: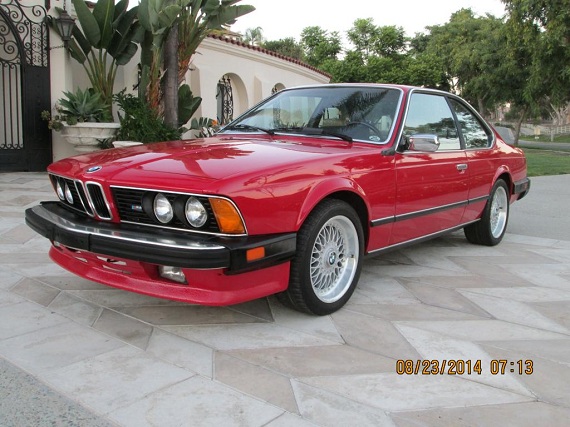 Year: 1986
Model: 635CSi
Engine: 3.5 liter inline-6
Transmission: 5-speed manual
Mileage: 146,619 mi
Price: No Reserve Auction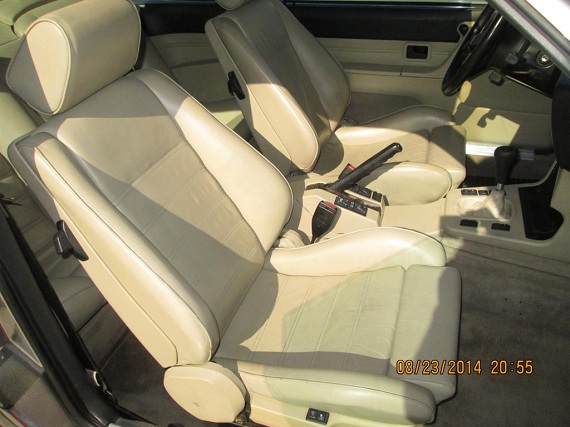 DESCRIPTION

For sale is a meticulously maintained 1986 BMW 635CSI E24 5-Speed with 146k original miles. Comes with clean and clear title and Carfax report. Excellent example of this year and model. Always cared for and properly maintained and serviced. Never abused, always garaged. Runs and drives excellent. Drives as good as it looks. All services are up to date. Major service performed within last 200 miles. It is in excellent shape for a 28 year old car, showing less than average wear and tear. Tool kit included (as seen in photos). Please contact me with any questions prior to bidding. Serious bidders only please! Bid with confidence.

DETAILS

ENGINE

3.4 liter, runs excellent, all service and maintenance up to date, Major Service done within 200 miles includes:

all new drive belts
fuel, air and oil filters
new spark plugs
coolant flushed
new fluids: oil, coolant, transmission, and differential
differential service

TRANSMISSION

5 speed manual transmission, recently serviced

INTERIOR

Tan interior, excellent condition, no rips or tears, carpets clean and not soiled, original dash covered nicely by new dash cap (as seen in photos)

PAINT AND BODY

Body is in great shape with Zinnoberrot Red paint with normal wear for a 28 year old daily driver, NO dents or rust on the body, very slight scratches on the windshield from the wipers is slightly visible

WHEELS AND TIRES

Factory BMW BBS 17″ Style 5 wheels from a later model BMW (E39 Chassis BMW), 70% tread still left on the tires

ELECTRICAL AND ACCESSORIES

Factory A/C system (recent service) that works great and blows cold, power windows and locks function correctly, JVC AM/FM/CD player with AUX input and IPod input, tachometer doesn't function correctly all the time, light in the OBC/Clock is burnt out

EXHAUST

Original factory exhaust system in great shape

SUSPENSION AND BRAKES

Brakes and suspension in excellent condition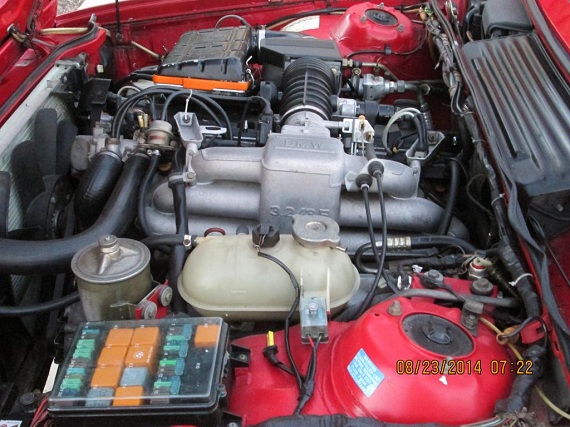 There are some great highlights here – the Zinnoberrot looks great on these coupes and this model seems well presented overall. The Style 5 BBS RC wheels look great too, giving a slight M6 flare to this coupe. Miles are reasonable as well, and the desired manual is driving the rear wheels. The air conditioning functions and has recently been serviced along with alight mechanical refresh. It appears that the front bumper/spoiler has had some work though, adopting a strange textured finish in a repaint and looking slightly bent. Bidding sits at around $7,500 at time of writing with two days to go; it will be interesting to see where this one ends up but overall it seems like a nice example to pick up – I'd expect final price to be $9,000 – $11,000.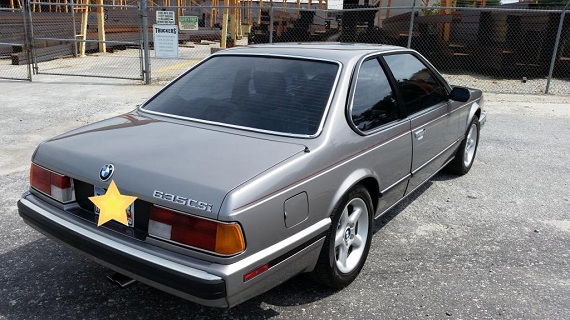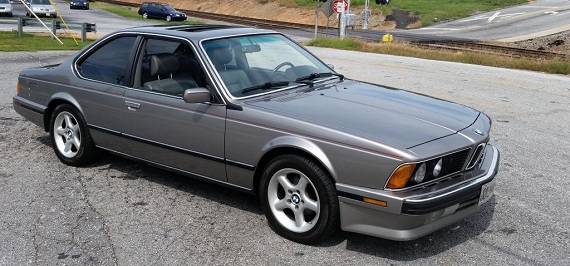 Year: 1988
Model: 635CSi
Engine: 3.5 liter inline-6
Transmission: 4-speed automatic
Mileage: ~171,912 mi (TMU)
Price: $8,000 Buy It Now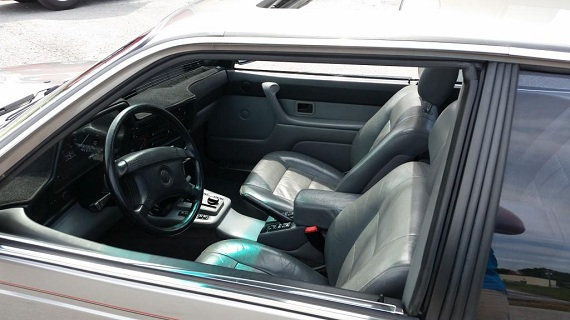 This 1988 BMW 635CSi was the top of the line car that BMW sold in 1988, very reliable and one of the last over-engineered cars BMW made to last. This car is a great example, with lots of repairs and maintenance that put it above the competition. Don't let the mileage fool you, the car comes with a stack of receipts and the car is in great condition. I will try to be as detailed as possible letting you know everything i know, good and the bad about the car, as I hope to receive when I'm buying next time. Most listings on here are very vague, which give you little information to make your decision on. Sometimes this is to hide things and other times they don't take the time to give details. I will tell you everything I know about the car, good and bad.

If you want a semi-restored affordable e24 "shark" that you aren't scared to drive, super reliable and well maintained that isn't perfect, but still turns heads this is the one for you. This car shines up amazingly and had a professional paint job done 12/05, now 9 years later it has a little wear and tear as the car has been driven 25k miles since. Very nice well kept car for 26 years old and mostly all stock. The gray on gray color combination is timeless!

Some other similar cars may have lower mileage, but as you probably know the odometer gears wear out and quit turning. You never really know if the mileages are correct without detailed receipts as some were driven for 20-50k of un-recorded miles. The previous owner had the odometer gears replaced in 3/10, and its stated on the receipt the odometer had just starting not turning intermittently around 154k miles and it was repaired at that time. There's another receipt about 6 months earlier where the car had about 2k less miles, so there are very few un-recorded miles on this car.

Most major mechanical systems have been replaced or rebuilt in the past 9 years, see details below. The original leather interior is in great condition, showing little wear for the age and mileage, including the leather console and head liner. Front and Rear AC, both work and blow cold. Factory ORIGINAL radio and still works, antenna goes up and down. All power windows work, sunroof works, drivers door still locks/unlocks both doors, trunk and gas door. Both power front seats work. Check engine light is NOT on, but does work as does the "brake lining" warning light. All exterior lights work, cruise works, wipers work, on board trip computer works. Original tool kit still in trunk. Original owners manual & pamphlets (see pic).

– NO LEAKS AND USES NO OIL (yes that's correct, I've driven it on long trips twice over 1,000 miles and never had to add a drop of oil between oil changes). I've always used Valvoline "Racing Oil" as the previous owner did, as it helps protect the engine parts from wear, because today's fuel and oil no longer have the additives in them to protect the older engines.

– I have over $28,000 in receipts spent on the car in the past 9 years. The car has been partially restored, including a 7 layer professional paint job from the bare metal (previous owner paid over $14k for paint and body work), rebuilt top end of the engine, replaced steering gear box and rebuilt front suspension components (see below for a more detailed list and pictures of a few of the bigger receipts).

– I've had no mechanical issues with the car in the almost 2 years and 6k miles I've owned it. I replaced most of the cooling system last year as preventative maintenance, because the radiator had a slight seep. While it was apart i decided to replace the fan clutch, fan blades, radiator, thermostat, water pump, fan switch, and 3 of the hoses. Also replaced all the belts at this time.

– I drove the car home from Denver, CO (~1500 miles) in September of 2012, when i bought it, with no issues. The car is 26 years old and you never know but, I wouldn't think twice about driving it anywhere.

– The reason I am selling the car is two reasons, one I bought a new car and haven't given the shark as much attention and driving in the past 6 months that it deserves. Secondly and more importantly, I moved a few months ago and no longer have a garage to park the car in, only a carport. I feel like the car should be parked inside and hate to see it weather in the elements. I hate to let the car go it's been nothing but good to me and i'm in no rush to give it away.

Most all common issues have been taken care of now or replaced, if you notice below on the list of receipts the last 4-5 years and over 21k miles driven have required little repairs and/or maintenance. The car has been maintained and in great condition. Car drives great, transmission shifts as it should.

Partial list of recent repairs below in order by date (oil changes & some minor repairs not listed, list would be way too long to list everything). Oil & filter always changed every 3k miles or 6 months.

Receipts of all work since 2004 will be included in a 2+ inch thick folder, which consists of many receipts and pictures of the body disassembled and down to the metal. Most of the work from 2004-2012 was done by BMW specialty shops, I have done all the maintenance myself since i've owned the car. The receipts for parts will be included for work i've done myself in the past 2 years.

11/13 – Cooling system replaced, as noted above, replaced all 3 belts & new battery installed. 170k miles.

6/12 – Replaced front thrust rod bushings, fuel filter, plug wires, cap/rotor & adjust valves. 164k miles.

9/10 – Replaced brake sensors, upgraded headlights and fog lights. 159k miles.

4/10 – Replaced rear differential seals and fluid. 154k miles.

3/10 – Installed rebuilt head, camshaft, rocker arms, related gaskets, replace coolant, expansion tank. (overheated from cracked expansion tank, when they opened the engine up they pretty much rebuilt the whole top end). 151k miles. $2,962 paid.

2/08 – Replaced power steering gear box & brake booster. 146k miles. $2,702 paid.

12/05 – Disassemble body, strip body to metal, repair any rust found with new metal, replace some exterior moldings/parts/gaskets, 2 coats of primer, 3 coats of paint, 2 coats of clear coat & had clear 3M bra installed over front, mirrors, side valances & lights. $14,482 paid. see pic for receipt.

11/05 – Full tune up, valves adjusted, replaced blower motor, headlamp inserts, hood struts, water pump, fan clutch, all hoses, engine mounts, power steering hoses, both front support arm bushings, dipstick, rear subframe mounts, high and low pressure brake accumulators, aux. fan resistor, transmission fluid, filter & pan gasket, clean and flush brake fluid, clean and flush power steering fluid & change rear differential fluid. 145k miles. $3,472 paid. see pic for receipt.

9/04 – Replaced upper control arms, sway bar links, idler arms, tie rods, lower control arms, upper control arm bushings. 142k miles. $1,048 paid.

The tires will need replacing soon. You can decide if you want to keep this tire size and wheels, the tires (16" dia) cost about $100 each or you can put new bigger wheels and tires, your choice. Rear self-leveling suspension is not functioning (common for these cars), but the car still drives amazing. There is some sun damage around the rear speaker covers. This is not a perfect "show car" by any means, it has a few minor chips in the paint in diff areas (most are very small pin point size). Although the paint has a great shine and mirror finish, it looks great and you can see the quality. There is minor body/paint damage on drivers side rear corner (see pic with 2 yellow circles, the area near the bumper has been touched up with paint and the side by the tail light has a few dimples in the body), this was here when i bought the car. Previous owner said he left the car in drive and it rolled into a tree, rear rubber bumper luckily kept the damage down. Honestly you can barely notice it unless the car is very clean, shiny, in bright lighting and looking for it. There is a thumb sized raised place in the paint on lower rear passenger side wheel well area (see pic with one yellow circle). There's also some damage to the paint on the front under bumper valance. I had a quote last year from a local shop for $450 to touch up the paint on the 3 worst areas, but honestly it isn't that bad and i never bothered with it. Rear windows move slowly, but do work. Last picture shows the dash under the carpeted cover, it has a few small cracks, the stuff on top of the dash is Velcro and double sided tape used to hold the cover in place.

With a little TLC this luxury BMW coupe could be a collector's dream or kept as is for a second car, weekend car or daily driver! The original list price in 1988 was over $45,000. These were the luxury executive cars of the time. There were not many built and even less shipped to the US for sale. It is loaded for the model year: power seats, power windows, sun roof, AM-FM-cassette (no CD), leather seats and interior, including console and head liner, trip computer, rear seat temp. control, chrome sills, heated seats, rear sun shade and more. The carpets, floor mats and trunk are clean and look good. The car shows no signs or smells of being smoked in. The original tool kit is still in the trunk. This coupe seats four. The inline six-cylinder 3.5L engine is rated at 220 hp at 5200 rpm. Top speed is 140 mph and acceleration is 0-50 in 6 seconds, the quarter mile in 16 seconds.

1989 was the last year the 635CSI was built. Its classic lines and design are legendary in the BMW world, and it can only increase in value. The 1988 and 1989 models are the most sought after of all of the E24 coupes with their 4 place seating and dual A/C systems. They are also the only years fitted with the sleeker "World" bumpers, and have the most horsepower. And then there's the rear air conditioned "cooler" in the rear center console that holds a few can drinks and it can hold your cassettes. They are surely to increase in value, and are a fantastic opportunity to own a true piece of BMW history. Note the escalated values of E9's in the past few years!! E24's are definitely next!!

Here are some last notes to keep in mind about this car at this price compared to others. 95% of the exterior rubber/seals around all windows, doors and sunroof were replaced (both bumpers rubber is original) when it was painted in 12/05, this is great for an older car, since the rubber is usually dried, cracked and leaks. Exterior moldings were also replaced. Everything on the car works. No leaks. Top end of engine has been rebuilt (cost $3,000), new steering gear box (cost $1,600), rebuilt brake system, recent brand new cooling system. A stack or receipts with over $28k spent in the past 9 years. All gauges, fuel, temp, etc work. Previous owner had lights behind the radio, gauges, etc on the dash replaced. Still has the 3M clear bra over front end, lower panels and headlights. You won't find most of these things on most other cars, even at higher price ranges, and it adds up to a car that's had all the little things taken care of and not ignored!

I have no regrets owning this car but may regret selling it, however it isn't practical for me now with no garage to keep it in. If the buyer flies into GSP (Greenville/Spartanburg) airport, i can meet and pick them up at the airport, as long as my schedule allows it and i'm pretty flexible and not too far away. Can also meet a delivery truck somewhere close by Greenville, SC if you have it transported. Car is also for sale locally and if it sells I will end the listing early.

$700 non-refundable deposit via paypal due within 24 hours of purchase, remaining amount due must be paid by cash or a certified cashier's check from a major bank at time of pick up. Please only bid and/or buy if your serious. Full payment due within 7 days of auction end. Clear SC title in hand. If you have any questions email me, i will get them on my phone and be able to reply pretty quickly.

Thanks, Clayton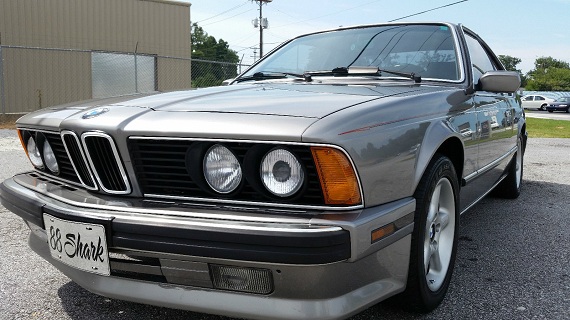 That's quite a description for what appears to be a very clean 6. However, there are a few strikes against it – the BBS-made Moda wheels aren't the best fit for the car, nor in my opinion is the red/black pinstriping that was done. It's an automatic, which isn't the preferred transmission in these cars – though having driven one they're not horrible as a cruiser. Miles are higher than the previous example with a non-functional odometer at one point, and there are 7 reported owners. Still, there's a tremendous amount of work that's been completed, including a $14,000 bare-metal repaint. Considering the asking price is only half that amount, if you don't mind some of the detail work this car doesn't look bad at all, overall.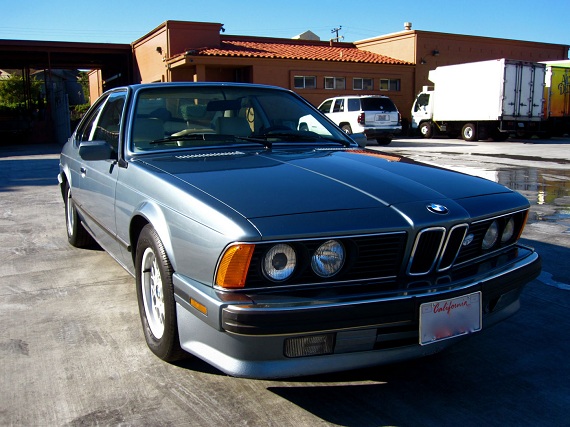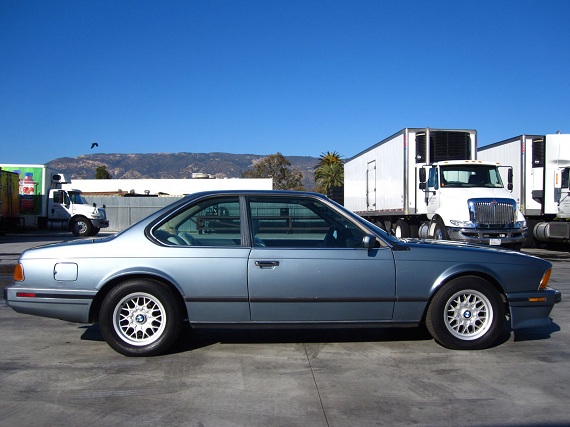 Year: 1988
Model: 635CSi
Engine: 3.5 liter inline-6
Transmission: 4-speed automatic
Mileage: 150,261 mi
Price: No Reserve Auction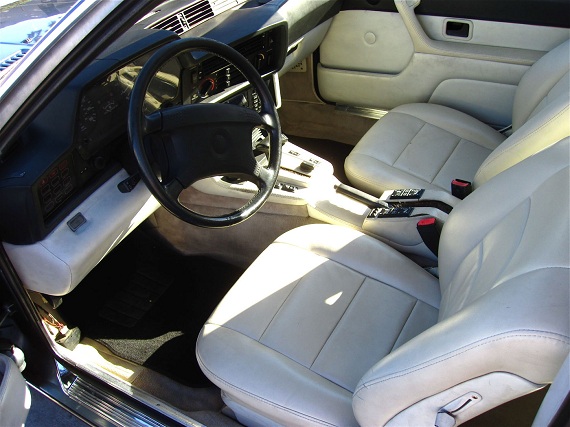 I am selling this car on the behalf of my father and all of the information stated is to the best of my knowledge. Please keep in mind that this is a 26-year-old vehicle, and all opinions in regards to its condition take its age into account.

Year

1988

Model

635CSi

VIN

WBAEC841XJ3266282

Exterior Color

Cirrus Blue

Interior Color

Lotus White

Mileage

150,261

This is a 1988 BMW 635CSi complete with what is believed to be, every component necessary to perform a manual transmission conversion (transmission, center console, pedals, etc.). My father purchased this car several years ago with the intent to perform the conversion, but never had the time to complete it. Since being purchasing, the car has seen little use and has been regularly garaged. The car was purchased from the widow of an avid 6-series fanatic who intended on performing the conversion but sadly passed away before getting the chance. Due to the unfortunate circumstances, not much is known about the car, and we have little service history for it.

Production Run (US)

1985-1989

Engine

M30B34

Max Power

215hp at 5200rpm

Max Torque

224ftlb at 4000rpm

Front Suspension

McPherson axle, coil springs, stabilizing bar

Rear Suspension

Trailing arms, struts, coil springs, stabilizing bar

Steering

ZF recirculating ball steering, power assisted

Dry Weight

3,350lb

Wheelbase

103.4"

Exterior: The car is finished in a beautiful light blue metallic, known as Cirrus Blue. The paint contains some blemishes and scratches, and there is some fading on the vinyl and rubber components, but overall the exterior of the car is very presentable.

Interior: Lotus White, is the name of the leather interior the car carries. For being white, the leather is in decent shape – granted certainly not brand new condition. There are blemishes and marks, as you would expect with a vehicle of this age finished in this color of interior, but I believe a thorough detail would do wonders.

Mechanical: The car runs and drives strong. There are no known major issues, but I would suggest that the new buyer have the car serviced, as it has had little use in the last few years. The tires will also need to be replaced in the near future.

This is a car in need of TLC that we unfortunately do not have the time to give it. That being said, it runs nicely and could certainly be a fun car for the right person. Included with the sale are all of the items you see in the last photo; manual gearbox, differential, bell-housing, interior components, etc.

I am not attempting to mis-represent the car and it comes with no warranties or guarantees. It is sold "as is." We would just like the car to go a an owner that will give it the attention it deserves.

I can help coordinate domestic shipping, and for appointments to view the car please message me.

On Aug-26-14 at 10:43:34 PDT, seller added the following information:

Please take into account that there may be some issues I may have not noticed or overlooked – I am not familiar with 6'ers and I am not looking to mislead anyone.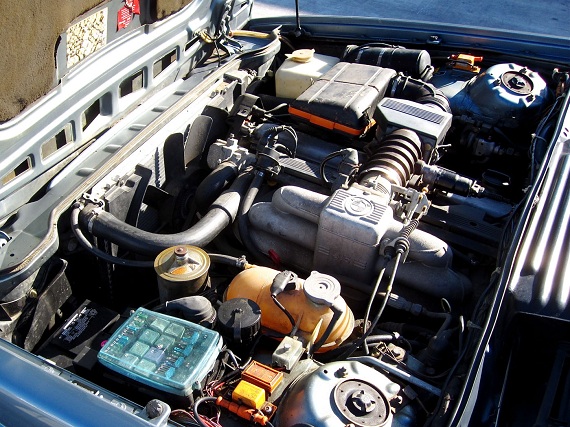 If the 7 owners of the previous example didn't scare you, the 11 reported owners of this example might just. That's an average of nearly one every two years – a track record few 6s share, since most are noted for long ownership. Outside the Cirrus Blue is pretty and unusual for this late model – personally, I like it. I also like the fit of the 528i wheels better than the previous Moda wheels. They look as if they could have been stock despite the decade newer production. There are a fair amount of question marks about this car, but it could be picked up as an interesting project – especially with all the manual swap bits if you're handy with a wrench. Bidding is seriously low at this point for what looks like it could be a fun car.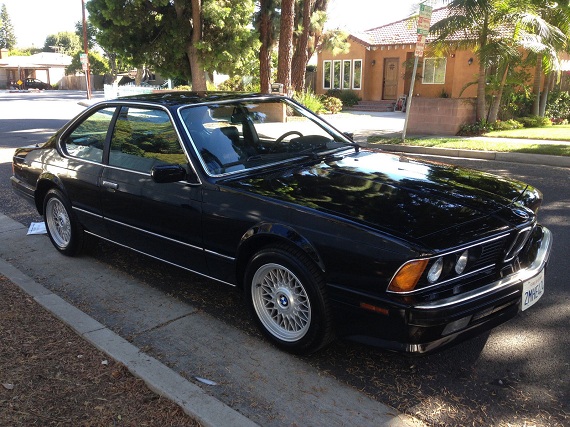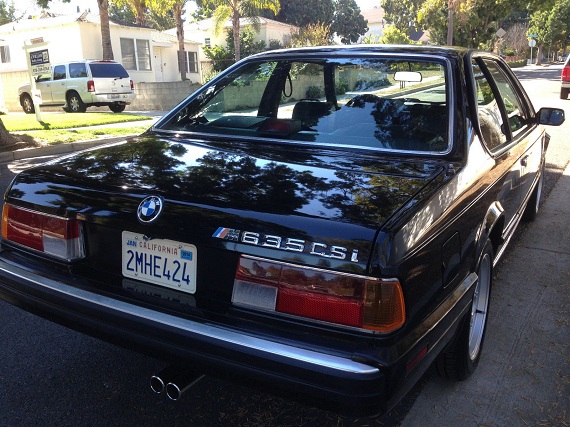 Year: 1989
Model: 635CSi
Engine: 3.5 liter inline-6
Transmission: 5-speed manual
Mileage: 126,000 mi
Price: $15,000 Buy It Now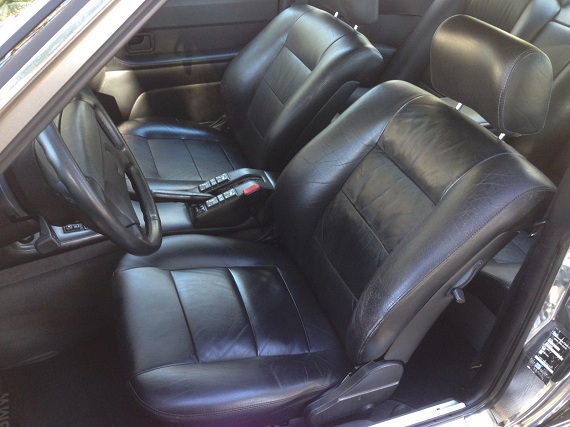 1989 BMW 635csi 5 speed, very rare US specs with manual transmission, California only car since new, one owner. 126K original miles documented. Everything original, full options, everything works, AC conversion to 134a with new original BMW compressor. New cooling system, radiator, water pump, thermostat and housing, all hoses and clamps, belts, new heater valve and spark plugs, all original BMW parts. New synthetic Motul fluids and much more. All service records at BMW dealer. Car runs like new. Wheels and tires like new. Original metric wheels available. Car has never been in an accident, original paint, some dents that show the age. Please call Stefan for more information at +1 310 854-9528.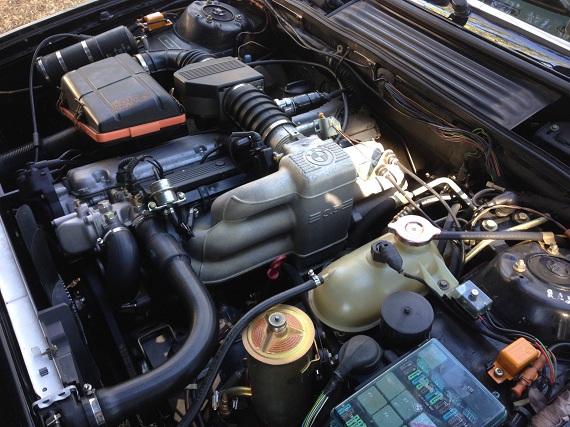 On the other end of the spectrum is this immaculate 1989 model. The 7-series spec wheels are a great addition as with the last car, and the original TRX wheels are included. All the maintenance seems to have been performed with the proper parts and it's a one owner car. Miles are lower, it's well presented in a rare black/black combination and an ultra-rare for 1989 5-speed. If I have a gripe, it's that the owner added an "M" badge to what otherwise is a very well presented car. Pay for it you will, though, to the tune of $15,000 – probably a little ambitious for even this clean and rare of a E24. That amount gets you into a M6 with a bit of searching. I'd suggest that this car would be well bought between $12,000 and $13,000 and you'd have a turn-key classic.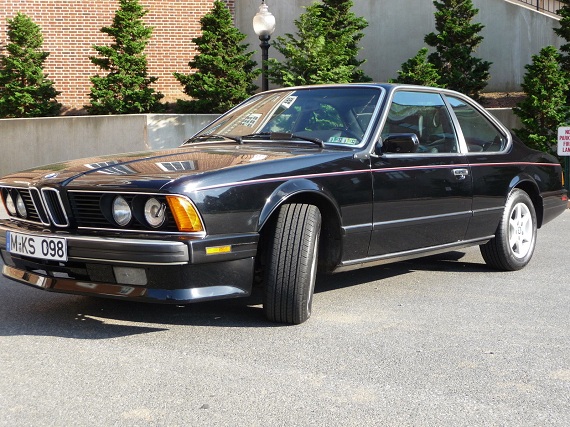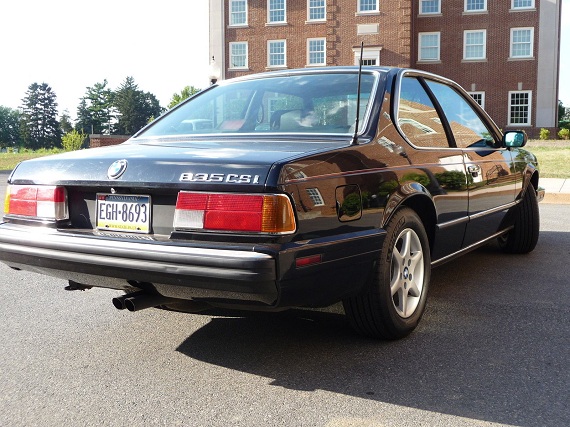 Year: 1989
Model: 635CSi
Engine: 3.5 liter inline-6
Transmission: 4-speed automatic
Mileage: ~147,000 mi (TMU)
Price: $6,000 Buy It Now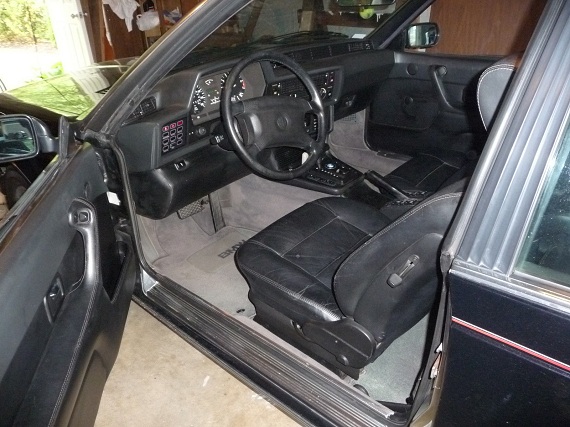 Black on Black Vintage BMW 6 cylinder coupe. 147,000 miles. Automatic transmission with electric windows, door locks, and leather seats. Extra set of 4 original BMW wheels. Very clean with no rust.

I am the 3rd owner – the 2nd owner had the car for 7 years and I have had it for 15. All of that time it has been garaged. In 2011 I retitled it to vintage status and I only put a few hundred miles on the car each year. I've used the same expert BMW ,mechanic since I purchased the car and we've fixed things as needed and proactively made some upgrades as well. For instance we replaced the self-leveling hydraulic suspension because they typically create problems as they age. There was some minor rust at the base of the rear fenders that we took care of several years ago and repainted in original BMW black. There has been no rust since. The 4 Michelin tires have maybe 500 miles on them and the car comes with an extra set of original BMW wheels. A great car at a GREAT reserve price!

The sunroof does not currently open – it is fixed in a sealed, closed position. The odometer is broken (and is not legally required to work per PA law) and currently shows about 145,000. Based on service records I can see that it stopped working between 3/11 and 5/12. So based on averaging 500-600 miles per year, the mileage is not more than 147000. The clock does not light up. Other than these minor items, the car is great. It was just inspected about 3 months ago and all it took was a new Bosch battery. A great car at a GREAT price!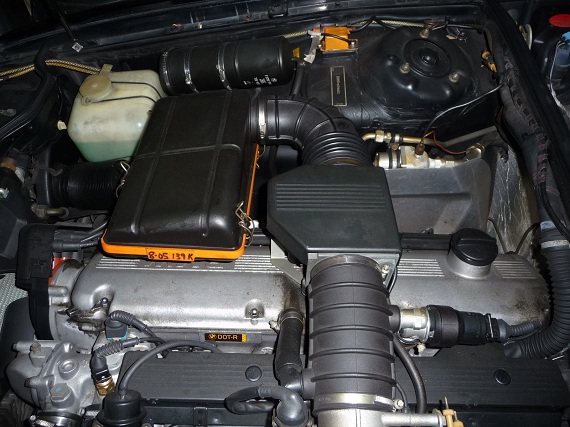 If you're less concerned about immaculate and shifting your own gears, this 89 is also presented in black with black leather. Condition doesn't seem nearly as good as the previous example but it's not horrible. Overall, I'd say this car represents an average driver. The wheels aren't the best fit and the automatic wouldn't be my choice, plus the mileage represented may be off. This car has also gone through a repaint – perhaps it's just poor photos but it doesn't seem to present particularly well for a car with a recent repaint. There's some work to be performed if you want it fully-functioning, but it's also priced at only about a third of the other 1989 example, making it much more affordable.
What the best bet? For me, it would be the black manual 1989. I know it's the most expensive, but it seems like the car with the fewest question marks and best ownership. When buying a car like this, I really feel like that's worth a premium. Now, that premium probably shouldn't be 50% plus higher than the rest of the market, but I really feel like that example is worth more than the others and is unique as one of the last E24s and rare with the color combination and manual transmission. So, I'd break the bank and spend the money to get the best one I could. Which would you choose?
-Carter