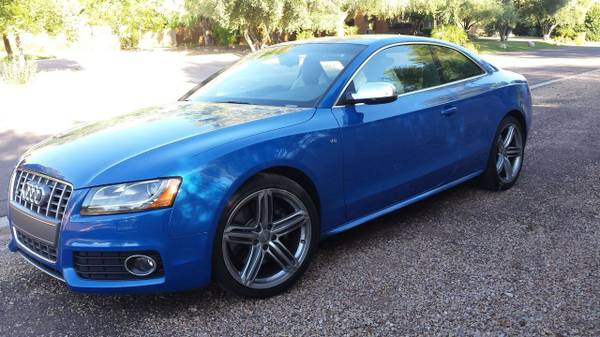 Blue is my favorite color. I know, this doesn't really come as a surprise; I think I wax and wane all the time about the special blues that are available from different manufacturers. Whether it was my own Coupe GT's original Oceanic Blue Metallic or my Passat's Ink Blue Pearl Effect, there's just something that's very special about the glowing, bright and vibrant blues. Audi made a bold change to their blue around 2005; with the mid-year refresh to the B6 chassis, the new B7 discontinued the very popular purple-blue hue of Nogaro. Now, that color had been around in various forms since the RS2, and was closely associated with fast Audis – so it was a big deal. The new color, Sprint Blue Pearl Effect (LZ5F), was pretty and shiny but somehow changed the character of the fast Audis. Maybe it was time for a change, or maybe it was the wrong move – personally, I think a new RS7 in Nogaro would be pretty stunning. But the new hue was also a hit and offered a rare splash of color in Audi's otherwise conservative grey/silver/black lineup. Today I have two of the faster Audis offered in this shade; about the same mileage, both 6-speed manuals, and both with the 4.2 V8, would you take the S5 Coupe or RS4 Cabriolet?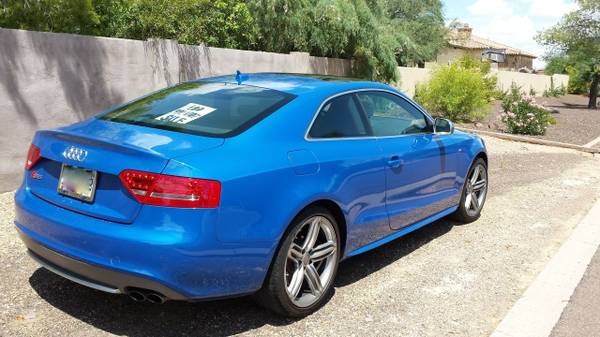 Year: 2011
Model: S5
Engine: 4.2 liter V8
Transmission: 6-speed manual
Mileage: 37,790 mi
Price: $36,500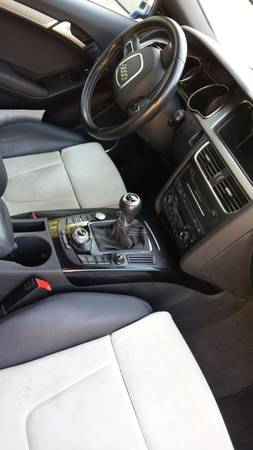 Sprint Blue Pearl Exterior/Black-Pearl Silver Interior
One owner and garage kept
Never been wrecked. Clean Carfax
Non-smoker
Extended warranty purchased extra 3 years
6 Speed Manual Transmission
PrestigeModel Cpe:Bang & Olufsen premium sound system
Advanced key keyless start/stop
Audi navigation plus system with 3G MMI
Rearview camera with rear parking sensors
Voice control for telephone/navigation
Auto dimming interior/exterior mirror with compass
Memory for driver seat and ext. mirrors
Sports rear differential package
Stainless Steel Texture Inlays
Power rear window shade
Audi side assist
19 inch 5 tri-spoke wheel package
Front filler panel
Alcantara leather seating inserts
Xenon headlights
Speed sensing steering/ABS
Tire pressure monitoring system
Heated 8 way system power seats with 4way lumbar
3 zone climate control
Driver information system with on-board computer
CD player/Sirius Satellite system compatible/10 speaker sound system
Bluetooth phone interface
Homelink remote transmitter
Rain & light sensor
Alarm system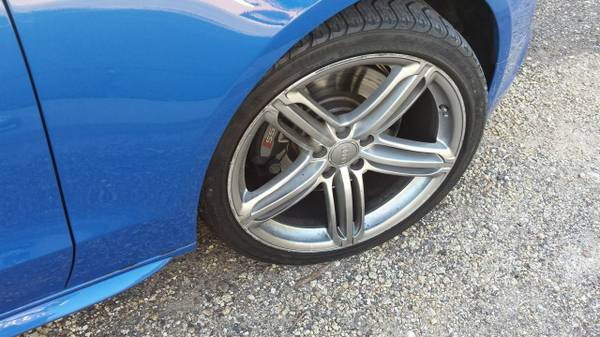 2011 is the penultimate year of the normally aspirated V8 in the S5 Coupe; 2013 would see the changeover to the 3.0T supercharged V6 which had run concurrently in the S5 Cabriolet since 2010. There are advantages to each motor, all things in the platform being the same. While the V8 made around 20 horsepower more than the V6, the supercharged engine made the same torque at a lower RPM, got better mileage and is more tunable. The other advantage of the later 2013 up S5s, in my opinion, is the much more attractive facelift they underwent to refresh the model. In particular, I think the revised headlights were a huge improvement over the earlier winky eyes that Audi got into in the late 2000s. The big draw here is the color and package; outside of greys, white and black, the Misano Red Pearl and Sprint Blue Pearl were really the only fetching shades on these and it's fairly infrequent that we see Sprint Blue coupes. A very good to excellent condition S5 coupe with this mileage should be trading in the mid 30s today, so the price is pretty close to market. All in all, it looks like a tidy package if you like the throbbing and sonorous V8 hooked up to a 6-speed. Of course, if you like that, why not hear it a bit more?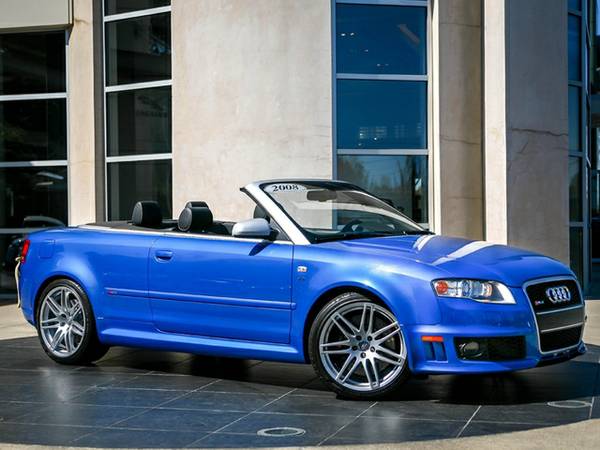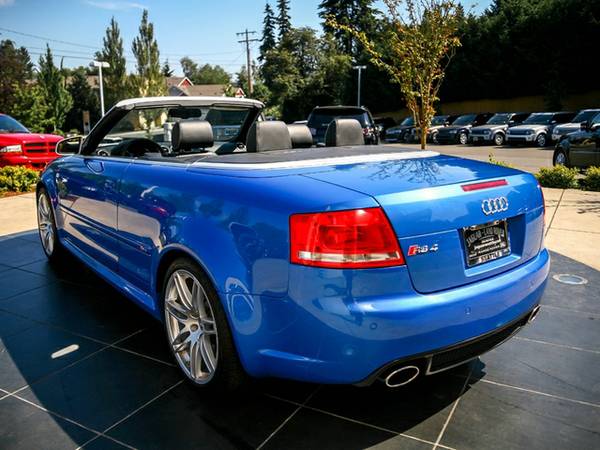 Year: 2008
Model: RS4 Cabriolet
Engine: 4.2 liter V8
Transmission: 6-speed manual
Mileage: 48,885 mi
Price: $40,800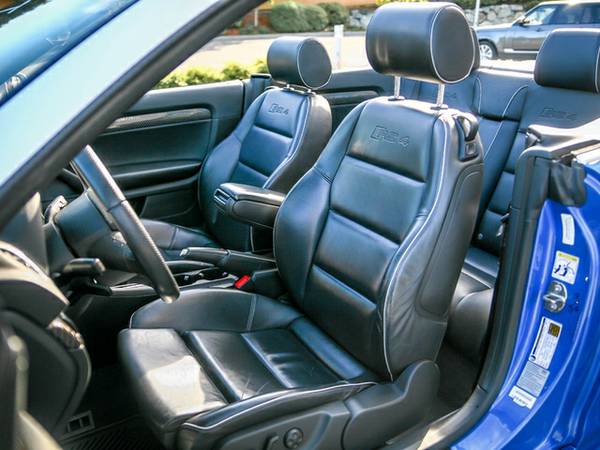 Hi, my name is Austin Bailey, I'm a sales guide here at Jaguar Land Rover Seattle.

We just took in a 2008 AUDI RS4 Cabriolet in Sprint Blue Pearl with Black premium leather. Carfax certified RS4 fully equipped with a 420HP V8, AWD, 6 speed manual, Navigation, heated front seats, Bose premium sound, 19inch wheels, Xenon lights, Carbon fiber trim, full power top, and keyless entry. Stunning color combo, great equipment, only 49k miles, immaculate condition, just serviced.

If you're interested please give me a call on my cell phone at 805.570.9929. You can always see the car at our store in Lynnwood, just make sure you ask for Austin.
Call in advance and I'll make sure it's ready and available for viewing.

•do NOT contact me with unsolicited services or offers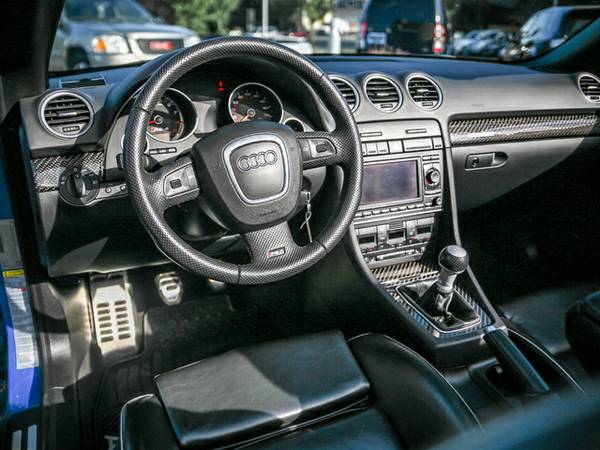 The RS4 Cabriolet was top-dog outside of the R8 coupe in 2008; at the best part of $85,000, it was a seriously pricey unit and the limited production ensured that it was both exclusive and potentially collectable in the future. Unlike the S5, you could order Imola Yellow on the RS4 along with the other normal tones; and I think when you're talking RS4 cabriolet the Imola is probably the preferable color. If you're going to be shouty, you might as well be really, really shouty. Pricing on the RS4 Cabriolet today is higher than the sedans, but only a fraction of the original purchase price; most are trading in the mid 30s, just like the later coupe. The power plant is what really makes this package special, though – the wickedly flared bodywork, vents throughout and open exhaust make that 420 horsepower V8 scream like it should. I'm not a fan of the black interior but overall this is really a pretty special example that long term will hold more value than a normal S5 coupe. Given that the pricing is quite similar, even though this one has more miles and is priced higher than the S5 I think it's the one I'd choose.
-Carter