Over the past year, the E46 M3 market has really started to take off. Back in 2015 it was unusual to break $25,000, but over the past year several have broken double that amount and one bonkers bidding war ended up at $90,000. Have all ships been lifted? That's hard to say, but certainly more are coming to market in very good to excellent condition and fetching big dollars. As always, collectors are looking for something a bit unusual and BMW Individual-toned cars are hot items. Prior auctions have also shown that big bids won't be reserved only for pristine original examples, as the top auction draw was a modified car.
So today we're back with an obviously modified car in an unusual color for the chassis – Dakar Yellow. It's got the "right" transmission and the subframe has been reinforced too, and the asking price doesn't seem all that outrageous. So what's the rub?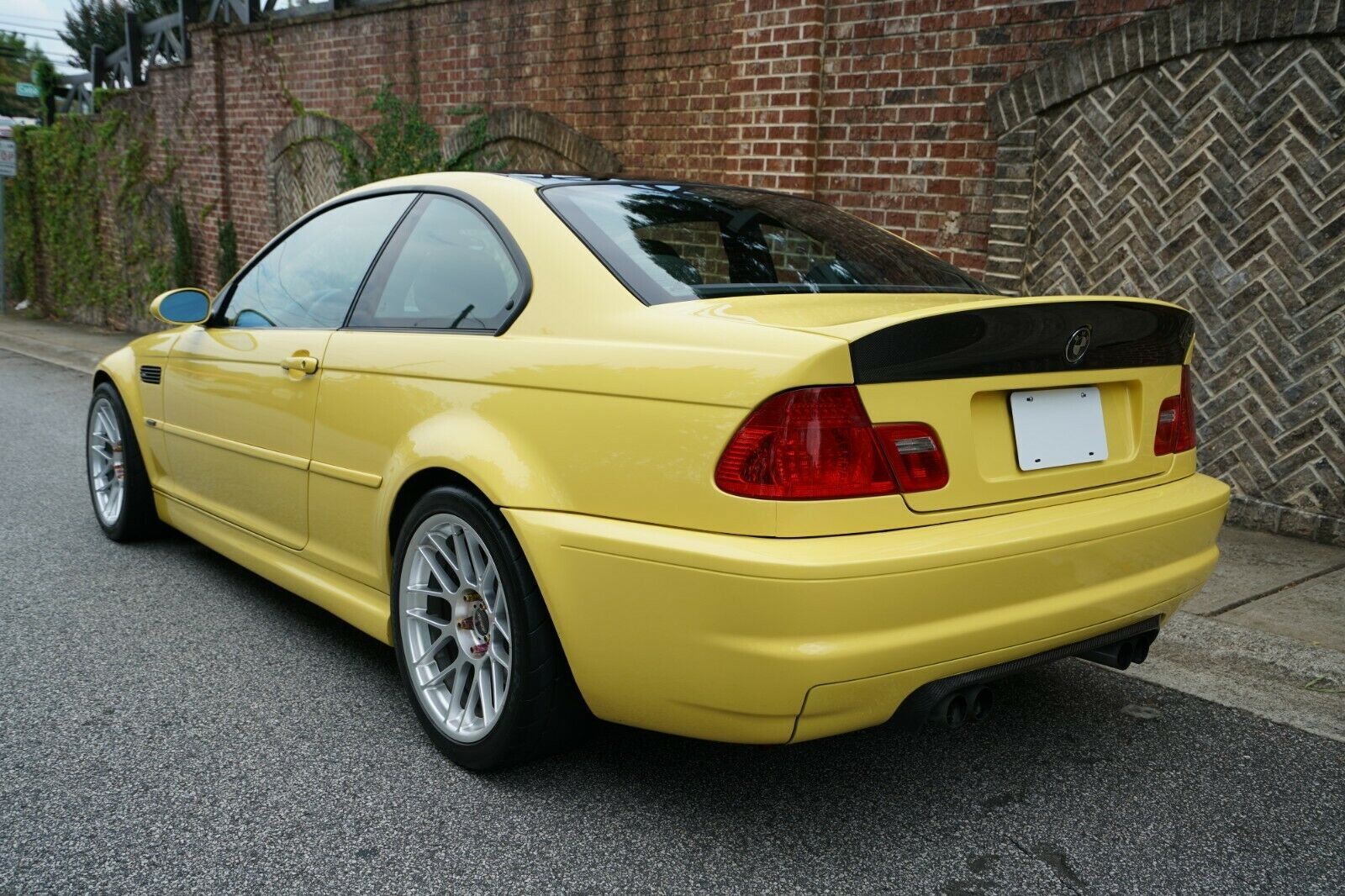 Year: 2004
Model: M3
VIN: WBSBL93464PN58914
Engine: 3.2 liter inline-6
Transmission: 6-speed manual
Mileage: 135,472 mi
Location: Marietta, Georgia
Price: $18,960 Buy It Now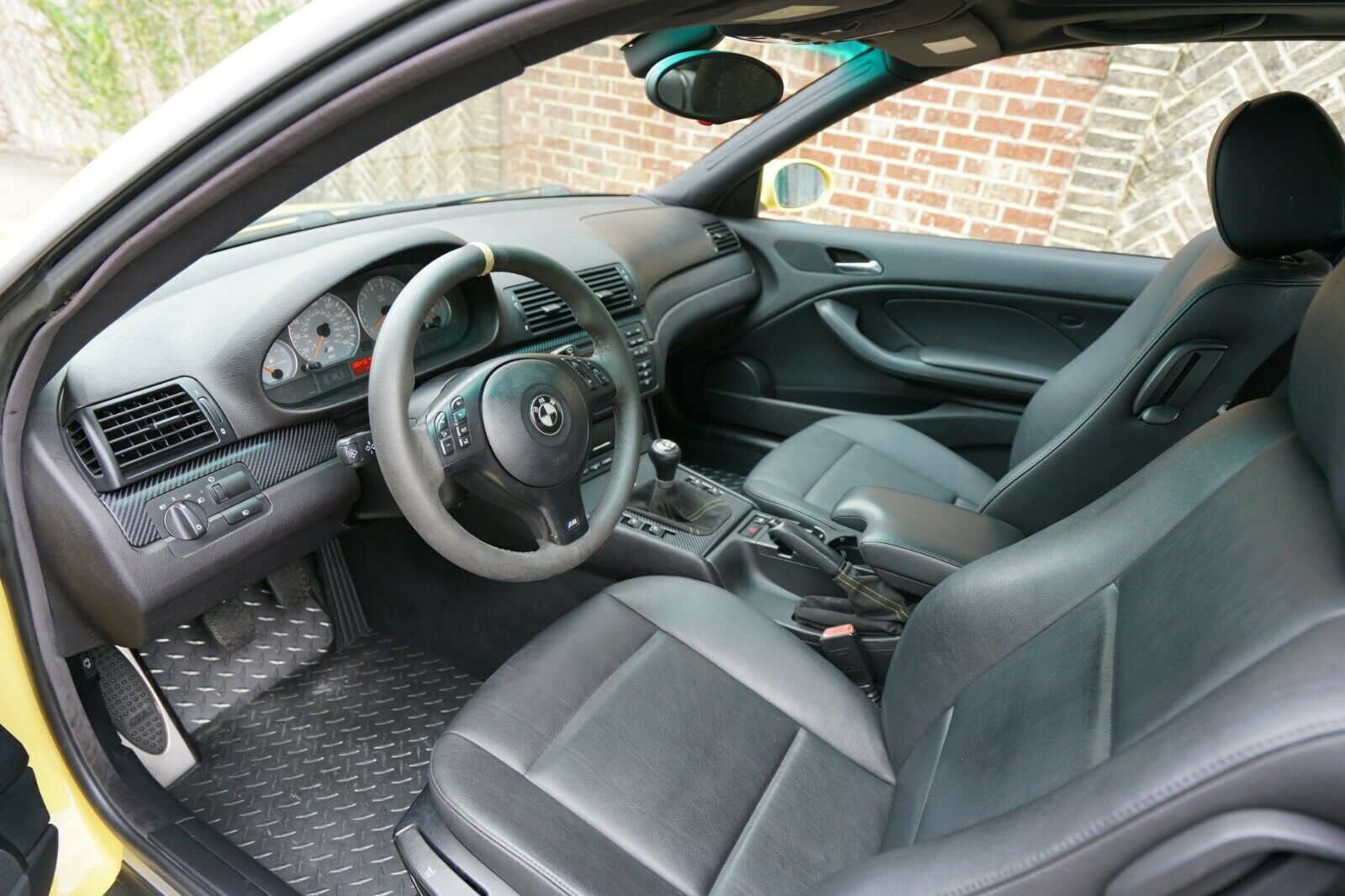 2004 BMW M3 – Custom Painted in BMW Dakar Yellow! This color was only available through BMW's Individual Program and is very rare.

This M3 has a stock (unmodified) Power Train, which is quite capable in its original form.

The suspension has been tastefully modified with the best available components:

Turner Motorsports Rear Sub Frame Reinforcement Kit has been professionally installed.

Bilstein B12 (Pro Kit) #46-000613
– (4) new Bilstein Struts factory matched with Eibach lowering springs

Turner Motorsports Front and Rear Sway-bars kit
– Front – Sway-bar # E46M3-F30-SWAY
– Rear – Sway-bar # E46M3-R25-SWAY

Turner Motorsports rear adjustable sway-bar end links #TSU9913RS2

The APEX ARC-8 wheels have a staggered offset front to rear, yet the tires are squared (meaning they are the same size front and rear). This allows the driver to experience the M3's full handling potential once you find a nice curvy road.

The wheels are APEX ARC-8's
front – 18″ x 9.5″ ET 35mm with 265/35ZR 18″ tires
rear – 18″ x 9.5″ ET 22mm with 265/35ZR 18″ tires

Tires are 80% new, Brakes are 80% new, Leather interior is in top condition. This M3 started life as metallic silver and had an SMG transmission. The previous owner decided to do a full glass out professional color update to Dakar yellow, and they also ditched the unreliable SMG set up for the six speed manual gearbox. The interior trim has been updated to Carbon Fiber trim as well.

The chassis and uni-body have been inspected and has no accident damage and is rust free. Autocheck erroneously reports that an auction stated there was frame damage. Having dealt with auctions for over 15 years, they are quick to make assessments and announce "Frame" due to color changes or other aftermarket mods- (Rear CSL Carbon Decklid). The paint does have a few normal stone chips and evidence of this being a driven car.

Out of the box the E46 M3 was a light weight by design with its Kevlar woven light weight bumper reinforcements and minimalist design. To further the weight savings this M3 has a CSL style Carbon Fiber trunk lid with exposed CF on the rear lip, as well as an exposed CF diffuser. The heavy electric seats have been replaced with lighter weight manual seats making this truly one amazing ultimate driving machine.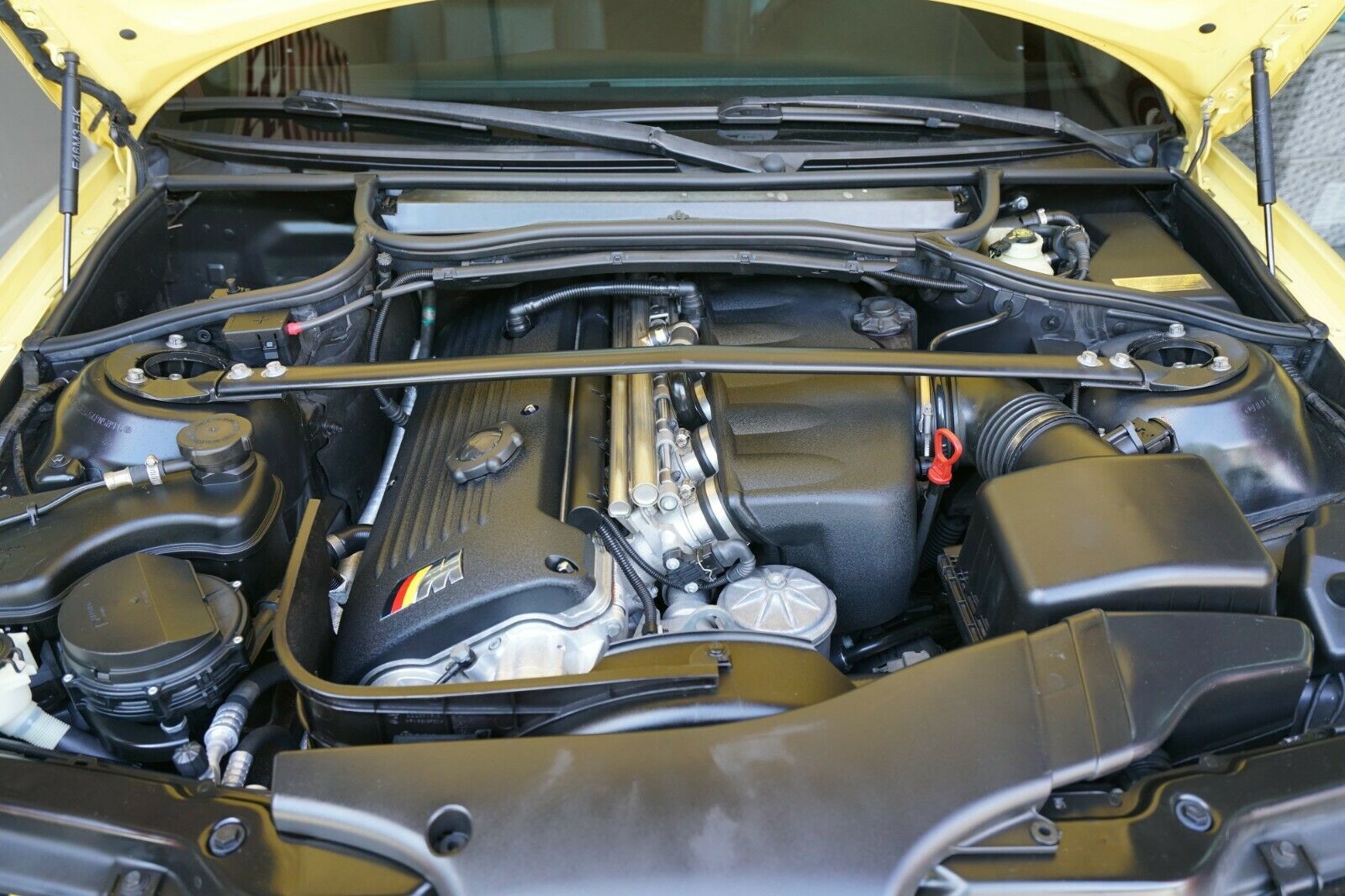 If this car looks a bit familiar, it should – I looked at it in a 'Roll the Dice' article back in January, 2018:
What I found was generally the same car that you see above but with worse photos, different wheels, and less information. Today's seller attempts to clarify some of the outstanding issues with a few proclamations; do they hold true?
First off, since the last listing someone went to town on the Turner (ECS) site, ordering the $113 subframe kit, the $119 adjustable rear sway bar links, the $965 Bilstein B12/Eibach suspension, the $400 30/25MM sway bars and $1,300 worth of wheels. Those number obviously don't include installation, and consider the asking price last time was $14,000 and today's asking price is just below $19,000, it seems like someone is likely taking a loss here.
Second, the seller this time gets the color right (Dakar rather than Phoenix) and also correctly identifies as I did that it's not original (it was Silvergray Metallic A08). The car's interior trim has also changed again from the confetti paint to carbon, but I'd wager it's a wrap. It's still wearing the same modified head and taillights, too. But then there are two interesting claims; the original seller claimed the car was a manual but I spied the SMG cluster – this seller claims it's a converted SMG car. The second is that the heavy power seats were removed and replaced with lightweight manual seats. More on that in a moment, as the seats were something I noted in the original post.
Back to the VIN check I went, because under the hood it's clear to see that the intake does have the SMG fluid fill that is not present on manual cars. And, as previously stated, the cluster is a SMG cluster. If it were originally a SMG car, it would then also require option S793A: Sequential M transmission Drivelogic. Guess what's missing from the VIN? That's right, no S793A. It's possible that the VIN pull is wrong, but it's also possible that this car got a whole engine/cluster swap too. That would make a bit more sense in the color swap, too, as the engine bay has also been painted – much easier without an engine in there. Next: seats. If it did have "heavy electric seats", it would have S459A: Seat adjuster, electric, with memory. Guess what else is missing? It appears this car was fairly lightly optioned originally, with no parking sensors, headlight washers, power seats. The one option this car did have which it's sad to see missing are the forged Fuchs 19″ Style 67s. The seller also dismisses an Autocheck report of a crash with frame damage. That wasn't disclosed last time around, but I theorized that this car might have been in a crash. To be frank, in addition to the crash (which was probably worse than the seller claims), it also appears that some key components of this car were removed and then it was rebuilt into what you see over the past two years. Looking at the provided Autocheck, this car had a shocking six (!) owners over its first nine years and three since I last wrote it up. It also shows not one, but three accidents. I spent a lot of time trying to figure out this car and still feel like I'm nowhere near the whole story.
At the end of the day, none of this matters on a $10,000 track beater. But at $20,000, I think your money is better spent in other places despite the recent investment.
-Carter