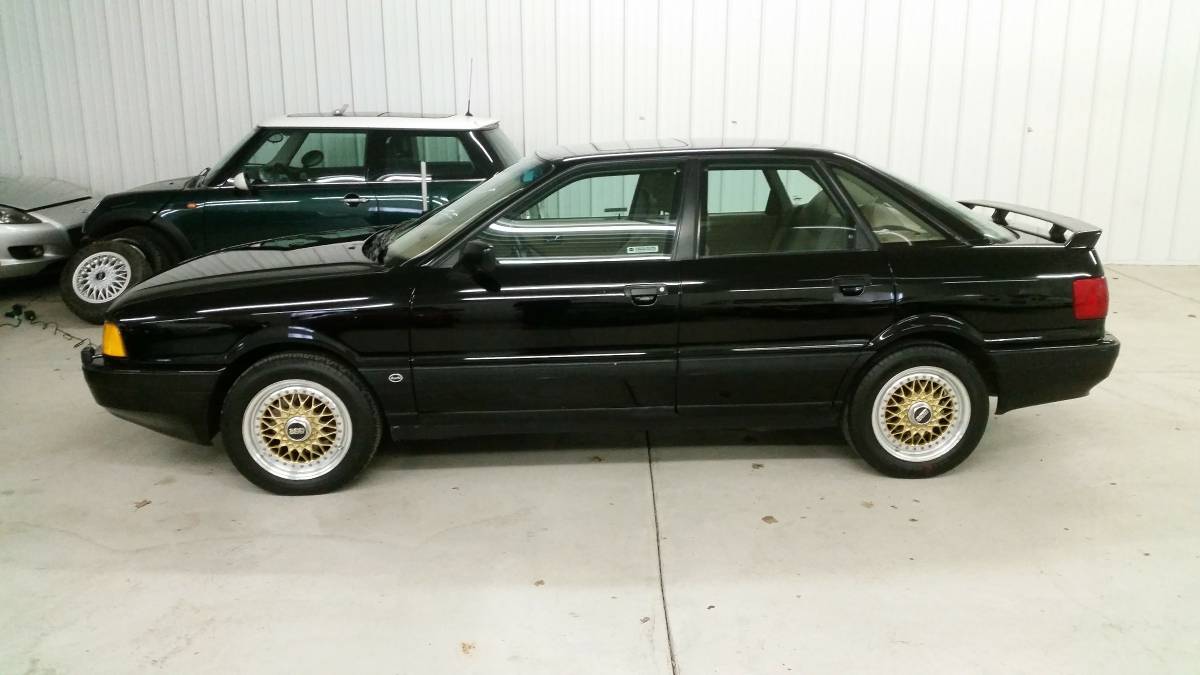 Update 5/18/18 – After failing to sell last year at nearly $8,000, this sweet and rare 1990 Audi 90 quattro 20V with some fantastic period-correct BBS RS wheels is back on eBay with an opening bid at only $4,000!
Just as they had with the development of the 10V Turbo for their top tier products, Audi's work on the Group B, Sport and later RR 20V Quattro (along with the creation of the original S-series cars soon after) trickled down into the rest of the range, but only in a very limited fashion. The 7A 2.3 liter 20V motor was the beneficiary of that racing work, and it was at the time a pretty impressive unit. Out of 2.3 liters, Audi squeezed a very reliable 164 horsepower with a screaming 7,200 RPM redline. While it's true this was down on peak power to racing motors like the M3's S14, the adding of the second cam and a modern EFI engine management also yielded nearly 160 ft.lb of torque.
So why does everyone claim that this car was under-powered?
Weight. The luxury-oriented B3 was most popular in Coupe form, where at 3,300 lbs in 1991 it was in need of a diet. It was 30 horsepower down on the BMW, and weighed 500 lbs more, with a more frontward weight bias. A performance car this did not make, and the result was that the expensive Audis leisurely gained speed. Despite the near 50% power increase over the outgoing Coupe GT, a stock B3 Coupe Quattro shared near identical 0-60 times and cost $10,000 more.
But if you were a clever buyer, you could get slightly better performance out of the 4-door variant of the naturally aspirated double overhead cam inline-5. That's because concurrent with Coupe production, the motor and drivetrain was offered in the slightly lighter 90 quattro 20V: