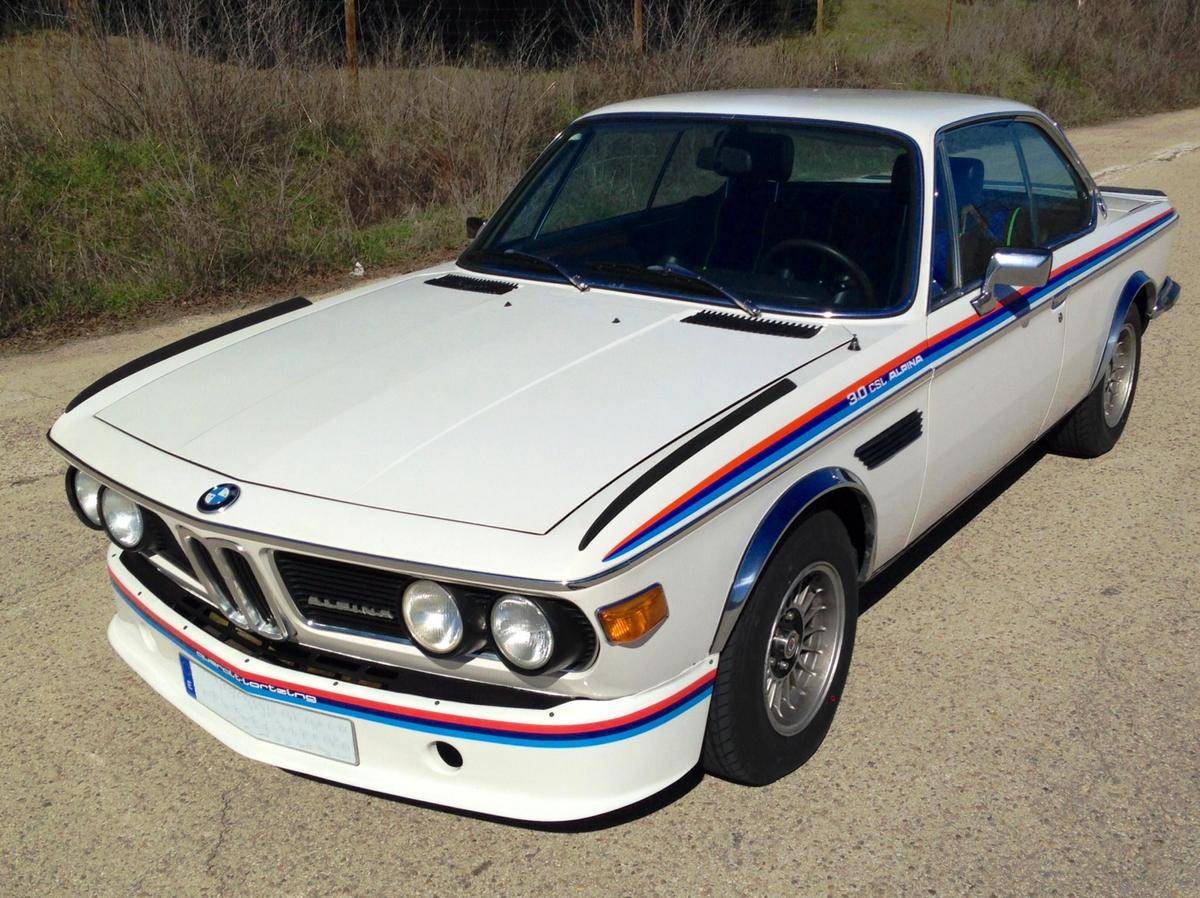 As BMW turned firmly towards sports car racing and aimed its cross hairs directly at Stuttgart, it was the Big Coupe – the E9 – that would first carry their fledgling Motorsports division to the victory circle in large-scale international racing. While the 2002 had been champion in support series – Dieter Quester in '68 and '69 Division 3, for example, the E9 moved BMW up to directly challenge the fastest sports cars in the world. Victory laurels in some of the most significant races followed: The European Touring Car Championship ('73, '75, '76, '77, '78 and finally '79 – some years out of E9 production!) and class victories at Le Mans, Spa and Daytona. These racing efforts had coincided with the growth of some of BMW's most significant tuning partners; Schnitzer Motorsports and, of course, Alpina.
At the launch of the E9, Alpina would still be a long way from becoming the factory partner and full-fledged manufacturer we recognize today. However, prior to their first official model launch, like AMG the company was active in producing aftermarket parts – especially, motors – for the BMW range. Early Alpina-modified cars are hard to come by, and often lack the full documentation of the later VIN-specific models. However, once in a while a very original and significant one pops up such as today's late production E9 apparently with all its ducks in a row. Originally a 2.5CS, this car underwent thorough modifications in the 1970s including installation of one of their hottest motors: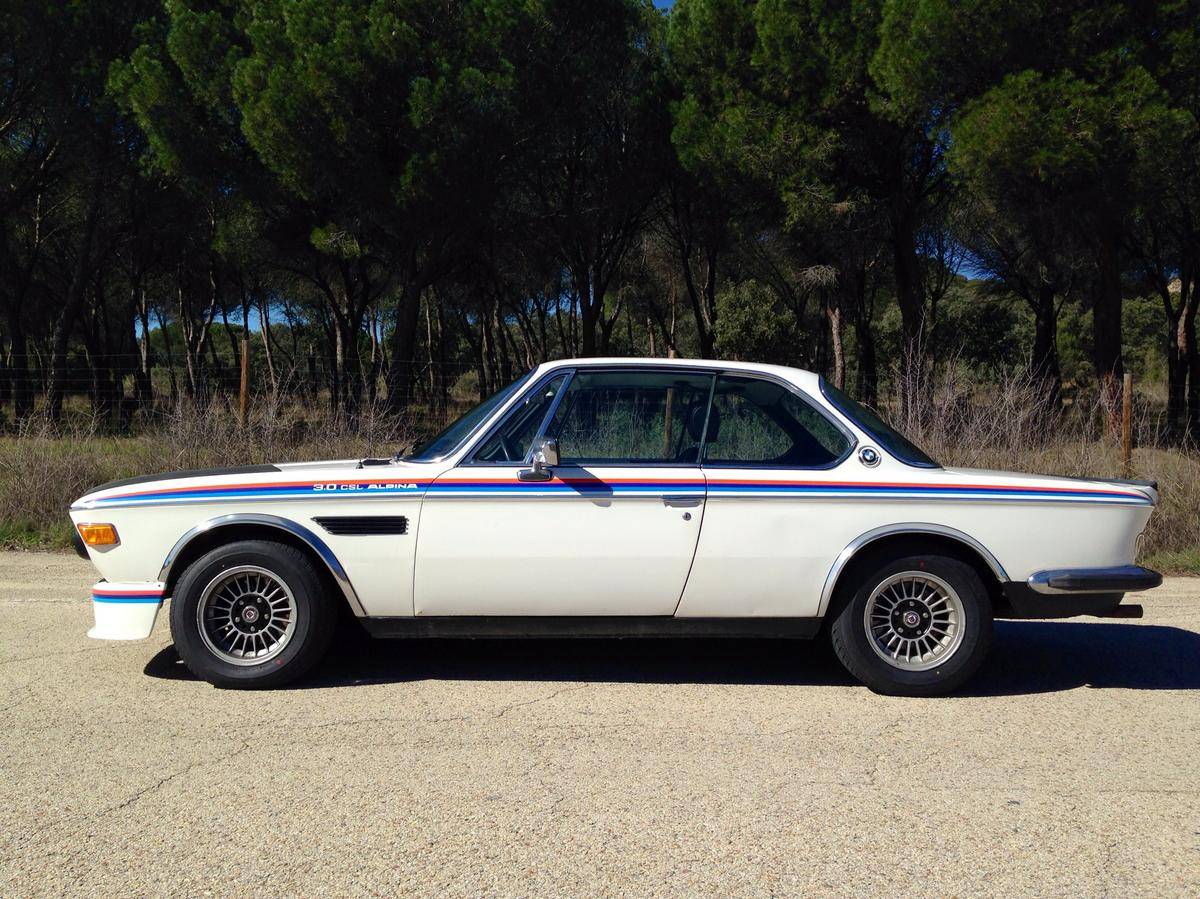 Year: 1975
Model: 3.0CS Alpina B2
VIN: 4305389
Engine: 3.0 liter inline-6
Transmission: 4-speed manual
Mileage: 50,000 mi
Price: $230,000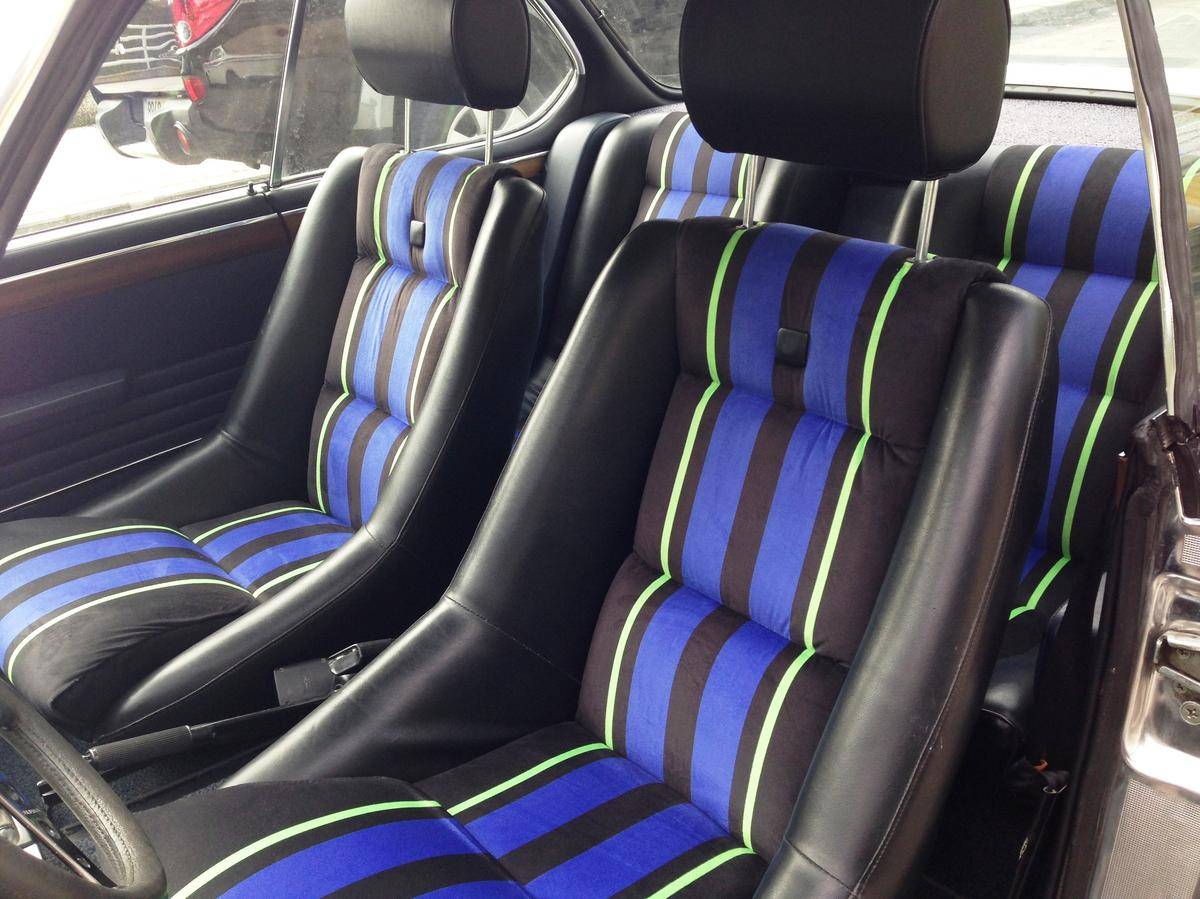 Location: Las Rozas MADRID, SPAIN
VIN #: 4305389
Mileage: 50,000
Transmission: Manual
Condition: Excellent
Exterior: White
Interior: Alpina stripes fabric

Seller's Description:

This car it's really a collector vehicle with only 80.000 kms from new and a totally original condition. One of less than 40 units ever built. Alpina has no records from its production at that time, but they said there were only 192 B2 engines ever built and shared between four different bodies: E3, E9, E12 and some E24. There are supose ten to fiveteen to be still alive. Absolutely mint condition, even body, there is no rust (incredible condition for an E9), and the engine pushes smoothly and really strong. The VIN of this car is 4305389.

This 1975 BMW Alpina B2 3.0 CS was first registered in Germany in 1975 as one of the only 844 BMW 2.5 CS ever built and converted to Alpina B2 3.0 CS specs in June 1978 as certified by Alpina. The car was imported to Spain in 2004 and I bought it in 2013 when the car was parked besides my others Alpinas, one of the most important Alpina Coupes collection in Europe that was featured in the Spanish classic cars' magazine 'Coches Clasicos'.

The conversión to Alpina B2 3.0 CS specs included the instalation of an Alpina B2 engine which delivers 230 HP with its three Solex 40/45 DDH carbs, specific cylinderhead, new 300º Alpina camshaft, special pistons and handmade valvework, special exhaust, new ventiled brakes and Alpina cushioning diagram with Bilstein shockabsorbers. An interesting detail is the rev counter, with the red zone beginning as of 7.200 revs, instead of the 6.400 from standard E9's, giving an idea from engine's expectations.

In order to lightweigth the car, front bumper was removed and the rear one replaced by a fiberglass one (rear bumper is currently an steel one again), alloy wheels were mounted as well as Scheel front bucket seats (17 Kg. lighter than the originals) with Alpina fabric.

Also the power steering was removed (now replaced by its second owner) and manual front windows devices were installed. The rear windows devices were removed and currently has no down system. The steering wheel and shiftknob are also from Alpina and the car was enhanced with three extra gauges in the dash.

As aerodynamic work the car received their front and rear spoiler, but even the wheelarchs and bonnet splitwinds. As an special option, the car mounts a left powered rear mirror and a right rear mirror, from Freser brand.

As paperwork the car has a copy of the German original Brief, where the B2 engine and all Alpina items are present and an Alpina Classic's certificate of delivery with cylinderhead number 4178 and VIN of the car. Unfortunatelly the service book is not present.

As you can see, the car is one of the latest E9 built, as the model was discontinued at December 1975. Car shows around 80.000 Kms in the odometer and due to its amazing condition, seems to be correct. It was never restored and its amazing condition is really remarkable. As you know very well, it's quite difficult to find an E9 without any rust, even in the undercarriage nor in the body, like this.

It is an accident free car and the paint comes from the Alpina conversion's era and it's almost perfect. Carpet's condition is great and the car owns an Alpina floor mats set.

The engine pushes really strong and smoothly, and it´s awesome how it accelerates. From top speed I have never reached the theoretical 232 Km/h, of course, but the car is really, really fast. I owned some years ago an original 'Batmobile' (2275501) and this B2 3.0 CS is faster than the Bat at any situation. It has a four speed gearbox that works more than properly.

This Alpina B2 3.0 CS in based in Madrid, 15 miles away from Madrid's airport, and I would be more than happy if you decide to visit it before the purchase. Even I could help you to export it and with the shipment arrangements. Clear title at my name without liens and/or liabilities. Car is sold as is, where is and with no kind of warranty.

Price: $230,000 negotiable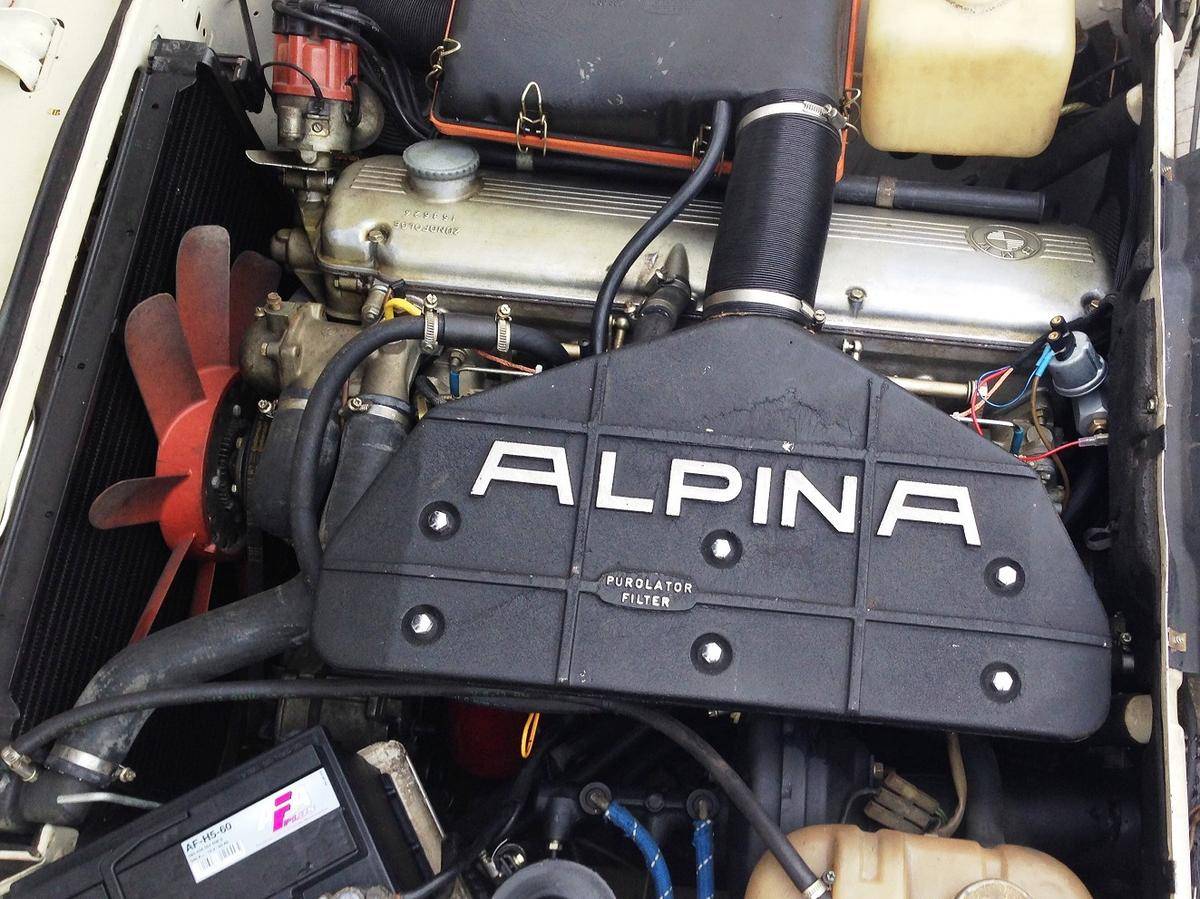 The 230 horsepower quoted doesn't sound like a lot today, but at the time Alpina's B2 motor put the E9 on level footing with world-class sports cars, including the Ferrari 365 GT and Aston Martin DBS. Heady competition, indeed. The fastest of the bunch were the CSL-modded B2Ss, such as the one I looked at in 2015:
Coupe Week Tuner Tuesday: Alpina B2S 3.0CSL and 3.0CS Alpina Tribute
That B2S remains available for sale, incidentally, with no price listed.
The seller seems to present a compelling case of the history of the vehicle. However, there are a few details that seem a bit out of place. Most obvious is the exterior CSL livery, although it was apparently done in period. The seller also claims the car was certified by Alpina and presents original paperwork linking the B2 engine number with the chassis. Yet a closeup on the Alpina certification isn't provided and seems to link to a newer model (they list a modern Alpina VIN for a B7 Turbo on it from what I can see). Further, in the period paperwork this chassis number – 4305389 per the seller, the pictures and the Alpina plaque – is not listed. On the Alpina paper, the chassis number is 4030067. The details of the car are rich and appropriate-looking, but as with any of these older cars with spotty documentation, you really need to do your homework to ensure it's the real deal. To be clear, I am not claiming this car is a fake – but, to me the seller hasn't provided definitive proof that it is what he asserts, at least through the listing photos.
That aside, the car has serious appeal, but the value depends in large part on the history. The asking price is perilously close to nut-and-bolt restored factory 3.0CSLs, for example. And if you are looking for just a "regular" driver CSL, you can save a lot of money and get one for around half the asking price. Early Alpinas, when properly documented, carry a serious premium over normal models, and if correct this one's price should be justified – for the right person.
Thanks to our reader Daniel for the spot!
-Carter