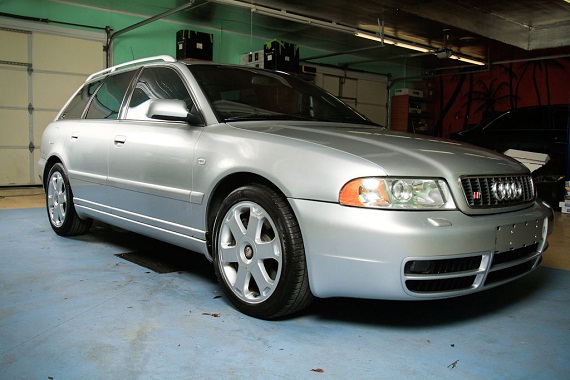 I've done a few wagon showdowns over the past week (and even a little preview the week before!). First was the A6 2.7T 6-speed and A4 1.8T Avant post, followed by the W8 6-speed vs. W8 Variant post, and more recently the Allroad 2.7T 6-speed v. 4.2. The message was pretty clear in those posts – the manuals were the ones to have, with the exception of the W8s that apparently no one wanted. Well, I've tightened up the pool a bit on this one. Here we have two silver Audi wagons, both automatic, and both with around 250hp; but it's there where the similarities end. While the earlier S4 boosts performance through two turbochargers, the newer B7 A4 makes use of the great 3.2 V6 for grunt. Which would you rather drive? Let's look at the S4 first.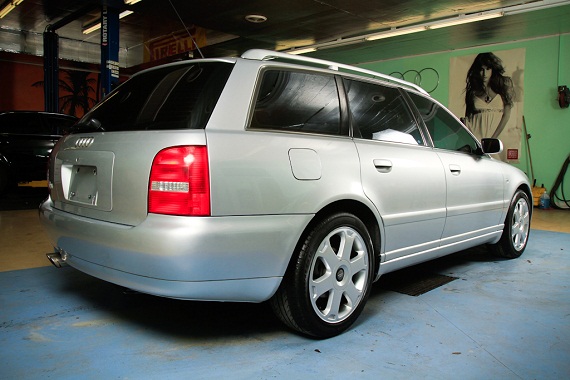 Year: 2001
Model: S4
Engine: 2.7 liter twin-turbocharged V6
Transmission: 5-speed automatic
Mileage: 92,209 mi
Price: $12,900 Buy It Now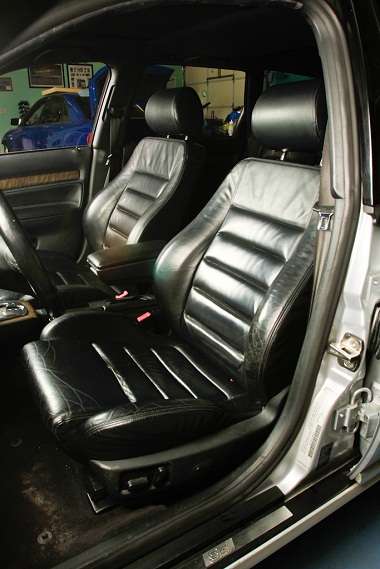 We are presenting an amazing purchase opportunity for someone interested in the highly sought after and rare Audi Bi-turbo 2.7 liter Avant Wagon, these vehicles are fun, fast and can haul you anywhere, with ease! The special quality about this purchase opportunity is the time and value that has been invested into this vehicle in general, its beyond exceptional to say the least. All maintenance has been completed including all the "preventative maintenance" as well. My colleague that owns the vehicle happens to be a certified Audi Technician, and that's the real key to all the service work in general, much sweat equity has been invested. The actual dollar value amount of what you would pay at your local Audi service shop would exceed $13,000 for the services listed below, all parts are Audi OEM quality, nothing but the best. Many of the items could have been left alone as what most dealers would do, but since my friend is Audi Certified, it made sense to go ahead and do it all considering. below is a list of some items we've performed on this Avant. We hope you enjoy the write up and congratulations on finding an awesome ride, will we ever be selling something like this again? likely not, if you know cars, you know how hard it is to find them like this! Full Timing Belt and water pump kit including all rollers, tensioners, accessory belt, thermostat, coolant flush, the complete timing overhaul has been completed. Also serviced Valve Cover gaskets including cam seals and cam caps, new brakes and rotors Front and Rear, New Steel Braided Brake Lines, Brand New Tires. 3 New wheel bearings, new mass air flow sensor, full tune up with fresh oil and filter, new cabin air filer, new air filter, brake fluid flush, transmission flush, gear oil flush, full suspension service that includes 20 pieces featuring all upper and lower control arms with new tie rod ends, with alignment. Also replaced electric water pump located underneath intake manifold, also replaced manifold gaskets. Replaced 2 window regulators. The list goes on. It does offer leather, sunroof, premium bose sound, all power, xenon headlights, heated seats, its loaded. It is clear title, non smoker, and never been in an accident. This avant S4 has been serviced, inspected and quality control tested all the way. With our program, Confidence Comes Standard, and so does Peace of mind purchasing. Now more than ever, the only way to buy a euro car is to buy a fully serviced euro car. Don't get stuck with one that needs thousand in maintenance, we've all heard those stories. This Avant is clean inside and out, drives great, and is very smooth. there are no major door dings, or damage present. There is normal wear and tear which typical for a 12 year old vehicle, nothing out of the ordinary however. Do take advantage of all the value offered here. We ship nationwide and ship fast. Feel free to reserve this car with a small deposit anytime, 90% of our ebay offerings sell before auction is expired, so don't wait on a great car and certainly don't wait on value like this! 615.390.4334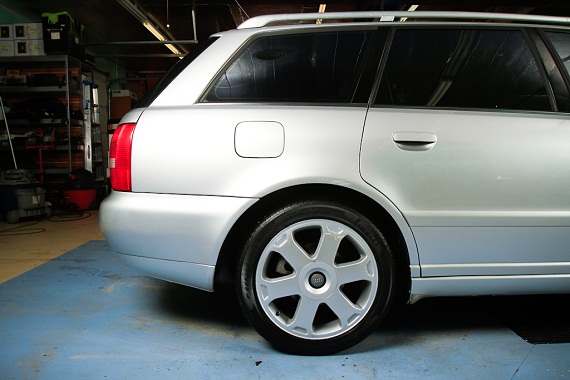 This S4 has undergone a pretty serious amount of maintenance, and at 92,000 miles is on the lower side of mileage on the B5s that come up for sale. The interior looks to be in good shape, though the black leather never seems to wear particularly well, and the silver exterior looks quite nice. I love the original Avus alloys, though they're heavy and because of the design are susceptible to curb damage which these show. The seller is right; you could find one cheaper and easily be looking at serious service bills before long; the B5 is a great example of "buy the best one you can find" if you like them. The S4 is a lot of fun to drive in the twisties, though I never really thought the automatic transmission mated well to the power delivery of the V6 twin turbo; yes, it spools quickly, but between the lag of the transmission and the lag of the engine it always seems a bit lazy compared to the six speed. The same cannot be said of the naturally aspirated later models:
While the B6, to me at least, wasn't really a better looking car than the B5 had been, the B7 was surely a massive improvement. The nose alone was worth the price of admission and really tied the design together well; coupled with a nicely revised tail and some new engines, the B7 was a big step up and for the first time the Audis seemed to have a trump card in the small executive market over the BMW and Mercedes-Benz competition. Today's example sports the torque-laden 3.2 V6: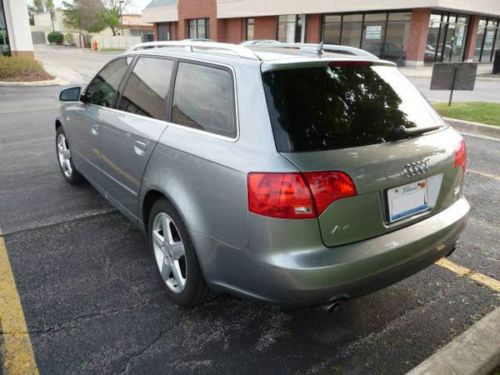 Year: 2005
Model: A4
Engine: 3.2 liter V6
Transmission: 6-speed automatic
Mileage: 58,950 mi
Price: $14,000 Buy It Now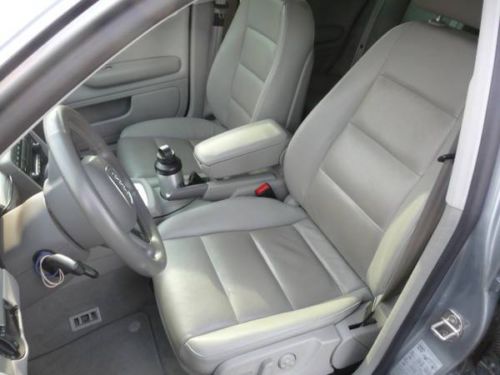 59+K pampered miles on this carefully driven two-owner Audi A4 3.2 Avant Quattro wagon. Always garage kept. Crankcase has seen nothing but synthetic since birth. All scheduled maintenance thru 50K dealer performed.

Features;
The world renown Audi Quattro all-wheel drive-train for the ultimate control in rain, sleet or snow.
Satellite radio ready.
Platinum leather interior.
Front & Rear seat heaters.
Moon Roof
Professionally tinted windows.
$800 worth of newer Continental DW tires… the perfect rubber for this precision machine.
Exterior: Some minor scratches on wheels and bumpers.
Interior: Near excellent
Mechanical: NO issues
State-of-the-art safety: Electronic stability program, Anti lock brakes with brake assist and Electronic brake-force distribution. Airbags all around.

This is the perfect nuclear family transporter for any distance. Travel in the supreme comfort & knowledge that this automobile will provide rock solid performance on the road in all conditions.

Clean title in hand.

Email with any additional questions.

VITAL STATS
Engine – 3.1L V-6
Power – 255 @ 6,500 rpm
Automatic Transmission – 6-spd w/OD
0-60 – 6.4 seconds
Drivetrain – Quattro all wheel
Seating – 5 passengers
MPG 20-26 mixed urban, city & highway

Not many of these with low mileage around.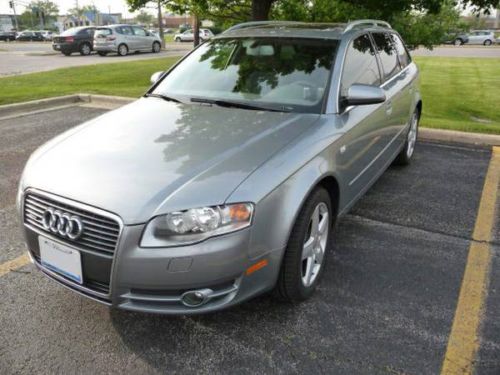 This car certainly seems to be presented in top condition with an also excellent service history from the dealers. That really takes a lot of the guesswork out of ownership immediately. The the revised transmission and engine, the B7 felt noticeably sportier than the B6 and B5s had out of the box. Unsurprisingly, with similar engine output, performance in every category is just about on par with the B5 S4 – acceleration, cornering, fuel mileage – all about the same. Drive them back to back though, and I think you'd find they feel very different. If you want to be exclusive, the S4 is probably the car to get – but with 30,000 less miles for about the same price, that 4 year newer A4 sure seems like a great alternative to a crossover to me. Though it doesn't have my favorite Ronal ultrasport wheels on it, this 3.2 would be my choice.
Which would you choose?
-Carter