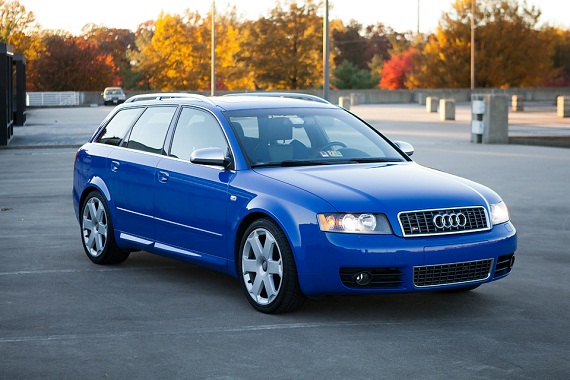 'Tis the season for Nog of the Egg variety, but I'm a much bigger fan of the Nogaro kind myself – and I expect most of you are, too. Fast Audis switched to signature blue with the RS2 and "RS Blue" hue – continued with the S6 plus until it switched to the nearly identical Nogaro Blue seen here on the B5 chassis. Like Porsche's Guards Red or Mercedes' Silver Arrows, the blue Audis have defined several generations of the top performance. Today's S4 Avant is one of the best packages Nogaro appeared on, in my opinion. The throaty V8, chiseled looks, wagon utility and sporty 6 speed drive rank high amongst the best packaged Audis ever: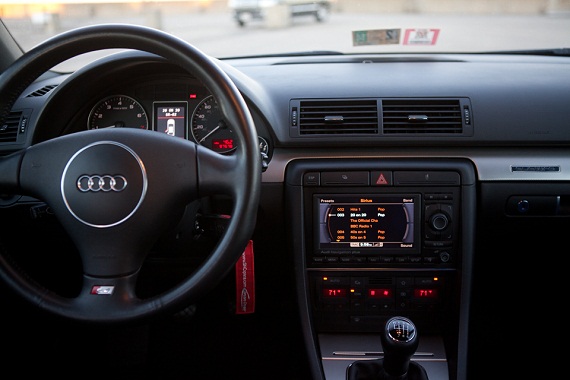 Year: 2004
Model: S4 Avant
Engine: 4.2 liter V8
Transmission: 6-speed manual
Mileage: 97,200 mi
Price: $16,300 Buy It Now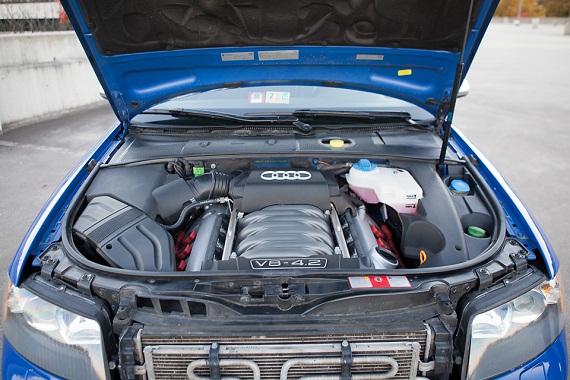 2004 Audi S4 Avant Quattro

6-speed, 97k miles, Pristine condition

$16,300

Background:

I'm an Audi fan. This was my 3rd S4 (2 B5 sedans) and it has been replaced by a 2010 B8 S4 sedan. It's my 9th audi. This was my daily driver from Jan 2012 until about 2months ago. I bought the car with 79k miles on it from a friend. He had purchased the car to convert to an RS4 replica (widebody panels, rs4 engine, etc) but decided against the project. He drove the car about 2kmiles over the year or so he owned it. The car was garaged when he owned it. The car has always been garaged (both day and night) since I've owned it.

The car had a fender resprayed due to a minor accident (previous to my friend owning it). The paint repair looks good (see pictures below). Repair was done Jan/2006.

No check engine lights. Everything works on the car. The car has been VERY reliable and has never failed to perform.

Details/Options:

Exterior: Nogaro

Interior: Black leather with Nogaro alcantara inserts

6speed manual transmission

Premium Package (Sunroof/Homelink/Autodimming Mirrors/Autodimming rear view mirror with compass/Memory seat for driver/Light sensor

Enhanced Interior Package (alcantara seat inserts + brushed aluminum trim)

Premium Audio Package (XM) – this has now been changed to Sirius

Technical specs and option details can be found here:

Maintenance/condition:

I fixed a few common things after purchase. I had removed the valve covers, had them stripped and powdercoated in the factory color. The stock covers were painted and it was prone to flake. At that time I also changed the auxiliary radiators (another common weak spot over 80-100k miles). One had a small leak and the other was precautionary. Spark Plugs were replaced. Coolant was entirely flushed. The rear cargo strap was also replaced. The shifter surround was replaced due to some small scratches. Cabin and air filters were changed annually.

Car has had Castrol German/Belgium Synthetic (5w-40) every 5k miles with an OEM filter.

The car was just extensively detailed (clean, scrub, paint correction where needed, polish, wax).

The car has a couple small blemishes (it is 9 years old). There is a small door ding on the drivers side rear door crease. I've had a PDR person try to get it out but you can still see it a bit in just the right light. Additionally, the rear bumper has 4 small marks where someone was kind enough to use their license plate screws to enhance the bumper. There is a small (~3" scratch in the left rear quarter panel). There are also the associated road/rock chips but overall the car presents itself incredibly. Nogaro is a phenomenal color in person and pictures!!

Enhancements:

The audio system has been upgraded to the factory audi navigation system (RNS-E). It has Bluetooth, Sirius, Nav, traffic, ability to play media via dual SD slots, and will play DVDs.

The car is hardwired for a V1 radar detector (or any detector that uses a standard phone jack for a plug).

The factory cat-back system was replaced with a labree resonated system. Nice deep sound with no drone.

Audi all-weather mats were added as was a cargo mat in the rear area.

A perforated leather RS4 ebrake handle cover was added.

The stock shift knob was also upgraded and the boot replaced.

Wheels/Tires:

Stock wheels. The wheels do have some scratches from the previous owners.

The aforementioned tires are Bridgestone Potenza RE970AS in the stock size. There is approximately 60% of the tread remaining (mounted at 86k miles)

Cost/Location:

The car is located in the northern Virginia, DC suburbs near Dulles airport. Title is in hand. Email me at blueaudiwagon@gmail.com for more information.

$16,300 for car with navigation system and labree exhaust. $15,500 with stock exhaust and stock stereo.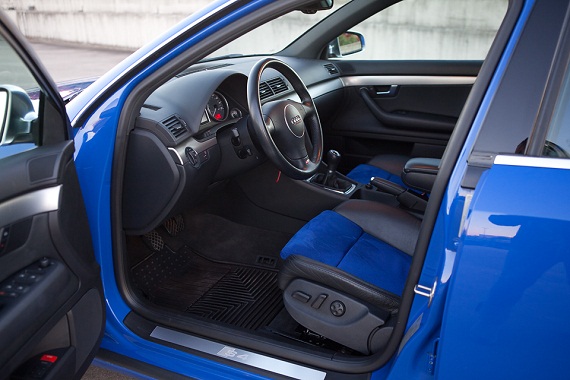 As these cars go, this one is about spot on in every category; Nogaro over Nogaro, miles are right, it's a 6 speed, relatively unmodded, and it has the original Avus wheels. That's all win, folks. Additionally the owner has replaced some common wear items and this ride seems ready to go. At $16,000, I think it's pretty much spot on for the market – and makes me wonder why anyone would pass this up for an SUV!
-Carter