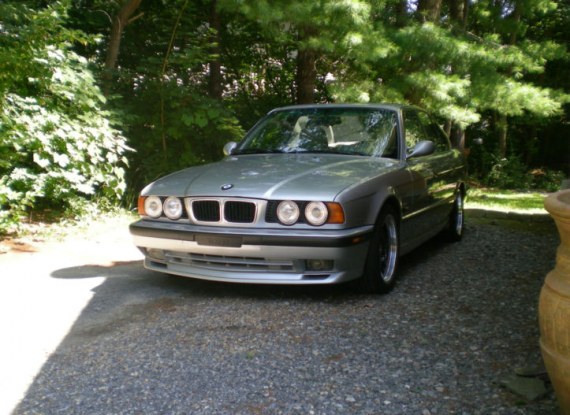 I was intrigued by the 540i M-Sport we featured last week, partially because my college rowing coach lavished praise upon the non-M-sport 6-speed 540i highway-crusher he commuted 100 miles a day in. Many were already fans of the torquier 540 over the E34 M5, so the additional M suspension was a decent compromise when the M5 went away for a few years. Today's is another one of the 139 fitted with the 6-speed, making it one of the most desirable E34s out there. Unlike last week's with the 4.4L swap, this one's original block had the Nikasil issue taken care of pretty early in its life. It's only covered 100,000 miles since then, while there's about 50k more on the chassis. If you don't care about an M badge, this may well be THE E34 to have.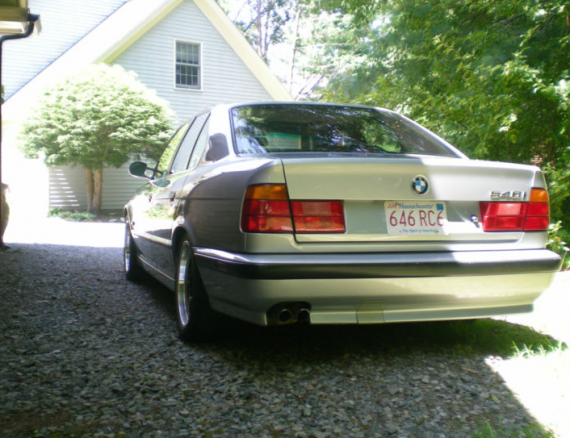 Year: 1995
Model: 540i M-Sport
Engine: 4.0L V8
Transmission: 6-speed manual
Mileage: 147,400 mi
Price: Reserve auction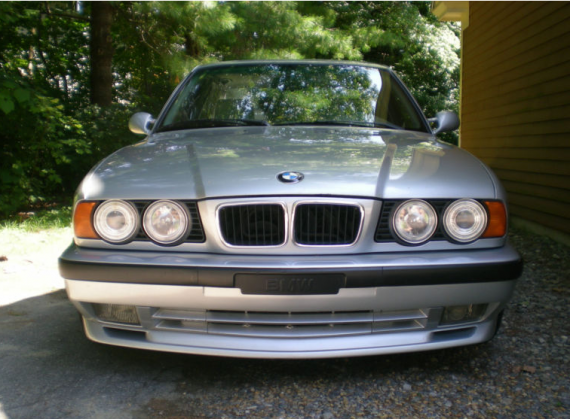 1995 BMW 540i M-Sport
Arctic Silver metallic w/ Light Silvergray leather & burled walnut wood trim
6-speed manual gearbox
ASC+T & heated front seats
147,400 miles (Nikasil block issue was resolved at 50k miles so the bottom end has less than 100k on it)
Original tape deck and sound system (still provides great sound) – also a 6-disc CD changer in the trunk
Fantastic condition for an almost 18 year old car…no accidents, title-in-hand, clean Carfax, third owner, no dead pixels on the dash, etc.

Good:

EDC suspension is in fantastic condition and works flawlessly! ($7,000 job done during the previous ownership about two years ago and about 25,000 miles ago; there is a very discernible difference between "P" and "S" modes, the latter stiffening up the suspension and lowering the car a bit which makes it much more nimble in the corners, also makes the steering more responsive)

Jim Conforti chip (as well as original in one of various parts boxes) & aluminum radiator are the only aftermarket parts…otherwise, all OEM!

Wheel lips have been polished and centers painted; Throwing Star wheel covers are in superb condition

Seats re-dyed and show very little signs of wear, leather feels great

Every single receipt and document since vehicle was first purchased at New Century BMW in California in 1995 (including cool bits like the original window sticker & M-Sport brochure); lots of manuals such as the Bentley manual and various 540i-specific maintenance procedures

Fresh oil & filter change at 146,850 miles

Car does not require any work or service at the moment (within the range of all service intervals)

PPI at Paddock Imports in Denver in April of 2013 came back clean

Clear glass angel-eye headlights

Michelin Pilot SuperSport tires still have plenty of tread on them

NO rust whatsoever. The two previous owners lived in Southern California and Colorado, respectively, and when in CO it was never driven in the snow/winter.

Bad:

Rear window regulators just went (of course), would buy new ones if I wasn't selling the car

The expected paint chips due to age, but many were prevented by the clear protective film that's on the front end

A quarter-sized scratch on the right C-pillar (show in photo) from the previous owner; otherwise the original paint is in fantastic condition all around

A bit of curb rash on the front right wheel

That's it, seriously.

Sale includes V1 radar detector + extra Sports II steering wheel [picture of items in boxes is of the Throwing Star wheel covers to the left and steering wheel to the right] (all in 9.5 out of 10 condition)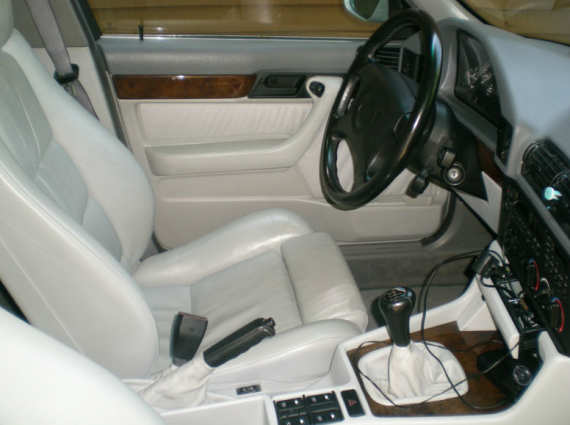 Silver isn't my favorite color on these, but this is a mean looking E34. It's a very rare piece, but the mileage may be keeping some away. The deeper details like the Nikasil fix and the recent work helping the problematic and expensive EDC work flawlessly make this a well-sorted example. If enough people overlook it and the reserve can be met, this could be a serious performance-sedan bargain.
-NR