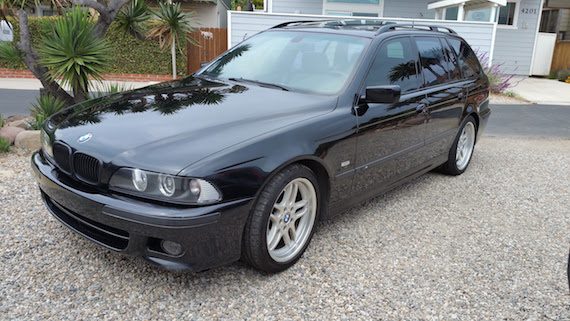 Growing up, I never really understood the appeal of wagons, or "estates" as we called them in England. The triumph of sensibleness and practicality over style, they didn't seem particularly cool or desirable. Instead, they were for posh people in the countryside who owned big dogs. But as I've gotten older, and particularly since I moved to America, something has changed. Not only do I find myself needing to carry around a lot more stuff these days, but wagons have become, well, cool. No longer the staple of the staid upper classes, they're for the person who needs the extra space of an SUV or a minivan but says "f-that, I'm not ready to give up on life just yet." And there are some seriously cool wagons around these days. On a recent trip home to London, the first sight greeting me in the car park at Heathrow was that of an F11 530d M-Sport, B8 S4 Avant and an E63 AMG estate, all lined up next to each other. It's as if somebody was trying to make a point.
The E39 Touring, already a fairly handsome car, looks especially good when specified with the M-sport package, as here. This particular 540i represents the top of the range and not only has it been blessed with M exterior styling and sport suspension, as an added bonus the current owner has gone to the trouble of retrofitting a 6-speed manual transmission from an M5, turning this into a quick, capable and seriously cool longroof.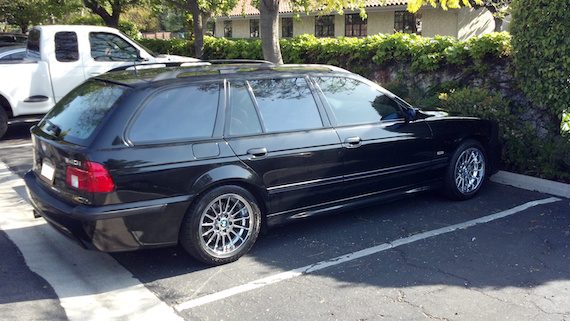 Year: 2003
Model: 540i Touring M-Sport
Engine: 4.4 liter V8
Transmission: 6-speed manual
Mileage: 114,000 mi
Price: $ 18,500 OBO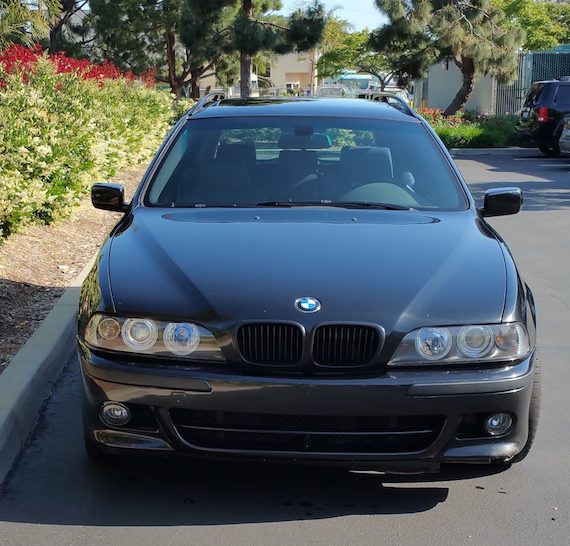 Okay. I have decided to sell my baby. I have been cherishing this car (and spending money on it) since 2009 when I bought it from the second owner. It is a lifelong Southern California wagon which has never seen winter and barely seen rain. It is a factory M-sport car which has been professionally converted to a 6-speed manual transmission (the same Getrag unit from the e39 M5) and upgraded with many performance and cosmetic parts – mostly OEM. When I bought it, the car had 1 month left on the CPO warranty. So in addition to my attentions, it's had extra care from BMW too. About 6 months into my ownership, at roughly 80,000 miles, I found a wrecked 6-speed sedan (1998 with 60,000 miles) and bought the parts needed for a swap from the owner. Everything went down to Avus Autosport in Glendale (Dinan Authorized shop that also does specializes in Porsche and Ferrari service) for the 3 months needed to do the conversion right. They reprogrammed the ECU to make the car think it is a factory 6-speed and you would never know it wasn't. There are no check engine lights or funny business. This was incredibly expensive, but the professionalism shows in their work. While in there, they installed the pedals, had the driveshaft balanced, put in a new clutch, (with all new fluid lines), added an e46 M3 shifter to shorten the throws, and loaded Dinan stage 2 software. This wagon runs like a beast. I have driven a lot of e39 v8's and none of them jump off the line like my car. The 3.15 rear gears (factory installed for AT cars) definitely help, but this engine is very healthy. Since then the modifications have kept coming. I've put in M5 sway bars (front and rear), 18″ M parallels (factory e39 – not replicas), Eisenman Sport exhaust, and a Racing Dynamics cold air intake. In my basement I have the LSD from an M5 and the full brake system (calipers and rotors) from an M5 just waiting to go on the wagon. The interior has been lavishly spent on as well. Hating the lack of kneeroom when in the passenger seat (while my kids are in back), I swapped the dashboard over to an OEM euro dash. It was a pretty massive undertaking, but the results have been worth it. The lines are cleaner, there is a storage tub under the drivers side and the kneeroom is as good as an e38! The original walnut wood trim has been swapped out for a set of titanium factory trim from an M5. The titanium is not in great shape around the shifter, so the buyer is free to choose from any of the 3 trim sets I have (wood, 3M brushed aluminum wrap, and factory titanium). I've also put in the extended leather doorcards from an M5 (with the ostrich skin on half the panel) and a full leather armrest. The stereo has been upgraded to a Dynavin model which looks 100% like it came from the factory, but features a 7 inch touchscreen, full Bluetooth integration, Navigation, USB input, and support for MP3/WMV/DVD discs. Oh yeah and all the steering wheel controls work perfectly with it. Speaking of steering wheel, mine has been upgraded to a brand new 2003 M5 wheel with the tri-color stitching. To this day, it is the best wheel my mitts have ever gripped (IMHO). The car came with factory M-technic steering, so it turns and grips like an M5. Along with the dash and door cards, I have upgraded a number of the plastic interior panels from gray to black so that it has a cohesive, aesthetically pleasing look. The interior bulbs have been upgraded to LED – which was badly needed because the M-sport cars, like mine, came with black headliners. The car is up to date on maintenance too. I've done the rear sub-frame bushings and a full replacement of the cooling system took place at 100k miles. I've done the front engine seals and the valvecover seals. This M62 does not leak a drop! I have replaced both sets of rear hatch springs. So the rear doors stand tall when needed, soft-close properly when shut. I had a rear window regulator go out which has been replaced and all the switch gear works as it should. Current mileage is 113,750, but that is going up by about 30 miles per week. Unfortunately I just don't drive her much anymore. My wife and I got new cars last summer. An '04 z06 for me and an i3 for her. That little electric golf cart is a lot more fun than I expected! Cosmetically the e39 wagon is in surprisingly good shape. The sapphire black metallic paint gleams in the sun and there are no rock-chips. You can thank a clear bra and regular waxing for most of that. Windows are tinted with 3M (100% UV block) which has helped the interior hold up well. It gets either garaged or placed under a car cover (even at work). There are two minor door dings (hard to see) and a little damage on the bottom of the air dam where I hit a rock while on the freeway. For those of you who don't know the e39 touring is a watershed car. It's the last BMW with a fullsize spare and a huge trunk! The dashboard material is significantly better than the cars before (which cracked or warped) and the cars after – which look like the the fake leather grain on a rubber Wilson basketball. The driving ergonomics are perfect and with the extra weight on the tail, handling is actually more neutral than a stock M5. I have the retractable pet fence for the rear compartment – which can be moved forward when the seats are folded, the rear luggage cover, the factory DSP system with trunk mounted subwoofer (which sounds fantastic in combination with the new head unit), LED taillights and Xenon HID headlights. It's a perfect blend of the great handling of old and ultra-modern conveniences of new. I have 3 full sets of wheels for the car. The car came to me with Style 66 from the factory and that is what is included for the selling price. If the buyer chooses, those can be swapped out for a set of Style 32 wheels which have been chromed, but note that the chrome is pitting where the ribs meet the sidewall. They look great from 8-10 feet, but won't hold up to close inspection. Like the LSD and brakes, I have the other sets of wheels for sale. Feel free to make me an offer. The M-pars have a set of Goodyear GS-D3 tires on them with lots of tread left (see photos). The other wheels are quite threadbare and will need new tires almost immediately. I also have a Sprint Booster, the old door cards, and a few other miscellaneous gray trim pieces available. Open to all offers on that stuff! By my tally there are only about six e39 wagons in this country with a 6-speed and a v8. At least 3 of those have the S62 which will drive a hole through the atmosphere and your wallet with equal speed. Mine is one of only a couple conversions that are based on a real factory M-sport package, which was only available in 2003. According to a credible source, there were only 181 M-sport e39 wagons ever built for North America. Sorry for writing a tome here. Hopefully I haven't lost too many of you along the way. As you can see I have a lot emotionally invested in this car, but the time has come to find her a new home. Price is $18,500. A smidge more if you want the 18 inch wheels, M5 differential, and M5 brakes. I don't have to sell it; so, there is not much wiggle room here. This is a one of a kind vehicle, and for someone out there who appreciates it, this price is a relative bargain. I'm sure there are details that I have left out. Please feel free to drop me a message with any questions! The car is located in Santa Barbara, CA and I am not inclined to ship it. https://goo.gl/photos/A4PMF88NGZftjF7o6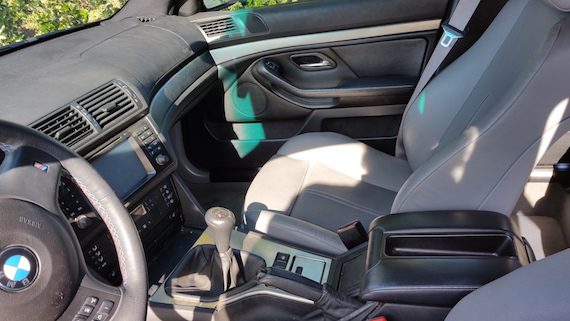 The M-sport bumpers, sapphire black paint, blacked out kidney grills and tinted windows lend the car a subtly aggressive air, while the handsome and favored M-parallel wheels shown in the pictures are available at extra cost (for the asking price the the seller will instead supply standard style 66s, and is also willing to sell a set of style 32s).  It's a shame that the leather interior is a slightly uninspired gray, but at least it's in good condition and the seats are the sport seats. The most attractive feature is of course the manual gear lever sitting proudly in the middle of it all. The E46 M3-sourced, short shift knob is connected to a manual transmission taken from a wrecked M5 and the conversion has been done at what appears to have been a considerable cost. Combined with the torquey 4.4 liter M62TUB44 V8, good for about 286 hp, this should make for a fun car to haul stuff around in.
The ad lists some other modifications that have been made in addition to the transmission swap, including M5 sway bars, an Eisenman Sport exhaust and a Racing Dynamics cold air intake. While $18.5k is steep for a 13 year-old car with over 100k miles, it's not outrageous given the relatively rare and inviting package on offer here.
– Craig