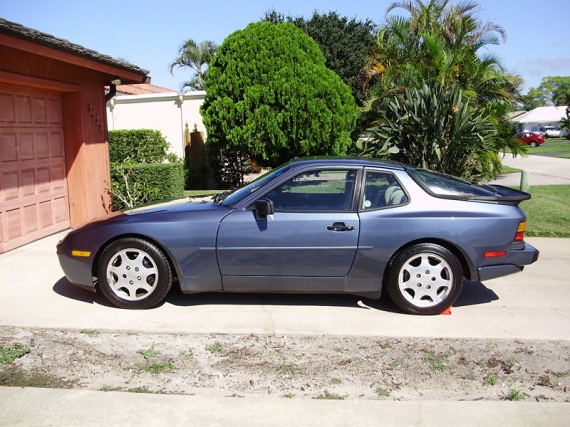 Recent technology, engineering and computers have challenged the age-old automotive adage: "There's no replacement for displacement". The other day I caught an article claiming the new twin-turbo Audi S8 and S7 can be beefed up and are running sub-4 second runs to 60mph. Not bad for only 4 liters; that would best any muscle car from the 1960s without too much trouble. That, coupled with the Porsche 968 I wrote up the other day got me wondering; given about the same money, would I choose a 944 Turbo or a 944 S2? Well, lucky for us I found two good examples at right around the same miles and price; let's start with the Turbo: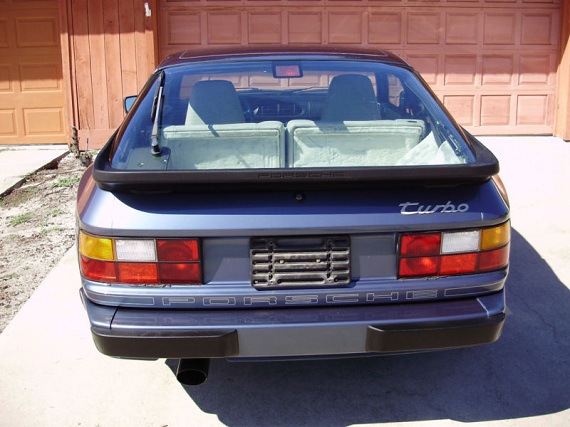 Year: 1989
Model: 944 Turbo
Engine: 2.5 liter turbocharged inline-4
Transmission: 5-speed manual
Mileage: 102,073 mi
Price: $13,000 Buy It Now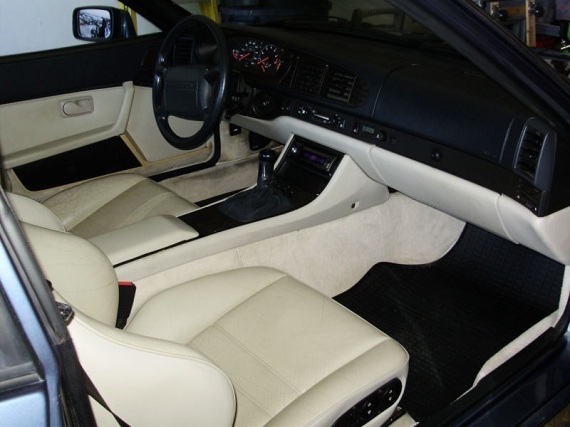 Maintenance:

-Clutch kit replacement and re-surface of flywheel (2006, 62,751 mi)

-Timing belt and water pump replacement (2009, 85,347 mi)

-Alternator replacement (2009, 89,378 mi)

-New tires (2011, approx. 2000 mi driven on them)

-New battery (2013, 102,073 mi)

History:

I'm the third owner. Originally purchased in Germany (Canadian Military Car Sales, Nurnberg). Second owner had it for approx. six years / 8000 miles when I purchased it in 2011. I have the original paperwork and still in contact with the second owner. I drove it (approx. 59,000 mi)so it has normal wear and tear on it but mechanically it is in excellent shape and runs quite good.
This car seems to have an interesting history, matched by it's interesting color combination. The white interior includes the more rare sport seats with tremendous bolsters; those bolsters show wear (as does the white) which is inevitable if you want to drive the car. The exterior shade is one I've only seen on later 944S2s interestingly, and for a Turbo is pretty unique. Some mechanical history is included, which is nice, and while this car isn't pristine I'd classify it as a very nice driver example. There is some light wear showing outside, the wheels don't shine as they originally did and the dash is cracked. Great, now stop worrying about those things and just drive it. The 1989s – though not termed "S" – got all of the S upgrades including the M030 suspension and uprated 250hp motor. These are great driving cars, well balanced and fairly bulletproof as long as you don't turn the boost up too much. Older turbo technology a little too scary for you? How about jumping up a bunch of valves and half a liter to the 944 S2: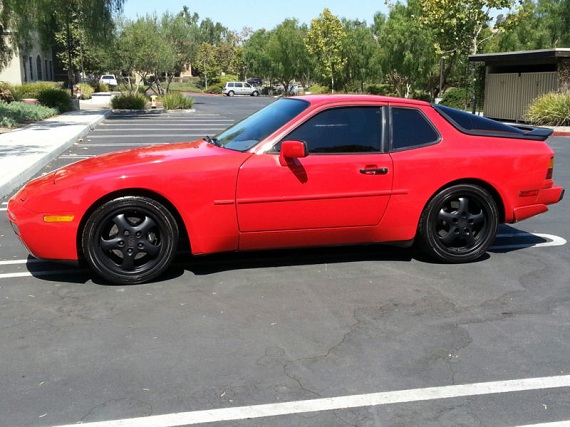 Year: 1991
Model: 944 S2
Engine: 3.0 inline-4
Transmission: 5-speed manual
Mileage: 106,000 mi
Price: No Reserve Auction, $13,000 opening bid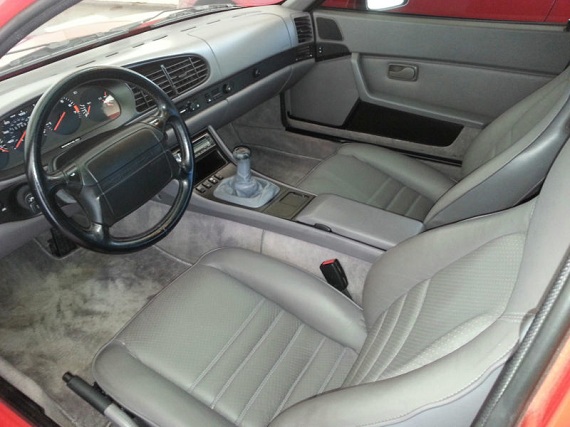 I have a much loved 1991 Porsche 944s2 with rare options. It is the last year produced and has the one year only options that became the 968. Red with Gray and black interior. Everything works flawlessly and has been maintained to an incredible standard by one of the renowned 944/928 specialist shops. It has new leather because I wanted it not because it needed it. It has 968 matte black cupII wheels with new tires but I have like new original wheels and tires with it. It has ice cold air, Power windows and mirrors, Sunroof, new Porsche drilled rotors and pads. Dash is perfect, no cracks. I just did the full service cam tensioner / timing belt etc. I spent some money on this because my mechanic is the best. Just powder coated to factory specs the valve cover. This car needs nothing. The underside you can eat off of and I just installed a Alpine unit with Bluetooth and audio streaming of IPOD or Pandora radio with out the need to plug anything in but it has a USB plug to charge. Voice dialing and music is amazing. 5speed with limited slip differential(ultra Rare) and the 10 speaker sound system from the factory another rare option code, 968 spoiler. Original working Porsche stereo. 105k miles. All compression is like new and near even. $13500. You wont find many cars as nice and unmolested as this example. I spent years searching for this car. Never tracked adult owner.

David 949 232 8200. Car is a southern California car.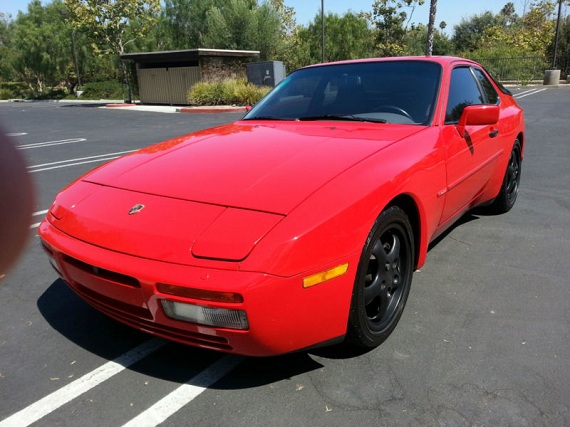 The 944 S2 was indeed the prototype for the 968, only missing it's 6-speed option and some minor exterior refreshing. To some, the earlier "chunky" looks of the 944 are preferable. Guards Red is a safe bet on these cars and generally always looks great. As usual, I wish the Cup wheels were silver rather than Matte Black, but the sale seems to include the original Design 90s that should be on there. Like the Turbo, some maintenance is done so that's a plus, and the interior has been refreshed "just because". Although this car doesn't have the sport seats of the Turbo it does carry the limited-slip rear end, making it a bit more fun in the twisties.
So, for around $13,000, which is a better deal? Well, both are pretty solid looking cars; ultimately, I think it comes down to what you want to do. Day to day, I'd have to argue the S2 is probably a better choice – they're easier to drive around town, and because of the linear power delivery they're actually a tad bit quicker around a track than a stock Turbo in my experience. However, "stock" and "944 Turbo" seldom go together, so if you're inclined to have an occasional car with more scoot, the Turbo is capable of that in strides. It wouldn't be hard to push 100 hp more than the S2 out of the 2.5, and then it would be no contest of which would be faster. I do like the rarity of the S2, but that pretty Turbo seems to be calling my name this time around…
Which would you choose?
-Carter