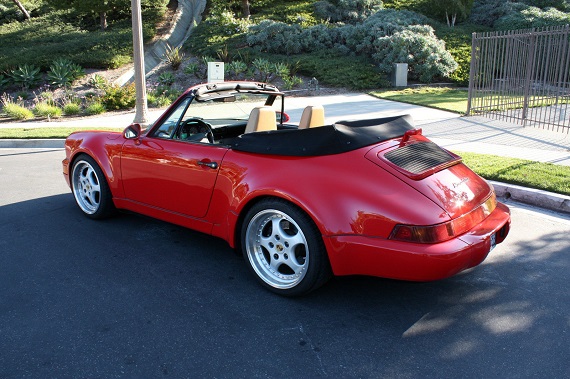 My attraction to the 964 is somewhat confounding. In pictures, I don't like them. The proportions seem odd. But in my neighborhood there is a very nice White 964 with Black wheels that I see parked in its driveway whenever I go for a run. It's a beautiful car. The proportions look just right and there is a simplicity to its design that, for whatever reason, I fail to notice in pictures. That car looks fantastic! So I have been hunting around 964s lately and came across the example featured here. This is a 1992 Porsche 911 America Roadster. While Porsche offered a Cabriolet version of the 964 nearly from the model's inception, the America Roadster differed from the standard Cabriolet by using the body, suspension, and brakes from the 964 Turbo. What we had was a limited run (only 250 were produced) 911 Cabriolet with wider rear fenders and Turbo spec brakes and suspension. Power remained the same as the standard Cabriolet with 247 hp from the 3.6 liter flat-six engine.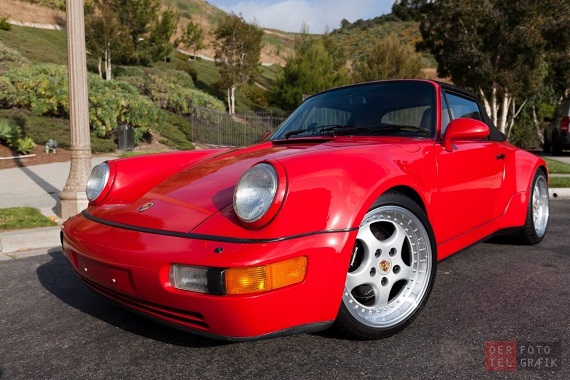 Year: 1992
Model: 911 America Roadster
Engine: 3.6 liter flat-6
Transmission: 5-speed manual
Mileage: 82,954 mi
Price: Auction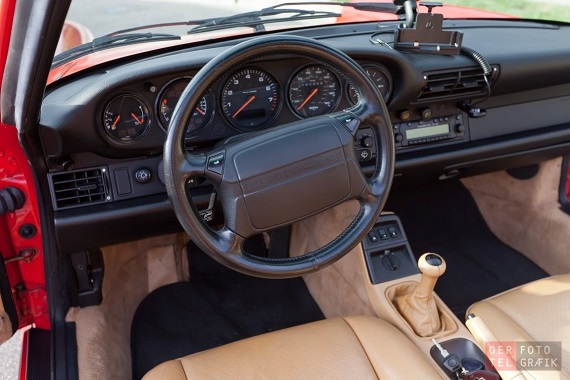 This is a rare, factory wide body 911 convertible, built in the 1992 model year and sold as an "America Roadster" in the U.S. I've pampered the car, always garaged, rarely driven in rain. In fact, rarely driven, but with a family of five, a small 2-seater isn't practical anymore.

It is in great condition. I've owned it since October 2003 when it had 57k miles. Purchased from a dealer in New York and I drove it back to Southern California. Only issue is the cruise control doesn't hold speed and A/C system isn't cold. It needs a new rear spoiler wall (under deck lid). Passenger airbag has been disabled to allow for younger passengers in front seat. The mechanic said it's a simple plug/unplug on a module to re-enable.

I have all the records from when I owned it as well as records dating back to May 1998/28k miles, when it was serviced at Champion in Florida. I have not had any problems with the vehicles. Reliably started when needed and runs great, with smooth shifts and good power.

I installed a new Viper alarm system when I first bought it and installed a Porsche CDR-220 head unit with Aux input and new speakers. Also installed H&R Sport Spring and 18″ Speedline-replica wheels. Original struts will be included with sale. Other great options is a factory OBC (on-board computer) that displays mileage, range, speed and trip meter. Never had an issue with the power top – always worked fine and straight.

Serviced at Hergesheimer Motorsports in Lake Forest, CA and has always passed California smog check.

Of note: Carfax will show an odometer mileage check of 123k at 3/25/2000. I saw that too when I bought it but the dated dealer service records and the condition of the car don't match that. I had a PPI done when purchased, both in New York and when I returned, and there were no signs of that level of wear.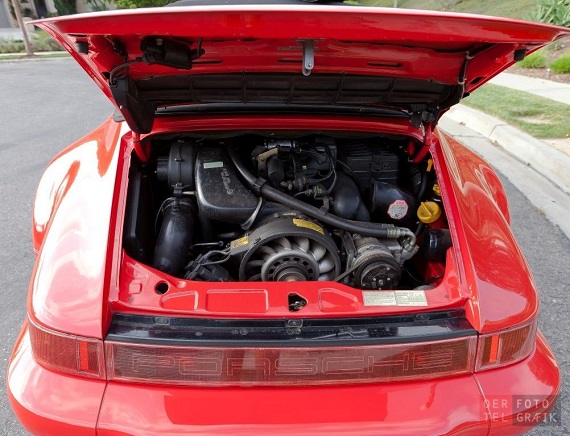 While the seller is auctioning this car with no reserve, the opening bid has been set at what, essentially, would have been a reserve price. The last America Roadster we featured had seen much fewer miles and at a listed price of $59,900 it did sell. It was a dealer listing so it's difficult to be sure about the final selling price, but we can at least take from that listing an understanding that the car here is priced a little high. With that said, the America Roadster is rare and the combination of the Turbo's wide-body rear styling in Cabriolet form certainly should have appeal to many buyers. The condition of this car suggests to me that it'd make a great driver, so the price needs to come down and if it does then this is a winner. Fantastic Turbo body, top down, great soundtrack: a perfect combination for simply enjoying the act of driving.
-Rob