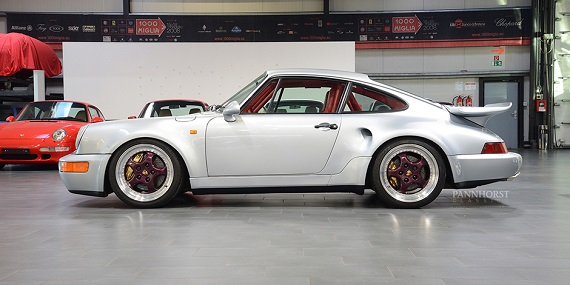 Like the 930 before it, the 964 Turbo would end its run having used two different engines. The first, a refined version of the 930's 3.3 liter turbocharged flat-six, was used out of necessity while Porsche completed development of a turbocharged version of the standard 3.6 liter engine that debuted with the 964 more generally. The second engine, then, was that 3.6 liter, which came on board for the '93 and '94 model years. After nearly 15 years of use, inspiring the dreams of many, and helping establish the 911 as one of the world's preeminent sports coupes the turbocharged 3.3 was to be put to bed. But Porsche, a company which takes a particular delight in final year send-offs, wasn't quite done with it yet. Enter the 1992 Porsche 911 3.3 Turbo S Leichtbau (Lightweight). As the name would suggest the 3.3 Turbo S was taken in a slightly different direction from other Turbos and provides a nice contrast with the later 3.6 Turbo S, the apex of 964 performance and luxury. This is more in the vein of the GT2: a lightened, track-oriented, rear-drive Turbo that would debut a few years later for the 993. The GT2 perhaps is a more extreme example, but as we can see here the 3.3 Turbo S was not intended to provide a high degree of refined cruising and this specific example even has a more extensive roll cage than other versions I've come across (as rare as that may be). All told 86 examples were produced making these one of the rarest 911s and another of the exquisite 964 variants.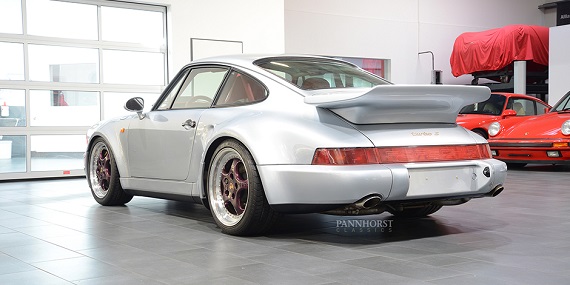 Year: 1992
Model: 911 Turbo S
Engine: 3.3 liter turbocharged flat-6
Transmission: 5-speed manual
Mileage: 114 km (71 mi)
Price: Inquire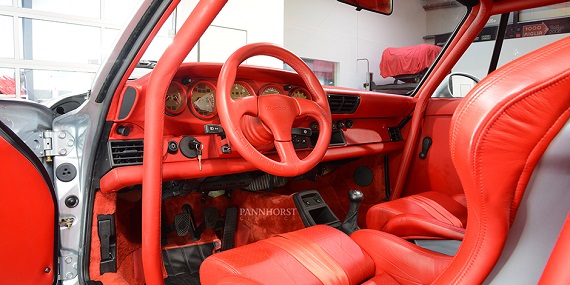 1992 Porsche 964 3.3 Turbo S Leichtbau / Lightweight M720

Neuwagen / Ohne Zulassung /

Brand new Car / Never registered /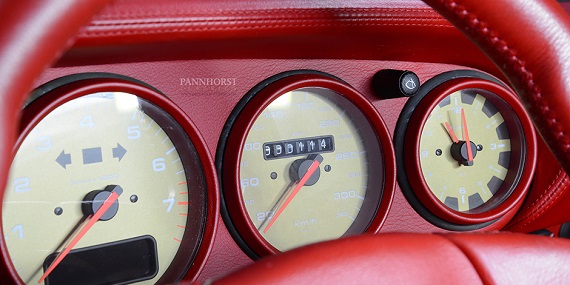 The sellers are letting this car speak for itself providing no description other than stating what the car is, its mileage – a mere 71 miles – and the peculiar fact that this 911 has never been registered. Its precise history and why it has never been registered are left to our imagination, though I'm sure buyers who make serious inquiries will receive as much information as the sellers can give, whether it has been stated here or not. But let's get to the car: this is the stuff of bedroom posters and every man's dreams. From the way the Burgundy wheels stand in stark contrast to the Silver exterior, with Gold calipers peeking from behind each wheel rim, to the garish and purposeful Red interior, this 964 stands out even among the most notable of the 964 Turbos. Raise the power to 376 hp and subtract around 180 kilograms of weight and you have performance to match that very aggressive appearance. It is, in a word: breathtaking. I don't think I need say any more.
-Rob