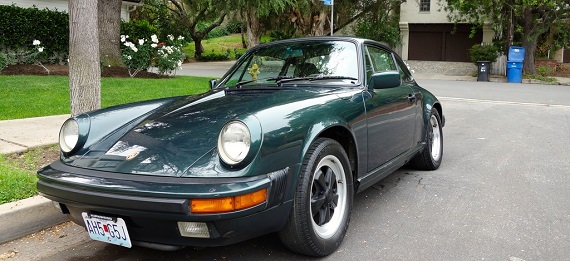 Naturally we feature Porsche's 3.2 Carrera pretty frequently on these pages as it tends to provide one of the best mixes of value, performance, and style within the 911 catalog. It so happens that at the moment there are a few examples that are all broadly similar so it seemed as good a time as any to feature them all at the same time. These examples don't necessarily represent the best values on the 911 market as each is low mileage – though not ultra-low – but they all come in some of the less standard colors and show in very good condition, so while the prices may be higher there is promise to be found in each one. We will begin with the one that is the rarest color combination: a Moss Green Metallic 1986 Porsche 911 Carrera Coupe, located in California, with Brown leather interior and 54,000 miles on it.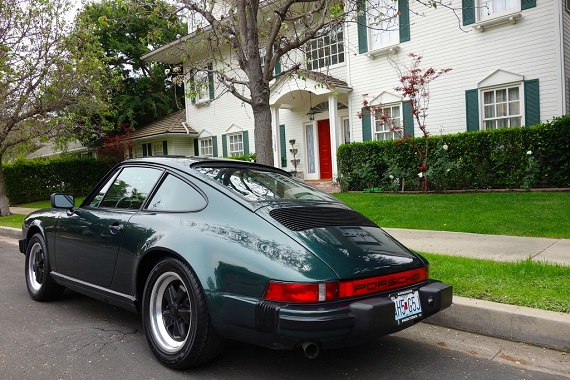 Year: 1986
Model: 911 Carrera
Engine: 3.2 liter flat-6
Transmission: 5-speed manual
Mileage: 54,000 mi
Price: $69,999 Buy It Now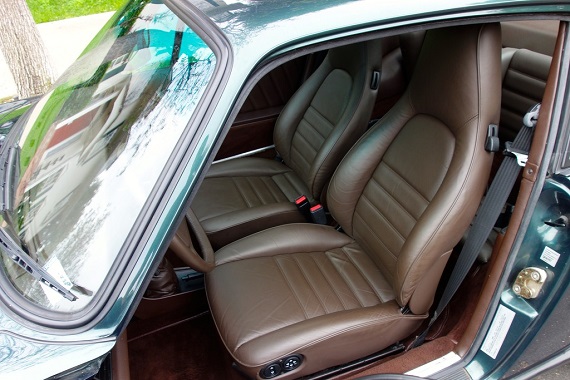 1986 911 Coupe very rare Moss Green on Brown Leather 1 owner 54,000 miles Original Paint. 16″ Fuchs, sport suspension, and sun roof .
Original Paint!
Drives very nice.
Just had 60k major service done.
Books, Jack, Compressor, and 2 Keys Top 5% car and one of the rarest color combinations on the planet

Call Alex at 310-562-5415 or please view more inventory at velocityporsches.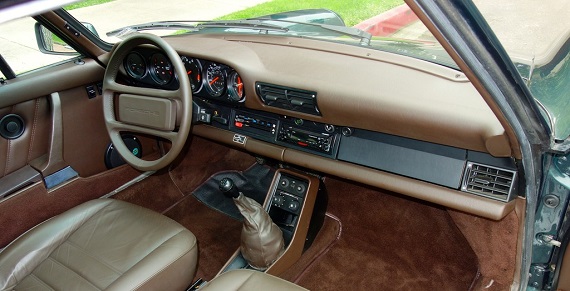 Of the three Carreras we'll feature here this one is the outlier. It's the only one without the G50-transmission and the only one without front and rear spoilers. Now, I'm a whale tail guy on a 911 Coupe so the next two naturally will have more appeal to me, but for many 911 fans the whale tail is a detraction so this one should still garner plenty of interest. This is also the most expensive of the three here, a point that stands somewhat counter to my usual idea of looking for an '86 precisely because they tend to be a better value. All of that said, for those who really enjoy an earthy natural feel in their cars the combination here fits that bill perfectly. The Brown interior is such that not everyone will find it enjoyable, but it's quite uncommon on a Carrera so purely for rarity this one does trump the next two. Let's now step one year forward for our next example: a very pretty Venetian Blue Metallic 1987 Porsche 911 Carrera Coupe, also in California, with Marine Blue(?) interior and 73,671 miles on it.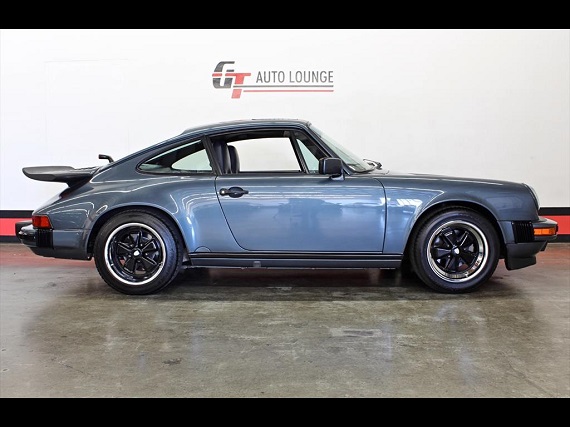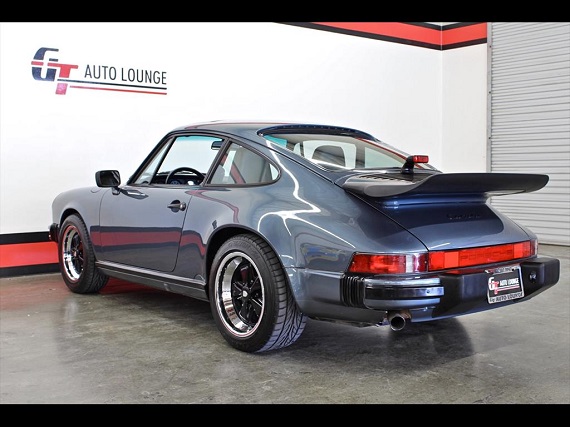 Year: 1987
Model: 911 Carrera
Engine: 3.2 liter flat-6
Transmission: 5-speed manual
Mileage: 73,671 mi
Price: $59,999 Buy It Now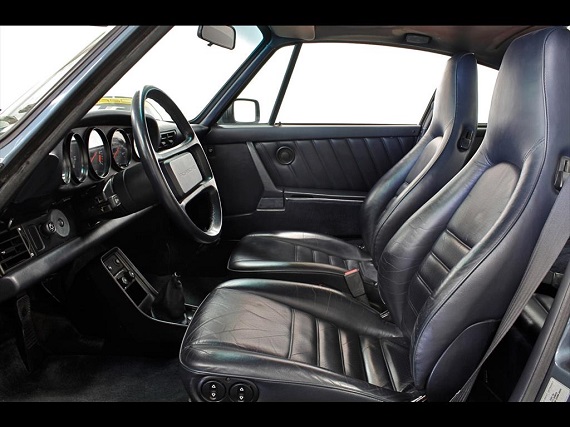 1987 Porsche Carrera in Venetian Blue over Marine Blue Interior. Equipped with it's original 3.2L Flat Six Engine mated to a G50 5-Speed Manual Transmission. Only 73k original miles. This beautiful 911 is outfitted in very rare Venetian Blue and has never had any paint work, it is completely original paint. Original engine and transmission. 1987 marks the first year of the rare and desirable G50 transmission that was used for just 3 years. Factory options include: Sport steering wheel with elevated hub, front and rear spoilers, power driver seat, and sunroof. Authentic Fuchs wheels, 7″ front 9″ rear. New tires with less than 2,000 miles on them. New brakes. Factory Porsche locking wheel lugs with Porsche key. This incredible example is ready to be shown and driven, please call for more details 916-387-9997.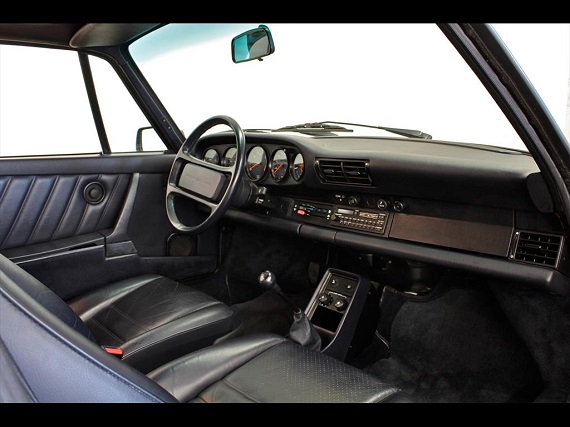 This is the highest mileage of the three, which should tell us that none of these are particularly high in miles. Also, I put a question mark after the interior color because while it's listed as Marine Blue, my does it look like Black. That could be down to the lighting since Marine Blue is fairly dark, but usually we can grasp some of those blue elements. The doors do show the color, but the seats look black (which very well could be the case as a contrasting interior is not uncommon on a 911). The interior question aside this is my favorite of the three. Venetian Blue is a great color when kept clean and it's showing quite well here. It contrasts well with the black Fuchs and as stated above I think the whale tail really completes the look. Even with its questions I like the interior and think it too works well. The price is a full $10K lower than the '86 making it the more reasonable of the two. Our last example, however, appears to be the most reasonably priced of all: a Diamond Blue Metallic 1987 Porsche 911 Carrera Coupe, located in Ohio, again with Marine Blue interior and in this case 51,760 miles on it.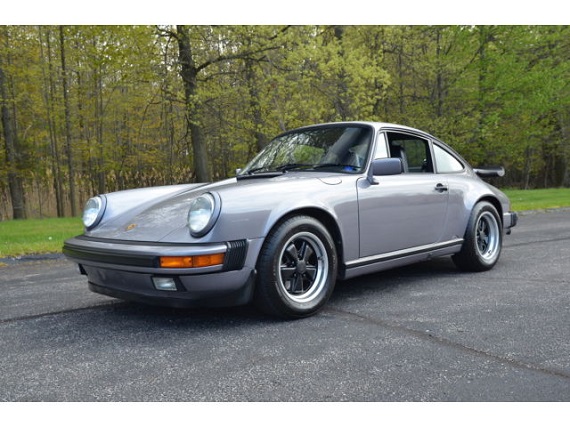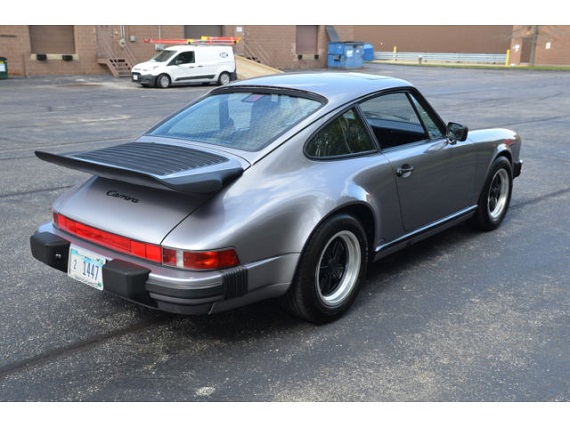 Year: 1987
Model: 911 Carrera
Engine: 3.2 liter flat-6
Transmission: 5-speed manual
Mileage: 51,760 mi
Price: $59,980 Buy It Now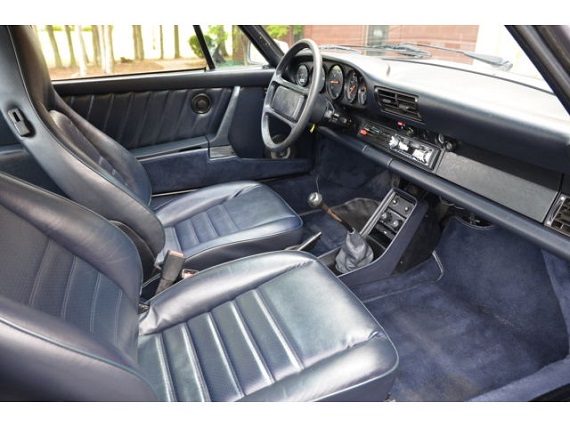 We are pleased to offer a fully documented one-owner example of a 1987 911 coupe; the first year with the desirable G50 5-speed transmission, which was a marked improvement over the previous year's 915 gearbox.

This car is essentially a one-owner car with complete documentation since new. The car was originally purchased in July of 1987 with 823 miles on the clock. A copy of the original title application, odometer statement, and title are included with the paperwork. The same owner had the car until July of 2015, when he traded it in to the same Porsche dealer who had been servicing the car for over two decades. It was traded to another Porsche dealer with the intention of keeping it in their private collection, but we ended up wrangling the car out of their hands and are now pleased to offer it for sale.

We have every single service receipt since new, documenting both the mileage and the single owner. In the last 12k miles the car had a complete engine and transmission reseal, major service including new distributor cap and rotor, new spark plugs, accessory belts, washer pump, fuel filter, and more. The A/C system was also serviced and a new blower and switch installed. The calipers have been rebuilt and new front rotors and pads installed. Shifter bushings and C/V boots were also replaced. The car has brand new BFGoodrich G-Force tires on all four corners. In short, the car is fully up-to-date on service, free of all leaks, and has a fresh compression readout of 180-185 psi on all cylinders.

The car presents beautifully in the Diamond Blue Metallic paint with the Marine Blue interior. The car is accident free and has a clean Carfax, and the paint shows very well. All VIN tags and factory stickers are present, indicating no panel replacement. The interior is clean and displays normal wear, the most being on the driver's floormat which could stand to be replaced. We just had the front seats recovered in OEM factory material. We also had the black Fuchs refinished and polished the lips – they look brand new.

The car is largely complete with both keys, all books including a fully stamped service booklet, original spare tire and jack, and service records since day one. This is a fantastic example that is ready for a new owner to drive and enjoy.

Factory Options:
Diamond Blue Metallic
Partilal Leather Front – Marine Blue
Radio Reno
Central Locking System
Automatic Speed Control
Front and Rear Spoiler
Alarm System
Electric Sunroof

Call or Email us with any questions

Financing available for well-qualified buyers

Clean Exotic/Sports car trade-ins gladly considered

We can assist with arranging enclosed shipping anywhere in the world

Scroll to bottom of listing for link to free CARFAX

SwitchCars – Toll Free 866-672-CARS, or local/international, +1-216-453-0507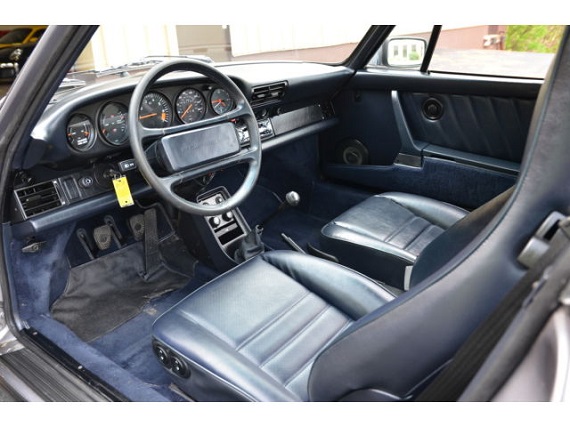 Here we get a sense of the full Marine Blue interior and it works really well with this exterior color. This is definitely the most subtle exterior of the three as Diamond Blue takes on a lot of grey notes under most lighting. For some that subtlety may be a plus, but like with a few other colors it's the way the color changes in the light that I think has the most appeal. As a one-owner 911 that claims to have all of its documentation this one may be the safest bet of the group as it is the lowest priced with very reasonable mileage and looks in very good condition. The market has been tough for Carrera sellers of late, but maybe we'll see this one sell.
Generally speaking I think all three of these Carreras is priced too high on the current market, which I realize is somewhat of an anti-climactic ending. The third one may be an exception, but it's close. Perhaps the Carrera market has plateaued long enough that sellers will be more open to negotiation and a drop in these prices. As they stand I don't think they're going anywhere, but each has quite a bit of appeal and should provide for a great deal of enjoyable driving, with the possibility of showing a return in the future.
-Rob