Audi sedans of the late-80s just don't have the performance reputation of Mercedes and BMW, as the most notable reports of their acceleration were when it supposedly happened with no driver input. The good ones, however, started bringing Audi's secret weapon, something BMW was just beginning to play with and Benz wasn't into yet. The irreplaceable Quattro on a good-looking sedan set Audi apart, and today's 4000CS is a great reminder of this. The seller is a bit of Audi fanatic and it shows.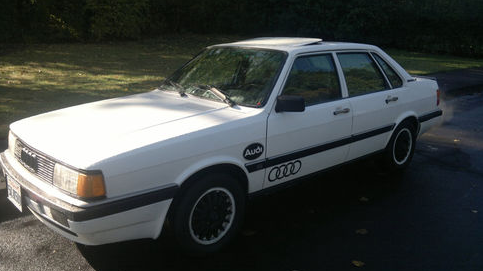 Selling a 1987 Audi 4000 cs Quattro. Car is white with gray interior. Great condition car. under 140k. Mint Interior. No rust on this car and its a California Car. New Fuel Pump and Cooling Fan switch. Car runs and drives very well. Takes a try or two on cold starts tho. 5 speed manual, rear diff lock. power windows, locks, sunroof. 138K. MINT interior. Like New, cloth is soft. Bolsters solid. Has been redone and is soft like brand new off the showroom floor. no sun damage or anything, its brand new material..Just installed a brand new driver side rear door handle. All Doors open.:) Brakes work perfect and well. Ebrake works as it should. All calipers have audi rings on them. Exhaust sounds good other than catalytic converter problem. Tires are 75% and matching. All Bushings feel good and Steering is tight. Stereo Works and sounds pretty good. Original Leather Wrap Steering Wheel, Horn Works.
Car does need a catalytic converter, the one thats on it rattles at times and needs replaced. cruise control doesnt work, have the unit to make it work, needs installed. Has H.I.D. Bright Headlights. one side needs bulb. power mirrors seem to work, but the mirror isnt moving barely at all. All Glass is good. Has A/C and it works, but isnt ice cold. Great winter car.
Car has been repainted at some point as it was originally black in color. Whoever did the paintwork did not do the best quality of paint and its not the best. Dont expect a perfect paintjob because it is not. Have lots of pics on photobucket. Go to photobucket or http://s120.photobucket.com/albums/o172/hoopster21/ or search for hoopster21 which is my profile there and go to albums and then its there in the 1987 audi 4000cs Quattro album. I have been selling off my audi's and I need this one gone as I need the room for another project I have.
I love how this car looks. Even if the paint isn't perfect, white with black accents and wheels looks perfect (though the emblems on the front quarter are a little too big). A new interior is a great addition, and 140k miles isn't too bad other than needing a new catalytic converter. The 2.2l isn't magic at 115hp (25 years ago, no less), but I'd say it's begging for some VW/Audi plug-n-play. With a $2,700 Buy-It-Now, it's a great start for what could be an amazing Audi. Even as is, it looks like a good buy to me.
-NR