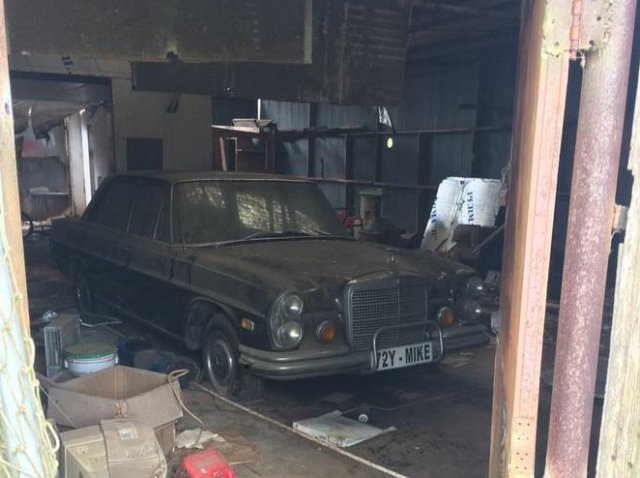 For every 1938 Bugatti Type 57C Atalante Coupe that Wayne Carini finds in barn, there are hundreds of other cars sitting in barns — usually for a reason. The thing about the barn find is that the hunt is usually the best part. Once you actually find the car, reality sets in and your left with a ton of unknowns with maybe a handful of logistical issues. It's tough to separate the emotions of finding a gem and really stepping back and thinking through whether or not you should actually buy a barn find car. This 1972 Mercedes-Benz 280SE in a barn outside of Jackson, Mississippi isn't a '38 Bugatti but it's not exactly a Chevy Chevette either. So lets take a look to see if this W108 is worth saving.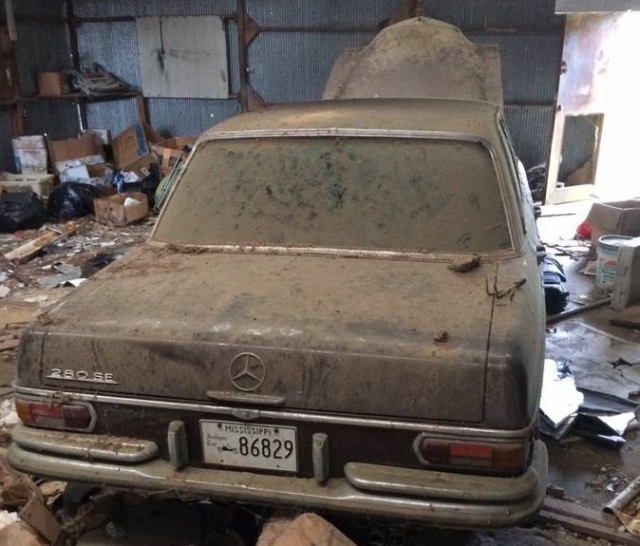 Year: 1972
Model: 280SE
Engine: 2.8 liter inline-6
Transmission: 4-speed automatic
Mileage: 81,288 mi
Price: $5,000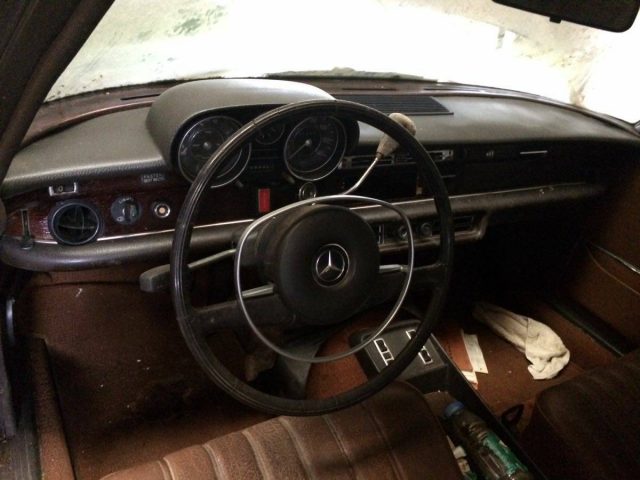 $5000 OR BEST CASH OFFER WILL GET IT!!!
True Barn Find! Discovered in an abandoned shop, this beauty has been untouched for over 20 years! It will be sold AS IS, where is, and you must arrange for your own pickup. Inspection before purchase is welcome, but remember this is an AS IS auction, and there will be no refunds after the sale. It appears to be complete, and all original untouched not restored. The only visible flaw is the front driver side headlight casing is missing, see pics.
We have not attempted to start the vehicle, but I'm certain it won't take but a simple service to fire it up. We were told by the family that owned the property, that the owner passed away some time ago, and his children left it untouched as you see it. According to them, it was in running condition when it was parked!
A thick layer of dust covers the whole car, but I can just tell you from close inspection that the body appears to be flawless! If there is any body damage, it is minor if found at all. The only visible defect seen on the exterior is the front drivers side headlight casing to be missing. It may be in the shop/barn still, and we will continue to look, otherwise it is missing. The car does appear to be a shade of brown, with leather brown interior.
The interior seems to also be pretty dusty and dirty, but nothing a good cleaning can't solve! The tires are all flat, but should be able to be aired up for transport when purchased,
If you have any questions prior to buying, please ask us and we will respond quickly. Bare in mind we are NOT mechanics, and will NOT make attempts to move or work on the vehicle. We can assist in setting transport up with you with local tow truck companies, that is it.
Clean clear title in hand!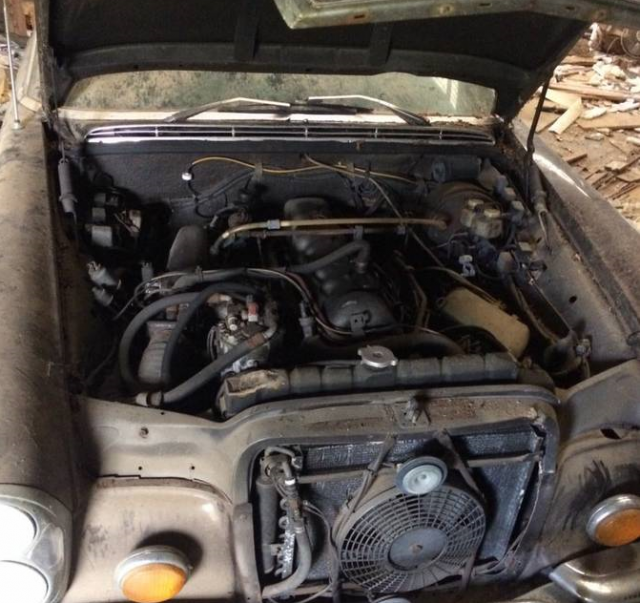 This 1972 looks free from any obvious rust but it's really tough to tell with it being covered in a layer of dust and dirt. Being a Mississippi car surely helps its cause but there is a lot of work to be done here. Molded over interiors always scare me and this one doesn't look too bad, but again, you can't make any kind of judgement without seeing it in person. As far as mechanicals go, this one will take some effort. All the fluids (if there are any left) would need to be drained and the motor would need to be turned by hand to see if it's free. I'd probably even go as far as pulling the valve cover to see if there are any sludging issues before even thinking about throwing parts at this car. Usually cars that find themselves deep inside a barn are there because there is some kind of issue with them. With 20 years of sitting, there is just so many things that could be going on with this car.
In my opinion, $5,000 is a pipe dream. You have to assume that this W108 will never run again and is a parts car given it's current state. It would be really easy to dump $10,000 into this car to get it road worthy and you'd be left with a $12,000 car at best. I'd be surprised if this thing could even be rolled if you put some tires on it. It's probably closer to $2,000 and that would even make me uneasy.
– Andrew