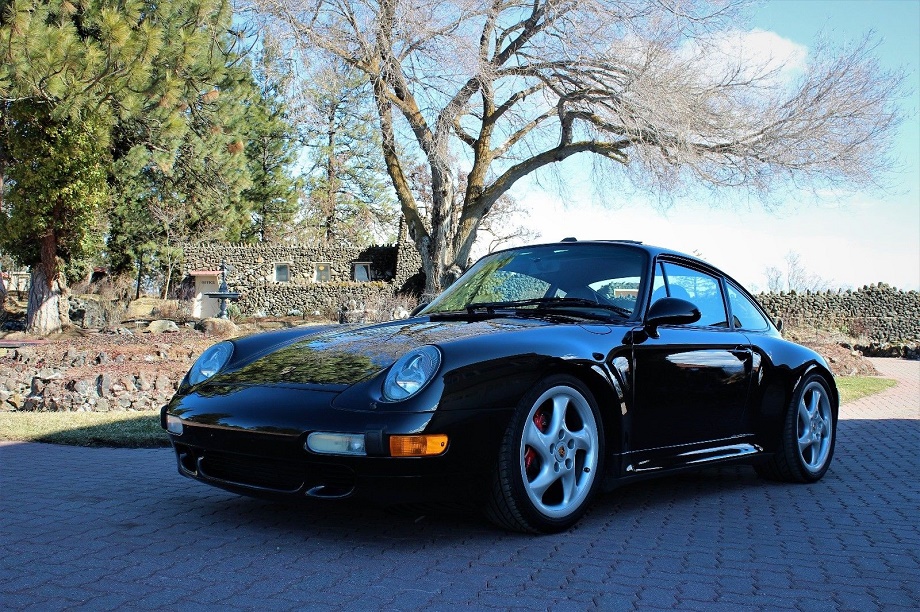 The 993 C2S always has been one of the best looking 911s on the market. Maybe even the best. Combining the wonderful curves of the 993 itself with the wider rear of the 993TT made for a perfect marriage for those seeking a beautifully refined 911, but without the additional costs of the Turbo (nor all-wheel drive). That it also offered improved suspension, also borrowed from the Turbo, made it even better. (While this one does have the red calipers that would tend to designate the Turbo's brakes, the C2S didn't come with those. For the Turbo brakes you'll need to find a C4S.)
While looking at this one I started to ask myself whether the proportions are off. It looked too squat and I began thinking it needed the rear spoiler from the Turbo to provide balance. Perhaps it's just an effect of the angles and lighting of the photography, or maybe because it's black, which doesn't really show the curves as much as brighter colors. On the rare occasions I see one in the flesh I do find the 993TT to be a gorgeous car that snaps my head around in a way no modern 911 Turbo ever could. The C2S reminds me a lot more of those modern Turbos.
The picture I chose to lead with is the one I think looks the best. Perhaps it's telling that the presence or lack of the spoiler isn't readily apparent from that angle. It's still a beautiful car, possessing all of the attributes that make a 911 so captivating; I'm starting to wonder if it could be better. Maybe it's not perfect after all.
Comments closed