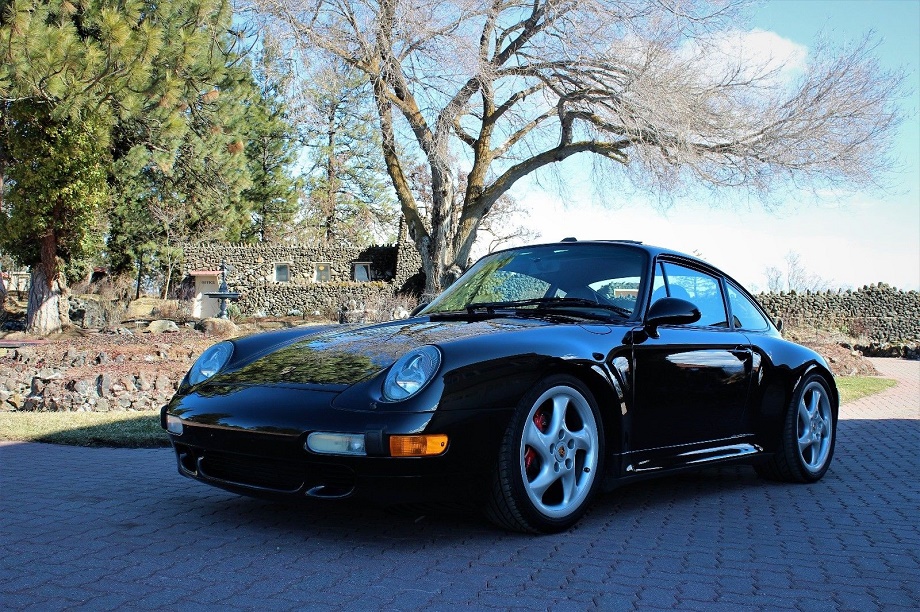 The 993 C2S always has been one of the best looking 911s on the market. Maybe even the best. Combining the wonderful curves of the 993 itself with the wider rear of the 993TT made for a perfect marriage for those seeking a beautifully refined 911, but without the additional costs of the Turbo (nor all-wheel drive). That it also offered improved suspension, also borrowed from the Turbo, made it even better. (While this one does have the red calipers that would tend to designate the Turbo's brakes, the C2S didn't come with those. For the Turbo brakes you'll need to find a C4S.)
While looking at this one I started to ask myself whether the proportions are off. It looked too squat and I began thinking it needed the rear spoiler from the Turbo to provide balance. Perhaps it's just an effect of the angles and lighting of the photography, or maybe because it's black, which doesn't really show the curves as much as brighter colors. On the rare occasions I see one in the flesh I do find the 993TT to be a gorgeous car that snaps my head around in a way no modern 911 Turbo ever could. The C2S reminds me a lot more of those modern Turbos.
The picture I chose to lead with is the one I think looks the best. Perhaps it's telling that the presence or lack of the spoiler isn't readily apparent from that angle. It's still a beautiful car, possessing all of the attributes that make a 911 so captivating; I'm starting to wonder if it could be better. Maybe it's not perfect after all.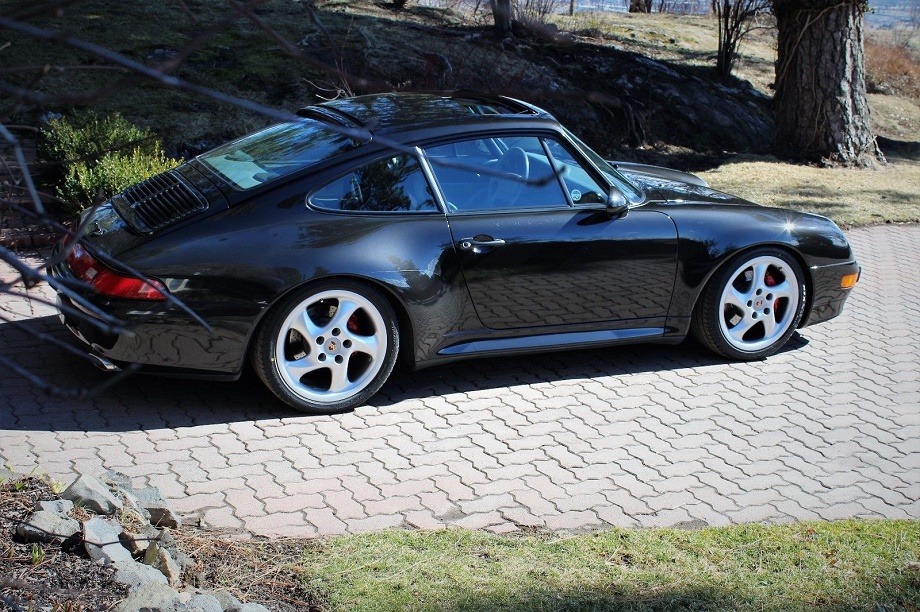 Year: 1998
Model: 911 Carrera S
Engine: 3.6 liter flat-6
Transmission: 6-speed manual
Mileage: 53,750 mi
Price: Reserve Auction ($102,500 Buy It Now)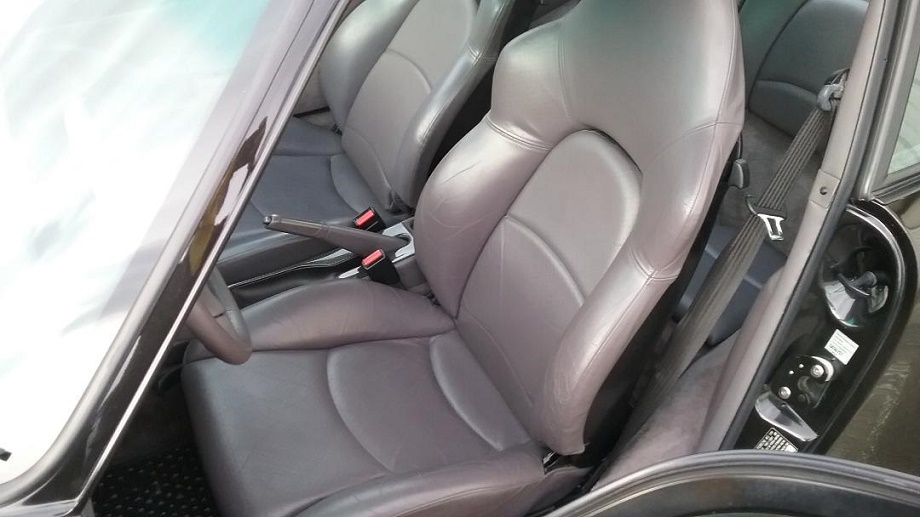 One of the most desirable and collectible Porsche's on the market today, this 1998 Porsche C2S is in simply excellent condition and is in need of nothing. The car is absolutely turn key, get in and drive it anywhere; right now.

This fantastic 993 is finished in Metallic Black over Gray leather and features hard back "racing seats", limited slip, engine sound package, and hifi sound options.

The car has been adult owned and maintained by an absolutely fastidious PCA member. Anything the car has ever needed has been done. The car comes with Books, Service records, tools, compressor and Porsche Certificate of Authenticity. All 4 tires are new (less than 300 miles) and replaced in February of this year. No leaks, No damage, very slight interior wear. The car has never been tracked, abused or babied. It has been properly driven. Those of you who know, know. The doors have that patented "Porsche ping".

This 993 is located in Spokane Washington and is airport close. Airport pick-up is offered. As spring arrives, a perfect time of year to see the Inland Northwest behind the wheel of a proper Porsche, fly in and have a spectacular drive home, I would strongly encourage it !

Inspections are welcomed, gladly. I reserve the right to sell the car at any time.

If you're looking for a last year 993, this is the car ! Happy bidding ! Feel free asking me anything and thanks for looking. Reason for sale is that a new 991 has been acquired.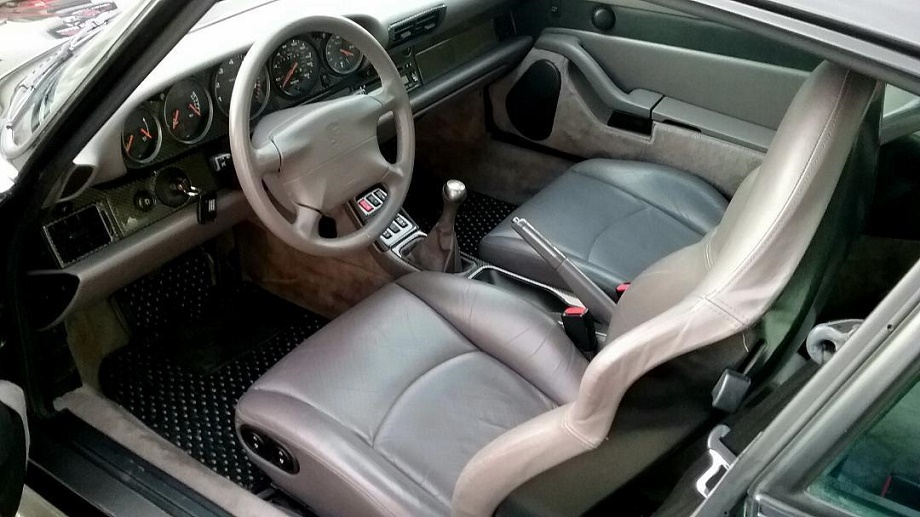 So it's not perfect. I think we can live with that. As a C2S goes it is a very nice example though! The grey leather interior, while not always my favorite on a 911, contrasts fairly well with the metallic black exterior. For those who don't want to go as light as a tan interior, but for whom a black interior would make everything too dark, I think this combination provides a nice compromise. Here we also have one of the few times when I don't mind the carbon fiber trim. It blends in with the rest of the blacks and greys and gives your eyes something interesting to rest upon. I still wouldn't necessarily seek it out, but its presence here doesn't detract from the overall appearance. The hard-back sport seats are a great addition. They show a little bit of a wear on the driver's side, but nothing too out of line with the age and mileage of this C2S.
It's said to have been well maintained (and it looks the part!) so hopefully there are records to document its service history. Otherwise, you'll want to check it out as you would any older Porsche. Bidding sits quite low for now at $43K, but we should expect that to rise a good deal. I don't know that this is a six-figure car, but with the C2S's rarity combined with what appears to be a very nice example it's sure to go for a fairly high price.
-Rob