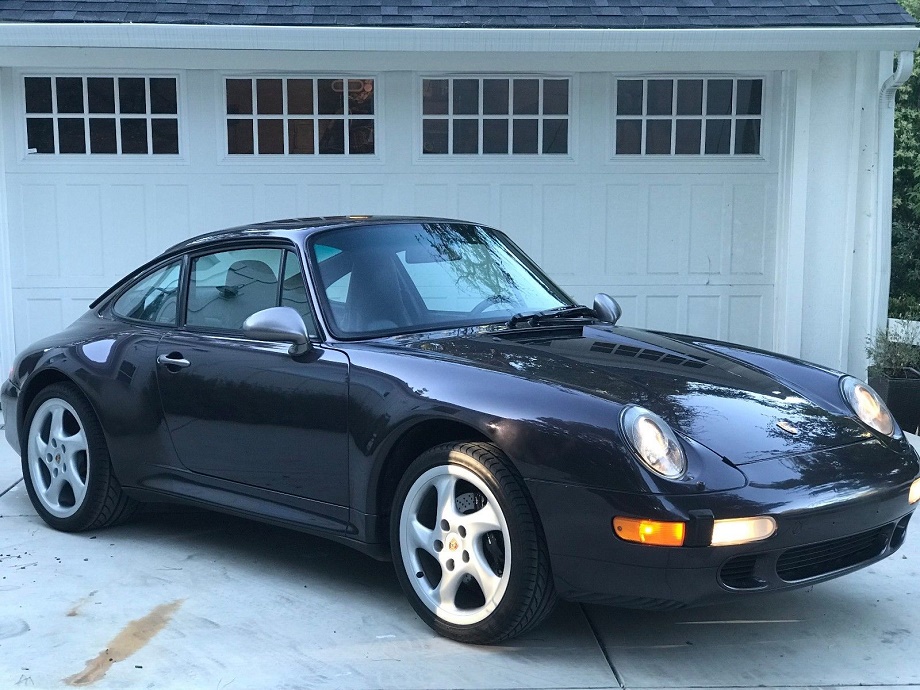 Keeping track of special options packages isn't easy and I will admit I did not know this existed. I'm still not entirely sure it does, but after some searching I'm pretty sure.
This is a 1997 Porsche 911 Carrera S with the Vesuvio package, which was an optional package offered through Porsche Exclusive that provided a few contrasting cues to highlight that stunning exterior paint. We have featured the 993 in Vesuvio Metallic before; we've even seen the 993 C2S in Vesuvio Metallic before. But the full package? That I have not seen.
From what I could gather it appears there originally were 24 of these 993s produced. One of those has been totaled, which leaves us with the figure this seller gives us that this is 1 of 23 known to exist. That's pretty rare. To make this one even more rare – though probably not more desirable – this one is a Tiptronic. There are only a couple of those, so if you're uninterested in a manual transmission, or if the years simply have passed you by and driving a manual no longer is feasible or desirable, then this should mark one of the very rare opportunities to get your hands on one of these cars.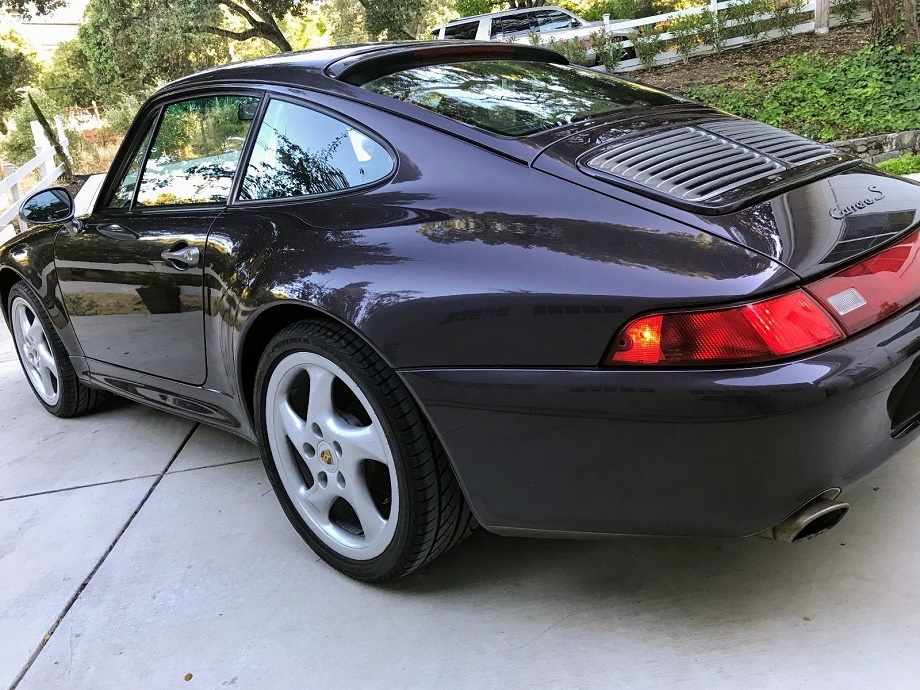 Year: 1997
Model: 911 Carrera S
Engine: 3.6 liter flat-6
Transmission: 4-speed automatic
Mileage: 105,000 mi
Price: $65,000 Buy It Now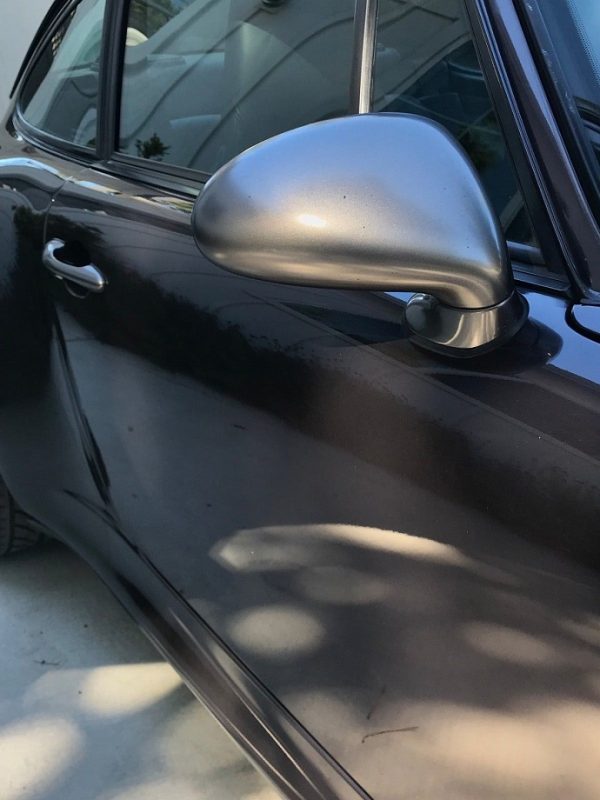 This special 993 is an example of the rare Vesuvio Package that was available through the Porsche Exclusive Department near the end of the 993 production. There are believed to have been less than 23 ever built with the Vesuvio package in the world.

This special Exclusives Department vehicle was outfitted with the unique Vesuvio Metallic paint, offset by Steel Gray painted mirror's, rear badging, rear grill, door handles, door sills, gauges, gear shifter and brake lever. Very few were produced with the complete package demonstrating the capabilities of the Porsche Exclusive Department in the final days of the air-cooled 911. This particular example has Black leather interior.

This vehicle has a clean and clear history with no accidents. The vehicle was originally sold by Sonnen Porsche in Marin, and remained with the original owner until recently. The Carfax and Autocheck are clean. Porsche books, maintenance books (stamped to 85k miles) two keys. This is a special Porsche that stands out among a crowd of Porsches. Options :
C02 – Catalytic converter
249 – Tiptronic transmission, 4-speed
329 – Cassette radio
408 – 18" lightweight hollow spoke wheels
432 – Tiptronic buttons for steering wheel
437 – 8-way power seat, left
438 – 8-way power seat, right
454 – Automatic speed control
490 – Sound system
650 – Sunroof
659 – Onboard computer
692 – 6-disc CD changer

New Potenza tires, interior is excellent. Front bumper could do with repaint due to stone chips. But overall very presentable and drives well. See video walk around in description.

No agencies, serious enquirers only please. Call with any questions or for more photos: +1 (Nine Two Five) 314 5714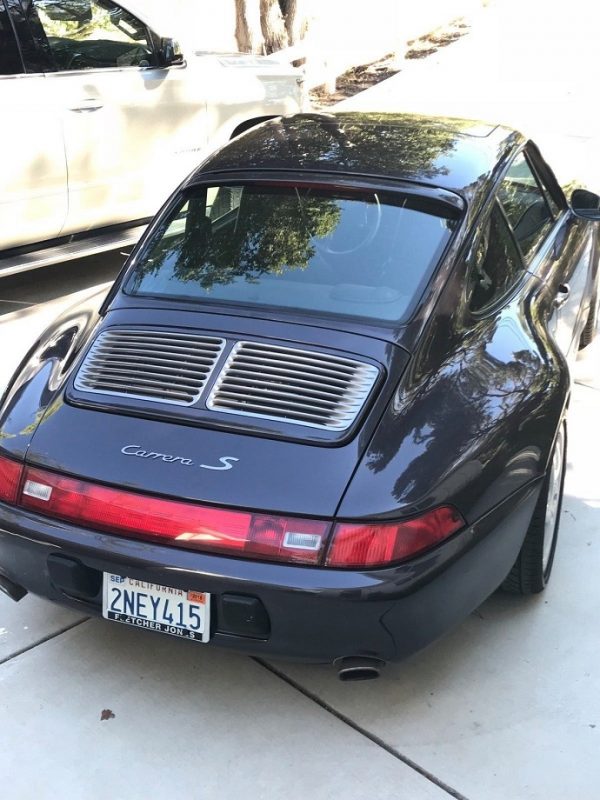 The pictures in this ad do not even begin to do this options package justice. The Vesuvio package basically offered contrast. The mirrors, door handles, rear grill, side sills, badging, and wheels all came in Steel Grey. That may seem like a minor change, but when they all are brought together the sum definitely is greater than the parts. The contrast works perfectly and provides just the right offset to the purplish charcoal blend of Vesuvio Metallic. The pictures here all are too dark so the contrast isn't readily apparent. Even the hue of Vesuvio itself isn't apparent. To truly appreciate this you need to see it in the sun. Thankfully the internet can help you with that.
Overall, this 911 looks in nice shape. It doesn't have the Steel Grey wheels and that's too bad. Based on the options listed it came with these wheels, but I've seen them on others painted Steel Grey so I'm not sure why these are not. Perhaps that's how the original owner wanted them, or perhaps the Steel Grey wheels were swapped out. Either way, they aren't on the car and that's what matters. Otherwise, there isn't much we can note without seeing it in person. Neither the exterior nor interior show any signs of significant wear, though it's admittedly hard to tell from the pictures. Other than the wheels the rest of the optional extras appear to be present. It's said to be in good driving condition and comes with maintenance records for much of its mileage, though not all of it.
Obviously, the Tiptronic will not appeal to a lot of buyers, but at least it brings with it a discount. I suspect this C2S would be priced $20K to $30K higher if it were a manual transmission. That's a lot! At $65K and with 105K miles on it the price likely is still a little high, but if the Vesuvio package has a particular appeal to you then I imagine the price would make sense.
-Rob