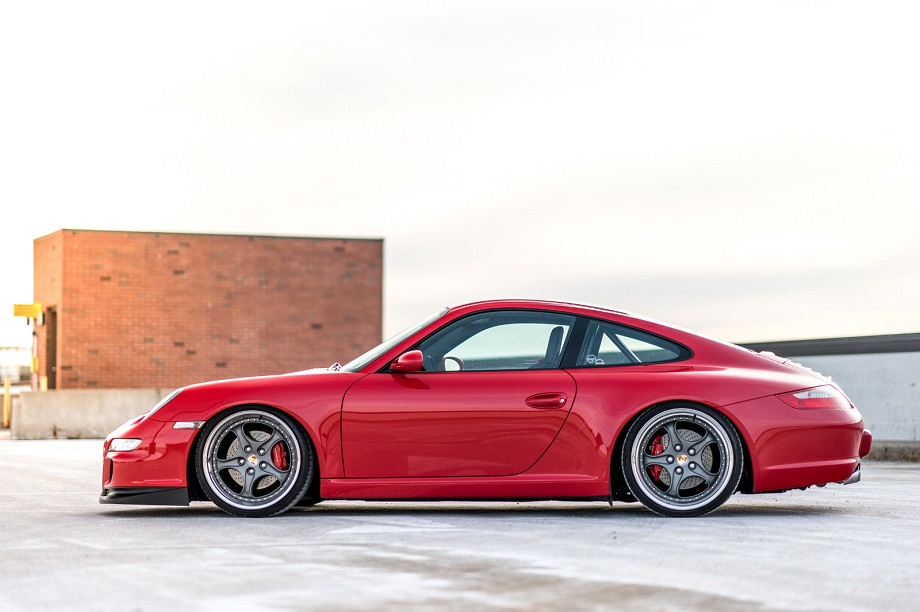 I sort of don't know what to make of this 911. I like the look. I was drawn to it immediately. I like the model itself: a 2005 Porsche 911 Carrera S Coupe with around 85K miles on it. Originally it was Seal Grey, now it wears a red full-body wrap. In general terms, the model itself is a fairly desirable one when considered for performance per dollar. But as should be entirely apparent it isn't original. Nor are its modifications of the sort that I would think would really attract other buyers.
So I'm curious. I'm curious where bidding will take it. Like just about any modified car of this sort, in order to reach its asking price the right buyer – someone for whom these modifications are just right – will need to come along. Could you buy a similar 997 and perform these modifications and come in under the asking price? Probably not. Could you find a less expensive Carrera S Coupe that remains unmodified and is a lot of fun to drive? Certainly. It all comes down to what these modifications mean to you.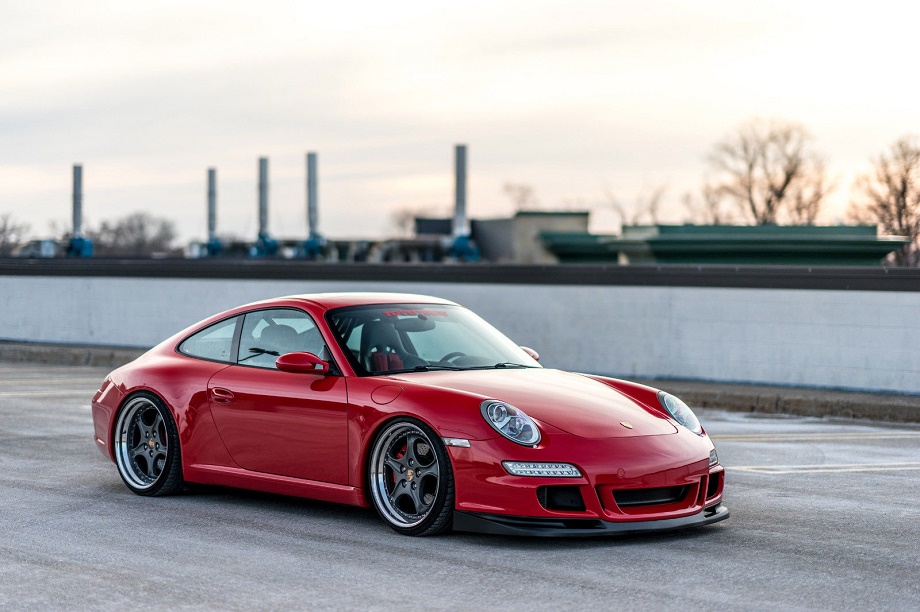 Year: 2005
Model: 911 Carrera S
Engine: 3.8 liter flat-6
Transmission: 6-speed manual
Mileage: 85,000 mi
Price: $43,500 Buy It Now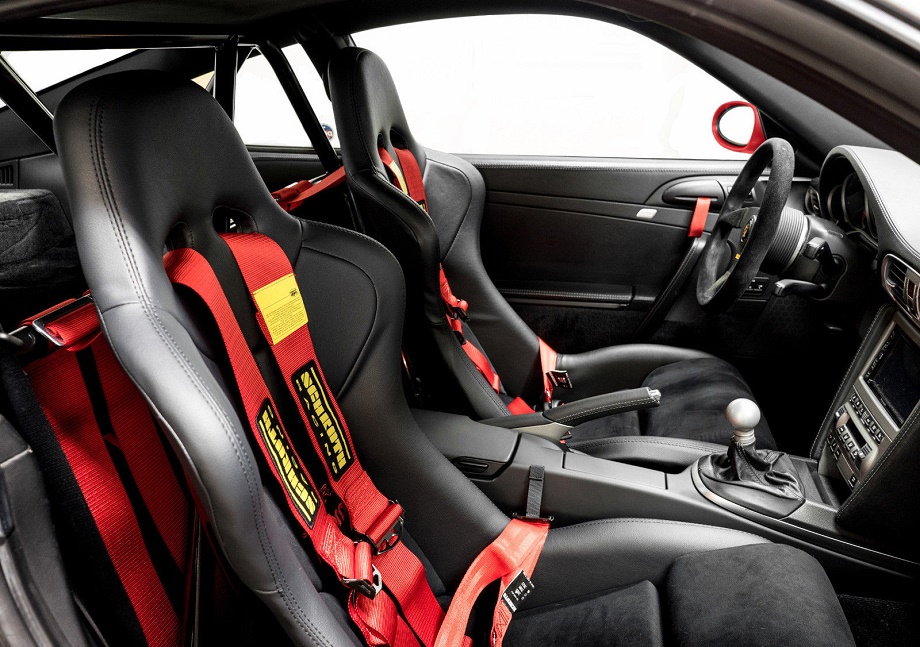 I bought this car bone stock exactly 2 years ago and have modified it to my liking with no expense spared and completed every ounce of preventative maintenance as if preparing to keep it forever. I'm extremely OCD and the car speaks to that. Although the car looks like and is set up to be a track weapon, it has NEVER been tracked under my ownership and there is nothing that leads me to believe it was prior to my ownership either. I have put roughly 20k miles on it including quite a few multi-state road trips and I have loved every second behind the wheel. I do not have to sell it, but I already own quite a few projects and looking to add another car. There are NO known issues and the car is ready to drive cross country today. If you have additional questions, I can be reached via email at jasonpaulphotos@gmail.com, but please read everything beforehand. There is a ton of information below!

2005 Carrera S 3.8

84,xxx miles

NO winters

Seal Grey (under the gloss red Avery wrap)

Please watch video: https://www.dropbox.com/s/dk78ao1zv01j6sk/IMG_6483.mp4?dl=0

No accidents or repairs period!

4th owner

VIN: WP0AB29995S741772

Carfax reads dealer services since new prior to my ownership (I've used indy shops or done my own work)

FREE CARFAX:

https://www.carfax.com/showroom/#/report/WP0AB29995S741772

Options:

6 speed manual

PASM (currently turned off)

Sport chrono

Bose w/ factory sub (currently out)

PCM2.1 (currently out)

Full black leather wrap package

Factory short shift

19" Carrera wheels

Mods & Maintenance:

(Installed 24 months old or newer):

All new Brembo brake rotors and Hawk ceramic pads (4 corners) – $1200

New OEM Sachs Clutch, Rear Main Seal & LN engineering IMS retrofit (performed at 76k miles by Porsche tech off the books, shows on CarFax as 04/08/2017 "Brake Calipers Cleaned" because he had to record something to bring the car in. I have pics of repairs start to finish along with parts receipts for proof. Reason for Service: RMS started to leak… clutch and IMS were fine but done anyway as preventative maintenance) – $4000

FULL (Every visible surface including door jams, inner door, hinge area, etc) Avery Gloss Carmine Red wrap by Prestige Autostyling – $3800

Please watch video: https://www.dropbox.com/s/dk78ao1zv01j6sk/IMG_6483.mp4?dl=0

New Toyo T1 sport tires (245 and 305) – $1000

New 20″ Rotiform KLU 3 piece forged wheels (9 & 12) – $5500

New OEM Porsche Tequipment gunmetal centercaps – $100

New Chrome lug studs – $100

Fortune Auto (made in VA, USA) Bespoke fully adjustable coilovers with 5″ hypercoil 6k rated springs up front and 6″ Fortune 12k rated springs rear – $1700

Megan adjustable upper dogbone mounts (rear) – $400

Tarret Engineering adjustable toe links (rear) – $400

Berg Racing Adjustable Caster Bushings (rear) – $350

(Recent corner balance and alignment to factory spec)

OEM Aero front bumper and lip (painted off the car, original bumper included to maintain "no paintwork" prestige for resale) – $2200 after paint

OEM Porsche CUP lip for aerokit – $300

New LED bumper lights/fogs – $300

Gundo hack oem mufflers (perfect growl, zero drone) with Custom Chrome quad tips – $400

Rennline weighted shift knob (brushed) – $110

New NavTV MOST-HUR adapter (allows the user to install a feature-rich aftermarket radio while retaining the factory Bose amplifier and converting audio signal to the factory fiber optic system) – $750 with dash kit

New Pioneer AVH-291BT touchscreen bluetooth radio – $300

Works Bell steering wheel adapter with airbag resistor – $400

Momo black suede steering wheel – $250

New Corba UK Nogaro Seats (Custom Black Leather outer & Alcantara center) -$3000

Cobra UK side plates, sliders & model specific brackets – $400

RSS 930 Series Hybrid 4 Point Roll Bar – $1500

Schroth ASM 4 point harnesses – $700

Stewart Settles Door Pulls – $300

New OEM center console, e-brake handle, door sills and other panels (flawless, purchased to refresh worn parts) – $500+

New Windshield

New Bosch AGM Battery – $280

New Climate Control Switches – $90

New lower control arm w/ balljoints – $600

New outer tie rods – $160

(There's probably a ton I'm forgetting too.)

Once again, if you have any questions, reach out via the email at the top of this ad.

Good luck and happy bidding!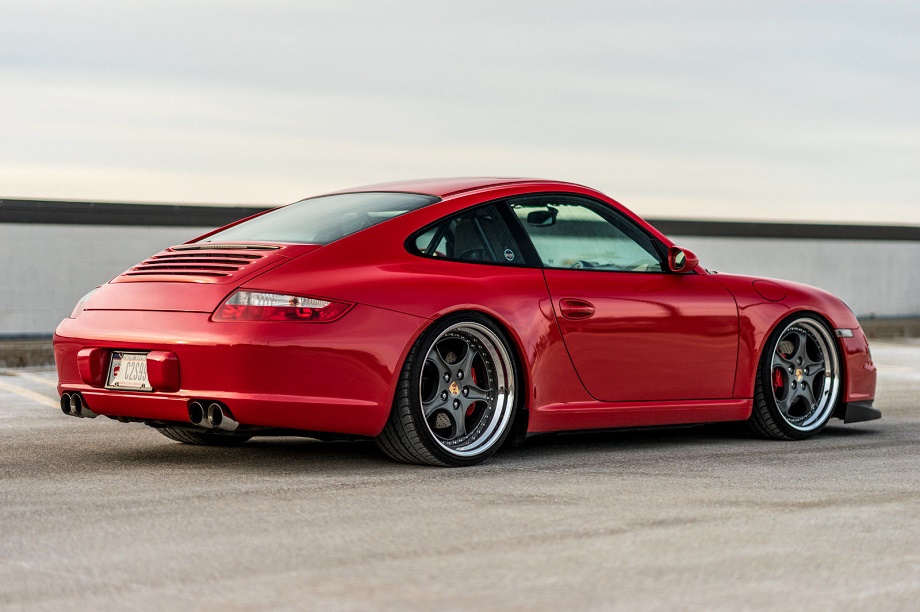 Based on the various prices listed in the ad and his previous purchase price – at least as seems apparent from the 2-year-old eBay listing that comes up in google – this seller is going to take a pretty serious loss selling this 911 right now. That in itself is quite peculiar, but some people really like a project and the fulfillment gained from the work itself even if it means it doesn't make perfect financial sense. Perhaps that is the case here. The seller says he doesn't need to sell; he just needs to make room for the next project.
You can read through the ad to get a sense of the work done. I won't pretend to be intimately familiar with all of the various additions, but it sounds like it mostly can be broken down into two groups: appearance and suspension. There doesn't appear to be much in the way of power gains through engine work or anything of that sort. The IMS bearing has been upgraded, which is nice, but otherwise this build was not about performance via more power. The suspension and braking, however, sound like they've been completely redone. The same goes for the interior, which has a very track focused look about it though the seller has never used this 911 on the track. The exterior has that same focused look and while I can't say I have ever been a huge fan of a wrap on a car, red does look a lot better than Seal Grey. The entirety comes together very well and while I'm sure we could quibble with bits here and there the overall design appears well executed.
One thing though: this car is photographed very well. It looks like the seller is a photographer. Those good pictures help sell the aesthetic vision of the car. But for a build that seems so focused on every detail, the pictures leave all of the details out. This is especially the case with the interior. What we see looks good, but I think we'd like to see a lot more! Will that hinder this sale? Perhaps not. I think the basic idea is present, but those details wouldn't hurt.
Bidding currently sits at a modest $24,800. It wouldn't shock me to see this 911 go through a few auctions coming up short each time. The right buyer needs to come along and I imagine anyone with a serious interest in this Carrera S at this price will want to put it through its paces and get a feel for whether it drives as good as it looks. If it does…well, then you're going to be getting a nicely sorted 911 that should have very nice performance and while not necessarily the cheapest out there it certainly comes at less cost that putting in all of this work yourself.
-Rob