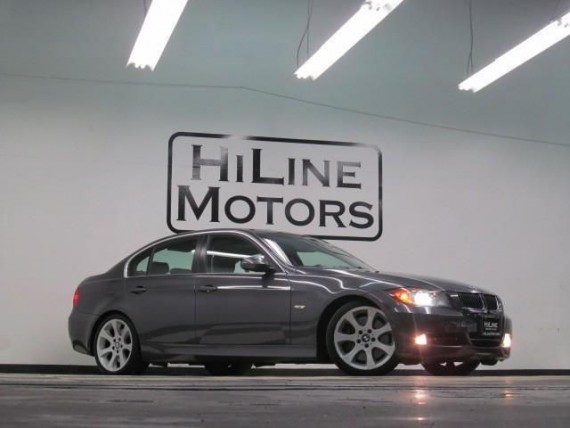 Before I began contributing to GCFSB I was a daily reader. I enjoyed the site more than other used auto blogs because I found that on GCFSB, many of the vehicles were of the more reasonable variety. Perhaps it's because I grew up flipping through Used Auto Digest far more often than the duPont registry, though I did enjoy doing that once in awhile just for fun. I like to fantasize about $100k + investments in the classic car market just as much as any other enthusaist but I think it's far more interesting to learn about vehicles which are grounded in reality. So it is with that mindset that I bring you today's post, an E90 BMW 335i with 3 pedals.
For those folks that are on the casual observer side of the automotive world, this car doesn't appear to be anything out of the ordinary and in some ways they're right. It's a RWD, Grey over Black four door sedan with pretty basic features and a manual transmission. It doesn't demand attention the way an E90 M3 does, what with its vicious soundtrack and more muscular body but I think that's part of what makes it attractive. The 335i is no slouch in the power department, with the N54 powerplant producing 305 hp/295 lb-ft of torque it always seemed to me like a more grown up RWD, '11+ STi sedan. Now I'm sure Subaru fans would love to rip me to shreds for comparing their beloved rally machine to this UCLA graduation present but I'd be quick to remind them that it's really a matter of numbers and function rather than the spirit of the vehicle. Spiritually the STi and the M3 have much in common but they're vastly different in price and performance so I think that an unfair comparison.
The 335i on the other hand checks many of the same boxes as the STi and ultimately does it all while remaining under the radar. It is this line of thought that got me interested in researching the E90 335i in the first place as I had always wanted to build a "sleeper" STi. Remove the garish wing, add alcantara accents to the interior, upgrade the sound deadening, tweak a few other interior details and you'd have a car that is very similar to this one. However that process can get real pricey, real quick, especially since 2011+ STi sedans are hard to find for under $25k. This 335i is a very reasonable $16,998 with nearly 73k on the clock and I think that for the money, you'd be hard pressed to find a car that offers this combination of performance and luxury.