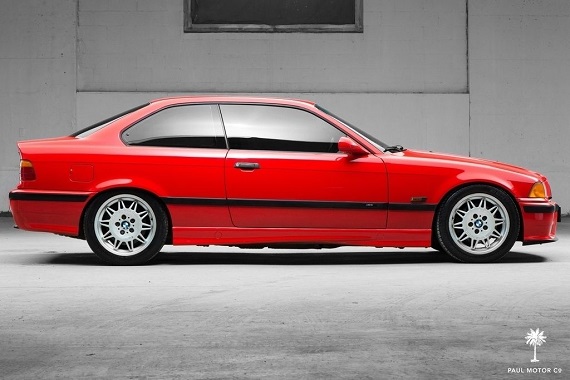 As I've said before, I usually try to stay away from regurgitation of material. However, there were a few reasons to look at this European specification M3 one more time.
I've recently featured a string of Canadian Edition E36 M3s with some sticker shock for fans of the traditionally affordable chassis. The first was a Hellrot model in August with a $35,000 asking price. That car, to my knowledge, failed to trade hands because though it was actively bid upon, the reserve was never lifted in the mid 20K range. The next stunner was the Individual Giallo car in September, which broke predictions at the $65,000 mark. I looked at another Dakar model in November hoping to capitalize on those high asks, with a reported sticker price close to $30,000. It, too, failed to break the reserve.
The traditional, and very valid, argument to paying high prices for these cars is that they're essentially just a stock Euro model with a number attached to them. Why not just import a much cheaper and more plentiful example of those then? To that point I had twice looked at a non-Canadian Edition but European specification '94.
This Mugello Red model originally came to our site in October, 2014. With about 83,000 miles and in generally good condition, it was certainly a unique and appealing alternative to the normal M3. It popped back up in June of 2016 with a few more miles, poor photography and a little more wear. It was also boldly offered with no reserve, though the auction ended with an "error in the listing"; eBay seller speak for the bidding not heading in the direction they were hoping.
Well, here it is again. This time, it is listed by the same seller as the Giallo car. It's been cleaned up and has some great photography. Only a few thousand miles have been added since we originally listed the car. However, small items like the broken headlight haven't been rectified. No additional maintenance is disclosed. It's also interesting to me that the seller doesn't note this as a rare "slicktop" no sunroof car – appealing to some. The photography and polish will cost you, as the asking price is nearly $23,000 this time around. That's about what the similar mileage, similar specification Hellrot car bid to. Is it worth that much of a premium?
The below post originally appeared on our site October 12, 2014: