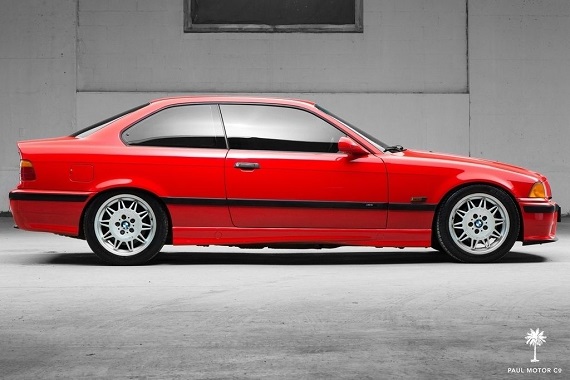 As I've said before, I usually try to stay away from regurgitation of material. However, there were a few reasons to look at this European specification M3 one more time.
I've recently featured a string of Canadian Edition E36 M3s with some sticker shock for fans of the traditionally affordable chassis. The first was a Hellrot model in August with a $35,000 asking price. That car, to my knowledge, failed to trade hands because though it was actively bid upon, the reserve was never lifted in the mid 20K range. The next stunner was the Individual Giallo car in September, which broke predictions at the $65,000 mark. I looked at another Dakar model in November hoping to capitalize on those high asks, with a reported sticker price close to $30,000. It, too, failed to break the reserve.
The traditional, and very valid, argument to paying high prices for these cars is that they're essentially just a stock Euro model with a number attached to them. Why not just import a much cheaper and more plentiful example of those then? To that point I had twice looked at a non-Canadian Edition but European specification '94.
This Mugello Red model originally came to our site in October, 2014. With about 83,000 miles and in generally good condition, it was certainly a unique and appealing alternative to the normal M3. It popped back up in June of 2016 with a few more miles, poor photography and a little more wear. It was also boldly offered with no reserve, though the auction ended with an "error in the listing"; eBay seller speak for the bidding not heading in the direction they were hoping.
Well, here it is again. This time, it is listed by the same seller as the Giallo car. It's been cleaned up and has some great photography. Only a few thousand miles have been added since we originally listed the car. However, small items like the broken headlight haven't been rectified. No additional maintenance is disclosed. It's also interesting to me that the seller doesn't note this as a rare "slicktop" no sunroof car – appealing to some. The photography and polish will cost you, as the asking price is nearly $23,000 this time around. That's about what the similar mileage, similar specification Hellrot car bid to. Is it worth that much of a premium?
The below post originally appeared on our site October 12, 2014: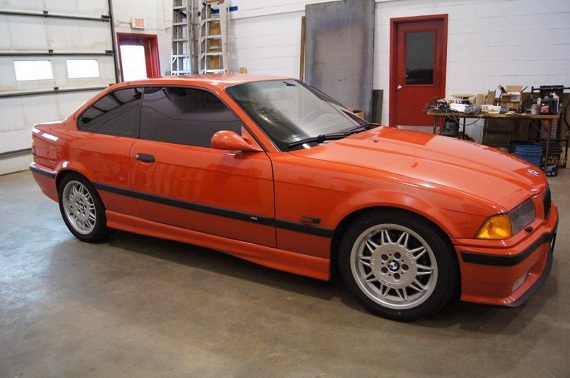 For some time, there was a giant gulf in between European-spec cars and U.S. spec cars. Granted, part of that divide still exists today if the large assortment of cars that do not make it to these shores, but at least enthusiasts can rejoice that at last – for the most part – performance versions that are available in Germany are very close to the same that we receive here. One of the last notable cars to exhibit the large divide was the E36 M3; while Europeans enjoyed over 280 horsepower from the individual throttle body S50B30 in 1992, the later released U.S. spec M3 carried an entirely different motor with some 40 horsepower less. Though the S50B30US is certainly a great motor by itself, the knowledge that the "better" version existed across the pond somehow took a bit of legitimacy away from it. Also differentiating the European versions were better floating rotor brakes, better glass headlights, better lower and stiffer suspension, and some neat interior options: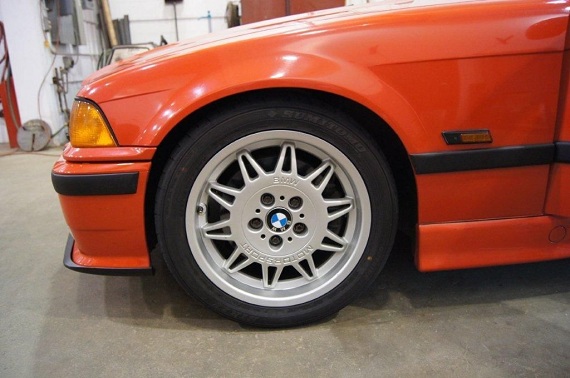 Year: 1994
Model: M3
Engine: 3.0 liter inline-6
Transmission: 5-speed manual
Mileage: 89,841 mi
Price: $22,900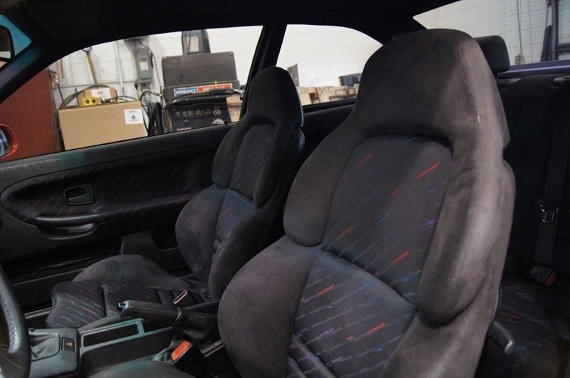 NEW DESCRIPTION

Description

1994 BMW M3 Euro-Spec (E36)

89,841 miles / Imported to North America In 2010 / 286 HP S50 Engine

This Euro-Spec 1994 BMW M3 (E36) is a rare find on this side of the pond. Imported into North America in December 2010, this E36 M3 is finished in a gorgeous Mugello Rot (274) paint and features a striking cloth interior with a pattern in "M" colors (0470 Anthracite M Cloth).

Euro-Spec vs US-Spec

It's common knowledge among enthusiasts that the US-spec version of the E36 M3 was an underpowered, corner-cutting offering from BMW that left North American buyers wanting more. There are a number of key factors that make the Euro-spec version much more desirable.

The biggest difference was its heart and soul: the excellent S50 engine. While both versions of the car received a 3.0-liter inline six, the European M3 got a more advanced VANOS system and individual throttle bodies, giving it 286 hp compared to the US market's 240 hp which feels significantly underpowered.

Another big difference is the much heavier duty rear axle and differential. In fact, many high-mileage US-spec E36 M3s suffer from a differential failure at some point. It also came with vented brakes with 2-piece floating rotors which provide better cooling, less fade and a lower chance of warping compared to the US M3's brakes.

Other differences include glass headlights with headlight washers and an oil temperature gauge below the tachometer (the US version has a less useful fuel economy gauge instead).

Features & Options

The vehicle has a 3.0L inline 6-cylinder engine producing 286 hp, a 5-speed manual, a special "Motorsport" interior option, 17" BMW Motorsport wheels, power sport seats, an electric sunroof, heated front seats, power windows, air conditioning and a Clarion head unit.

The vehicle was originally built in March 1994 and remained in Europe until December 2010 when it was imported into Canada. Clean CarFax report. Comes with books and tools.

Its odometer reads 144,585 kms (which is equivalent to 89,841 miles).

———

Paul Motor Company provides a comprehensive turnkey service for its customers. The vehicle can be shipped to your door with a US title. Every aspect of the transaction will be facilitated and completed by Paul Motor Company to provide our customers with complete peace of mind. The cost of shipping remains the buyer's responsibility. There are absolutely no hidden fees.

OLD DESCRIPTIONM3 1994 standard LHD, 3.0L S50B30 286hp stock, manual, alcantara interior and very rare impeccable fabrics, full equip, power package, sunroof, full tune-up including any change liquids, ultrasonic cleaning injectors and check valves, many new parts with supporting invoices, works like a new one, do not take one drop of oil, never seen winter, no rust

MORE PICS http://api.viglink.com/api/click?format=go&jsonp=vglnk_14127034717696&key=2da308de027de3f8c64fad0967976c1f&libId=84eec995-331c-4790-ba0a-528b52f364cc&loc=http%3A%2F%2Fforums.bimmerforums.com%2Fforum%2Fshowthread.php%3F2125988-Real-euro-e36-m3-like-new%26p%3D27992314%23post27992314&v=1&out=https%3A%2F%2Fonedrive.live.com%2Fredir%3Fresid%3D377C5D301F543935!1639%26authkey%3D!AMowlQCmlN8FH9Q%26ithint%3Dfolder%252cjpg&ref=http%3A%2F%2Fforums.bimmerforums.com%2Fforum%2Fforum.php&title=E36%20Real%20euro%20e36%20m3%20like%20new%20-%20Page%202&txt=https%3A%2F%2Fonedrive.live.com%2Fredir%3Fresi…t%3Dfolder%252cjpg

SERIOUS BUYER ONLY…….

CALL ME FOR MORE INFO 450-512-8857

Thanks Don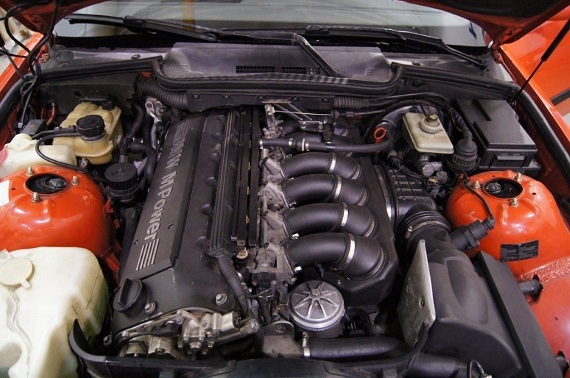 There were a reported very small number of 1994 European-spec M3s imported into Canada when new; they were quite expensive compared to the U.S. counterparts, and consequently only about 50 reportedly imported for that year. It's not clear if this car is one of the original imports in 1994 or just a regular European-spec M3; opening the glovebox should reveal a numbered plaque if it was an original import. I'm not sure that changes value much – perhaps a bit of an oddity if it had it, or it might be more valuable to a Canadian, but most American M3 fans would just be happy with all of the European bits. Does that mean this car is more valuable than a U.S. spec E36? Most certainly, and the condition and color combination is good – but that doesn't mean you can just waltz it across the border. Unfortunately, this car is still the best part of 5 years from being importable and is far to nice to part out. U.S. fans will keep holding their breath, waiting for a chance to get their hands on these "full-blooded" E36 M cars.
-Carter