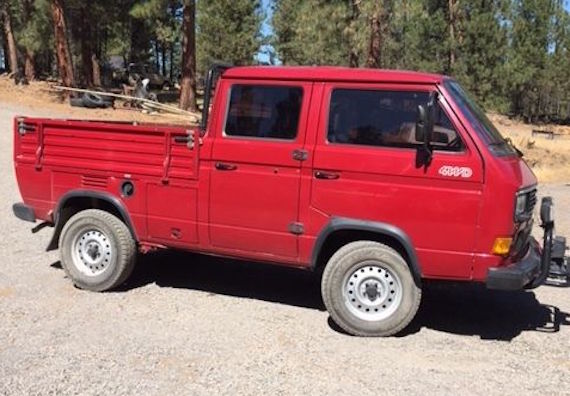 I have been in Syncro heaven recently. It all started on the way to a hike in the Santa Cruz mountains last weekend. I forced my friends to pull over when I saw it to grab a picture, and ended up meeting the older owner of an incredible orange DoKa Syncro completely maxed out – Subaru swap, South African Headlights, diamond-plate bed, and an adventure tent on top (shown below for your viewing pleasure). The guy said his grandkids called it "Grandpa's Adventure Truck." Thanks for putting all other grandpas to shame, guy. He loved that I knew what it was at all, let alone the details – hooray for automotive pedants!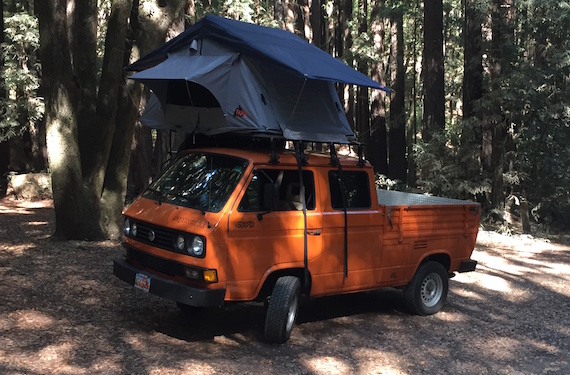 After returning to Washington State I've seen more Syncros than I can count, including a nice DoKa in my hometown and several excellent Westies and tintops. They cruise around, looking like the great Northwest vehicles they've always been, but I'd bet a lot of money (not Syncro money, mind you…) that almost no one knows that they're passing a $40k-60k vehicle.
Case in point, we have a beautiful red DoKa Syncro today with just 28k miles and a $55k asking price. Yes, just over 1k miles per year for this gem. It looks it too, with an immaculate interior and very nice exterior, although there are a few scuff marks to show that it has really been used. That use came from a Swedish fire department, again proving that European fire departments are amazing. It has a nice bullbar/Warn winch combo up front and light/rollbar/cage behind the cab. Not shown are a canopy and uninstalled South African grill, the latter of which would spruce it up a bit but isn't necessary to look cool. The only think I'd say it's missing is a top tent like Grandpa's Adventure Truck.
1 Comment