Zac emailed me to let me know about this special piece of inventory: a 2007 E63 Wagon. Not only does this monster possess 507hp, it knows how to use them. Check out this Car & Driver drag race between a Mercedes E63 wagon and an Audi R8 V8:
On to the car in question, let's let the pictures do the talking: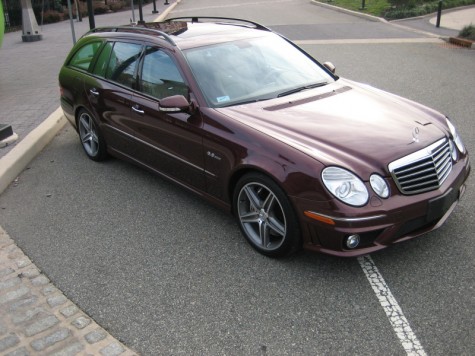 quote from seller's listing:
Only 67 E63 AMG Wagons were sold in the US in 2007 and this is quite possibly the only one ever in Barolo Red Metallic. They are almost always black or silver, I have seen only a couple of sedans in this color and never another wagon. POSSIBLY 1 OF 1 IN THIS RARE COLOR. AMAZINGLY FAST WAGON, Loaded with every option, Navigation, Suede Headliner, Steering Wheel Paddle Shifters, 3rd Row Seating (seats 7), Harmon Kardon Sound, Satellite Radio, Heated and Air Conditioned front seats, variable suspension, the list goes on!! 6.2 liter V8, 507 hp @ 6800 RPM, 465 lb-ft @ 5200 RPM. Only one senior owner from brand new, this car was a special order direct from Germany. Fully serviced only at Factory MB Dealer, last service just two months ago. The Car is stunning and needs nothing except a new owner. Both keys, manuals, mats etc. Rare opportunity. These cars are highly coveted among the AMG enthusiast crowd. They don't hit the market often and when they do, they always bring a big following. Pics are not the best and dont do the car the justice it deserves, i will take better ones this week the first dry day we get. No paintwork or accidents, clean Title / carfax. Must be seen and driven in person to be appreciated. These things are very rare, even rarer to find one with this color combo, options and low mileage. They almost have a cult following in the car world, not a lot of car companies make a sporty wagon these days, definitely not many making a 507 Horsepower V8 Monster that seats 7 people!!! This thing will embarrass most Italian Supercars, a real sleeper, keep them guessing!!!
I must admit that I typically prefer the modern classic Merc's, but this is one bad ass ride and a spectacular color combo. Good luck to the seller and I hope it finds a special home.
dc