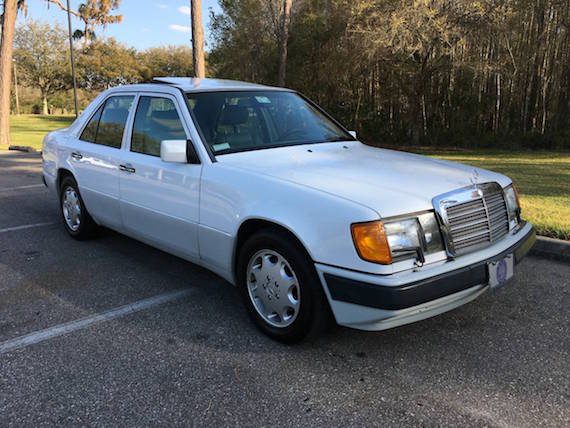 After I wrote up a nice looking W124 the other week, a few of our enterprising readers did some further digging and uncovered a number of discrepancies in the car's history, suggesting it wasn't such a great deal after all. To try to make up for it I've found three more examples of the venerable old E-class for consideration this week. What these cars have in common is that they all present nicely in the ads, appear to have been well cared for by their previous owners and are all priced very competitively. Hopefully at least one of these is a winner. First up is this white 400E.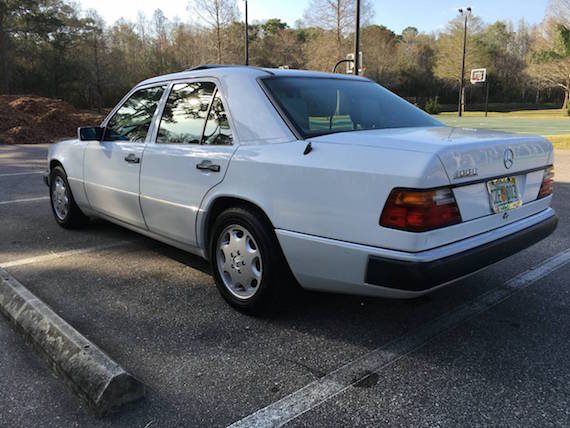 Year: 1993
Model: 400E
Engine: 4.2 liter V8
Transmission: 4-speed automatic
Mileage: 141,000 mi
Price: $4,500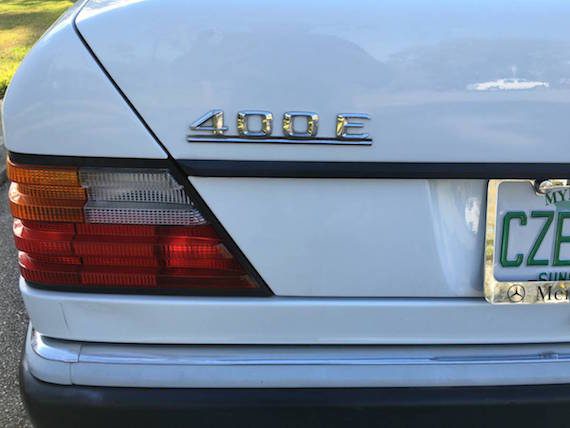 1993 Mercedes Benz 400E 141K very clean inside and outside.The exterior is a 9/10.The paint has a deap gloss,never paint.Interior 9/10.Great mechanical condition.Florida car. It has new tires,rear brakes,drive belt,A/C working,all service maintenance done at the time.All records and title in hand.
Hard to believe the car has 23 years and that beautiful condition.Open to trades.
Please…no low offers,come to see and drive the car.d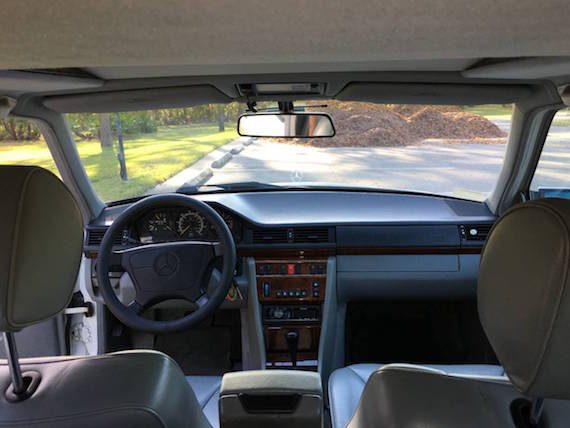 The 400E, which sat below the 500E super sedan in the W124 lineup, is a bit of underrated sleeper. The 4.2 liter version of the M119 V8 engine, which makes about 275 hp, packs a considerable punch but the overall package is restrained and stealthy. The 400E lacks the flared fenders and wider track of the 500E and outwardly looks no different from any other W124, save for the badge. The performance is not as brutal as that offered in the 500E, which was powered by a 5.0 liter version of the same engine, but it has enough oomph to pin you in your seats at high speeds, where the car pulls like a freight train. This car looks mint with a gleaming white exterior over gray leather interior. Unfortunately, the ad copy is brief and light on details, but what information there is suggests the car is up to date on maintenance and the accessories work as they should. It's listed on Craigslist in the Tampa Bay area; I used to live around there and always thought it was a good place to pick up an older Benz, provided you avoid the numerous, sketchy "Buy Here Pay Here" lots that dot the city. There are lots of wealthy retirees living down there who've owned cars like these since new and tend to maintain them at whatever expense. I have no idea if this particular example is such a car, but it wouldn't surprise me. A PPI would be required to find out if the car is as nice in person as it appears online (I can recommend a good shop if anyone is interested).
Of course, the V8 is a thirsty engine and the 400E doesn't make a great deal of sense if you intend to use it as a commuter. Those looking for a something a bit more frugal for daily driving duties might prefer this 300D instead.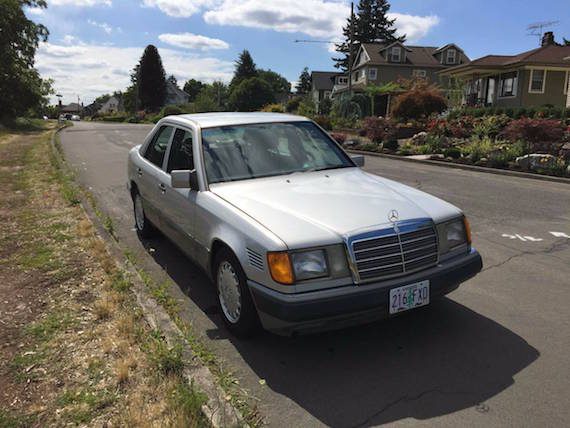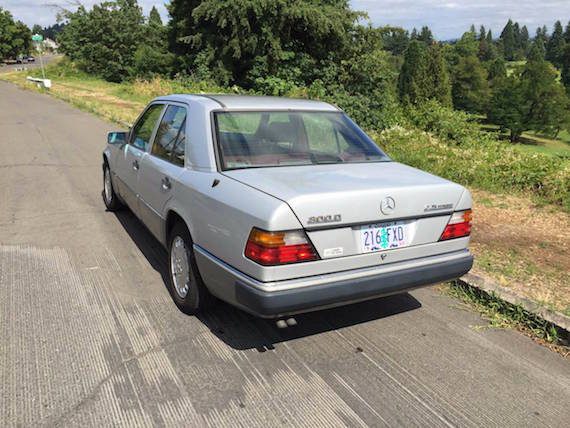 Model: 300D
Engine: 2.5 liter inline-5 turbo diesel
Transmission: 4-speed automatic
Mileage: 252,858 mi
Price: $2,900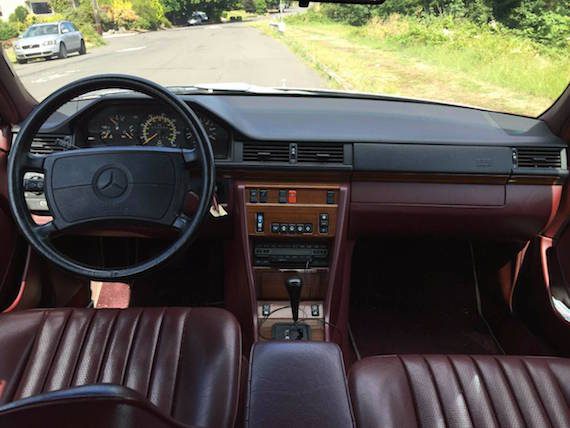 Up for sale is my 1991 Mercedes diesel. Automatic transmission. Shifts well. Two owners before my family. We have owned it for over four years. Selling now because bought a new SUV and don't need three vehicles. Current miles are 252,588.
Always starts fine. Uses little to no motor oil between oil changes. Windows all work. Sunroof slides and tilts. NO RUST. One ding the size of your palm on rear passenger door. Other minor imperfections typical of a 25 year old car. New engine mounts in 2013. Transmission fluid and filter changed at MBI Motors in 2014. New valve cover gasket in 2014. New fuel filter at bottom of fuel tank installed at MBI Motors in 2014. New serpentine belt installed at MBI Motors in 2014. New transmission shift linkage bushings installed at MBI Motors in 2014. Original radio works. Original silver paint. Burgundy MB tex (vinyl) interior. EXTENSIVE maintenance and repair recording dating back to purchase date. Car has always been registered in Oregon since new. Clean Oregon title in hand. Tags good until 9/2016. Email for fast response.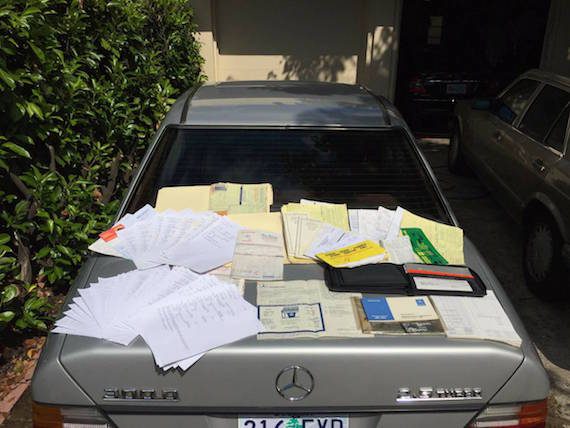 I think silver paint suits the W124 body shape very well and looks good over the burgundy MB-Tex interior. The car presents tidily inside and out – it's not mint, but an honest daily driver with the usual kinds of imperfections that reflect a life of service. The seller mentions a palm-sized ding in the passenger door but it's not shown very clearly in the ad; potential buyers might want to ask for a clearer image of the damage. The car has dual airbags, a working sunroof and the original Becker stereo (though in all honesty these are best swapped out anyway). I decided to include it in today's post despite the 250k miles on the odometer because of the extensive service history provided by the seller. The OM602 5-cylinder diesel engine is a venerable unit that could potentially last for a million miles if maintained properly. And with a price tag of under $3k, if this car passes a PPI it has the potential to be a very cheap but very classy commuter that will eat up the miles with little effort for the foreseeable future.
If the high miles worry you and you don't mind an earlier, pre-facelift car, then perhaps this ultra-low mileage 260E will be more appealing.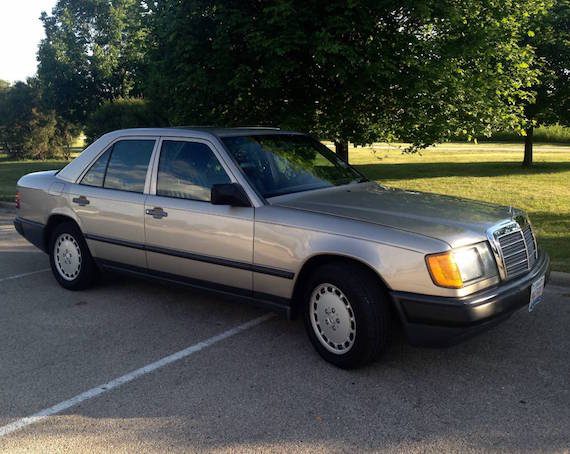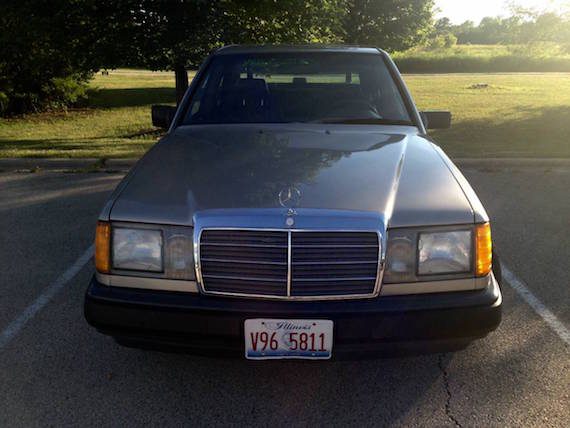 Year: 1988
Model: 260E
Engine: 2.6 liter inline-6
Transmission: 4-speed automatic
Mileage: 36,975 mi
Price: $4,900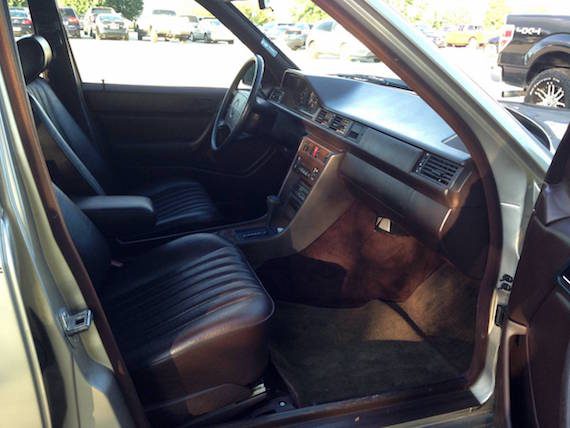 Very nice car. Low miles confirmed by CarFax before we bought it from the estate of the original owner. Garage kept. We bought it as a safe and inexpensive car for our teenage son to learn to drive in. Only selling because we need the garage space back now that he is going to college.

Pros:

– 4 out of 5 interior and exterior. Very clean inside and out and almost no rust. See pictures. Minor imperfections expected of a 28 year old car.

– Dashboard perfect- no cracks.

– Runs beautifully. Extremely quiet and responsive.

– Decent gas mileage for such a heavy vehicle. On average 24 mpg.

– Recently rebuilt brakes, new tensioner belt. Regular maintenance performed in the two years we have owned her.

– Clean title.

Cons:

– AC blower has an electrical issue, so does not blow cold. Our repair shop (Rolf's Foreign Car Repair in Evanston) determined that the compressor is fine. (Heater works great.)

– Antennae does not go up.

– Passenger sun visor needs repair.

All in all, this car is in excellent condition and is fun to drive. Parts are plentiful, and repairs are relatively economical.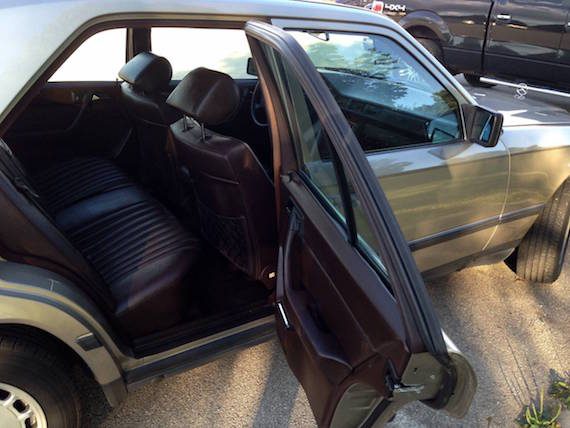 The 260E was the entry level W124 during the pre-facelift era (it would later be rebadged as the 300E 2.6) and shares the same 2.6 liter M103 engine as the W201 from the same period. I'd be very curious to hear the full story of this car, since the odometer indicates that it has only covered a staggeringly low 37k miles since new. It appears it was an estate sale find. The lighting in the photos makes it hard to tell whether the exterior is silver or gray (silvery gray?) but either way it looks as clean as one would expect for a car with such low miles, as does the MB-Tex interior, also apparently burgundy. The $4,900 price tag seems quite reasonable given the miles, though I suspect the seller will need to come down a bit in light of the admission that the A/C is not currently blowing cold. I've learned the hard way that you should always budget around $1,500 for an A/C repair on a Mercedes of this age.
– Craig