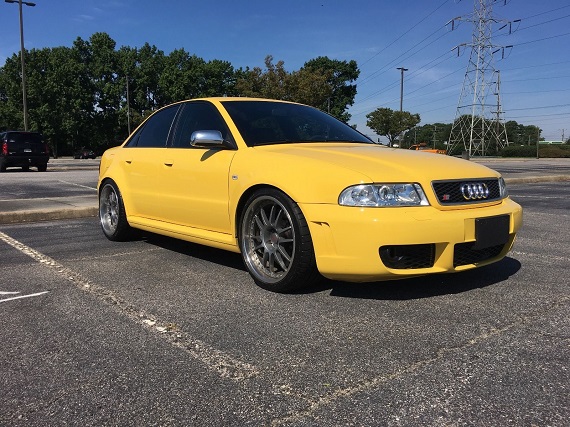 Finding a modified B5 generation Audi S4 isn't exactly a hard thing. Finding a good one, though, arguably is. The B5 generation brought Audi into a new scene of tunability and off the bat was a hugely popular platform. However, from salvage titles, high mileage, dubious modifications and poor condition to the big one – neglected maintenance – sorting through the plethora of "Stage X" S4s out there can leave one believing there just aren't many top-tier examples left. But then you set your eyes on this retina-searing Imola Yellow sedan, and your faith in the platform is restored. With 44,650 miles on the clock, it's one of the lower mileage B5s I've seen recently, but what really sets it apart besides the color are the RS4 body modifications. That, and 650 wheel horsepower: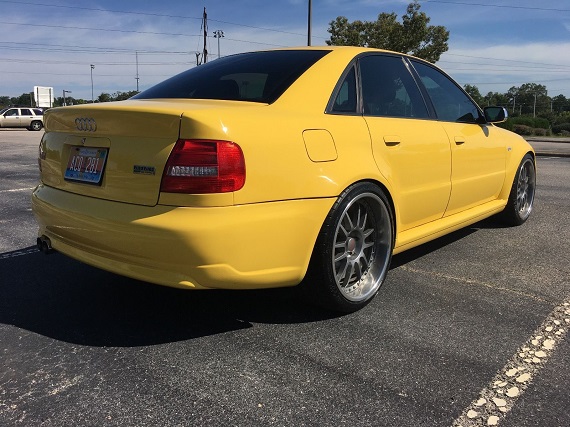 Year: 2000
Model: S4
Engine: 2.7 liter twin-turbocharged V6
Transmission: 6-speed manual
Mileage: 44,650 mi
Price: No Reserve Auction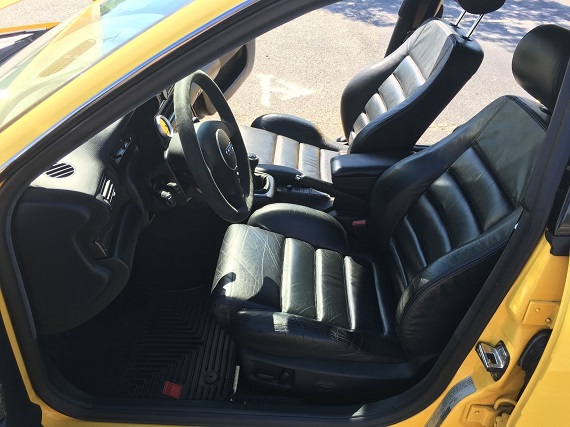 Autospeed Garrett GT2860R Biturbo Yellow 2000 Audi Widebody S4 RS4 44,650 miles

I flew to Long Island and bought the car 11/2008 and drove it back to VA, with around 38k miles on the car. The RS4 bodywork was already done and it had a AWE stage 3 turbo kit. I pulled the perfectly good running engine 5/2009, sold the AWE kit and installed Autospeed GT kit, along with other required mods such as forged rods, etc. I also had the original heads worked by Autospeed to support 8k rpm limit.

After finally getting everything installed, I trailered it to Connecticut 10/2011 and had EPL dyno tune three different ECUs. 575whp 93+meth, 600whp E85, 650whp E85+meth (2.36 sec FATS) It's been 5 long years since dyne tuning and sitting quite a bit so I can't guarantee the exact same hp numbers. As of today, the car has 44,650 miles on it. I went to the dragstrip one time but got rained out. I have never dropped the clutch due to the wide tires, all metal clutch master clutch and concern about breaking something. I'd like to sell it to someone who understands this type of car and is able to work on it. For example, if you do something as simple as removing an intake hose and don't clean it and re-torque the hose clamps properly the hose can blow off at high boost and overspin/blow a turbo. My other concern is the 100% meth injection system is highly flammable. If you take a line apart you need to be very careful it's put back together properly. Anyway, the car is a blast to drive but being an engineer I enjoyed the build more than having it sit around and only being able to drive it on occasion. My other issue is we bought a house recently without a large enough garage to store it in and my wife likes to park her car in it. Most banks won't loan more than stock value on cars so please don't bid too high only to be told you can't get a loan for that amount. I'm really not sure of current market value which is why I'm listing it on Ebay today. Of course, all offers will be considered and cash in hand is good! I have a clear title from Michigan. We moved up there for 1.5 years and returned to Virginia Beach recently.

Current videos uploaded to Youtube (my username is dn27s42000):


Current pics uploaded to amazon:
https://www.amazon.com/clouddrive/sh…hare_link_copy

http://dave-new.com/S4/IMOLA_2000/engine_pull_may2009/

http://dave-new.com/S4/IMOLA_2000/

http://www.audizine.com/forum/showth…-s-been-8-mo-s

ENGINE:

ASP GT2860R turbo kit with matching ASP downpipes and external 38mm tial wastegates. EPL GT maf, fueling and dyno tuning, 91lb/hr injectors. Have 3 different ECUs: 1) 93 octane+meth 2)E85 3)E85+meth

Downpipes are black ceramic coated by calico coatings

1.3 bar TIAL wastegate springs (large green/small red)
It runs right at 20 psi (minimum) base boost on those springs.

AWE twin 2 exhaust (didn't have time to replace but didn't hurt hp too bad even though it has small stock clamps between cats and cat back)

ASP catalytic converters installed to be emissions compliant

forged rods

Clutchmasters twin disc 850 clutch, all metal sintered bronze friction discs with no springs (it's a pain in slow stop/go traffic)

stock 2.7 (rebalanced with new rods and pistons) crank, no knife edge or anything special

JE pistons 0.060″ overbore from stock

Total seal gapless top piston rings

034 compression lowering head gaskets

non stretch head bolts (I believe they're ARP)

Autospeed worked my stock 2.7 heads: valve seat grind, new valve guides and seals, new inconel exhaust valves, new 2.8 intake cams, Ti retainers and dual/stiffer springs (don't recall brand)

Aquamist HFS-3 methanol injection kit with two 1mm nozzles installed in the APR bipipe, WI gauge is installed in a Podi steering wheel pod. Runs 100% meth

ER Intercoolers with modified RS4 shrouds

APR cast aluminum bipipe

034 carbon fiber intake shroud cut to fit EPL GT MAF

AMD inline 044 pump/relay kit installed in factory fuel filter location and 044 pump in the tank (two 044 pumps in series), stock in-tank plastic hose and no check valve installed (causes slight delay in starting but wanted to reduce pressure loss), small inline fuel filter in the engine bay.

Stock: intake manifold, new coil packs, Y-pipe, throttle body, fuel rails, fuel lines and pressure regulator, radiator fans

710N bypass valves

samco connector hoses for the ER ICs

ASP CNC machined crank pulley

NGK spark plugs set at 0.025″ gap

Stern "soft" CNC aluminum motor mounts

RS4 tranny mounts

AWE DTS

42 Draft Design catch can

OEM RS4 carbon fiber engine covers

Interior:
RS4 alcantara steering wheel
RS4 black door handles
RS4 carbon fiber trim
alcantara shift knob
has oem navigation but I don't believe it works.

Wheels/Suspension/brakes:
19×10 OZ superlegerra III 3 piece wheels, all are scratched by former owner
Just installed new 275/30-19 michelin supersports I had stacked in the garage for several years
Bilstein Pss9 coil overs
Brembo 6 pot front calipers with 355mm (14″) type III rotors (around $4k new)
stock rear calipers with aftermarket slotted rotors
H&R front sway bar

Known Issues:
Headliner starting to sag
Car will lock the doors on you after the car sits for awhile, the driver door interior lock button doesn't always lock all the doors (but the remote will)
Guy I bought the car from in Long Island painted the exterior one shade lighter yellow than the factor Imola. The door jambs are OEM Imola which doesn't match the exterior.
The windshield washer tank doesn't work. I bought a new pump but connections didn't match and I never bothered with it again.
RS4 Foglights are removed to get more air to the intercoolers.
Instrument cluster pixels are bad
Interior rear view mirror dimming fluid is failing (bottom half is darker)
Passenger side seat is missing one of the adjustment buttons.
I had ceramic window tint installed and they forgot to reinstall the three baby seat tie downs on the rear deck panel.

Please note: I can't let the car leave my possession and won't sign the title over before checks are cashed and I have cash in my hand. Too much fraud these days! Transaction is canceled if $500 deposit isn't received within 3 days of auction closing, and you don't make final payment within 10 days. I also listed the car on Audizine car forum and may have to end this auction early if it sells there.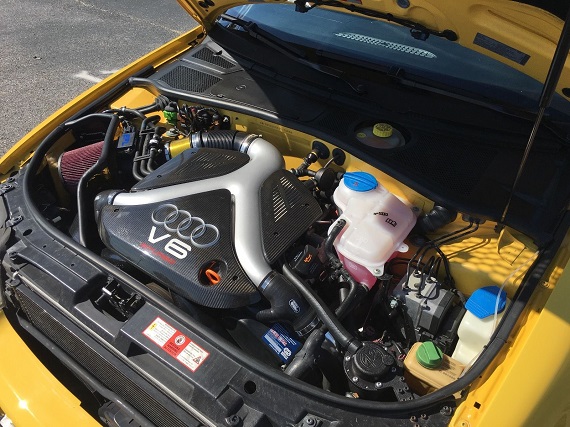 While it is not the current owner that did the build, they certainly benefitted from a tremendous amount of work that was performed to this car. Generally, that work is very impressive in nature. The car looks excellent overall and generally very original outside of the OZ wheels that I love but need a refinishing. The seller does disclose that the paint match isn't perfect and there are some minor needs from the modifications, but if you add up the dollars invested in the top-notch components here you'll come out so far ahead that it's easy to overlook some minor flaws. The result of this is that a lot of people seem interested; with five plus days still to go on this auction, the car has hit an astonishing $18,000 already. That's heady territory even for much newer S4s, but is certainly less than was invested into the car in modifications never mind the purchase price. The only problem I see is that much more money and you're knocking on the door of buying a real B7 RS4 rather than a replica. Granted, the turned up B5 will pretty easily dust the B7 in speed, but if the auction gets anywhere close to $25,000 I'd opt for the newer car, personally. Regardless of if it is what you'd buy at this price, though, we can appreciate the attention to detail and clean nature of this build, a model I wished more would follow.
-Carter