Warning!
This post is in our archives. Links in this post may have been updated to point to similar cars available to bid on eBay.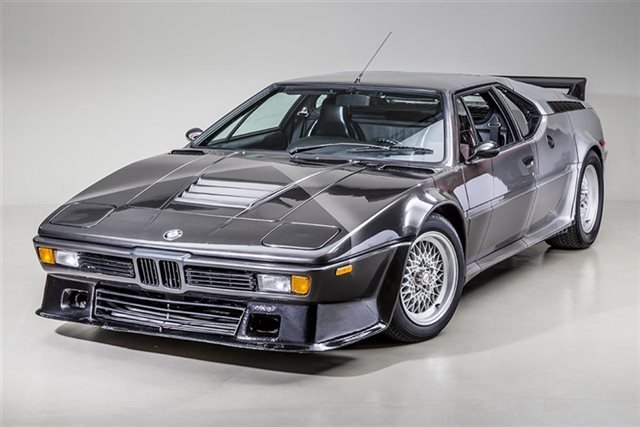 While it's safe to say that all of the legendary BMW M1s have an interesting history, some are a bit more traveled than others. It would be simple to suggest that modifying one of the few M1s produced would be sacrilegious, but in the 1980s anything was fair game in the tuning scene, and let's not forget that the M1 was a bit of a flop originally. In fact, until very recently the M1 was generally overlooked as a future collectable; prices were higher considering the rarity and provenance of the original M car, but like the Audi Sport Quattro they enjoyed relative obscurity in the general public. So, it's not much of a surprise that some were modified in period, and AHG was the most famous of the tuners of the M1. Taking the base car to the next level, they customized the interiors and upped the power nearly 30%, along with fitting aero tweaks that were a reminder that the M1 was intended for the track. Looking much like a street worthy Procar, the only thing that was missing were the celebrity race drivers and crashes. Not missing was the high price tag, something that's back today: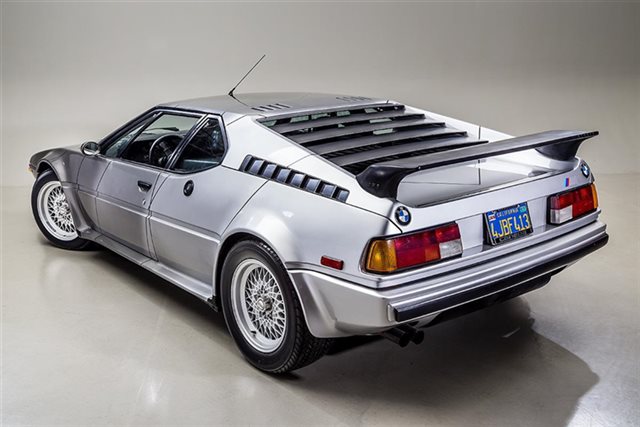 Year: 1979
Model: M1 AHG Studie
Engine: 3.5 liter inline-6
Transmission: 5-speed manual
Mileage: 31,395 mi
Price: On Request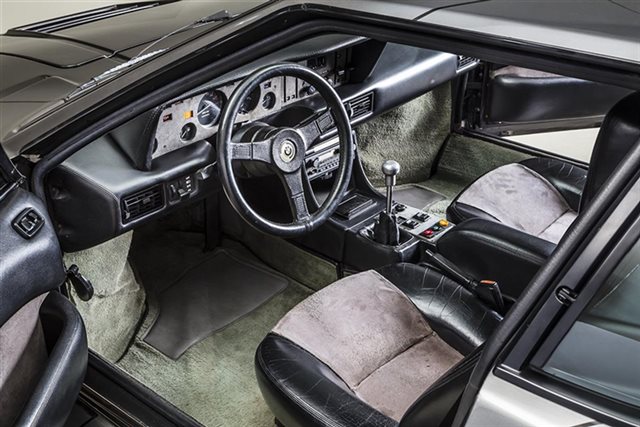 Description: 1979 BMW M1 AHG VIN: WBS0000009430109 One of 10 AHG M1 Studie cars ever built AHG upgraded 350 horsepower engine AHG M1 Procar-style bodywork Number 94 of approximately 454 M1s produced Started as a spare body for a Procar The first question usually asked about this vehicle is What is an AHG M1 Studie?, and that is an understandable query considering that only 10 were ever built. Start with one of the 399 street BMW M1s, and then do the following: upgrade the engine to 350 horsepower and mate it to a special racing clutch and a new exhaust system; add an adjustable racing suspension and three-piece 16-inch BBS wheels, which were 8-inches wide up front and 9-inches wide at the rear; install a front air dam with brake ducts, wider front and rear fenders, side skirts, and special rear wing to give the car a Procar look; then finish the car off with Cibie lights, a leather interior, upgraded stereo, and a special art car paint by Hermann Altmiks. The M1 Studie package was prohibitively expensive, not just for the extensive work done to the car, but also because the modifications had to be TV-certified in Germany. This required extensive testing and approvals, which only added to the cost. Allegedly, it was the rear wing that was the costliest part to get approved, and eventually it had to be made from a soft material to pass German regulations. Due to low production and custom ordering each AHG car is unique. Who ordered these cars? Most were available only to special BMW customers and race drivers. This vehicle, number 94 of 454 M1s produced from 1979-1981, started its life as a spare body for a Procar, but was then assembled as a series production car and delivered to a BMW AG Niederlassung. It was then sold as a street M1 to its first owner from Mainz, Germany in November of 1979. In October of 1981 it moved on to what is believed to be the first owners daughter. According to AHG it was then sold to an artist who used the car as a canvas featured in expositions and newspapers. That paintwork is still vaguely visible under the current paintwork. 094 returned to the AHG dealership in May of 1983, who then fitted the car with their special package. The famous German paint shop of Hermann Altmiks was hired to apply the current custom paint scheme. The engine was completely rebuilt and now puts out 350hp as opposed the stock rating of 277hp. The rebuild was completed 1200km (746 miles) before it was shipped to the US in 1984. Since then the car has only covered an additional 6000km (3728 miles.) 4301094 was purchased by an American collector in November of 1983 from Automobile International in Munich, West Germany. It arrived in the US in March of 1984, and received its EPA release letter in December of that year. When imported this M1 was modified for DOT compliance, but was released as EPA exempt (not street legal in California). Full DOT/EPA documentation is included. The NHTSA released the car in 1985, and the car began to appear in shows soon after. 4301094 was very active in the BMW scene until the late 90's, when it was put in storage as a long term collectable. In October of 2012 the M1 was awakened once more, and over $3500 in original BMW parts were used in its resurrection. Now in the hands of Canepa the car is receiving a thorough inspection and will be given the care it requires to meet our exacting standards. About the M1 and AHG The E26 M1 project, which helped launch the BMW Motorsport division, was approved by BMW AG in 1976 under the condition that it would not interfere with the production of any other BMW model. The M1 was developed to show that BMW was a legitimate manufacturer of sports cars that could compete with Porsche and Ferrari on the street, and to offer a purpose-built machine that could participate competitively in the Group 4 and Group 5 racing series. BMW Motorsport initially contracted Lamborghini to assemble the cars with engines produced and shipped from Germany. However, severe financial troubles at Lamborghini forced BMW to terminate their agreement with the Italian supercar maker after only a few cars had been produced. Going forward the production examples of the Giugiaro-designed E26 M1 were partially assembled at Ital Design in Turin using fiberglass bodywork supplied by T.I.R, and tubular spaceframes supplied by Marchesi. Final assembly was then conducted at the Baur coachworks in Stuttgart, Germany. Each M1 was then given a final inspection at the BMW Motorsport facility in Munich before being delivered to its owner. Unfortunately the Lamborghini delay meant that the M1 would never see direct competition with the Porsche 935 in Group 5 racing, instead BMW created a one-make series call the BMW M1 Procar Championship, or simply Procar. The series pitted professional drivers from the Formula One World Championship, World Sportscar Championship, European Touring Car Championship, and other international series against one another using identically modified BMW M1 sports cars. While the Procar series only lasted two seasons, from 1979 to 1980, its popularity was undeniable. With their flared fenders, imposing front spoiler, massive rear wing, and incredible speed, the M1's presence on the race track left a lasting impression. In 1982, after the series ended and production for the M1 was completed, Peter Gartemann, the president and owner of the German BMW dealer AHG, had the brilliant idea of creating a limited-design study that was based on the look of the Procar M1s but was intended for the street. This option, which was open to well-to-do BMW customers, involved having the AHG Motorsport division take an owner's standard road going M1 and transform it into the ultimate Procar-style street fighter. From the outside, the changes are clearly apparent, but the modifications didn't simply end with the race-inspired body. –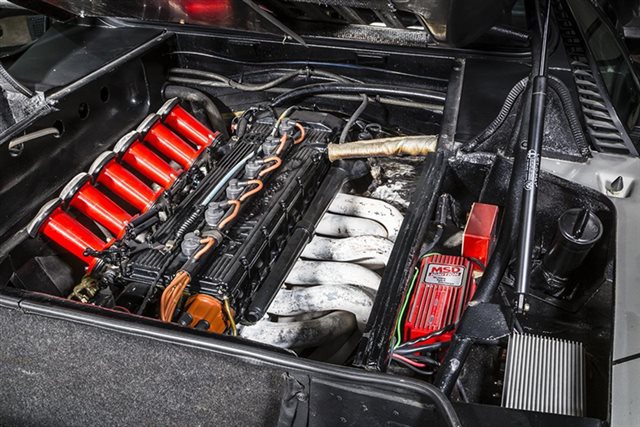 This car certainly is well traveled, and while the winter-camouflage paint scheme might not appeal to many it's period correct and was likely very, very expensive. Really neat amongst the pictorial of the car on Canepa's site is the original AHG literature which shows a similar car in blue-camo scheme. While the cars were originally spec'd with 3-piece BBS wheels, both AHG models that I've written up have worn replacement BBS models that aren't as wild. While the last car had lovely 3-piece RSs that were too new, this car wears more period-correct RA single-piece models. Condition isn't perfect, but a slight patina on this car only adds to a compelling story. Spare part car, rolling canvas, loaned to a daughter, modded to the top of the market, imported to the U.S. and ultimately stored away as a collectable, this car has enjoyed probably one of the most unique histories of any M1. Pricing has been all over the map; the last AHG I looked at was expecting $600,000 – $800,000, it was a hard sell though and didn't move quickly. Hagerty currently lists a top condition M1 at $600,000 but on a steep climb, and while Canepa doesn't list their price my guess is that it's close to or above that mark. That's a lot of coin for any BMW, but this might just be one of the most unique tuned BMWs ever produced, and while all of the 10 made likely have interesting stories, I found the history of this car to be particularly compelling. Plus, any M1, even modded and painted crazy colors, is just such a lovely thing.
Thanks to our reader James for spotting this unique M1!
-Carter