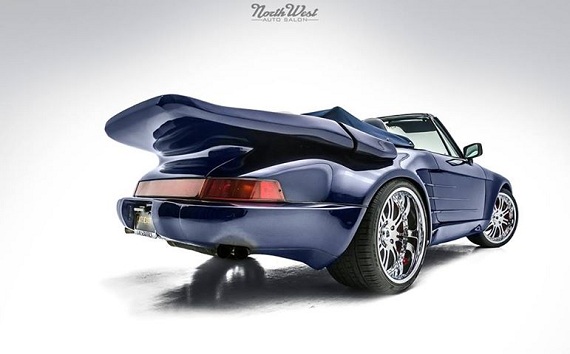 Oh, where do we start here? You shouldn't be surprised that Sir Mix-A-Lot has a wide body, huge bespoilered Porsche 911 Turbo that's purple; after all, he did tell you he "likes big butts", and this Porsche's got back. Rap stars from the 1990s really moved into a new realm of bling; West Coast saw the destruction through twist-and-bounce of countless classic 1960s cars, but rappers like Sir Mix-A-Lot moved into new territory, taking brand new "whips" and modifying them. But the self-proclaimed "Mack Daddy"'s modern-day pimp style didn't follow traditional trends of giant America sleds with fuzzy dice; the Sir liked European metal – including this turned up 911 Turbo Convertible Slantnose: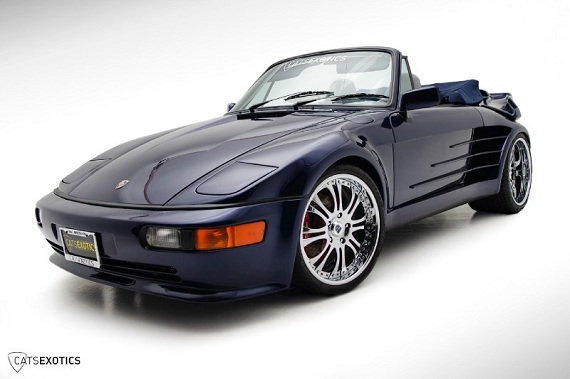 Year: 1984
Model: 911 Turbo
Engine: 3.0 liter turbocharged flat-6
Transmission: 5-speed manual
Mileage: 88,636 mi
Price: $44,888 Buy It Now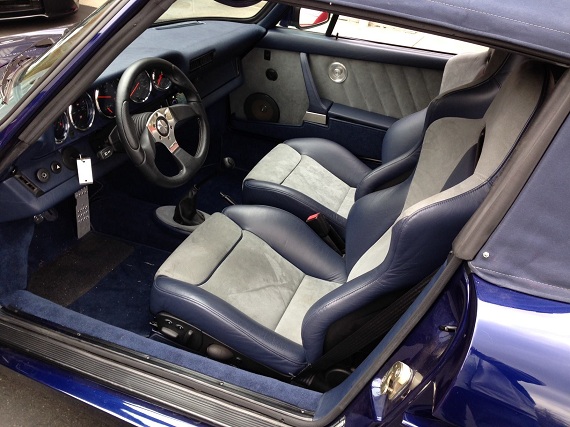 1984 Porsche 911 Turbo Convertible

**Actual VIN: WP0ZZZ91ZES150748**

1984 Porsche 911 Turbo soft-top convertible. Converted to a 935 front end with a Gemballa body kit finished in custom Blurple over Blue/Gray interior. This stunning mid-eighties Porsche comes to us with ONLY 88,636 miles and having been owned by the one and only Sir Mix A-Lot! This is not your typical Porsche.. Extensive aftermarket parts have been installed to make this car one of a kind! Custom built by Bimmers & Benze for Sir Mix A-Lot, the modifications include; custom 'Blurple' paint job, Gemballa body kit, custom blue/gray interior with sport seats, 19 inch chrome Asanti wheels wrapped in Pirelli tires, MOMO 3-spoke steering wheel, top of the line stereo system with a JVC head-unit w/ rear view camera & DVD, Focal speakers, 2 JL-Audio amps, iPod hookup, integrated laser & radar jammer, custom foot pedals, blue LED under-dash lighting, chrome ring gauges, Andial Racing intake, and on-board battery tender. On top of all that, an expensive and extensive motor overhaul was recently done including a motor re-seal with all the necessary new parts, new Bosch premium battery, new spark plugs, and a fluid/filter change.

To top it all off, this car was featured on the back cover of the best selling Sir Mix A-Lot "Mack Daddy" album and will forever be a piece of hip-hop history! Included in the sale is signed memorabilia from Sir Mix A-Lot.

Cats Exotics offers a wide variety of Lease and Purchase options! Call for more details!
Ready to run screaming for the hills? Not so fast; there's a lot to like here. While there isn't a lot of information about the build, first of all it's a semi-famous Porsche 911 Turbo Convertible. Sure, the slantnose is a bit poloarizing and it's not clear if it's an original slantnose or converted, and overall the Gemballa body kit probably isn't the one most would choose. But pop the hood, and underneath is an Andial-sourced motor which appears to be a twin-plug unit; that alone is a quite valuable item. With the DOT tag added, it would also seem to be a Euro-spec car, which could help the chance that the slantnose is real. As for the rest, you could probably take it or leave it; having watched a few of the "custom" shows I'd be concerned with the quality of the work performed and certainly the originality value of the car is gone. But throw some color-matched Fuchs on here and this seems like a lot of car for the money at under $45,000; sure, it's showy, but what would you expect from an ex-rap star's car?
-Carter