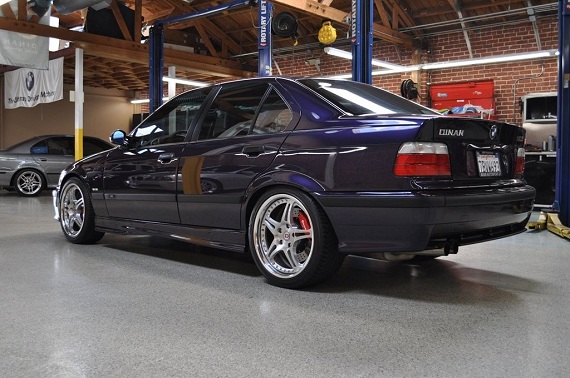 If earlier's Sir Mix-A-Lot's 911 Turbo didn't quench your lust for all things purple, I'm happy to offer another Barney-colored treat for you. However, unlike the friendly and more than somewhat irritating children's star, the object of interest here is the very popular and quickly become a classic E36 M3 sedan. Offering practicality, a stiff chassis with lighter weight than the coupes, this car has turned into one of the more sought after BMWs in recent history. This is especially poignant considering the current state of the rest of the 1980s M market; if you don't jump on the bandwagon now, you're likely to miss out. Further heightening the appeal of this sedan is the more rare shade of Techno Violet; a polarizing but popular color, and of course the full spectrum of Dinan S3 upgrades. Take a look at this purple people eater: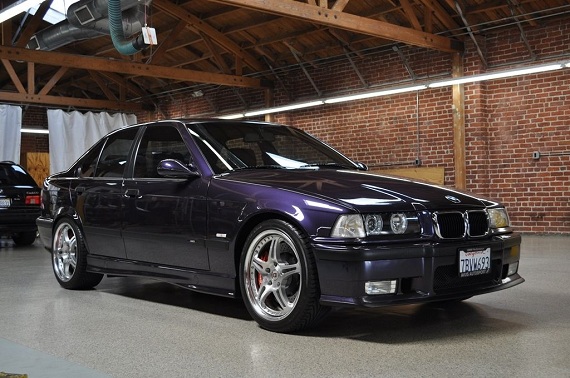 Year: 1998
Model: S3/M3 Sedan
Engine: 3.2 liter supercharged inline-6
Transmission: 5-speed manual
Mileage: 73,300 mi
Price: $24,900 Buy It Now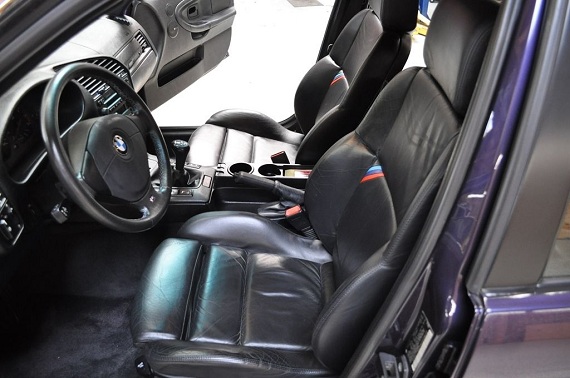 1998 BMW M3 sedan in ultra rare Techno Violet metallic over black leather. NO SUNROOF! You are looking at the very best M3 sedan anywhere, hands down. I bought the car from a fellow BMW enthusiast and BMW CCA member over ten years ago. I subsequently sold it to a friend/client who proceeded to invest over $50k in performance modifications including a complete Dinan S3 kit. All performance work was done at 59,200 miles in May 2003. I re-acquired the car and the reality is that I already have too many cars.

Dinan S3 includes

1. Dinan Supercharger
2. Dinan Throttle Body
3. Dinan Exhaust
4. Dinan Stage 3 suspension including Dinan/Koni shocks and Dinan springs
5. Dinan Front and rear strut and shock tower braces

HRE 547R wheel set with 18×8 and 18×9

Separately, a port and polish on the cylinder head was done to improve air flow. A custom aluminum radiator was also installed. VDO oil temperature, oil pressure, and supercharger boost gauge cluster sit below the on board computer.

Also installed are a Dinan fuel rail cover and engine cover, both in carbon fiber.

Brembo big brake kit, front and rear installed at 59,500 miles in June 2003.

Aftermarket Xenon headlights installed 69,960 miles 11/30/12.

This car as you can see in the pics, it is virtually showroom new. Never tracked or abused. The leather still is still soft and smells new as well. NO leaks!

No expense spared on maintenance. Frequent oil changes and all maintenance and performance work performed at Avus Autosport in Glendale, CA.

I doubt you will find another M3 sedan of this caliber anywhere. This car is for the most discriminating enthusiast. Words and pictures do not do this car justice.

This M3 is for the serious enthusiast. It currently sits in a climate controlled garage among other collectible cars. The price is firm. Please do not ask or offer a lower price. This M3 cannot be duplicated. I will keep it rather than take any less. The car is just incredible, one of the best all around cars I have ever experienced.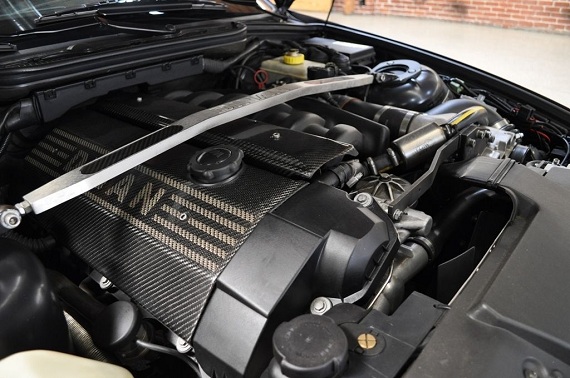 Without a doubt, the Dinan pieces are some of the best you can get for the E36 BMW, and this one is loaded up. The supercharger offers E92 level performance, and this car is backed up by the Brembo big-brake kit and the Dinan/Koni suspension. The level of performance with this package easily exceeds the European-spec version of the car and is well worth the investment. I could probably do without the HRE wheels; I know they're popular, but the design just doesn't suit the car in my opinion. Load it up with some of the forged Motorsports wheels, delete the aftermarket Xenon kit and this car is just about perfect to me. Pricing is fairly high for the package, but not unreasonable considering the caliber of the car, the rarity of the build and the future collectable status – plus, you'll enjoy yourself to no end. It may not be the most popular M-car right now, but this strikes me as a heck of a deal long-term.
-Carter