Warning!
This post is in our archives. Links in this post have been updated to point to similar cars available to bid on eBay.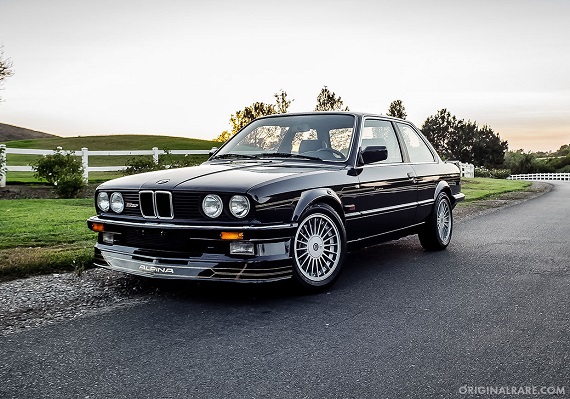 $65,000 for an E36? "Bullsh*t!", most of you are probably saying. That money should be reserved for true classics or brand new models. Heck, you can get a perfect condition, lightly used M4 for $65,000 even in a cool color. But anyone can walk down to a dealer and get a brand new car. You're an enthusiast, which means you enjoy the purgatory of older car ownership. Few of your non-automobile related friends understand why you like old, smelly, slow, uncomfortable, often in need of repair hunks of metal and plastic. "It's just a car", they say. But it's not just a car to you – it's an identity, a feeling, a Joie de vivre those who don't know will never have. It doesn't matter that they don't understand, because you understand. So you take that $65,000 that you could have spent on a brand new, ultra-flash and ultra-fast M4 but you don't spend it on an ultra-obscure two decade-old E36, because they're not worth that much – obviously. No, you instead spend it on a sure thing, a car that isn't a flash in the pan, a recession-proof investment-grade BMW like….an E30?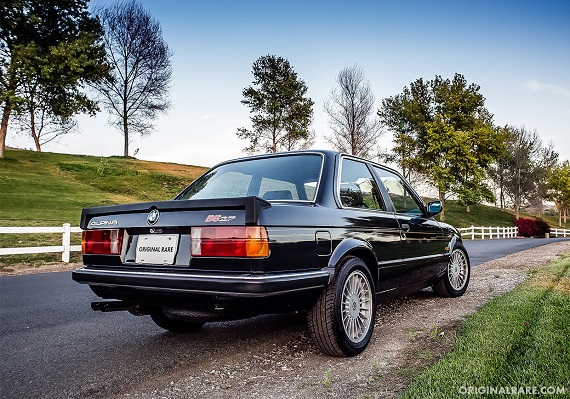 Year: 1986
Model: B6 2.7
Engine: 2.7 liter inline-6
Transmission: 5-speed manual
Mileage: 35,430 km (22,015 mi)
Price: $65,000 Buy It Now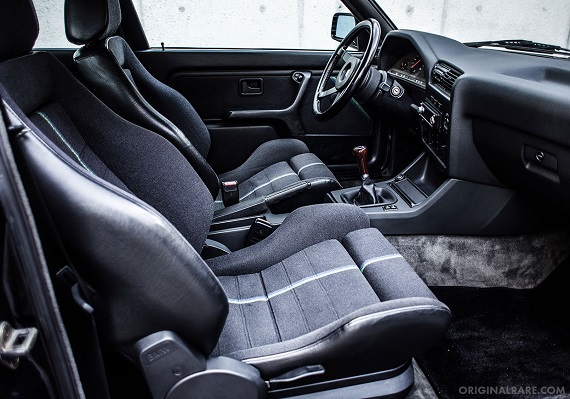 ALPINA History:
Alpina is an automobile manufacturing company based in Germany selling their own cars, based on BMW cars.

Alpina is recognized by the German Federal Ministry of Transport as an automobile manufacturer, thus Alpina-built cars are branded and registered as Alpina instead of BMW, although an Alpina can be bought and serviced at local BMW dealerships, and covered if there is a warranty issue.

Alpina was founded in 1965 by Burkard Bovensiepen, a member of the Bovensiepen family of industrialists. The original Alpina name can be traced to Dr. Rudolf Bovensiepen, his father, whose company produced office typewriters.

Although Alpina started by producing typewriters, the original Alpina ceased to exist at the end of the 1960s in their attempt to move into the textile industry. In 1965, Burkard established a BMW tuning business, following his success with investments in the stock market. He started the tuning business in an outbuilding of the original Alpina typewriter factory. The company worked on carburetors and revised cylinder heads.

Between 1968 and 1977, Alpina cars did very well in competition. The highlight was in 1970, when the team's cars won the European Touring Car Championship, the German Hillclimb Championship, rally and track racing championships and the prestigious Spa 24 Hours.

Alpina officially withdrew from racing in 1988 because of capacity limitations and restrictions. Tied to this was the decision to begin production on a new set of BMW Alpina automobiles. Legendary race drivers Derek Bell, Niki Lauda and Hans Stuck have all raced Alpina prepared BMW 2002s and CS coupes during their racing careers.

WAPB627006C210040:

The example being offered is a 1986 BMW ALPINA E30 B6 2.7 that has 35,430 kilometers (22,000 miles) and was imported from Japan 3 months ago. Alpina produced only 67 examples of the B6 2.7, which a Japan only edition car. Official Alpina plaque inside the car indicates it is production number 0040. It is powered by a 2.7L inline-six cylinder engine paired to a Getrag 5-speed manual transmission. Service records from the recent work are included, and the car is sold with a clean Montana title.

The diamond black metallic exterior paint is in excellent condition, as the previous owner in Japan said the car was repainted at some point. The body is straight with no visible dents or dings, and there is no evidence of any accident damage. There are some small curb rashes on the front lower spoiler.

This E30-based car features Alpina's familiar exterior treatments including a deep front spoiler, black rubber rear spoiler, and signature stripes. The car comes equipped with ventilated four-wheel disc brakes and 16″ twenty spoke alloys. Exterior rubber shows no UV damage.

The suspension consists of MacPherson struts up front, semi-trailing arms at the rear, and coil springs with Bilstein shocks on all four corners. The car's alignment is straight and provides responsive handling.

Alpina interior features include Recaro sport seats with signature Alpina stripes, a leather-wrapped 4-spoke steering wheel, and a wooden gearshift knob. The seats are in excellent condition with no signs of age or fading.

The Alpina branded gauge cluster, lights, power accessories, and A/C vent guage all function properly. Interior plastics are in good shape with no cracks, and the wooden shift knob is capped with an Alpina logo that looks well-preserved.

The M20 2.7L inline-six engine utilizes a Bosch LE-Jetronic fuel injection system and is paired to a close-ratio 5-speed Getrag gearbox. Output numbers were advertised at 210 hp when new.

The car was inspected by BMW specialists Lang Racing Development in Irvine, California upon arrival in the US. The car had been driven sparingly in Japan, and any reliability issues were properly addressed. The work performed included installing new exhaust hangers, flex disc, fuel filter, fuel lines, spark plugs, fuel hoses, control arm bushings, and vacuum hoses.

The underbody is clean and shows no signs of corrosion. The car has a current State of Montana title, license, registration, and has been fully serviced and safety inspected.

Serious Inquiries Only

Highlights

One of Only 67 Examples Produced by Alpina
210 HP Japan Only Edition Car
Low Mileage: 35,430 km = 22,000 ,miles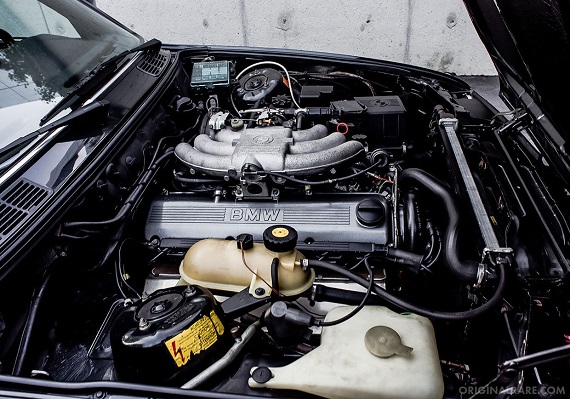 To be honest, if you mentioned to some friends that you dropped $65,000 on an E30 and it wasn't a M3, you'd probably spend the rest of the afternoon explaining why you're not currently in a mental institution even if they were car lovers. And when you were done explaining that, you could spend the rest of your time with them explaining what exactly makes this car so special, so unique, so much more desirable than a M3. Some would probably applaud your discerning taste, your acknowledgement that there is life outside of the box(flares). But have you really been thinking out of the box? Okay, the B6 2.7 is a worthy alternative to the M3, and indeed is much more rare even than some of the very limited special models of the M3. And when viewed in relations to the $100,000 realm of low mile, completely original examples of the boxflared wonder have recently been trading at, the $65,000 ask seems somewhat reasonable. But even if you're able to delude yourself that this is a good "investment", your friends – nodding in approval in your presence – will walk away shaking their heads in disbelief. Are you hoping this car will appreciate? Does it offer some sort of otherworldly experience you can't get behind the wheel of another car? Heck, as with the E36 from earlier, does this B6 really do anything (in the U.S., anyway) that a late model 325is doesn't at $10,000? It's neat because it's rare and exclusive. It's neat because it's original and in great shape. And, in some perverted way, it's neat because it's expensive. But buying something expensive simply because it's expensive isn't the realm of enthusiasts; it's the realm of narcissists.
Enjoy your tulip, egomaniac.
-Carter