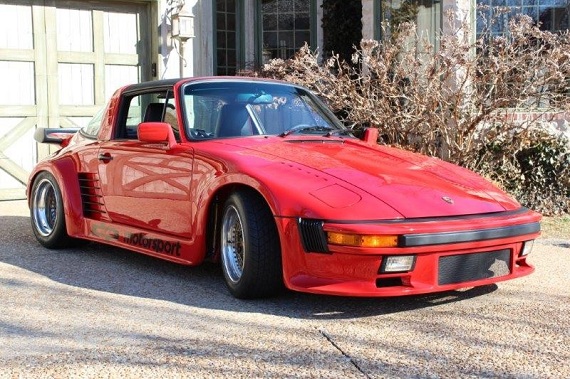 It's been only a few weeks since I looked back at a super black DP935 that popped up for sale again with no changes but a hefty price increase. Well, today there is another DP modified car; this time, a claimed 1 of 1 Targa model built from a 1988 911. One of the criticisms of the black DP was that because of many changes over it's life, it was effectively a highly modified turbo with a DP body kit. Today's car suffers from the same fate, in a way – though it's much more original. Bought in Germany and delivered to DP Motorsports, this Targa got the full external DP kit and some gorgeous BBS magnesium race wheels as well as a lowered suspension – but critically, no engine modifications seem to have made their way into this car. Afterwards, the interior was modified into the red/black combination that it currently sits in. With very few miles, this may be one of the more unique period-correct pieces in Porsche tuning history available right now: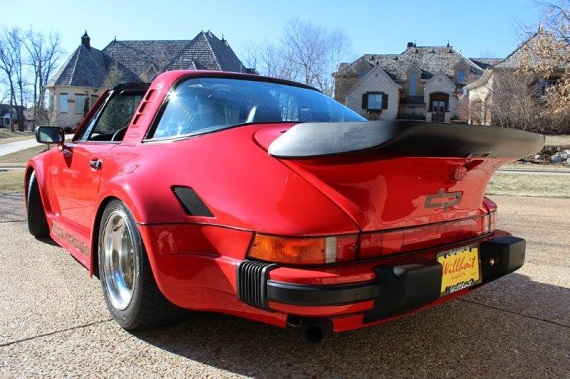 Year: 1988
Model: 911 Targa DP935
Engine: 3.2 liter flat-6
Transmission: 5-speed manual
Mileage: 15,732 mi
Price: $89,500 Buy It Now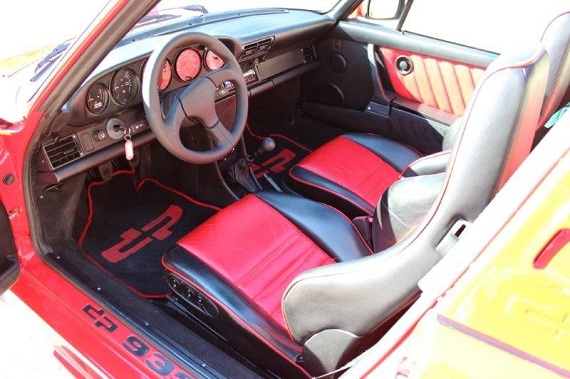 "ONE OF ONE"

1988 Porsche dp Slant Nose Targa
Guards Red over Red over Black Leather
Originally Ordered As a Tourist Delivery
1988 Guards Red over Black
G-50 5 Speed Carrera Targa
Optioned with:
Partial Leather Front and Back Seats
Heated Front Seats
Charleston Radio
Sports Seats
and Air Conditioning
Only Owned for a few days
After a brief Tour of the German Hills
She was turned over to dp Motorsports
for a complete dp 935 Slantnose Upgrade
dp Motorsports was founded in 1973
by Ekkehard Zimmerman
The company was headquartered
Overath, Near Cologne Germany
The Abbreviation dp stands for –
DESIGN PLASTIK
And in the 70's and throughout the 80's
dp Motorsports Designed,
Built and Modified Porsche 935's that
Raced in the 24 Hours of LeMans
And Other Championship Races!
dp Motorsports began producing Street Legal
Reproductions which Are Very Popular
In the US and also many Arab Nations!
Ekkehards experience and Success
In Racing Was Due to The Fact
He was Able To Produce
The Street Legal Machines
And This Is ONE of Those!!
The Only KNOWN Targa Upgraded by dp!!
Almost $20,000 for the Conversion
That is 1988 Money Folks!!
Then upon arrival in the US
Another $6,000 was spent
at Fred Opert Racing!
This resulted in the Killer Red/Black Interior!
This Targa is LONG AND LOW
in Porsche History!
3 Piece BBS Racing Wheels and
European Lowered Suspension completes this total package!!
Just Serviced and a full PPI Passed
Simply a BLAST to Drive
And a true head turner!
Own One that NO ONE ELSE CAN!
Pristine Example
with Loads of Paperwork
Including Books and Original Window Sticker
And Original German dp Motorsports
factory original invoice
for all of the work completed back in 88
Most Porsche Purists think the 80's was it
And this is IT!!!!!!!!!!

Just Service and Inspected
Including Passing a 100 Point PPI Inspection

WILL TRADE!
br> Nationwide Delivery – Finance/Lease Options Available.
Contact Michael at 417-869-7000 Office
or 417-839-1258 Cell for more information.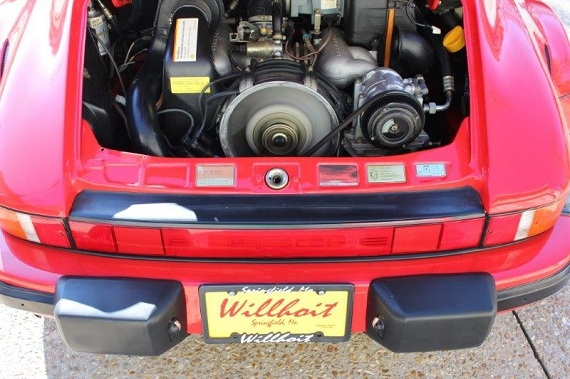 So at the end of the day, this is really just a G50 3.2 Targa with a trick suspension, some quite trick wheels, a questionable interior and a polarizing body kit. Still, I can't help but looking – it's quite neat looking and stands very far apart from the normal 911 mold. I for one am not particularly bothered that it doesn't have the big horsepower DP engine; turning up the boost can sure be fun, but for predictability, reliability and drive-ability the 3.2 normally aspirated motor makes a lot more sense. It does, however, affect the value pretty substantially and probably limits the market; without the performance and complete package, the car's value now stands as a time piece from the 1980s with few miles. I'm guessing that most people looking for a low mile Targa won't like this, and the folks that are into DP cars would probably rather have the 400hp turbo motor in the back. As it sits, the car could be recreated for less money – but you wouldn't have the originality. For the right person, that probably matters a whole lot, but the rest of us will just enjoy looking at this timepiece reminder of how crazy things got in the 1980s tuning world.
-Carter