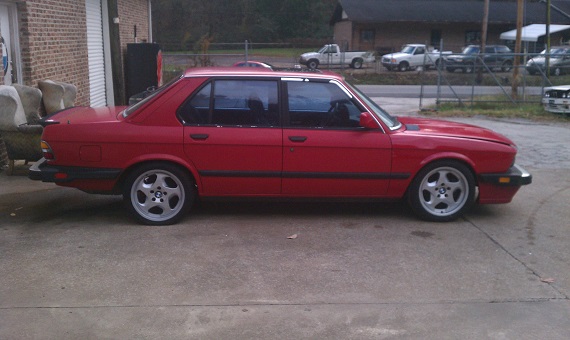 When did the BMW tuning crowd become the new Volkswagen tuning crowd? I must have missed the memo, but it appears that it certainly went out. In my search for modified cars, I come across quite a few; it seems that for every well modified car, though, there are a few examples that leave you wanting for more. More attention to detail, more refined taste, and in some cases more money spent. That money doesn't have to be spent poorly – we've seen, for example, cars which aren't the best examples but have great photographs somehow be more desirable than good examples with bad photos. Heck, in one Volkswagen post I even pointed out how the seller was at a car wash (and photographed the car there being washed – a new, and also completely pointless, Volkswagen tuning crowd trend) but then failed to vacuum the car out. Well, it would seem that some of the hallmarks of the Volkswagen crowd are spilling out into the all-too-popular 1980s BMW bandwagon. List out loud the details of this E28 and you'll have the enthusiasts drooling; Zinnoberrot 535is with black leather, Brembo brakes, M-System II throwing stars, Bilstein and Racing Dynamics suspension, Alpina cam and cluster, and a custom 400 horsepower M30 under the hood. But in this case, I don't think the result is greater than the sum of the parts: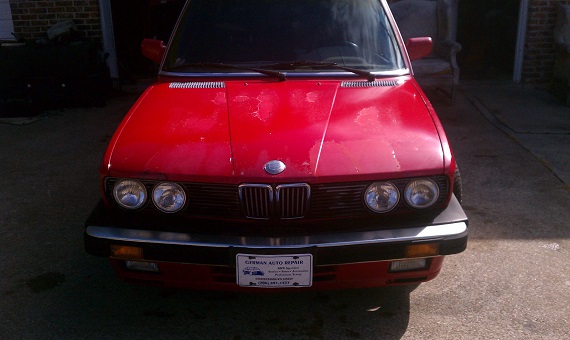 Year: 1988
Model: 535is
Engine: 3.4 liter turbocharged inline-6
Transmission: 5-speed manual
Mileage: 75,000 mi
Price: No Reserve Auction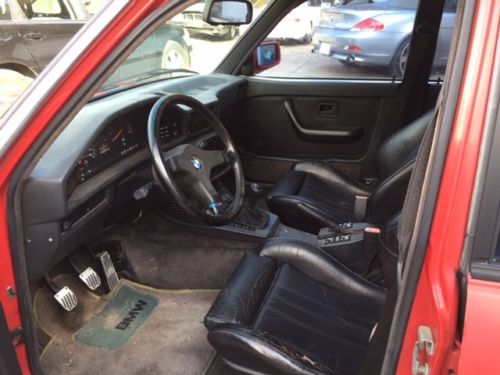 1988 e28 535is Cinnabar Red/Black leather interior

Around 75K miles on the vehicle, with less than 5K on engine/turbo upgrade

This car was built about 8 years ago by my brother and me; He is a BMW Master Tech. It was driven and played with for a few years but we both moved on to different projects so it just sits and he wants it out of his garage.

Engine/Drivetrain

Custom 400hp turbocharger

Dinan exhaust manifold

All custom built pipes, coolant reservoir, hoses, etc.

Engine is balanced blueprinted with JE Pistons

8.8:1 compression ratio with total sealed rings

Garret T4 Hybrid Turbo, turbo camshaft from an Alpina b9 turbo

With a 5 angle valve job

Custom inter cooler

Has an Electromotive fully programmable crank fire engine management system

30lb blue Bosch injectors are installed with a Porsche 928 throttle body

Intake manifold is custom built with the throttle body on the driver's side

Exhaust is custom mandrel bent 3″ stainless that fits and mounts to all the factory mounting points

Clutch is new Sachs heavy duty M5 disc and pressure plate

New upgraded Beyer motor driveshaft with replaceable larger u-joints installed

Differential is M5 75% Limited Slip

Always serviced with Mobile1 oil

Suspension/Brakes

Bilstein sport shocks and struts

Racing Dynamic springs and a Racing Dynamic front strut brace

Larger Racing Dynamic swaybars front and rear, with polyurethane bushings

Lower control arms are upgraded aluminum arms

Thrust rods are new with 750 hydraulic bushings installed

Brembo front calipers with drilled and slotted discs

Vented rear calipers from an e34 540 with drilled and slotted discs

Both loaded with ebc brake pads

Wheels are 17×8 front and rear throwing stars

Interior/Other

Interior is in great condition with barely any wear on side bolsters of the seats

Has an Alpina instrument cluster

Ashtray has been deleted and a 3 gauge carbon fiber panel has been installed with exhaust temp gauge, boost gauge, and oil temp gauge

There is a very rare glass sunroof installed on the car

H1and h4 headlights with 80/100 watt bulbs

The stereo head unit and cd changer are factory from a 1990 e34

MB Quartz speakers

Acoustic Research amps installed in the trunk with a 10″ JBL subwoofer with custom box and trim

Battery has been relocated to the trunk

M5 trunk linings

There are M5 step plates installed as well

THE BAD

The clear coat is peeling on the hood

Passenger fender has a softball size dent

There is a 3″ place on the rear spoiler where the paint is cracked off and needs repair

The tires need to be replaced

The trunk seal needs to be replaced

There was no expense spared to build this car. We have easily spent in excess of $75,000 grand to build this one of a kind "sleeper"!!! If you have any questions feel free to call or text 423-994-6884.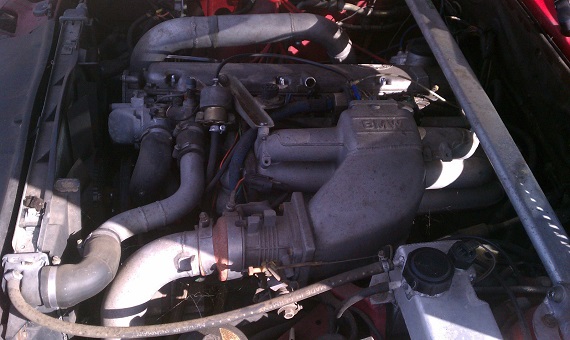 It's nearly 2015, and not only are reasonably good Digital SLR cameras plentiful, but they're cheap, too. Okay, you don't want to drop $400 on a point and shoot DSLR; fine. But truth be told your iPhone 5 takes better photos than most top-end digital cameras did only a generation ago. Plus, you can easy email and upload photos directly to many free hosting sites and even to eBay. It is therefore inexcusable to not be able to get a reasonable shot of the car in its entirety these days. Then there's all-too-common "Wolfsburg Waste" hanging out in the footwells. It takes 5 minutes or less to vacuum a whole car poorly but it would look better than highlighting a photo of a dirty footwell. Then, don't claim you've spent over $75,000 on this car. Please, don't. Because it really doesn't show at all – the engine bay looks haphazard and not clean and the exterior of the car is a mess. If this car were spotless, I could believe it. And I'm not just talking out of place here; I've done my own engine swap and rebuilt a 1980s Audi. It's far from perfect and I'm semi-embarrassed to admit I've spent well over $20,000 on a car that's worth on a good day perhaps $6,000-$7,000 – but then, I'm not selling my car, and arguably my car looks leagues better than this example. The engine bay is tidy and the engine swap is well executed and nearly invisible to those out of the know, the interior is vacuumed, and the exterior – bad paint and all – is polished to a fine shine. I've also sourced expensive and hard to find European and tuner parts for my car, too – so that excuse doesn't work here. No, I really want to like this car – it has the ingredients to be a great example and a M5 beater; but as it sits, I have trouble getting excited.
-Carter