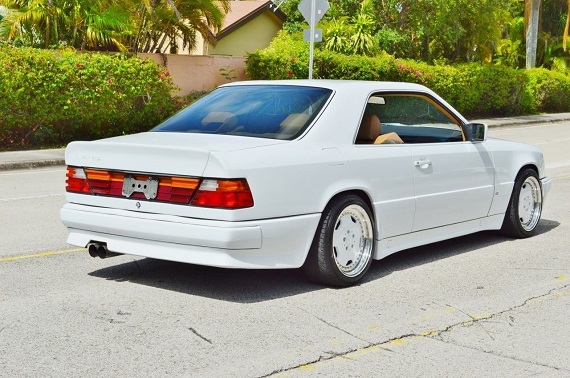 There is a fairly substantial problem with pre-merger AMG products: documentation. At this point, the newest of the pre-merger cars are on the verge of being considered antiques in many states, and with Mercedes-Benz takeover of the Affalterbach company, much of the documentation of the early models production numbers is lacking. They've often changed hands multiple times as styles and tastes have changed, and the paperwork accompanying their builds isn't always present. Further complicating this was the model that AMG followed. Unlike, say, a Ruf BTR, there was no specific mold to most of the AMG products. Instead, individual taste and monetary resources determined how many of the à la carte options would be tailored to your individual Mercedes-Benz. Also unusual was the AMG authorized dealer-installed model, which meant that you could get an authentic AMG install in California, for example. You could also apparently claim your AMG heritage with as little as three accessories installed, leaving a broad interpretation of what makes a "true" AMG build. Lastly, the popularity – especially in recent years – of AMG products means that there are a plethora of replica kits and pieces that are available. And, at first glance, this W124 would seem to be the product of just that – replete with "custom" AMG seatbelt covers and an ill-fitting C126 hood conversion, for example. But this W124 is much more:
Year: 1988
Model: 300CE AMG Mosselman Twin Turbo
Engine: 3.0 liter twin-turbocharged inline-6
Transmission: 5-speed automatic
Mileage: 73,000 mi
Price: $26,500 Buy It Now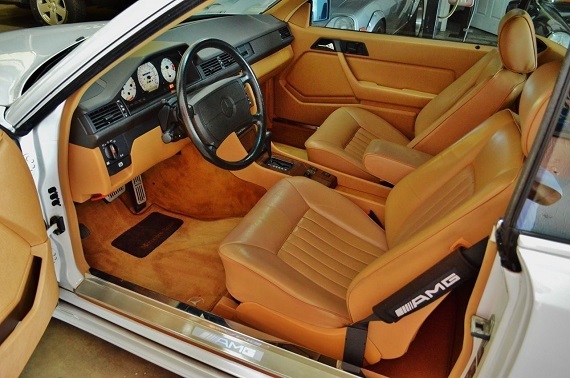 Mercedes-Benz: 300-Series AMG ((( TWIN TURBO ))) 300CE

1988 MERCEDS BENZ 300CE AMG/TWIN TURBO

YOU ARE LOOKING AT A ONE OF A KIND SPECIAL EDITION AMG MERCEDES
AMG – MOSSELMAN TURBO

Make MERCEDES BENZ
Model 300CE AMG
Engine 3.0 TWIN TURBO
AMG Transmission AUTOMATIC
Color ARCTIC WHITE on TAN LEATHER
Mileage 73,000
RECENTLY OWNED FAMOUS BMX RALPH SINISI

THIS IS A RARE ONE OF A KIND MERCEDES-BENZ 300CE AMG WITH TWIN TURBO MOSSELMAN .
A TRUE BLAST FROM THE PAST – A REAL TIME CAPSULE STRAIGHT FROM THE 80'S
IN EXCELLENT WELL PRESERVED CONDITION
ORIGINAL PAINT AND INTERIOR
THIS CAR WAS ALWAYS WELL MAINTAINED

JUST LOOK AT THE OPTIONS ON THE AMG FACTORY BUILD SHEET.

3 PIECE 17″ ALL ORIGINAL AMG AERO FACTORY WHEELS, BRAND NEW TIRES.
AMG SPORT EXHAUST SYSTEM
AMG LOWERED SUSPENSION
AMG FRONT AIR DAM, REAR AND SIDE SKIRTS
AMG "HAMMER" DOOR PANELS
AMG "HAMMER" REAR SPOILER
PAINTED SIDE MIRRORS ANS HEADLIGHT WIPERS
SEC HOOD CONVERSION

LITERALLY THIS AMG MERCEDES IS IN SHOWROOM QUALITY CONDITION.
BEAUTIFUL ARCTIC WHITE EXTERIOR ALL ORIGINAL WITH A TAN LEATHER INTERIOR BOTH IN EXCELLENT CONDITION.
YOU WILL NOT SEE ANOTHER ONE LIKE IT. THIS ONE HAS PLENTY OF POWER WITH THE NORMAL LUXURY FEATURES THAT COME STANDARD IN THE 300CE EDITION.
THE TAN LEATHER INTERIOR IS LIKE NEW AND HAS GORGEOUS WOOD VENEER TRIM. EVERYTHING WORKS AS IT SHOULD. RUNS PERFECTLY AND NEEDS NOTHING.

CLEAN CARFAX, NO ACCIDENTS EVER, CLEAN FLORIDA TITLE IN HAND
INCLUDED IN THE SALE ARE THE ORIGINAL BOOKS AND MANUALS ALONG WITH THE MERCEDES DATA PLATE IN THE ENVELOPE
ALSO THE AMG BUILD SHEET WITH OPTIONS AND ORIGINAL COSTS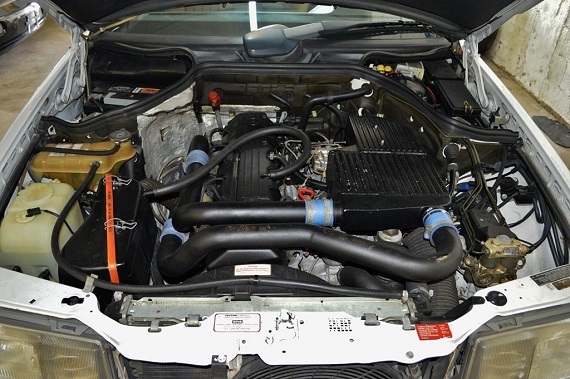 While a fair number of true AMG builds from the 1980s didn't feature the full range of performance parts from the maker, this car was augmented with a Mosselman twin-turbo kit. While relatively lesser known compared to AMG, Mosselman started in the 1970s offering aftermarket turbo kits to many European cars. This kit is more recent, but it's out of the realm of being considered period correct and certainly should provide more motivation to the stock M103. But the interesting part to me is the AMG bits, which admittedly at first glance raise suspicion about their origin – especially the hood. There are a few kits, including one from Lorinser, to mount a C126-style hood on the W124. Some work a bit, and others – like this one – don't. That, along with what appear to be a few eBay replica AMG bits, certainly add to the air of replication of this car. Yet key when considering this car is something often these "AMG"s lack, in that it has what would appear to be authentic documentation that many of the key aerodynamic bits were authorized and installed accessories. What was even more interesting is that apparently among those AMG bits was the hood conversion, though its origin is not disclosed. With some $15,500 worth of modifications, the price of this 1988 300CE seems pretty staggering at nearly 70 grand – especially considering the relative lack of performance to back up those looks. And indeed this car has deviated from its original build, which in some ways can be seen as hurting the potential value. That's reflected in its recent Barrett-Jackson auction sale at only $11,000 – far short of the hundreds of thousands of dollars many Widebody 6.0 sellers are looking for. And when you view the recent sale price in comparison to the current $26,500 asking price only a few months later, the flipper really seems to be gouging the market. But if you look at this car in relation to what some of its contemporaries are selling for, most notably Alpina products, the asking price for this W124 isn't really all that outrageous. And with the rare documentation which backs the build, value should be maintained in this example. If you could undo some of the aftermarket knock-off AMG bits, this could really be a stunning package that was exceptionally well bought at $11,000 earlier this year.
-Carter