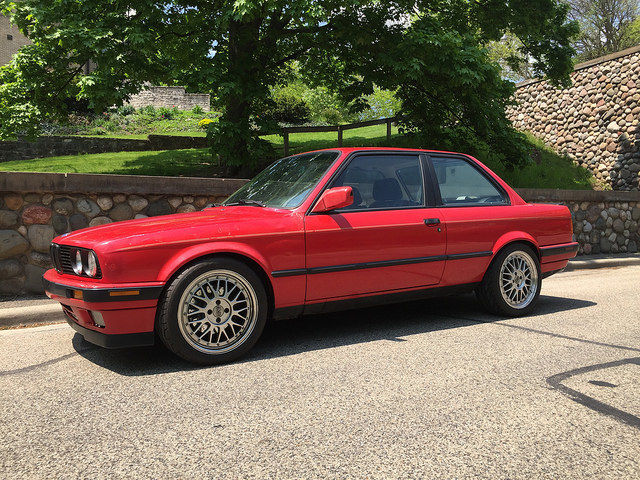 Dismayed that the E30 M3 is priced unrealistically for most? Me too, and we've heard it plenty of times. Not only have M3s gotten pricey, but so have low mileage, pristine original 325s and even 318s. But the wonderful nature of the E30 is that you can build one yourself, as the amazing support and knowledge base that exists in the community coupled with interchangeable parts and plenty of gutsy engine options creates a near limitless amount of permutations. While quite a few swappers follow the tried and true S50/2 path with their hotted up 3 series, today's car goes one step farther with an E39 M62B44 V8 and a 6-speed stuck into an otherwise mostly unassuming 318is: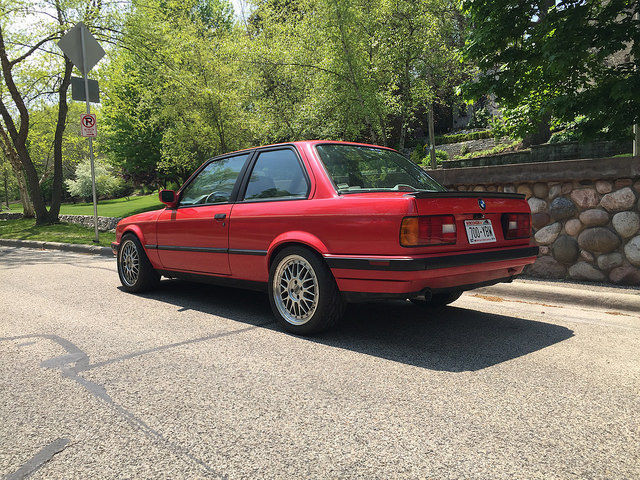 Year: 1991
Model: 318is
Engine: 4.4 liter V8
Transmission: 6-speed manual
Mileage: 142,000 mi
Price: $12,000 Buy It Now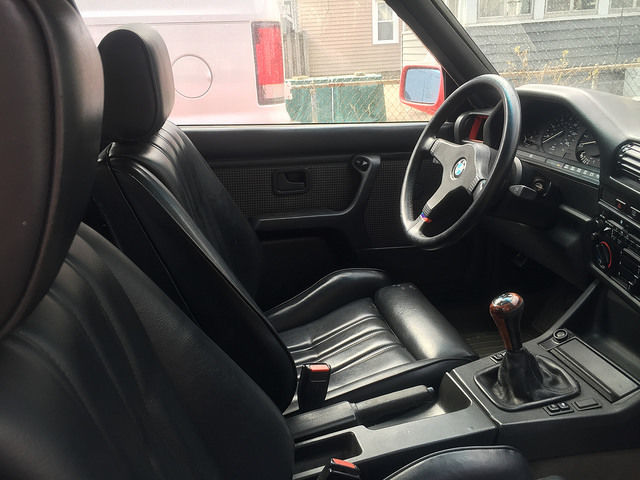 Please do not bid unless you have the funds to buy the car. This car has gone unsold twice now to two high bidders who were out of state and wouldn't return emails.

Up for sale is a car that took me two years to build. A 1991 318is with a M62B44 (V8 from an E39 1997 540i) mated to a 6 speed manual Getrag 420G transmission (also out of a 1997 540i). The car itself took months to find, specifically looking for a accident free late model IS coupe. The motor came from a non-accident donor car that was hand picked for this project. I had the entire drivetrain and wiring so this swap was done the correct way. I was not planning on selling this car, but I stumbled upon an LS1 E30 M3 project, which is the only car I would rather have than this, so unfortunately it is for sale.

DRIVETRAIN

The motor and transmission have 120k on the clock. Compression is high and consistent across the board and the transmission shifts perfectly. A Z3 short shifter has been added and makes the shifting very crisp. The motor is cooled by a Mishimoto Z3M radiator which is the best radiator you can buy for this setup with the help of an electric fan. The motor is ran by an OEM ecu (dme) tuned by DUDMD, a tuning shop out of Maryland. The tune adds an extra 15 hp and 15 tq, raises the redline, no top speed, and deletes the need for EWS. All the power goes back to the 2.93 medium case LSD, which closely matches the OEM gearing of the 540i.

I used the garagistic motor and transmission mounts along with OEM rubber motor mounts for a comfortable ride. The radiator support is removable (10 bolts) so the engine and transmission can be easily removed or worked on if you want to modify. The driveshaft is the E39 front professionally welded and balanced onto the E30 rear. The exhaust is a custom build that uses modified E39 headers and cats and is custom from there. All of the fluids are fresh (engine oil, transmission, power steering, brake fluid, diff fluid) and I used expensive synthetic stuff all the way through. The car does have a small oil leak that I believe to be the valve cover gasket. I have put 150 miles on it since completed and the dipstick still shows full so it is a slow leak.

Handling

Stance coilover suspension (this is a street/track setup do not confuse with the stance scene) with front RX7 big break kit, which is a 4 piston and larger rotor compared to the single piston OEM setup. This is not a no booster swap which are known for weak braking and a bad pedal feel, it has the remote booster relocated to the front of the engine bay. This car still has power steering. The 17″ wheels have brand new 235 width sticky tires.

Interior

All of the OEM gauges are working correctly. Speedometer, tachometer, oil pressure, coolant temp, etc. It has a very clean black sports interior along with an mtech steering wheel, and 6 speed E39 shift knob to match the transmission. Blower motor does not work on high.

Exterior

Overall good shape for its age. It does have some peeling clear coat on front bumper, fenders and fenders. It does have the typical rust spot on the rear below the battery box and a small amount of surface rust on the bottom of the passenger side door. I was planning on buying some replacement fenders off a car being parted out, but didn't get around to it. This is a sunroof car and it does have the 'smiley' headlights. Just stated the negative for full disclosure, but again, for it's age this car is in great shape and straight as an arrow.

Overview

Thank you for looking. As this is a unique build I welcome any and all questions about the car. Do not let this car scare you. I purposely built this car to be easy to work on. The body components are all E30 and the drivetrain is all E39. Everything for this car can be bought over the counter other than the driveshaft, which A isn't something that typically breaks and B can be purchased online. I spent a lot of time building this car the right way because I never thought I would be selling it.

You will not find another car like this out there. There are very few M60/M62 swapped E30s. This is the perfect combo – M62 (larger motor), non TU (no unnecessary parts that break), late model (better looking), coupe (lighter), 6 speed (better than 5 speed), right color (not champagne), OBDII working (only one i know of on the country that has this). If I had to guess I would say I have well over 1000 hours into this build over the past 2 years.

Many extra parts included – airbag steering wheel, OEM suspension, OEM brakes, OEM wheels, many M62 parts, etc.

Additional pictures:

flickr.com/photos/121188167@N08/sets/72157668463592852/

First gear pull. Car is throaty, but not overly loud. OEM stereo is very enjoyable at current levels. Two high flow mufflers in setup:

youtube.com/watch?v=sA_UUEyJYvM

Walk around

youtube.com/watch?v=bnwTakYlV8k

I welcome any questions via call or text at 614-915-5355. You are also welcome to check the car out if you are local to Milwaukee, WI.

I have a truck and trailer and can deliver for an additional cost to the surrounding area or help you setup transportation.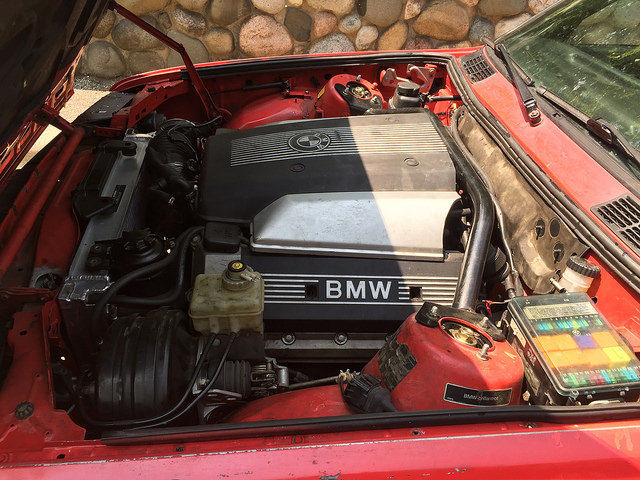 The overall look of this car is pretty slick; look, you're not going to get a perfect condition 318is for $12,000 these days apparently, but if you're even considering a V8 powered 318is you probably weren't looking for one. I like the generally understated look but would probably downsize the wheels to 16″ real BBS units if they'd clear the brakes. You're likely to come across some idiosyncrasies with a car swapped like this but that is to be expected. The price, to me, seems fairly reasonable given the amount of work that is done here and the performance potential relative to other E30s. Dollar for dollar, I think it would be pretty hard to outdo what this one-off has achieved for less.
Thanks to our reader John for the spot!
-Carter