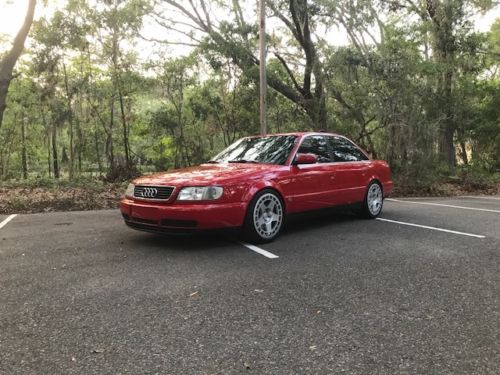 If Sunday's A4 represented the new wave of Audi products, the C4 S6 was the end of the decade and a half dominance of the turbocharged inline-5 in the brand's marketing. True, it continued on in other parts of the world a bit longer, but the writing was on the wall and the 1995 model year was the last in the American market. There'd be a big gap until the next S model launched in the U.S., which helped to solidify the legendary status of these stealthy super-sedans. Since there was no immediate replacement for half a decade, the S6 maintained its top-trump status among four-ring fans for longer than it probably would have been expected to.
The result of that was that they retained a strong fan base of owners and many more who wished, but could not afford, to grab one. As soon as they were out of warranty (if not before, in some cases), the wick began to be turned up – and those that know the AAN know that there's a lot of wick there to burn. In recent years, the wave of electronic fuel injection tuning and aftermarket support has not waned but grown for these cars; like German Supra Turbos, they're the evergreen forced-induction chassis you just never tire of seeing. Today's example is no exception to the rule, and with 500 horsepower and a host of high-dollar upgrades, it's ready to embarrass much newer metal.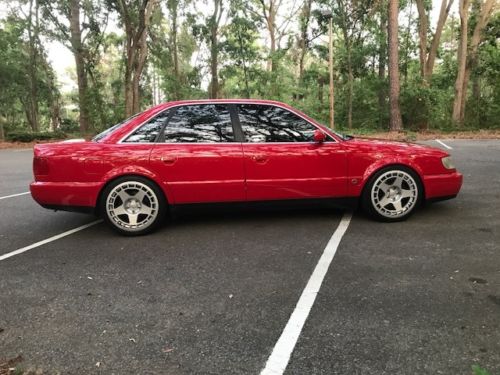 Year: 1995.5
Model: S6
Engine: 2.2 liter turbocharged inline-5
Transmission: 6-speed manual
Mileage: 170,741 mi
Price: $25,000 Buy It Now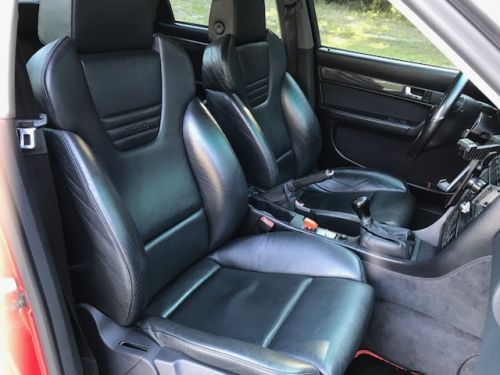 Selling my freshly restored 1995.5 Audi urS6 2.2 Turbo

170K on Chassis

Key Features:

Engine:

AAN Block Bored to 81.5mm, decked and blueprinted

AAN OEM Crank, Polished and Balanced

Dahlback Racing Rods with ARP L19 Bolts

JE Pistons, 81.5mm, 8.5:1 Compression

034 Calico Coated Rod Bearings

034 Calico Coated Main Bearings

Rebuilt OEM Oil Pump

ARP Main Studs

AAN Head, Crack Free, decked, fluxed, and five angle valve job completed

7A Cam shafts with new chain

Ferrea Intake and Exhaust valves, OEM Size

Supertech valve springs

New Valve Seals

Billet Oil/Air Separator Plate

Billet Rear coolant outlet

Billet Throttle Body Cam

Mahle Catch Can

All new Temperature sensors

All new hardware, timing components, and seals

New Alternator and Belt

EFI Express Carbon Engine Covers

Turbo and Exhuast:

OEM RS2 Exhaust Manifold

EFI Express Rebuilt Wastegate with new diaphragm and 1.8 BAR Spring

EFI Express Heavy Duty Boost Control Valve

Garrett GT3076R Ball Bearing Turbo

Tial 50mm Blow Off Valve

Mishimoto 30" Front mount intercooler

Iroz 3" Downpipe

Customer 3" Aluminum exhaust with aluminum race muffler

Management and Fueling:

VEMS Stand Alone ECM

Flex fuel and Anti-Lag enabled

All new Ignition and Injector wiring harness

1200cc Fuel Injectors, 3 BAR FPR

044 Fuel Pump with 034 Harness and Relay

New Fuel Filter

Updated OEM Rubber Lines

Cooling and HVAC System:

New Radiator and Mounts

New Coolant Tank and Cap

All New 034 Silicone hoses and Clamps

All New Sensors

80*C Thermostat

Twin Electric Fans with Max Speed Override Switch in Cabin

New OEM Heater Core

New Coolant Tank and Cap

New Heater Control Valve for HVAC

All new A/C O-rings

New Receiver Dryer

New Blower Motor

Fully serviced and lubricated R134a system to OEM Specs

Suspension and Brakes:

2 Bennett Coil over system with camber plates and adjustable Koni Struts

Apikol Rear Sway Bar

Apikol Poly rear subframe and cross member bushings

Apikol Billet Rear Diff Mount

All New bushings and Tie rods in Rear Suspension

All new Control arms, Bushings, Inner and Outer Tie Rods in Front suspension

Boxster Front Calipers with AAN Rotors

New Rear Calipers and Hand Brake Cables

Driveline:

7a Lightweight Aluminum Flywheel

Spec Stage 3+ Cerametalic Disk and

Spec Stage 3 Pressure Plate

New Metal Faced Throw Out Bearing

New Metal Slave Cylinder

Stainless Steel clutch line

B6 01E Transmission, fully re-sealed and serviced with Redline Fluid

OEM V8 LSD rear Diff, fully re-sealed and serviced with Redline Fluid

Rebuilt front OEM Axles

034 Short Shifter

034 Track Density Transmission Mounts

034 Poly Snub Mount

EFI Express Poly Engine Mounts

1552 Turbomac 18×9" Wheels

ECS tuning wheel stud kit

Bridgestone Potenza 255/35/18 Tires

Interior and Sound System Features:

B6 S4 Recaro OEM seats, fully functional power and heat

Early S4 OEM Carbon Fiber Trim

Re-Covered headliner in OEM B5 A4 Material

30% Window Tint

B5 S4 6-Speed Shift Knob

All new cluster bulbs

Pioneer DEH-X8700BS Head Unit with Bluetooth, Pandora, Etc…

Blaupunkt GTA 270 DSP Amp for Deck Speakers

Blaupunkt GTA 470 DSP Amp for Door Speakers

Blaupunkt GTx 693 DE 6×9 Deck Speakrs

Blaupunkt Blue Magic CL 100 Front Door Speakers

Blaupunkt Blue Magic CX 130 Rear Door Speakers with Tweeter

A-Pillar Mounted Boost Gauge

Android Tablet with Custom Mount for live feed VEMS data

Exterior Features:

European Front and Rear Bumpers

European Spec Tail Lights

European Spec Headlights and Clear Corners

All New OEM Lower Door moldings

New OEM Rocker panel skid moldings

Complete 3-Stage, Glass out repaint completed in 2016

New Windshield

New Grill

History and Features:

I've owed this car on and off for the past 5 years after purchasing it from my cousin who owned it for 10 years before that. I daily drove it through college and most of my young adult life. The headgasket blew at 167,000 miles and the rebuild began.

All work has been done by myself. I am an Audi Certified technician, as well as ASE Master Certified and Subaru Senior Master Certified. I also spent a year working at 034 Motorsport specializing in old Audi 5 Cylinder engines. This project has taken me nearly two years to complete, however the car has been gone through tip to tail. Everything has been done by a professional to the highest standard.

The body is nearly 9.5/10 with normal blemishes due to regular driving and aged plastic parts. Nothing that can be captured by camera. Paint job was done properly with all molding, doors, and glass removed short of the rear glass. Color match primer was laid down followed by color coat and clear coat, then wet sanded and buffed.

Car is tuned to run at peak efficiency on e85 fuel. Producing 500 crank horsepower. The VEMS control unit has been modified to accept a flex fuel sensor and will automatically adjust boost and timing based on ethanol levels. 93 octane reduces timing and boost pressure to more daily driveable levels.

Car is very street friendly and could be used as a daily driver. A/C blows cold, and all electrical features work. The tablet is included in sale as it provides a direct live feed of the VEMS engine management unit. It is HIGHLY recommended Lambda , as well as other, values be watched during aggressive driving to maintain longevity of the engine. The entire build has approximately 2500 miles on it.

Final stages of tuning here:

Feel free to call or text with any questions.

630 Four Three 3 eight Seven O one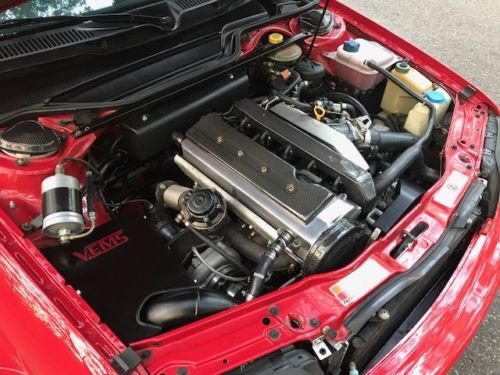 What's to say? It's a well built, super powerful and great looking example of the last of the inline-5 traditional quattro models. The detail work is as outstanding as the acceleration should be. The car features the right top-shelf upgrades, yet is more than just checking off the right parts. The vision to build a great 20V turbo worked really well here. Personally, the only item I don't think works well are the fifteen52 Turbomac wheels, but the market is hot on them right now so you could easily swap for other stock (as usual, I'd suggest Audi's own Bolero wheel is the perfect fit, or if you have to go 18″, grab a set of early D2 S8 Avus alloys to match the original design!).
The bidding on this example has, no surprise, been very active. Yet once again, compared to the E34 M5 and W124 500E, these C4 models are very affordable while offering more performance on tap. It's hard to see how your money could go wrong here.
Thanks to our readers Jason and Adam for sending this one in.
-Carter