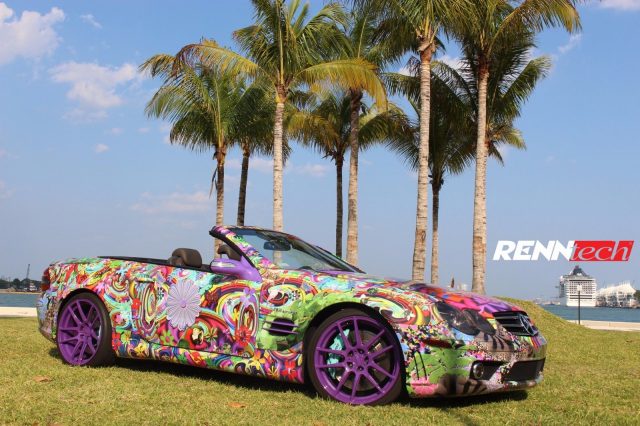 I've seen art cars in the past but today's combination might take the cake. This 2007 SL65 AMG is the creation of a man who is considered a pioneer of digital art, Laurence Gartel. Gartel has done work with the likes of Andy Warhol, major household brands, celebrities, NASA, the Grammys and of course unique cars. This latest art car is none other than the torque monster itself, the W230 SL65 AMG. Of course, just being a regular SL65 isn't enough. This SL was sent to RENNtech in Florida and came back with an always mind-blowing 670 horsepower and 840 lb·ft of torque thus probably making this the fastest piece of rolling art out there.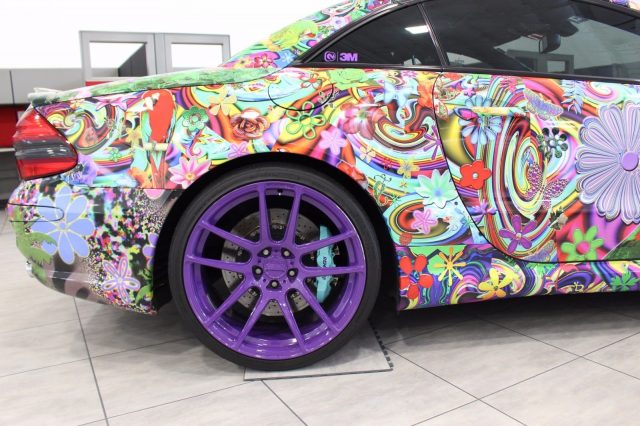 Year: 2007
Model: SL65 AMG
Engine: 6.0 liter twin-turbocharged V12
Transmission: 5-speed automatic
Mileage: 95,464 mi
Price: Buy it Now $39,500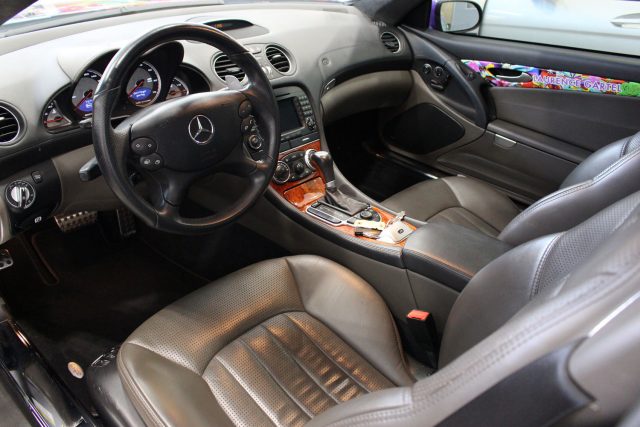 RENNtech SL 65 AMG Art-Car by Laurence Gartel

Mercedes-Benz R230 – SL65 AMG
M275 – 6.0L V12 AMG Engine – up to 670HP | 840LB-FT

Equipped with following RENNtech Upgrades:
– ECU Upgrade
– V3 Digital Lowering Module
– Carbon Fiber Rear Decklid Spoiler
– 10.2 Deep Monolite Forged Wheels Finished in Gloss Purple. Front: 20″x9.0″; Rear: 20″x11.0″
– Brake Upgrade with Custom Painted Calipers in Aquamarine
– Fully wrapped by Laurence Gartel, official Artisit of the 57th Grammy Awards
– 041U – Designo Graphite Paint underneath Wrap

Milage: 95,464 (04-13-2017)
Laurence Gartel | A Digital Art Innovator
– Considered the Pioneer of Digital Art
– Created the first digital art-ad together with Andy Warhol for Absolut Vodka
– Taught Andy Warhol how to create Art via Amiga Computer
– Official Artist of the 57th Grammy Awards. Created official Artwork and Invitations
– Created Artwork for Justin Timberlake and Britney Spears
– Official Artist of the Newport Jazz Festival 2015
– Created Groundbreaking Artworks for the NBA, Walt Disney, Forbes, Coca-Cola and Phillip Morris
– Artist of the 2015 NASA Magnetospheric Multiscale Mission (MMS)
– Art Car Conversions include: 1957 Lincoln Premiere Convertible, 1959 Cadillac Fleetwood, Tesla, Scuderia Ferrari and Rolls Royce
– His Art was exhibited at: Museum of Modern Arts, Joan Whitney Payson Gallery, Long Beach Museum of Art, Princeton Art Museum, Norton Museum of Art, National Museum of American History, Bibliotheque National and Monaco International Film Festival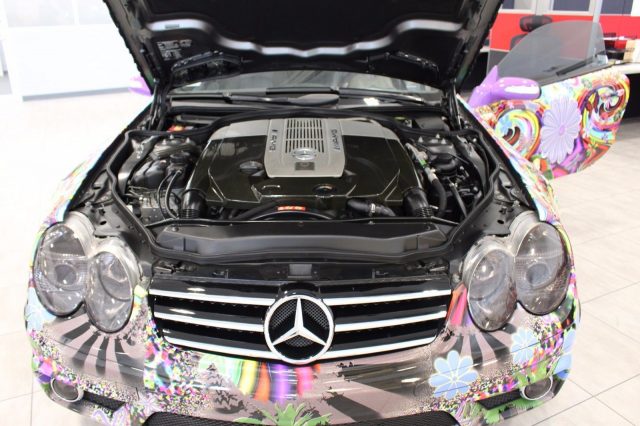 I'm not art aficionado by any means but Laurence Gartel is actually a name I've run across before. A quick Google search showcases some pretty interesting stuff he's produced and his past art cars are pretty wild stuff as well. But in my opinion, this SL65 doesn't do it for me. I'm sure there is a method to this madness that I'm missing or don't truly appreciate, but it just a bunch of psychedelic patterns applied to a wrap that's started to show its age. The shock value isn't there anymore and cars like this are popping up everywhere from people designing wraps in their basement and applying them in a weekend. If anything I think the appreciation for something like Warhol hand painting an M1 only goes up because of how easy it is to do an art car now. Of course this is just my opinion, I welcome anyone who feels differently.
As for the SL65 itself, I'm pretty amazed that it is nearing the 100,000 mile mark. I usually don't see these with mileage like this one because they are either driven sparingly or owners reach a point where they are given a repair bill for five figures then decide to walk away from it. Seeing as this one is a show car that's probably be driven to a fair amount of events and showcases, I guess I shouldn't be surprised. Also you probably aren't owning this car unless you like been seen either. There is no hiding in this thing.
The price of this SL65 is really intriguing to at just under $40,000. I looked at another SL65 AMG RENNtech back in January that finally sold for $46,000 but it had a faction of the miles this car has. Seeing as RENNtech themselves is the one listing this car, they know what they have and what kind of market they are dealing with. Despite its huge power numbers, the potential for crazy repair bills on the M275 AMG cars have been sinking values on them with no real floor to be seen yet. This car is a tough sell even without the wrap because of the mileage so if I were to bet this one might sit for sale a little while longer. Nevertheless, a cool piece that you surely don't see everyday.
– Andrew