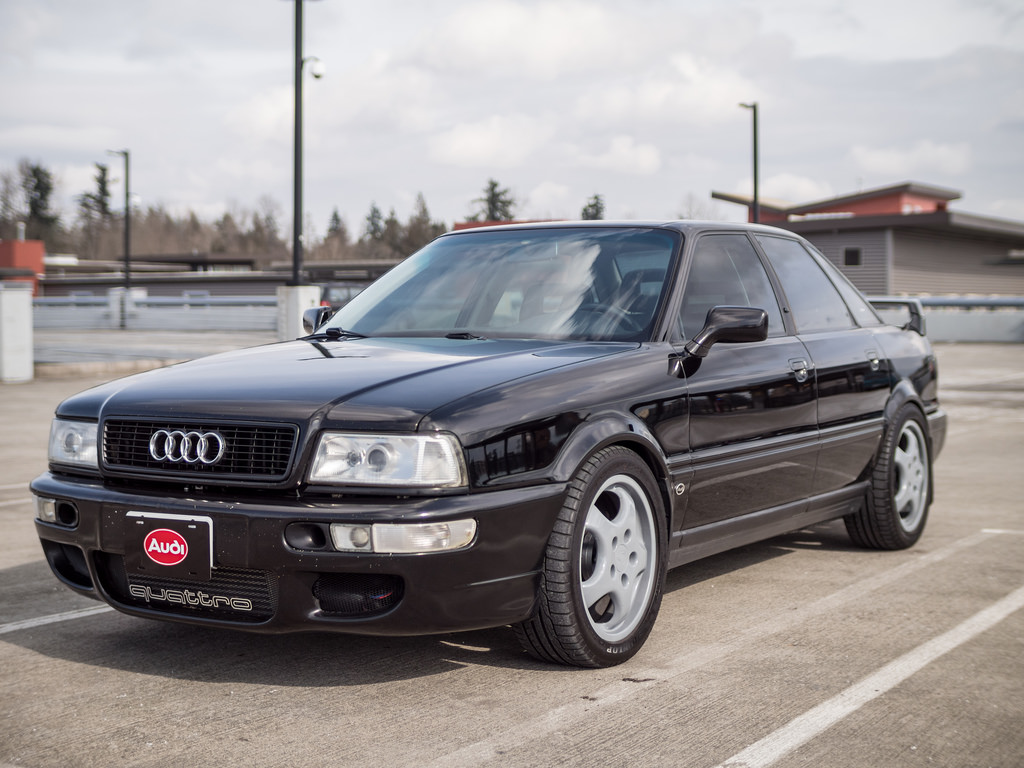 In a very small subset of enthusiasts, early Audi chassis are nearly as legendary as the BMW E30. Robust, well built and refined, Audi over-engineered most of its small chassis starting with the B2 because it was the platform that launched the legendary turbocharged Quattro. While the normally aspirated versions lacked the punch of their bigger brothers and the acceleration curves could be somewhat laughable, they still offered plenty of entertainment when driven hard. I have a video of my Coupe GT at Watkins Glen – heading up the long uphill straight, we're shouting out numbers as they barely increase from 95-100 before flinging the car with nary a touch of the brakes into the bus stop, maniacal laughs abounding as we leap the turtles.
Clearly, though rare the small Audis are always prime for more power, and converting those earlier cars to turbocharged Quattro specs – or later RS2 replicas – has been popular since they were sold new. Today's example, though, has different and more modern motivation than the familiar inline-5 under the hood – but they don't get much better than this presentation and build: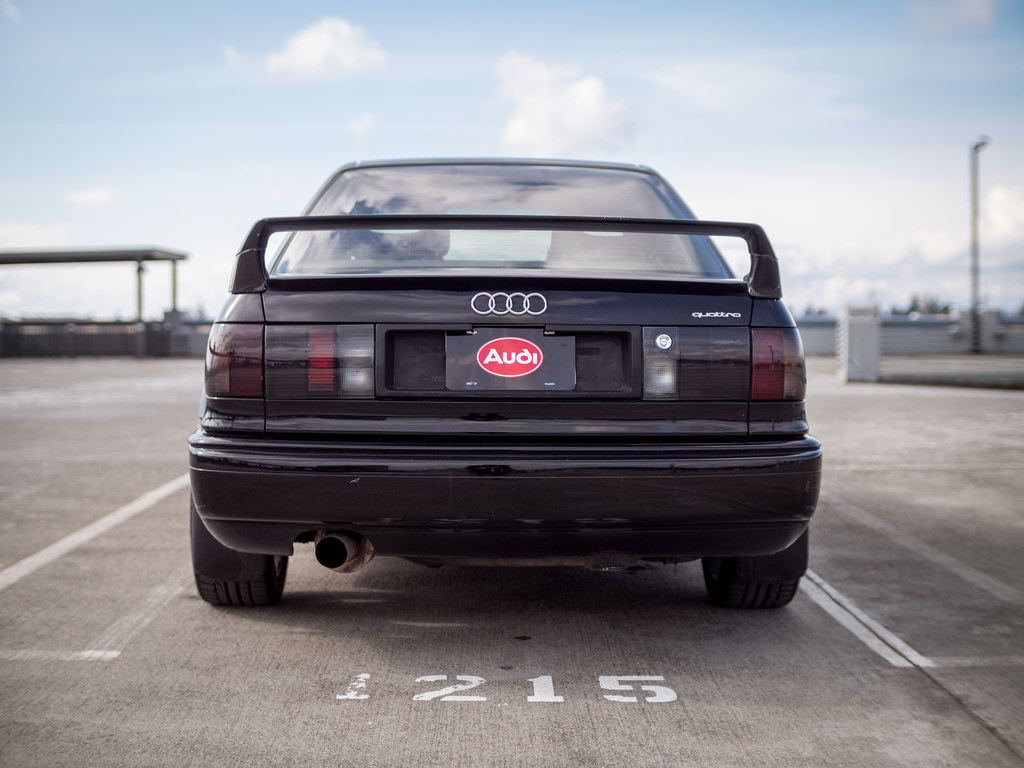 Year: 1995
Model: Sport 90 quattro
Engine: 1.8 liter turbocharged inline-4
Transmission: 5-speed manual
Mileage: 146,000 mi
Price: Varies depending on package, see below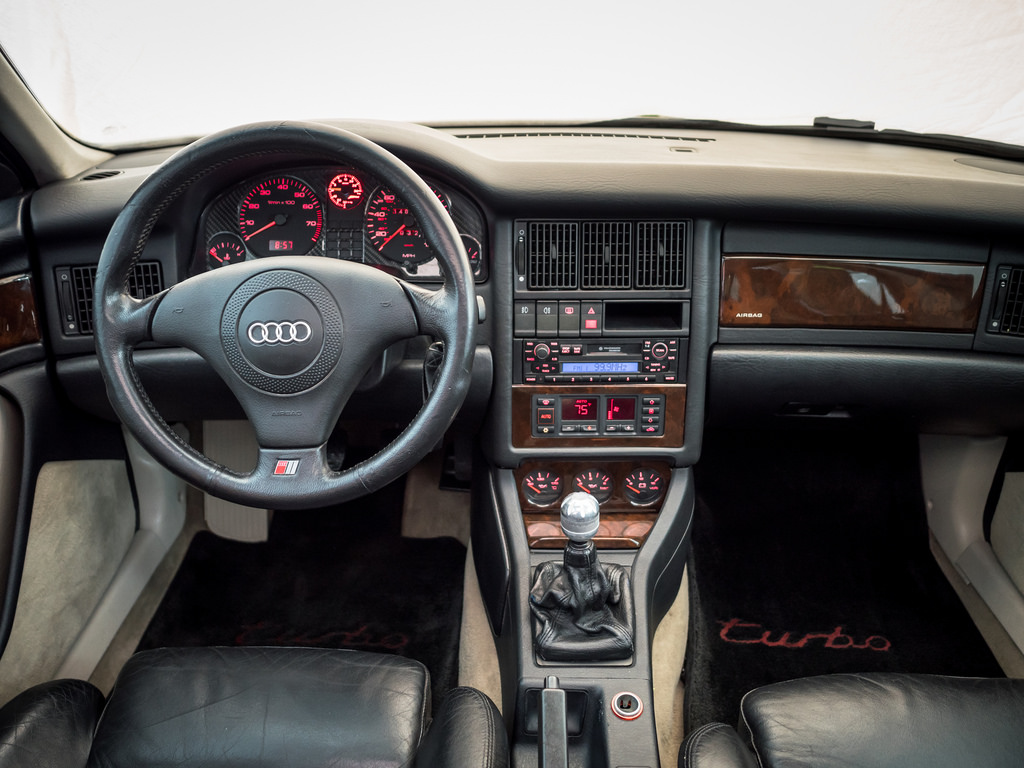 Heads up this is a long ad, please take the time to read through it. I am a die-hard Audi fan and like to be 100% transparent when I'm selling a car. I've owned this car for the last 6 years and I am only selling to make room for a newer/larger Audi in addition to the 2 other Audis also in my garage. I've owned over 10 of them and am a very active member in the local and online communities.

PM or email me at alxdgr8 (at) sbcglobal (dot) net if you're interested.

LOTS of pictures here: https://www.flickr.com/photos/alxdgr8/a … 0767475655″ onclick="window.open(this.href);return false;" onclick="window.open(this.href);return false;" onclick="window.open(this.href);return false;

1995 Audi 90 Quattro Sport (B4 chassis, 'E' sport VIN)
Brilliant Black exterior
Black leather interior with ecru carpet, headliner, and door panels
146,xxx miles
5spd manual transmission
1.8T I4 engine (Originally a 2.8L V6)
Clean WA title in my name
1 of 1,364 1995 90 quattros in North America, even less were sport models
Sport models received sport suspension, body colored side moldings, and auxiliary gauges in the center console. They also have a different VIN digit to signify it being a sport.

.:Engine swapped at 141k miles on the chassis with 175k miles on the donor engine from a B5 A4.
.: Passed WA emissions in Fall 2016 (1995, so just a sniffer test despite the engine being OBD2).
.: PNW car its entire life, zero rust.
.:No check engine lights.
.:ABS light is on and ABS is inop, haven't investigated yet. Could need new wheel speed sensors or just have the current ones cleaned.
No AC, but I have most of the parts to re-install it including the compressor. Condenser is already installed. Will need new evaporator ($60-100) as the one currently installed has damaged fittings. AC lines use a combination of B4 and B5 parts. I have the B5 lines and some B4 things, but I might be missing one of the B4 lines. May also need one of the wire connectors extended to reach the compressor since it is now on the opposite side of the engine bay as the V6 was.
.:Front bumper and driver's mirror housing are spray painted. Looks good from a few feet away. Passenger front bumper mount needs to be redone, it sticks out a little too far from the fender. Parts of the bumper have been trimmed to clear the previous radiator setup of the V8, but it's not noticeable when the hood is closed and only if you know what you're looking for.
.:Some small door dings and scratches in paint. Better than your typical 20+ year old car for sure, nothing major.
.:Infrared keyless entry isn't working despite having new batteries in the key and working transmitters. I believe the previous owner started trying to convert it to wireless keyless entry from a later car, so the infrared might already be unplugged.
.:Engine runs flawlessly. I did a 3,000 mile road trip in it last fall with no issues. Cruise control works great.
.:I would trust this car to drive anywhere in the country, I am currently daily driving it about 75% of the time.
.:Gets 27-30mpg on the highway and low to mid 20's in town.

Recent maintenance:
.:Timing belt, tensioner, and water pump (metal impeller) replaced <10k miles ago .:Spark plugs, thermostat, thermostat housing, rear coolant housing, and oil cooler replaced during engine swap .:Oil/filter changed at 146k miles, Rotella T6 synthetic oil and large TDI filter .:New clutch and flywheel during engine swap .:Fuchs Titan Sintofluid GL4 transmission oil during engine swap .:New crankcase breather setup and all new vacuum lines during engine swap .:Brake fluid flush during engine swap .:New fuel pump and filter at 140k miles .:New cabin air filter during engine swap .:Resoldered climate control so all buttons are now functioning and heat works great .:New odometer gears .:New radiator and new OEM VW coolant during engine swap .:New power steering pump, fluid flush, and fresh CHF11S fluid .:New alternator at 146k .:Fresh paint correction and detail with Griot's Garage claybar, compound, sealant, and poly wax. ///___ENGINE___/// *'AEB' 1.8L 20V DOHC I4 Turbo swap with ADR engine mounts and B5 wiring harness (functional OBD2 port) *K03-029 'K03S' turbo (larger turbine than K03-005 that was stock on the AEB) *Reflect Tuning Stage 1 ECU with emissions delete for stock injectors and FPR, good for 17-18psi (approximately 200hp) *Modified stock B5 catalytic converted to fit B4 chassis. Passed WA emissions in 2016 *3" stainless exhaust with v-bands from catalytic converter/downpipe back with Magnaflow mid muffler and Aero rear muffler *Fumoto quick drain oil valve with safety cap *B5 RS4 non-hydraulic engine mounts *Audi V6 oil cooler (larger than stock AEB) *Silicone turbo inlet pipe *2.5" aluminum intercooler piping with silicone couplers, t-bolt clamps, and 28x9x3 front mount intercooler *Bosch/Kaeser 710N diverter valve *034Motorsport silicone crankcase breather hoses ///___TRANSMISSION___/// *B5 V6 01A 5-speed manual transmission (better highway gearing over B4 01A and B5 1.8T 01A) *1.8T 228mm Southbend DXD Stage 3 Daily clutch with dual mass Luk flywheel (Good for 395 ft-lbs, part number K70205-SS-O-DMF) *Torsen center diff and locking rear diff *Billzcat short shifter *Bahn Brenner shift knob ///___INTERIOR___/// *Black leather seat swap (was originally ecru/tan leather seats) *Front seats have heaters built in, but heated seat wiring and dash switches are not installed (previous tan seats weren't heated) *40/60 split folding rear seats *3 button Homelink transmitter installed in overhead panel. *Integrated 45mm AWE Tuning electronic boost gauge into stock instrument cluster *VW Mk4 Cobalt radio with auxiliary input *2W bulb upgrade in instrument cluster *B5 S4 sport steering wheel with adapted clockspring and spline adapter. Horn works, airbag is disabled. ///___BODY & LIGHTING___/// *RS2 headlights with 5000K HID low beams *Rieger RS2 replica ABS front bumper *Porsche 993 clear turn signal lenses *TechArt replica bumper ducts and projector fog lamps with 3000K HID bulbs *Switchback front LED running lights and turn signals. Are white when running lights and switch to amber for turn signals *Audi RS front 'quattro' badge *Molded mudflaps front and rear *Genuine Seima Italiana smoked taillights. Switchback LED running lights that glow red for parking lights and amber for turn signals. *OEM B4 aluminum spoiler with OEM Audi 90 Competition spoiler extensions. VERY RARE! This is one of two sets that I know of in the USA and the only set installed on a car here. These are very rare in europe too, I've only seen 2 sets come up for sale in the last 5 years globally and I bought one of those sets. *Tinted windows (1/4" wide scrape the length of the window in the middle of the driver's window tint; the rest is in nice shape) *'turbo' script Lloyd's Porsche 944 front floormats, fit very well. ///___WHEELS & BRAKES___/// *16x7.5" 4x108 TSW Hockenheim R wheels with 205/45R16 BFG Sport Comp 2 summer tires (undersized for the B4 so speedo is off; was planning on upgrading to 17" wheels so I didn't bother getting the correct tire size for the 16's). Missing one of the 4 centercaps, it flew off while driving one time. Stock front and rear brakes with plenty of life on pads/rotors. ///___SUSPENSION___/// *Bilstein sport dampers *Vogtland lowering springs *Stock swaybars ___OPTIONAL EXTRAS___ The following are available for purchase ONLY with the car, they are not available for sale separately. *Front big brake kit including: Porsche 928S4/993 non turbo/944,968 M030 'medium black/red' Brembo calipers, caliper adapter mounts, 2pc 312x30mm rotors, and brand new Hawk brake pads. Will fit under select 16" wheels with proper spoke clearance. The TSW wheels currently on the car will work with a spacer. Calipers have been media blasted and are ready for powdercoat or paint. -> $500

*Porsche OEM 17×7″ and 17×7.5″ Cup 1 wheels (like RS2) with 4×108->5×130 adapters. OEM Porsche 964 wheels (Speedline), not replicas. The high offset of the Porsche wheels with the spacers sits the wheels perfectly on the car and clear the aforementioned optional big brake kit. Refinished in smoke grey paint (not the best job, but decent). Dunlop Sport Maxx RT 235/45R17 summer tires with <5k miles on them. -> $800 if in addition to the TSW's. $600 if you want them instead of the TSW's.

*ABT A23 16×7.5″ 4×108/4×100 wheels in great shape with bad tires. Preliminary mockup makes me think these won't work well with the big brakes, but might need to investigate further. The spacer required to clear the caliper might push the wheels out too far, but would need to investigate. – > $300

*15″ steel Ford Focus wheels with studded snow tires. -> $100 if you want them in addition, subtract $200 if you want them instead of the TSW's.

*B4 carbon fiber hood -> $1,000

*Replica RS2 solid front swaybar -> $400

*5spd UrS4 'narrow-first' 01E transmission (4.11 final drive, would need to install B5 4.11 rear diff) -> $200

*6psd B6 3.0 01E transmission (FYF code, 4.11 final drive; would need to install B5 4.11 rear diff) -> $700

*Rieger Infinity B4 sedan side skirts, new and never installed or painted -> $300

*Euro rear 80 bumper with in green -> $300

*5×112 conversion parts including: B5 A4 rear hubs along with B5 S4 rear calipers/carriers. Machined UrS4/6 front hubs. -> $350

*Standard red euro tail lights may be exchanged for the smoked ones and I'll subtract $200

*If you don't want the spoiler extensions and just the stock height spoiler I'll subtract $300

For full asking price (at the $6500 and above options), I will include the following to make for a pretty simple and cheap-ish power upgrade:
*Garrett GT2560R internal wastegate turbo that needs rebuilt (~$450 for a rebuild from Pure Turbos)
*ECU tuned for GT25-28, 440cc injectors, and VR6 MAF housing (included). Add T25 exhaust manifold (found a nice cast non-WG for <$200), MBC (plumbed with N75 to reduce boost), and 440cc injectors and you should be able to run a reliable 250-275whp on 91oct without pushing the stock connecting rods or 01A transmission. *Samco silicone turbo intake pipe that fits the GT2560R, but would need an adapter at the end to fit VR6 MAF housing $6,500 as it sits without optional extras and with TSW wheels. $7,100 with Porsche wheels. Minimum possible price = $5,800 with no extras, steel wheels/studded snow tires, no spoiler extensions, and regular red euro taillights. Car with Porsche wheels, black taillights, competition spoiler, GT2560R package, big brake kit, carbon hood, RS2 swaybar, 6sp 01E, side skirts, euro rear bumper, and 5 lug conversion (extras not installed) - $10,000 Cash, no trades, no payments, no joyrides. Located in Federal Way, WA If you'd like to have the car shipped I'm happy to help. If you setup the shipping I'll make myself available to help load the car. Must be paid in full prior to shipment pickup.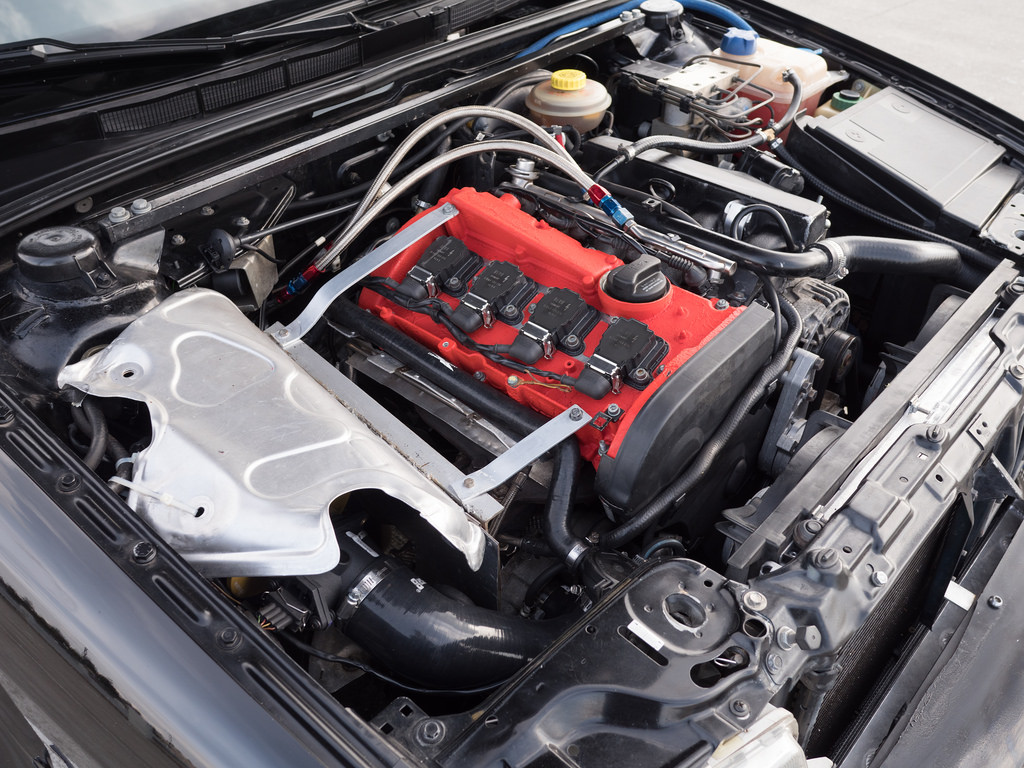 Advertisements don't get much more thorough than this listing, and the seller's pride in their work really shows through. While not perfect admittedly (nor claimed to be), the overall result of the major swap is outstanding. The assembly of parts is perfect in its execution, and plenty of top-notch details abound. I particularly love the incredibly hard to find 90 Competition package spoiler extensions, and while I generally like the cleaner look of the Euro S2 over the gulping-guppie RS2 venting, the look really works well here. While the 1.8T might not give you the legendary scream of the inline-5, motivation from this transplant is certainly welcome compared to the relatively flat 2.8 V6 that was originally equipped and tuning, parts and spares are plentiful for the AEB hybrid.
The seller also is offering up a staggering amount of hard to find parts in different package options. Personally, I'd take as many of the rare bits as possible – locating and bringing together all these pieces is just to the left of impossible, coming from someone who'd done similar work on B2s. Yet like most period Audis, despite a compelling package this remains very affordable – to the point where I had to wonder if "Audi Hoarding" is a real diagnosis which I may be afflicted with.
-Carter