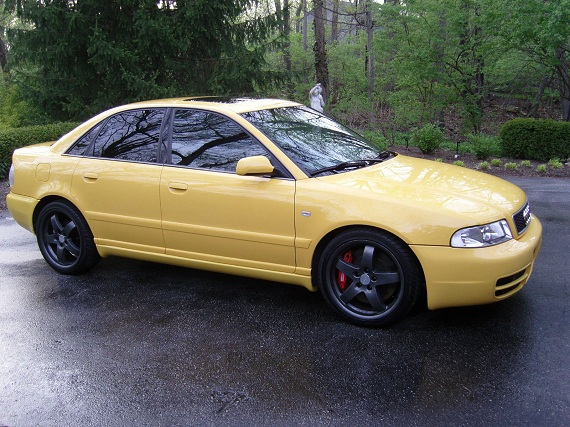 When they were first released, I personally thought that the B5 S4 was a bit disappointing. After all, it was basically only producing a few more horsepower than the revered outgoing turbocharged inline-5 had produced, and indeed produced less power than the S6+ and S6 V8 models produced. Like the E36 M3, the styling was conservative and understated but handsome, but the performance was also on par with the M3 which had just gone out of production. It really seemed like Audi was behind a few steps. Since then, the appeal of the B5 to me has increased a bit; as a package capable of both driving all year and turning some incredible numbers on the dyno there are few that can match it. My view started to change when I got a ride in an Imola Yellow S4 Avant that was built to RS4 specs – on the front straight at Lime Rock Park, the car easily accelerated from 80 to 120mph before the start/finish line. The acceleration was brutal and instant; not what you'd expect from a heavy turbocharged car – and a reminder of how much the Audi engineers left in that motor. It's further interesting to me that after abandoning turbocharging in favor of naturally aspirated V8s, Audi and other manufacturers have been forced to reevaluate and include forced induction in their performance models. Today, you can get a very nice example of a B5 S4 for under $10,000 – but if you want one that's a turn-key bullet, you'll have to shell out a bit more for one like today's lower mile Imola Yellow S4 sedan: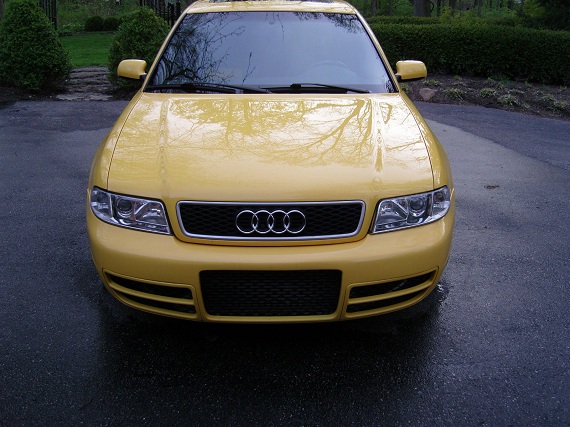 Year: 2000
Model: S4
Engine: 2.7 liter twin-turbocharged V6
Transmission: 6-speed manual
Mileage: 64,917 mi
Price: $16,000 Buy It Now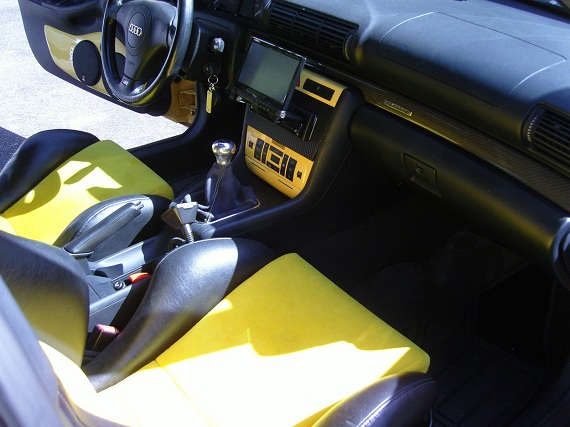 Here is a rare opportunity to buy a low mile Western 2000 Audi B5 S4 that has it all, namely:

1. Upgraded Power;

2. Upgraded Handling;

3. Upgraded Braking;

4. Upgraded Interior;

5. Upgraded Stereo;

6. Excellent Body;

7. Excellent service history; and,

8. Trophies and EuroTuner Magazine article featuring the car.

As to the power and engine(Stage 2+) condition:

1. Turbos rebuilt;

2. GIAC Chip:

3. AWE down pipes and 3" exhaust(mellow sound)

4. EVOMS intake and custom Y-pipe;

5. DUH Engineering front mount intercooler and custom CNC achined adapter;

6. RS4 throttle body and boot;

7. Custom ported and polished intake manifold;

8. RS4 clutch, pressure plate and lightweight flywheel,

9. Custom auxiliary fan with remote glove box switch;

10. Samco sport hoses;

11. Various engine dress up items including Froge Motorsorts CNC aluminum oil fill cap, power steer cap and blow off valves;

12. No oil leaks, no excessive oil usage, and proper operating temperatures; and,

13. The following engine work done in last 10K miles since I have owned it: timing belt service and water pump; one oxygen sensor, fluid changes including two oil changes, coolant and brake;and N75 boost sensor.

As to the upgraded handling:

1. KW VARIANT 2 adjustable coilovers with one replaced in last year;

2. New steering rack in last year and alignment thereafter;

3. 18" Oettinger RE wheels and Z rated tires with 15K miles and decent tread;

4. AWE drive train stabilizer;

5. Neuspeed stabilizer bar.

As to the upgraded braking:

1. Big StopTech calipers and 355 mm rotors.

As to the interior upgrades;

1. Full custom black and yellow interior including front door panels , custom SRD Recaro manually adjustable seats with yellow inserts and harness cutouts;

2. Schroth 4 point harness for front seats with stock belts intact;

3. Custom black and yellow rear seats

4. Custom A pillar boost gauge pod; and

5. Tanoga short shift kit with AWE shift knob.

As to the body;

1. When I bought the car it had cracked Rieger rocker panels and rear bumper cover and these were replaced with OEM parts and OEM S4 thresh hold panels installed;

2. Paint is in very good condition and appears to be original with no dings. Has a RS4 style modified front bumper cover that has several relatively small cracks;

3. RS4 Euro headlight housing with RS4 projector HID OEm headlights; and

4. In Pro rear tail lights with stock ones included;

5. Rear RS4 badge.

As to the up-graded stereo:

1. Kenwood fold out stereo;

2. Diamond S600 front door speaker system;

3. Diamond amps mounted in spare tower well; and,

4. 12" Diamond sub-woofers in an enclosure in the trunk.

As to the service history, trophies and EuroTuner Magazine that features the car:

1. I have service records for the approximately the $6,500.00 that I have spent on it this year;

2. Some of the prior service records and advertisements when the car was sold previously and original manuals;

3. Two trophies. One has on it 4th Place XM Hot Import Nights HIN Phoenix 2005 and the other Top 10 NOPI XBOX; and, the EuroTuner Magazine

The estimated cost of the modifications detailed above with installation are at least $20,000. Add to that the $6,500 in receipts for the work that I have had done in the 17 months that I have owned the car and you have one exceptional car for the asking price. I have not raced the car and as a 40 year member of the Porsche Club Of America having owned quite a few Porsche cars including 3 911 Turbos and I can say that this is a car the car for someone looking for a well built B5 S4 that has plenty of fun miles left in it and for a fraction of what has been invested in it. The word synergism fits how all of the modifications work together to provide quite an exceptional car for the price.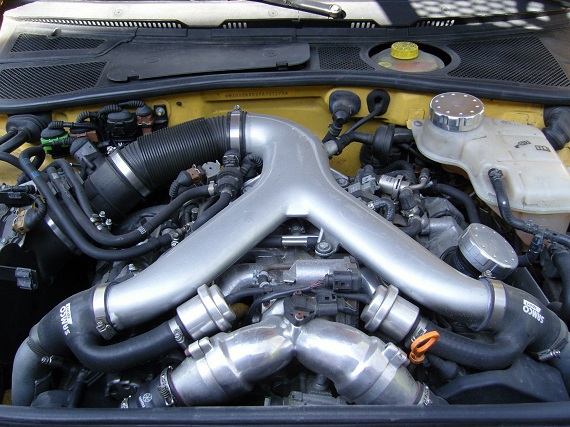 The build on this car is pretty great overall; the wheels work even if they're not my favorite, the KW coil-over suspension is a favorite on these cars and top notch, Stoptech makes a great brake package that corrects what was really a weak point out of the box, and while the engine is turned up it's not over the top. The interior is probably a bit more polarizing and a tad bit overdone – honestly I could probably do as normal without the massive radio. Otherwise, the only things I'm not a fan of are the RS4 badge that doesn't belong and the clear taillights. Mid teens will get you into a clean E36 M3, but this car is really in a much different performance class. The B5 has gained a somewhat unfair reputation as a money pit car, but properly built and maintained there are many of these cars running around on high boost with lots of miles on them. For $15,000, the only drawback I see is that it's not an Avant!
-Carter