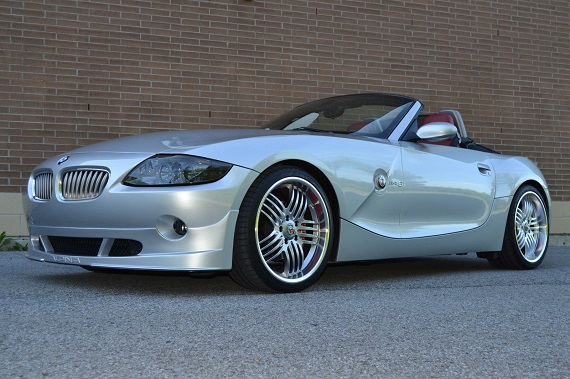 If the B10 3.5/1 from earlier was overshadowed by the more powerful headline-grabbing BiTurbo, the Roadster S barely emerged from under the positively giant amount of shade cast by the Roadster V8. So outraged was the enthusiast world that Alpina would yank the S62 V8 and 6-speed out to be replaced by a 540 motor and automatic that you could easily have missed the lesser Roadster on offer from Buchloe. Indeed, far fewer of the Roadster S were produced than the Roadster V8; a scant 370 are reported to have been made. In typical Alpina fashion, the S model featured engine, suspension, interior and exterior upgrades. The N52 magnesium block engine was dropped in favor of the M52 punched out to 3.4 liters, with a resulting 300 horsepower and 5 second 0-60 times. 19″ Alpina Dynamic wheels – the same ones fit to its more famous brother – filled out the wheel wells, while Alpina's unique front and rear spoilers helped to individualize the hunkered down attitude of the E85. Replete with unique interiors and the all-important enthusiast's requisite manual, it was surprising that more attention wasn't levied upon them, but such was the effect of the Roadster V8. Someone was paying attention, though, because they went to great lengths to copy the S design. This is not one of the 370 original cars, but it'd be hard for most to tell: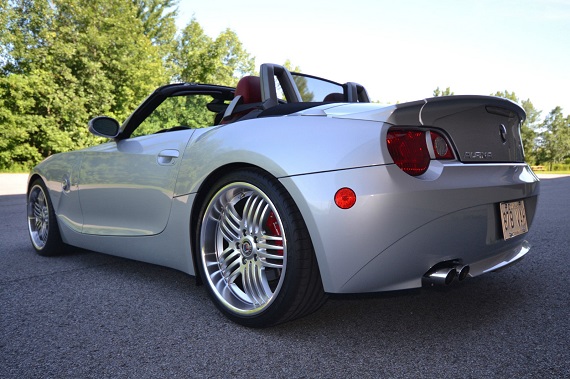 Year: 2003
Model: Z4
Engine: 3.0 liter inline-6
Transmission: 6-speed manual
Mileage: 77,800 mi
Price: $18,995 Buy It Now (*Canadian, $14,576 today)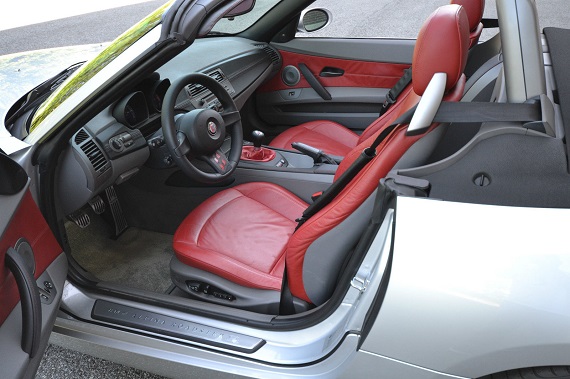 2003 BMW Z4 3.0L 6SP manual. Absolutely pristine condition from A to Z. 77,XXX extremely pampered miles. Car has been used exclusively for casual summer drives and has never been raced or abused. Second mature owner from new, always maintained and kept at show-and-shine competition levels. History/maintenance records since new are included, a rare occurance in a market of auction traded used cars. A REAL HEAD TURNER!

Loaded with options, including Premium and Sport packages. Imported from Great Britain, the 19" Alpina Dynamic style wheels are fitted with ultra high-performance Goodyear Eagle F1 Asymmetrics. Interior/exterior LED lighting package. Rare and highly desirable colour combo.

Alpina Roadster-S tribute, unquestionably the most sophisticated transformation available anywhere, on any continent. Alpina authentic parts exclusively imported from Germany, such as:

– Borg Alpina instrument cluster (used with original electronics)
– Alpina door steps
– Alpina aerodynamic package
– Alpina production plaque mounting base
– Alpina wind deflector
– Alpina interior crests
– Alpina trunk emblem

One-of-a-kind custom reproduction set: Full Alpina interior leather trim, laser etched 3D engine lettering, Alpina serial number ID and tire inflation decals, Alpina/Castrol oil grade and Alpina GmbH vehicle production plaque.

Disclaimer: Note that this car has no official affiliation with Alpina GmbH. Such authentic production was never exported to North America. Production was limited to fewer than 365 cars worldwide from 2003-2005.

If shipped, buyer must handle transport and export. Car is Canada and U.S. certified, so no duties to be paid.

Make this exclusive roadster yours today!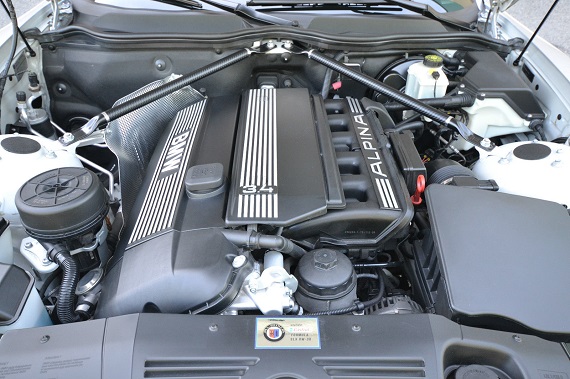 The attention to detail is pretty impressive for a one-off tribute, including the bespoke engine intake Alpina replica lettering and reproduction tire inflation sticker. It's the type of stuff that few would undertake, but details that would rival an original abound. Miles aren't outrageous, condition is very good, and the color combination is very nice. The price, too, isn't too bad – below $15,000 gets you a great looking Z4 at the same time that a real Alpina Roadster would set you back 10 to 20 times that amount. Still, this is just a tribute, and while it has nice original details, it's not a real one. Canada is still a few years from being able to import real Roadster S models, but they can be found. I tracked down this light blue 6-speed example with only 30,000 miles for only $26,000. Granted, it's right drive, but the point is that not much attention is being levied upon this model, meaning it's a potential bargain for enthusiasts. The bigger problem for this particular car is that for the same amount you can get a factory sport package car. I was even able to track down a higher mile 2008 M Roadster for the same amount. As neat as this car looks, I'm not sure I could live with the replica status, but if you really like the details you're not getting a bad deal overall.
-Carter