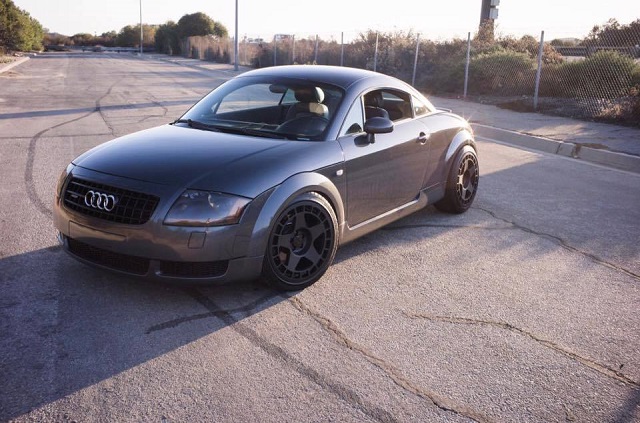 Rightly or wrongly, the Audi TT has been accused of being a pretend sports car. Usually that criticism is lumped onto the chassis by the regurgitating internet generation; masters of all they have never experienced. Get in to a second generation TT, and you'll be amazed at how they drive – I promise. But the first gen? Based on the same platform as the Mk.4 Golf, the 8N certainly isn't as sporty as its replacement, but it's still a very competent sports coupe. In 225 or 3.2 VR6 form, it's plenty potent, too. But for some people that just isn't enough: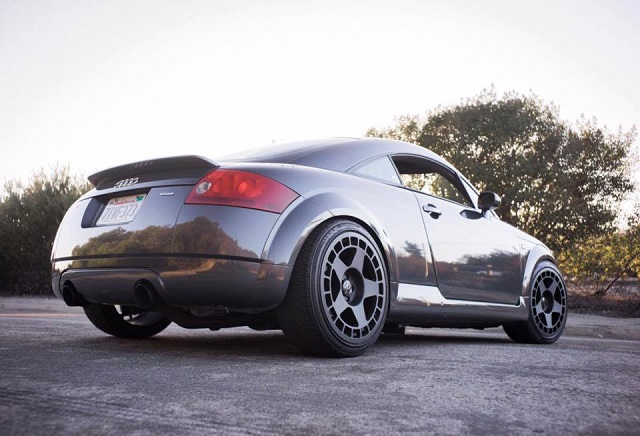 Year: 2004
Model: TT quattro
Engine: 2.5 liter turbocharged inline-5
Transmission: 6-speed manual
Mileage: 190,000 mi
Price: Reserve Auction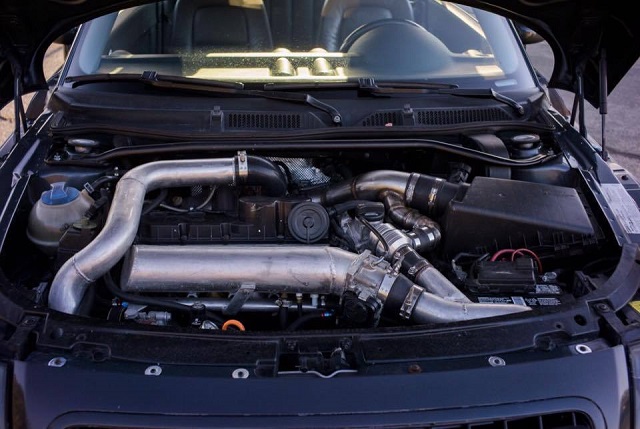 2004 Audi TT 2.5L 5cyl Turbo – 6 speed quattro – Premium package (Original car came with 1.8 Turbo) Dolomite Gray with Gray Leather

Original build was done by Fifteen52 as a project car – http://fourtitude.com/news/Audi_News_1/find-day-2-5-turbo-converted-mk1-audi-tt-1552/

The 5cyl motor is out of a new beetle – 180k miles on car, 35k miles on motor

5558 Precision Turbo

Precision 38mm wastegate

Pistons 07k forged aluminum

850cc ev14 injectors

Walbro 390lph fuel pump

C2 Motorsports head spacer and extended timing chain (drops from 9.5 to 9.0 CR)

Stock 2.5 throttle body

Stock MAF from 2.5 Beetle

EGR and secondary air injection removed

Stock 2.5 return-less fuel system converted to return-style system

Using stock twin side-mount intercoolers

Black Forest Industry engine mounts

Clutch Masters clutch and pressure plate using a stock dual-mass flywheel.

KW ST Coilovers

Brand new 18″ Fifteen52 TurboMacs

Autometer Boost Gauge

The intake system was modified for the larger turbo

All the work and tune was done by VLM Spec in Truckee California. https://www.vlmspec.com/

This car is fast and heavily modified.

All lights on dash are on all the time. AC, Heater, Stereo, Heated Seats do not work (could be an easy fix dont have time or care to fix). Leather seats, bose sound system.

This car will not pass smog legally.

Car is registered and titled in California – Car is located in Provo, Utah

This car is sold as is with no warranty. Buyer is responsible for shipping.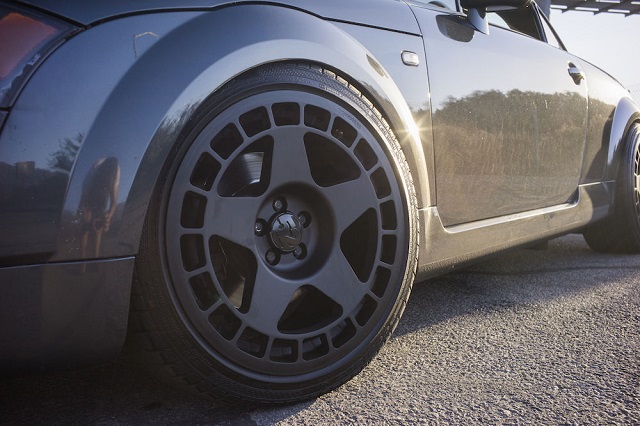 Originally this was a 225 Coupe, but the addition of the 07K inline-5 was aimed at producing 350 wheel horsepower according to the more descriptive fifteen52 article which gives us build details. Actual power is never quoted, but it should be capable of producing a fair amount more than original – certainly enough to scare you. That power is delivered in the very pretty and soon-to-be-classic Mk.1 shape. Minus horrible stickers, extra wings and other tack-ons, the presentation in Dolomite Gray is subdued but attractive. I don't think the "Turbo Mac" fifteen52 wheels are the best fit and it's riding quite low, but that should be adjustable and wheels are easily changed. More worrying is actually living with this car; the entire dash being lit up means that registering and inspecting the car for most will be difficult (sorry, California, you're out before the engine went in!). On top of that, the seller's typical "it's an easy fix but I don't care" attitude doesn't inspire particularly large amounts of confidence in the other work they've done. But maybe, like them, you don't care that the heated seats don't work and it looks like Christmas when you start the car. The sound of the 07K swap alone may be enough to sway you.
Three years ago, this incomplete project hit the internet at $17,500 – probably less than the company had in the car at the time, but a pretty eye-watering price for a car that didn't work well. What's it worth today? Well, for comparison's sake, you can get a no-excuses Mk.2 TT 3.2 Coupe with a fraction of the mileage for under $17,000, like this Brilliant Red example I found. The seller has completed (to some extent) the work started by fifteen52 and the concept is really neat, but I'm not sure that translates into this car being worth a lot more than a clean, low mileage stock TT 225 or 3.2.
-Carter