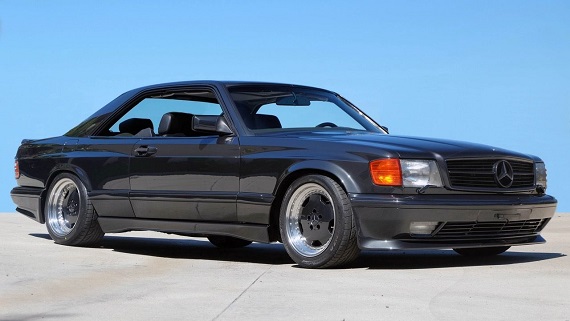 The "Hammer" was a legend born in top-speed shootouts in magazines. It was the stuff of dreams; a sedate sedan running toe-to-toe with Lamborghinis, Ferraris and Porsches. At the heart of the this performance was not a high-revving V12 or turbocharged flat-6 with ridiculous boost, but an enlarged version of the M119 motor sporting twin cams and 32 valves. The result? 376 horsepower and 428 ft. lbs of torque, or at least that's what they reported – the motor ultimately may have exceeded 400 horsepower. In 1990, that was about as close to F40 performance as you could get – and they came with supercar pricetags, sometimes exceeding $200,000 and making them very rare. It was available in many different forms, from the E-Class Coupe to the S-Class in either sedan or coupe, as well as a smattering of early 500SLs. While today's examples of the AMG 6.0s are both cars we've previously written up, I thought it would be interesting to compare the two. There's been a lot of attention focused on not only 1980s tuner cars but in particular limited production AMG models recently, so what has that done to the market?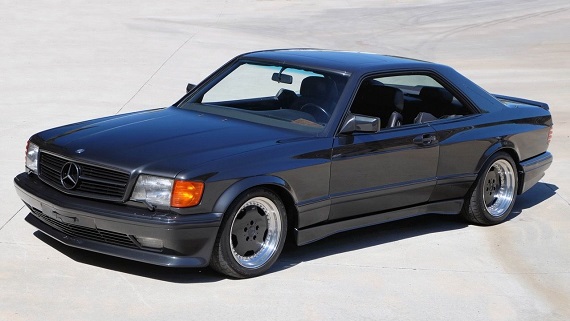 Year: 1990
Model: 560SEC 6.0 Widebody
Engine: 6.0 liter V8
Transmission: 4-speed automatic
Mileage: 45,203 mi
Price: $139,000 Buy It Now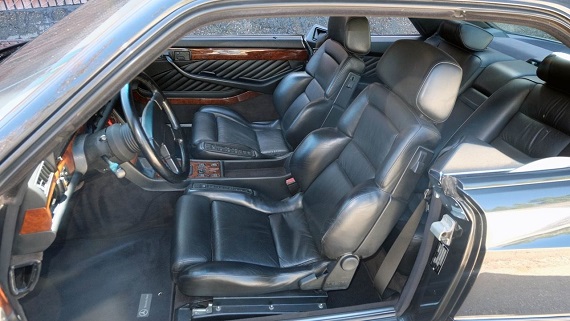 Symbolic International is proud to offer this stunning

1990 Mercedes-Benz 560SEC AMG 6.0 4-Valve Wide Body

AMG was founded as a racing engine forge in 1967 under the name AMG Motorenbau und Entwicklungsgesellschaft mbH (AMG Engine Production and Development, Ltd.), by former Mercedes engineers Hans Werner Aufrecht and Erhard Melcher in Burgstall an der Murr, near Stuttgart. The letters "AMG" stand for Aufrecht, Melcher and Großaspach (Aufrecht's birth Town). In 1976 most of AMG moved to Affalterbach, with the racing-engine development remaining at the old location in Burgstall. At this time Erhard Melcher ceased to be a partner, but continued to be an employee at the Burgstall location.

From 1986 to 1992, interest and the desirability of AMG tuned and prepared Mercedes Benz road cars bordered on the obsessive with demand and interest far exceeding the small firms capabilities to keep up. These facts were not overlooked by MB corporate personal and in 1993, Daimler-Benz AG and AMG signed a contract of cooperation, allowing AMG to leverage Daimler-Benz's extensive dealer network and leading to commonly developed vehicles (the first one being the Mercedes-Benz C36 AMG, in 1993). On 1 January 1999 DaimlerChrysler, as it was called between 1998 and 2007, acquired 51 percent of AMG shares, and AMG was renamed to Mercedes-AMG GmbH.[4] Racing engine development was divested and continues to exist in Burgstall under the name HWA (Aufrecht's initials). On 1 January 2005 Aufrecht sold his remaining shares to DaimlerChrysler, and since then Mercedes-AMG GmbH has been a wholly owned subsidiary of Daimler AG.

1986-1992 The Golden Years of AMG:

The release of the AMG Hammer sedan in 1986, based on the W124 E-Class, took AMG's performance modifications for a fast midsized sedan to a new level. AMG made the world's fastest passenger sedan at the time, nicknamed the Hammer,[7] by squeezing Mercedes 5.6-litre V8 tuned by AMG to 360 hp into a midsized sedan. It was very aggressive for the era, with 32-valve cylinder heads and twin camshafts, and said to be faster than the Lamborghini Countach from 60 to 120 mph.[8] Later models were even more powerful and introduced the 17-inch AMG Aero 1 Hammer wheels. 1986 was also the year Mercedes introduced the 560 M117 engine. This provided yet another opportunity for customers to order the largest AMG displacement available at the time, the 6L 100 mm bore SOHC or DOHC engines available for both the W126 coupe and sedans.

1990 AMG 560SEC 6.0 Wide-Body "Widenamebody":

AMG received a series of orders from several prominent Japanese Private Museums and Collectors in the late 1980s. Shortly thereafter the first of a handful of fully re-engineered 560 SEC 6.0 "Wide-Body" Coupes fitted with the ultimate development of the already legendary M117/9 V-8 engines appeared in several Japanese motor shows. The engines were now fully developed to 6.0-liters with radically improved cam and ignition timing on the quad-cam, four-valve cylinder heads. Massive increases in bhp were achieved but more impressive was the fact that these machines now produced more than twice the torque and at 1/2 the rpm of the original MB Factory design. The result was un-heard of performance in an utterly reliable overall package that came with the same warranty as provided new by the MB Factory. Such performance and utter exclusivity came at a steep cost. Individual sale prices varied but they were now all in excess of $200,000 and even at that level, there were long wait lists and very few such examples were completed.

WDB1260451A508313:

This particular 6.0 Wide-Body was one of 6 similar vehicles completed for Japanese enthusiasts based on a series of orders submitted in the Spring of 1990. These were all ordered and completed at about the same time and based on brand new, fully warranted 1990 560 SEC models. The transformation and re-engineering took a fair amount of time and it was nearly two years before they began to appear at Japanese Motor Shows and in various Japanese enthusiast magazines. This led at the time and still to this day a false belief that these were being assembled in Japan by a new division of AMG. The simpler answer was that at the time few other buyers had so much extra cash on hand to give AMG free reign to build and design as best they could with otherwise little to no restriction. A handful of additional examples were completed before AMG came under more direct control of the MB Factory in 1993 and the model phased out of production.

Our subject AMG 6.0 Wide-Body was built under AMG Commission No. 919734 as a 6.0-liter, four-cam, four valve "wide-body 560 SEC. It was sequentially the 25th of a total of 100 planed vehicles to be completed in the program. (Today, most experts do not believe that many were actually completed and the actual total production run probably is less than 50 examples.) After initial delivery and road-registration to Japan, this example remained carefully conserved and preserved over the last 25 years during which time it covered just over 72,000 kilometers (45,000 miles.) Our purchase and import of this vehicle was quite fortunate as very few of the original surviving examples has ever come up for sale on the secondary market.

This is absolutely guaranteed to be an original AMG, full steel-bodied example built new and not converted on a used or donor vehicle. It retains its original AMG engine as delivered new.

Vin # listed IS NOT the correct vin. EBAY does not recognize non US vehicle vin numbers. This car can not be sold in California due to emissions rules.

We have a very nice showroom in San Diego, CA and have experience shipping cars throughout the US and Worldwide.
If you are interested and would like to inspect the car personally or have a 3rd party inspection please call us to arrange. You will not be disappointed!

Chris Peterson | Collectible Car Representative

11425 Sorrento Valley Road, San Diego, CA 92121

Mobile: (858) 752-1114 | Office: (858) 259-0100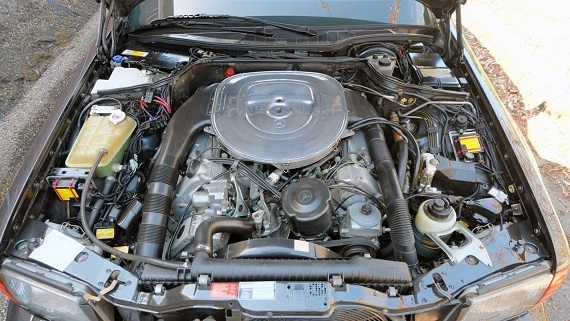 As big and bad as the C126 got, the 6.0 32 valve V8 from AMG provided the thrust to match the widebody kit, massive O.Z. 3-piece wheels and all-around badass look. They are highly sought and over the past few months there's been plenty of attention on these ultimate 80s Benz models. This particular one is well presented, well equipped and well documented. There appear to be no condition issues or question marks, and the result of that is a eye-watering pricetag of $139,000. I have to say, though, that between this and a 930 of equivalent value, I think I'd pick the Benz. Paul wrote this car up back in October 2015, and the price has dropped since then by $10,000. Rarity and exclusivity are on your side and these are perhaps among the most tastefully modified cars ever made. But what if you don't have early 911 money?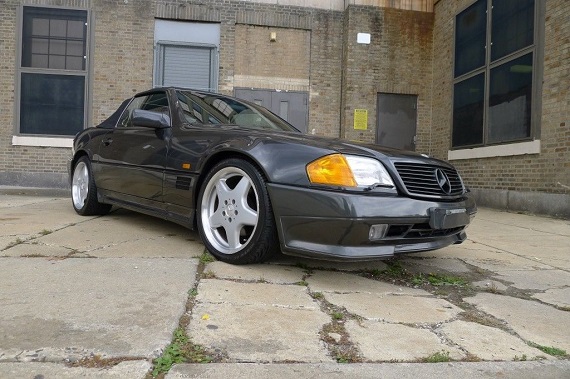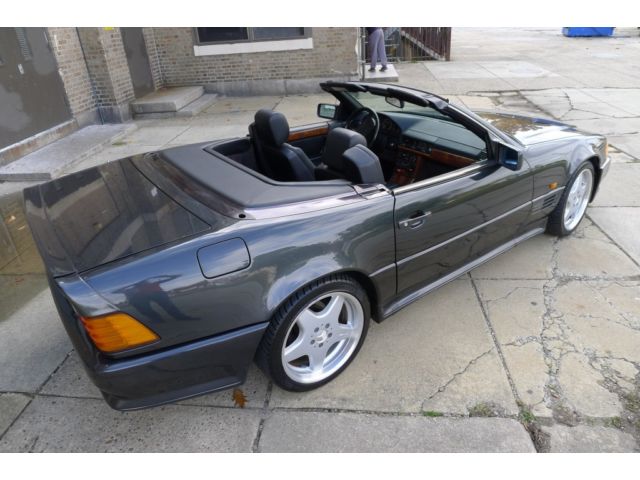 Year: 1990
Model: 500SL AMG 6.0
Engine: 6.0 liter V8
Transmission: 5-speed automatic
Mileage: 36,100 mi
Price: $35,000 Buy It Now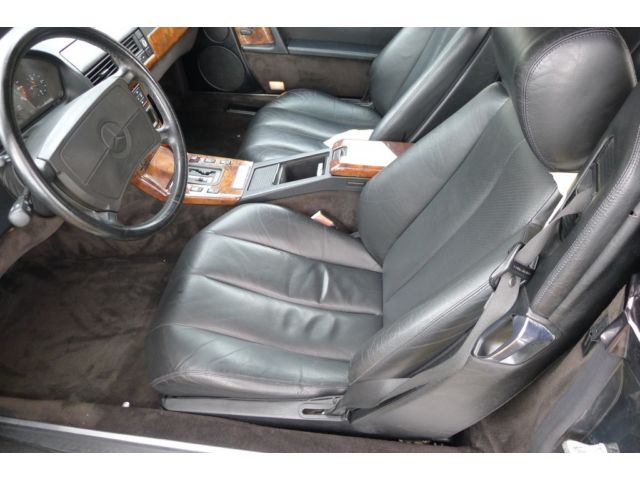 This 1990 Mercedes Benz SL500 6.0 AMG is one of 350 500SL-based examples built by the then still independent tuner AMG, and was imported to USA from Japan last year. Car retains all original paint and is in very good condition, it has no dings, dents or scratches and has been professionally detailed . Using MB's M119 five-liter V8 as a starting point, AMG added a liter of displacement and bumped power up by 54 HP for a total of 376. This one's is fully sorted and turn-key ready following a recent service.

This car was originally build with 6.0 and not converted to AMG spec later. We bought directly from second owner in Japan . Unlike other r129 cars we seen this car retains it's original appearance as many of those cars are converted to MkII body spec .

One piece 18" AMG Monoblocks are look great on this car however the AMG aero's 17's are correct wheels on pre merge cars. The factory hardtop is included as well, as they lend these cars a sleeker, coupe-like profile.

The cabin remains all factory apart from an Blaupunkt head unit, though the OEM Becker item is included separately. Just as nicely preserved as the exterior, the leather upholstery has been treated twice a year and is free of rips, cracks or serious signs of wear, while carpet, dash and veneers all show equally well. All lights, switches and accessories work as designed, and the power folding top is in excellent cosmetic and functional condition with no damage to the canvas or plastic rear windows.

Factory rated at 376 HP, AMG later admitted off the record that power was in reality closer to 410 HP, enabling five second flat 0-60 times and 185 MPH once de-restricted. The 4-speed automatic offers smooth, positive shifts even under full power. The car received a full maintenance , notable jobs of which included new OEM A/C condenser and dryer .front and rear suspension bushings and full tune up in September of this year.

This vehicles vin number is WDB1290661F017567

This vehicle was legally imported from Japan and currently has a valid PA title. The mileage is displayed in kilometers which we converted to miles for the ad.

Please keep in mind you are bidding on a pre-owned vehicle. Everyday driving can cause minor chips, dings or scratches on a vehicle. Unless otherwise noted in our photos or description these items are minimal, but may exist in some cases.If you have any questions about this or any of my other auctions please feel free to contact me at (267)471-6561. Thank you for your interest and I look forward to hearing from you.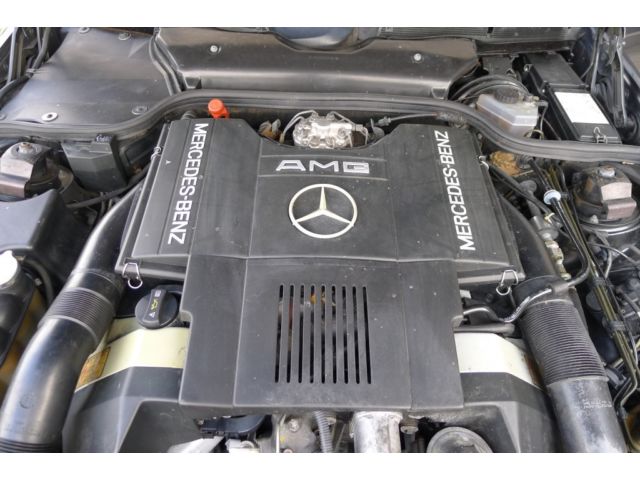 Back in November, I looked at another AMG duo that included this 500SL. Upgraded with the same M119 V8 as the 560SEC, the rest of the car is decidedly more subdued than the Widebody. Yes, it's got tack-on bits, but in AMG style they seem to work here. Condition is quite excellent and unlike the 560, this R129 is quite affordable.
Which is the winner? On pure audacity the 560SEC can't be matched. They represent both the end and the beginning of an era of performance and style from Mercedes-Benz, and I generally identify with the C126 much more than the R129. But in a reversal of my "I don't get fast convertibles" rant from earlier, I think I'd honestly buy the 500SL here. It's great looking, unique and subtle. It offers the same performance with all the Benz luxury you'd expect. But ultimately, it's the 1/4 sticker price that makes it a car that a mortal could conceive of buying that makes it the winner to me. Which would you want?
-Carter