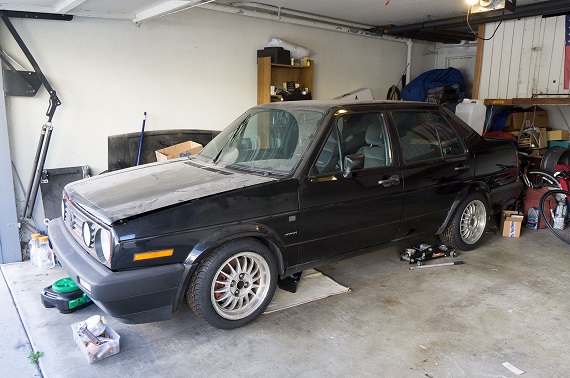 A little over a week ago, I took a look at a 1992 GTI 16V. One of my absolute favorite cars, it was worth a look outside of the inherent appeal because of the survivor status and the prove-my-theory-right dirty pictures. I figured that it was about a $4,500 car, but was surprised that the bidding pushed upwards to $5,300.
Today we have another Volkswagen to consider. It, too, confirms many of my prejudices about the Volkswagen market. It, too, is a second generation water-cooled car. The asking price is right where I pegged the value of the last Mk.2 at $4,500. And it, too, has 16 valves under the hood – although in this case, it didn't start there.
Speaking of not starting, it also doesn't run.
Is this modded Jetta GLI worth a roll of the dice?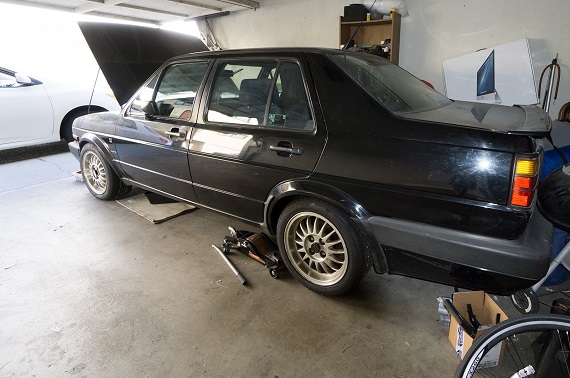 Year: 1986
Model: Jetta GLI
Engine: 1.8 liter inline-4
Transmission: 5-speed manual
Mileage: "186,000" mi (TMU)
Price: $4,500 Buy It Now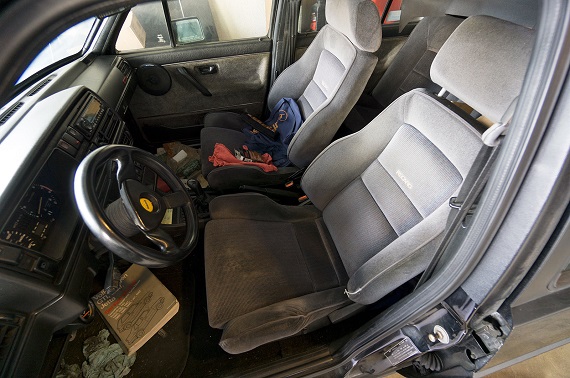 I can't believe I'm doing this, but I finally decided to part with my Jetta.
My car was built is Germany in 1985; I bought it from the original owner in Riverside, CA in 1995, drove it for 7 years, and have had it under non-operational status since 2003. It's been in my garage, undriven, for the past 13 years.
When I thought about getting it back on the road last month I changed both fuel pumps and filter, brand new synthetic oil and filter, new spark plugs, distributor cap and rotor,
new coolant temperature sensor, a brand new BOSCH battery, and four brand new Nitto 195/50/15 tires.
The car turned over a couple of times, sputtered and died. I checked fuel pressure at the fuel distributor and there's plenty of pressure there. It might be clogged injectors, it might be the diaphragm fuel pressure regulator. I get spark but don't think enough fuel is reaching the injectors.

I'm sure I'll forget some parts, but here's some of the stuff I have in the car:
Recaro seats, '92 big bumpers, GTI quad grill, Momo steering wheel, Sparco pedals, 1992 deck lid, Bilstein shocks, Ronal 15×7″ R8 rims with 38mm offset, upper and rear strut tower bars, Techtonics
cat back exhaust. The short block was built around 1998 by Renner Tuning, and I have just over 70K miles on it; it runs strong and has never given me
any problems. The odometer shows 186k miles, but it's the not the original one, I found a 160MPH odometer at a pick a part and just had to have it. The car drove perfectly up until the day I retired it; if you can figure out why it's not turning over it will be ready to drive right off my garage.
Again, the car is under non-operational status, so it must be taken away on a flatbed tow truck.
This is a California car, always garaged, original paint still shiny; great project for anyone looking for an early German A2 Jetta.
I wish I could keep it, but I bought another car and only have one garage space. The car is in Los Angeles, near LAX.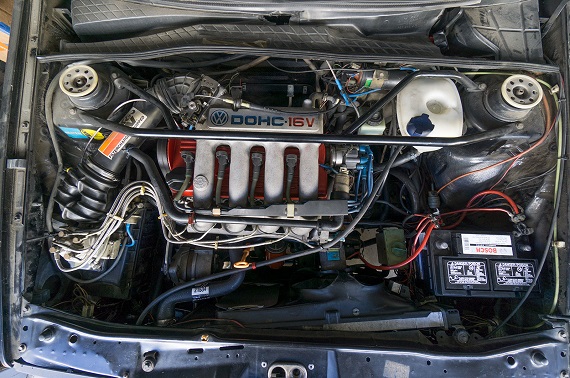 Okay, I get you can't drive to the car wash, and you probably don't want to dump the contents of a hose all over the other precious items surrounding your non-running VW in the garage. But, seriously people's car people. For $31.95, you can have a bottle of great detailing spray and three really nice microfiber cloths sent to your house. Buy the cheap stuff and use your last bad concert or PBR shirt in place of microfiber, and you'll spend even less. That would take care of the outside. Inside, it's unclear if this asking price includes the hoard of things littering the interior.
Were you going for the "Barn Find" look? Because it's not really a barn find. To me, I don't see how a sloppy presentation of a non-running car adds value in this case – especially because it's not original.
But let's not throw the baby out with the bath water, because I think in this particular case that this Jetta might be worth the investment. First off, it's hard to find clean early GLIs and this one looks very clean. Second, the mods are just about spot on. The 16V swap looks nicely done, and while not as popular in the Mk.2 as VR6s, this was the hot setup in the 90s. The build also updated the exterior to late A2 bits, and the big bumpers, flares and Recaros work together well. Unusual are the Ronal R8s, but they're great, lightweight wheels that fit perfectly. The single wiper conversion was the rage, too, in the 90s, as was the lipped 4-headlight grill swap. Throw in a Techtonics exhaust and the Momo steering wheel and this car would have been a great candidate for a VW Tuning magazine shoot around 1996.
Now, is it worth the $4,500 asking price? In the light of the GTI sale a week ago, I'd prefer the running and original hatch. But I still think that this asking price is likely worth the sum of the parts, if nothing else. A clever DIY VW fan could get this car running and it'd likely be worth close to double what is being asked automatically. If you had to assemble this car from scratch, you just couldn't do it for the price here. Clean it up, get it running and this could make a fun driver or a good winter flip.
-Carter