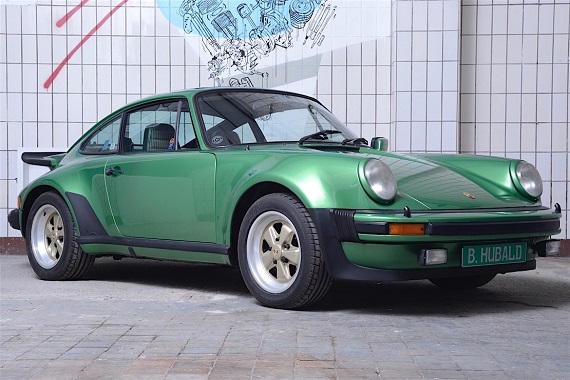 It seems just about any early 911 that is all green takes on the name 'Kermit'. We've featured what might best represent the true and original example, a Viper Green Metallic 1979 Porsche 911SC. That 911 borrowed its exterior color from VW and it probably comes closest to mimicking the color of the famous frog. The one we see here uses Porsche's own version of the similarly named color – Viper Green Diamond Metallic. It's a little bit darker than Kermit himself, but still possesses that same sense of joy that's really what makes these so appealing to many. That this version happens to be an early 1976 Porsche 930 should absolutely elevate it in the eyes of many collectors.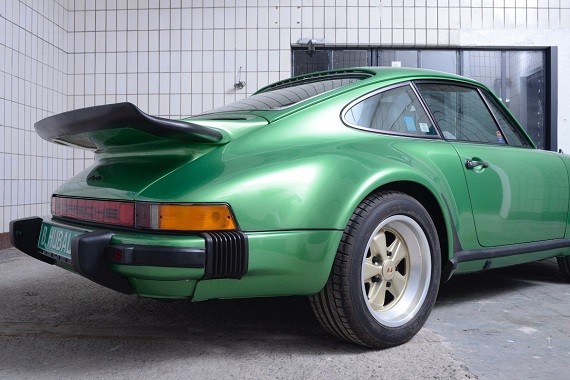 Year: 1976
Model: 911 Turbo
Engine: 3.0 liter turbocharged flat-6
Transmission: 4-speed manual
Mileage: 176,700 km (~ 109,796 mi)
Price: €225,000 (~ $233,647)
Factory Porsche 930 3.0 Turbo, german delivery (Auto Wagner/ Wuppertal 24.11.1976), original 176700 KM (road inspection sheets from the early days, car is out of traffic since 1996 and was registered again in 2016 after technical restoration, 260hp EURO version, engine type 930/52, gearbox-type 930/33, colour: vipergreen-diamond Y9Y9, interior: letaler-dark green, middle parts pinestripes "kork", carperts green, engine + gearbox "matching numbers ", Porsche certificate, Manuals+ service books, car was technically overhauled between 2015-2016(photos and invoices for documentation over 30.000EUR attached, works were done by specialist near Hamburg/Germany), history: german delivery, export to Sweden in the early 80's. re-imported back to Germany in 2015(car was out of traffic in Sweden since 1996.

Die hier gemachten Angaben sind unverbindliche Beschreibungen. Sie stellen keine zugesicherten Eigenschaften dar. Der verkäufer haftet nicht für Irrtümer, Eingabefehler und Datenübermittlungsfehler.

More interesting offers ……… www.bastian-hubald.de

Dates by appointment!!!

– See more at: http://bastian-hubald.de/en/listings/porsche-930-3-0-turbo-vipergreen-di…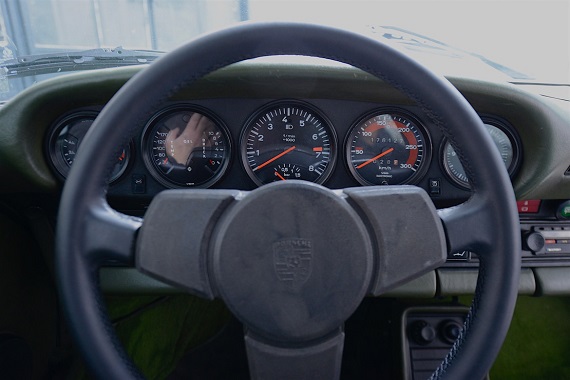 Compared with the white and black interior of the 911SC Kermit, this 930 has a more interesting interior that contrasts two different shades of green – a lighter shade for the carpets and darker for the leather – and then adds velour seat inserts. It's tough to get a good sense of the color of the inserts but they look somewhat cream colored. The total package certainly makes for a very rare color combination. Documentation to support the colors and other trim specifications is said to be available so while we don't see it here we can hope that everything checks out. At the current asking price of €225,000 everything definitely needs to be documented given the overall mileage. It all looks in nice shape, though there's something about the interior that suggests a bit of wear or fading. Maybe it's just the lighting, or maybe it is some wear. This 930 was apparently off the roads for nearly twenty years and has only recently been brought back out to be enjoyed in the light of day. This surely is one of the more rare 930s available and given its early production should garner a good deal of attention. Kermit the Frog should be quite happy to find his name continuing to be attached to such wonderful machines.
-Rob