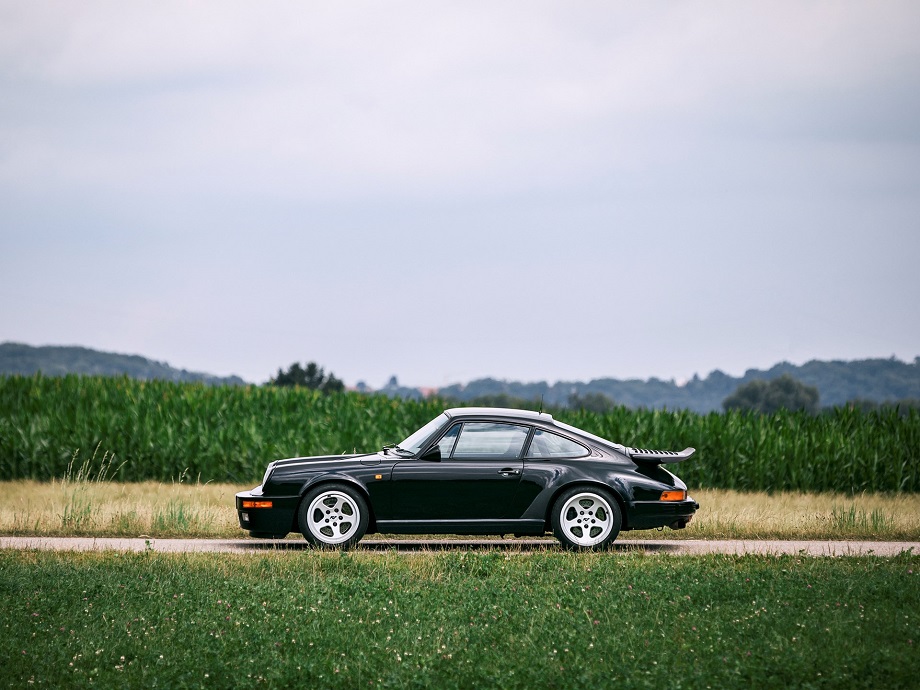 It's August and that means it's car auction time. Much of the car-collecting world will be out in California this weekend either at Monterey or Pebble Beach – maybe even Carmel. A lot of cars will change hands and some of those will help set the market over the next six months. I always like to highlight a few that seem particularly fun.
As usual, there are a lot of Porsches on auction, though truthfully there is less this year that really grabbed my attention than in years past. But there is always good stuff even if there are fewer of them. For instance, if you're a very esoteric Porsche fan, Gooding & Company will be auctioning this 1 of 1 1966 Porsche 911 Spyder. This post will not be about that car, in part because I don't even know where to begin with that car, and, in fact, this post will be slightly tangential to Porsche. We're going to look at RUF because there are a few very cool RUFs being auctioned. These are the real deal; these aren't conversions carried about by shops here in the US nor even are they conversions carried out in Pfaffenhausen at the RUF factory. All three of these have a RUF VIN. They are all insanely rare and like all RUFs insanely fast and focused.
We've seen a lot of RUF 911s come up for sale over the years, but the three we have here are some of the best examples available. They all come from the 911's air-cooled days and are a mix of almost unknown and iconic. Let's begin with the icon: a 1989 RUF CTR, the model famously tested as the 'Yellowbird' and which put the rest of the tuning world on notice: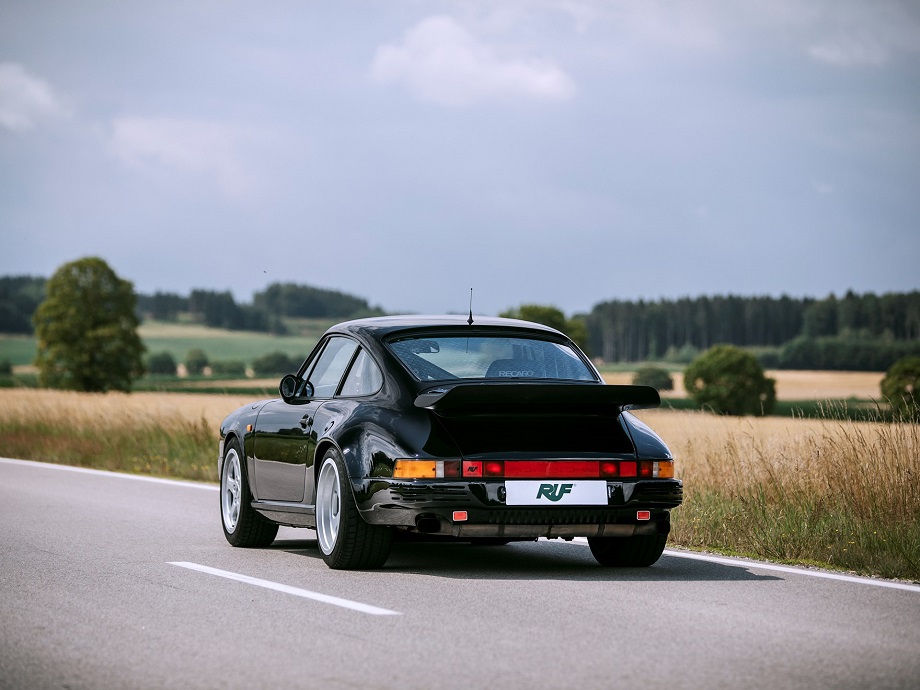 Year: 1989
Model: CTR
Engine: 3.4 liter turbocharged flat-6
Transmission: 5-speed manual
Mileage: 52,295 km (32,494 mi)
Price: Reserve Auction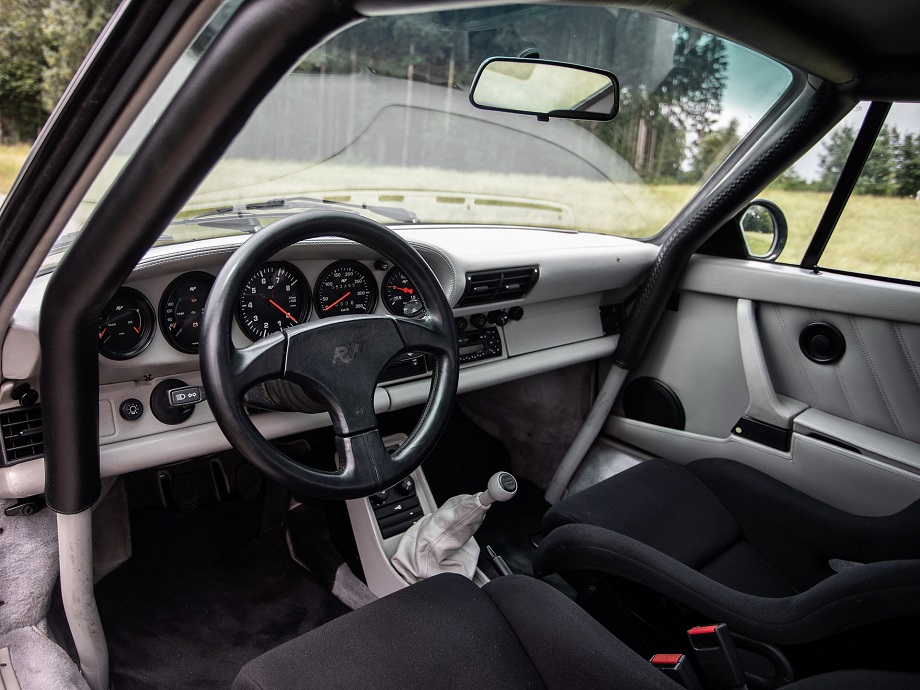 The RUF CTR rose to fame as a result of a test done by Road & Track magazine that was published in their July 1987 issue. Organized to determine the world's fastest car, the test would be held at Volkswagen's Ehra-Lessien test track. The assembled assortment of automobiles was truly a "who's-who" for the class of 1987. However, amongst the likes of a Ferrari Testarossa, a 288 GTO, and a Porsche 959, it was the RUF that made the biggest impression. Perhaps Peter Egan's article itself describes the CTR's ludicrous performance best:

I held onto the built-in roll cage as Paul Frere accelerated onto the track, and I was absolutely astounded by the acceleration (no easy feat after a day in Ferraris, Lamborghinis, etc.). At each gearshift the Ruf went slightly sideways, only to straighten for an explosive burst of speed to the next gear, more like what I imagined a top-fuel dragster to be than a perfectly drivable road car. As Paul hit 5th gear, we blasted past the first timing clock at 311.9 km/h—still accelerating from a standing start!

At the test itself, the particular CTR that was being used was painted bright yellow by RUF, which quickly earned the nickname of 'Yellow Bird' by both RUF's own staff and the journalists in attendance. Not only did it stand out due to its sheer performance, but it was the only yellow car in attendance at the test. In a sea of reds, silvers, and blues, the RUF stuck out in more ways than one and earned itself a fantastic reputation as something almost otherworldly. For those looking for the ultimate supercar, the RUF CTR 'Yellow Bird' was undoubtedly the best.

The 10th of the 29 original CTR 'Yellow Birds' originally built by RUF, chassis no. 10 was originally built for RUF's distributor in Switzerland, where it was delivered new on 10 February 1989. The car was instead sold to a German client who was waiting on his own CTR but was growing impatient with his order and purchased this car instead while waiting for the one he ordered to his specifications. Upon the delivery of the second car, he kept both. Finished in black and fitted with RUF's trademark five-spoke wheels, it boasts a grey interior with black Recaro bucket seats and a roll cage.

With only 52,200 km on its odometer, RUF confirms that the mileage is original and that the car has never been restored or damaged throughout its life, remaining in wonderfully original condition.

But even more remarkable than that jump to the Ruf's 211-mph top speed was that Phil, Paul, and Alois Ruf all agreed that the yellow car was undergeared. " We could make it go faster," Ruf said . . .

In the coming years, RUF proceeded to go faster and faster. For RUF, the CTR 'Yellow Bird' and its inclusion in Road & Track catapulted the company international fame, cementing its place in automotive lore as a tuner and manufacturer truly in a league of its own. With the article, RUF had captivated its audience, made up of not only prospective customers, but a generation that could not quite put their hands on the car, yet due to their young age, the car would be a forbidden fruit and something to aspire to for years to come.

Concluding the article, discussing varying acceleration times of the car's in the test, for Egan, there was no forgetting the sheer speed of the CTR: But for us Americans, as Ruf had correctly divined, nothing quite surpassed the magic of going 200 mph. And beyond.

Thirty years after the test, nothing has changed.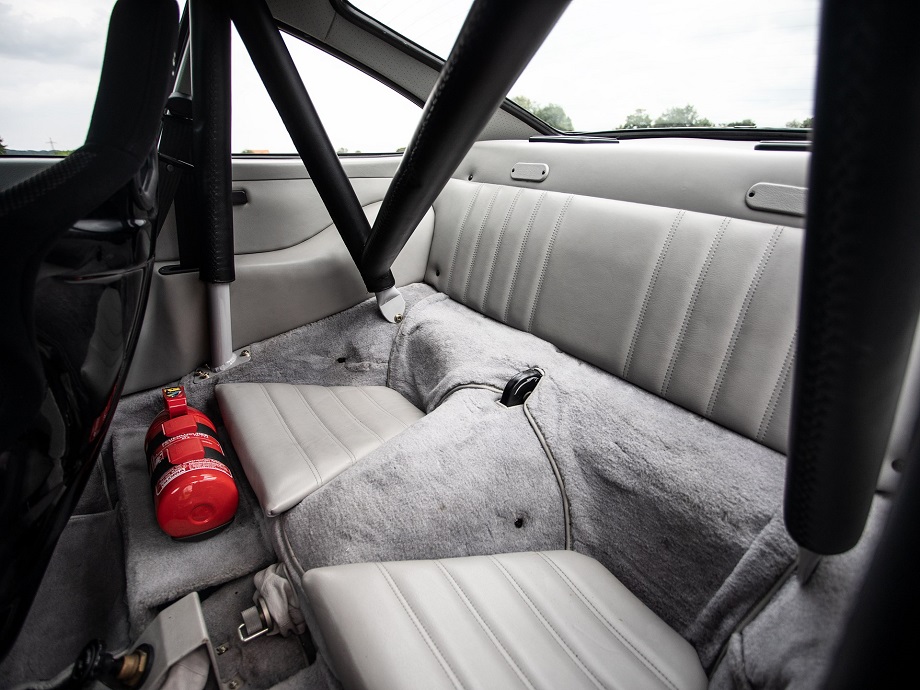 It's sort of funny to see RM Sotheby's list this car with the Yellowbird moniker, since it's, you know, quite obviously not yellow, but such is the power of that name that I'm sure they want to make sure everyone knows exactly what they are looking at. Of the three RUFs we'll see here this is the only one anyone has bothered to spend much time driving and even then it doesn't really have that many miles. It's said to be entirely original and it looks in really nice condition. There's a little wear, but let's call it patina.
In black the CTR doesn't look quite as jaw-dropping as the Yellowbird, but it's still pretty eye catching. One of my favorite aspects of it is that RUF based it off of the 3.2 Carrera rather than the 930. That means it has the narrower body of the Carrera, though RUF would widen the rear slightly. Still it looks kind of like a standard 911, especially wearing the Carrera's whale tail spoiler. It's so clearly built to be very aerodynamic and very fast. There's a slight sleeper quality about it as well. The 930 may have the more aggressive lines, but it's certainly not the more aggressive car. It's wonderful!
Next we'll jump forward a few years and turn to a couple extremely rare examples based off of the 993: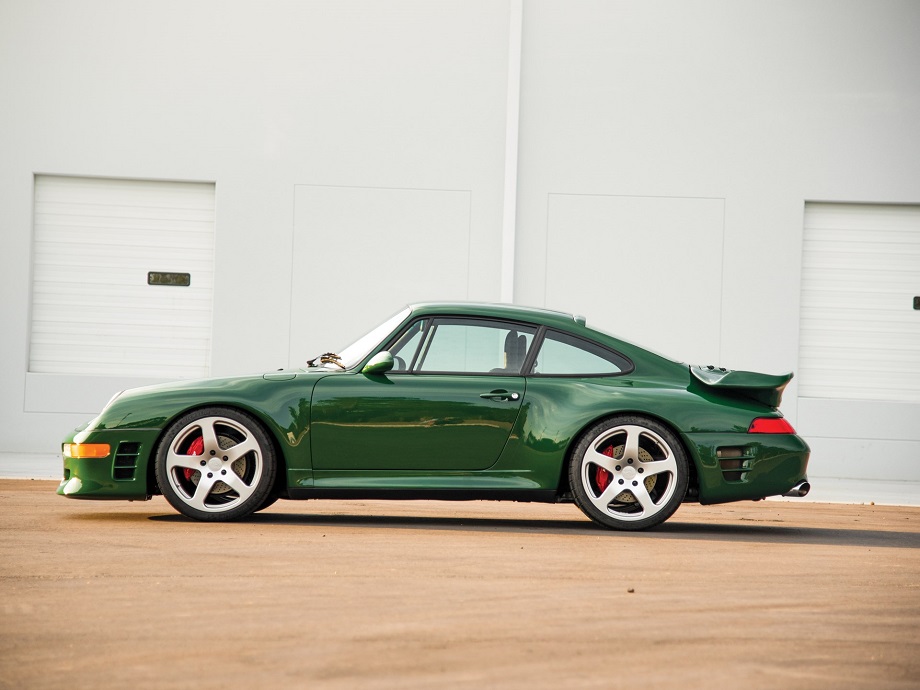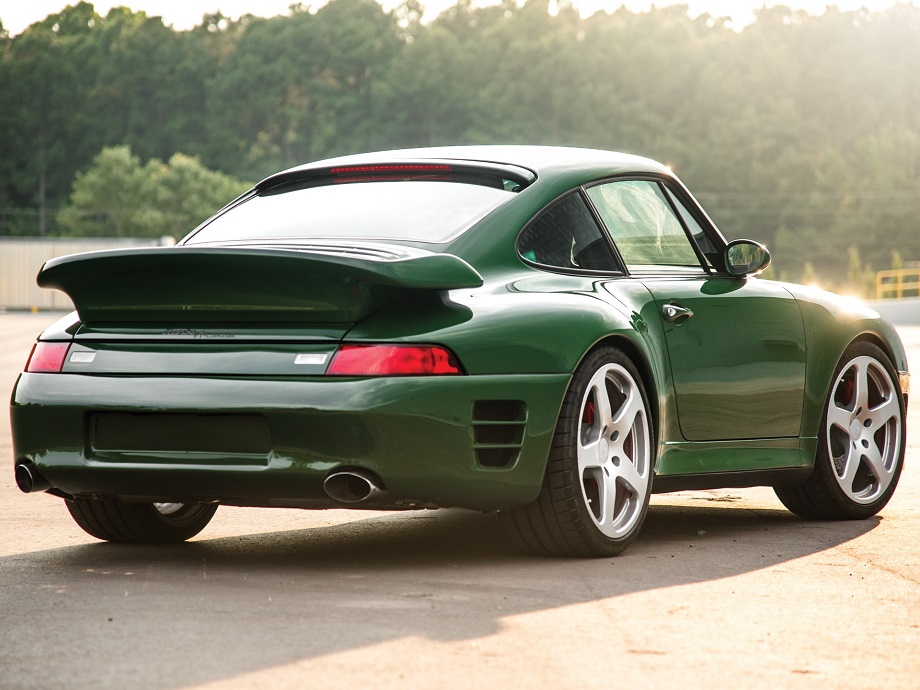 Year: 1998
Model: Turbo R
Engine: 3.6 liter twin-turbocharged flat-6
Transmission: 6-speed manual
Mileage: 133 mi
Price: Reserve Auction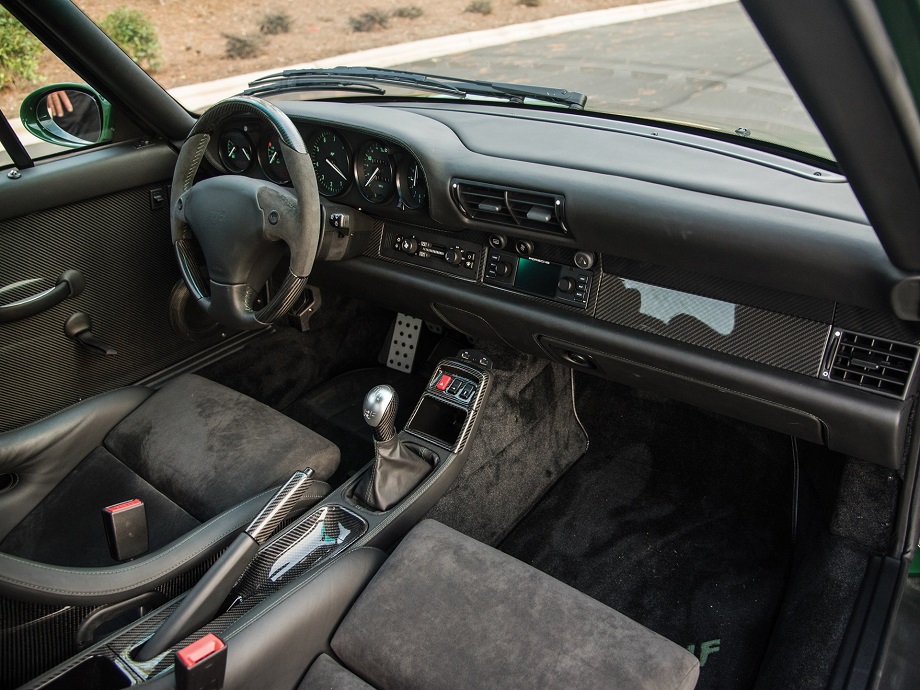 There are Porsches . . . and then there are RUFs, which are in fact not Porsches. RUF is one of just a few German auto companies that have won the right to be called an independent manufacturer rather than simply a high-end tuner, winning that recognition in 1981. By 1988, RUF had secured similar recognition by both the NHTSA and EPA, and its cars could legally be offered in the U.S.

RUF Automobiles convert bodies-in-white from Porsche which have not yet been assigned a factory VIN and create their own supercars in small volume. These chassis are then assigned RUF's own identification numbers and are completed using house-designed and produced mechanical components and lightweight body panels. RUF also converts factory-built, client-owned Porsches to its own incredibly high standard.

The business was founded in Pfaffenhausen just before World War II by Alois Ruf Sr. as an automotive service shop. After his father's passing in 1974, Alois Ruf Jr. indulged his passion for the Porsche 911 by finding ways to make them faster. RUF began experimenting with the Porsche 930 Turbo soon after it was introduced in 1975. RUF's first full conversion appeared in 1977, and the company steadily upped its game.

In 1987 RUF introduced the shocking CTR. This beast achieved cult status in the Porsche community after it showed up at a special competition staged by Road & Track magazine at Volkswagen's Ehra-Lessien test track in Germany. R&T wanted to determine the "fastest car in the world." After achieving a maximum speed of 211 mph, this deceptively stock-appearing but very low-drag Porsche 911 twin-turbo blew all the other would-be contestants, including the Porsche 959, Ferrari F40, Lamborghini Countach and Diablo, and various other "Tuner" Porsches, into the weeds. And thus the title was claimed and the RUF CTR was promptly dubbed "Yellow Bird" by R&T photographer John Lamm.

The following year, the CTR pushed the record to 213 mph; a newer version later tripped the clocks at 217, a record that stood until 1998. The concept has steadily evolved; the newest design, the CTR4, was introduced last year at the Geneva Motor Show.

RUF's Turbo R Limited is based on the 408-bhp Type 993 Turbo, Porsche's last iteration of the air-cooled 911. RUF purchased seven new 993 Turbo bodies-in-white from the factory before the original tooling was destroyed and put them aside for future development. They became a starting point to create what might be the most fearsome air-cooled street-legal machines on the planet. Each of the seven was unique, crafted to the specification of its purchaser, thus the designation "Limited."

Offered here is the very first of that series, delivered to its American owner in late 2017 after it was test-driven and became the cover feature for the December 2017 issue of Excellence. Finished in gleaming Irish Green with a black leather and Alcantara interior, this Turbo R Limited was the first "Limited" to be fitted with full carbon-fiber bodywork, which brings its weight down to about 2,950 lbs., or about 130 less than the current 991 GT3. Fitted with a RUF-modified air-cooled and twin-turbocharged/intercooled boxer six developing a hearty 620 bhp at 6,800 rpm and 553 foot-pounds of torque at 4,500, its horsepower-to-weight ratio of 4.8 is better than that of Porsche's famed Carrera GT. For reliability, this force-fed engine retains a modest 8.0:1 compression ratio. The sequential multi-point fuel injection system, ignition, and boost are managed by a Bosch Motronic engine control unit (ECU) with custom mapping developed by RUF's in-house engineers. Power is delivered to both ends of this incredible car via a six-speed manual transmission.

Along with a fixed rear wing to reduce lift, the Turbo R Limited wears special RUF front and rear fascias with vents ahead of and behind the wheels. The interior features a pair of leather and Alcantara-trimmed carbon fiber bucket seats, lightweight door cards, and extensive carbon fiber trim. For driver safety, a fully integrated roll cage is installed which stiffens the chassis by 20 percent. It too is leather trimmed and fits so well that it is almost invisible at first glance. Of course, there is air conditioning, electric windows, and an entertainment system.

Underneath, the Turbo R Limited is fitted with a highly modified suspension with GT2 rear bushings, stiffer engine-cradle components, huge disc brakes – 15-in. front, ventilated and cross-drilled with six-piston calipers; 13.8-in. rear, four-piston, slotted and ventilated – hidden behind RUF's trademark light-alloy wheels, sized 8.5 and 10J × 19 and shod with Michelin tires sized 245/35ZR-19 and 285/30ZR-19, respectively.

This incredible RUF is capable of stunning acceleration, handling, and braking, as demonstrated in the Excellence magazine shakedown, and best of all, it is essentially brand new. After the magazine test, it was shipped to its first and only American owner and has accrued just a few miles since. The odometer reads a total of just 140 miles!

The Turbo R Limited was created to be RUF's "halo car" and is the ultimate air-cooled automobile. This magnificent example is supplied in as-delivered condition, complete with all factory and RUF documentation, original spare, jack, and tools. Also included are a pair of special "RUF Pit Jackets" and the proper RUF car cover.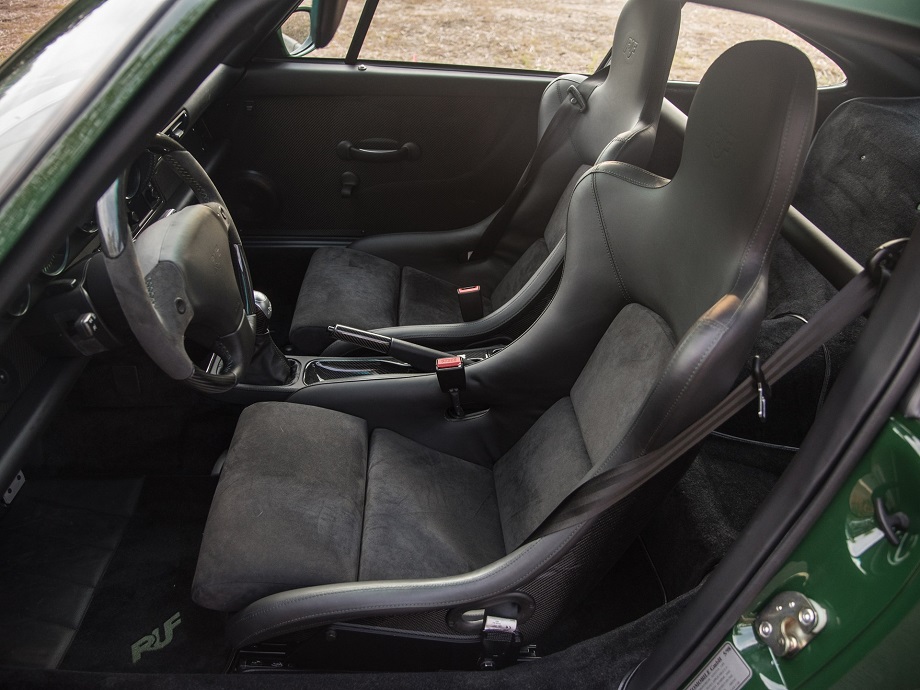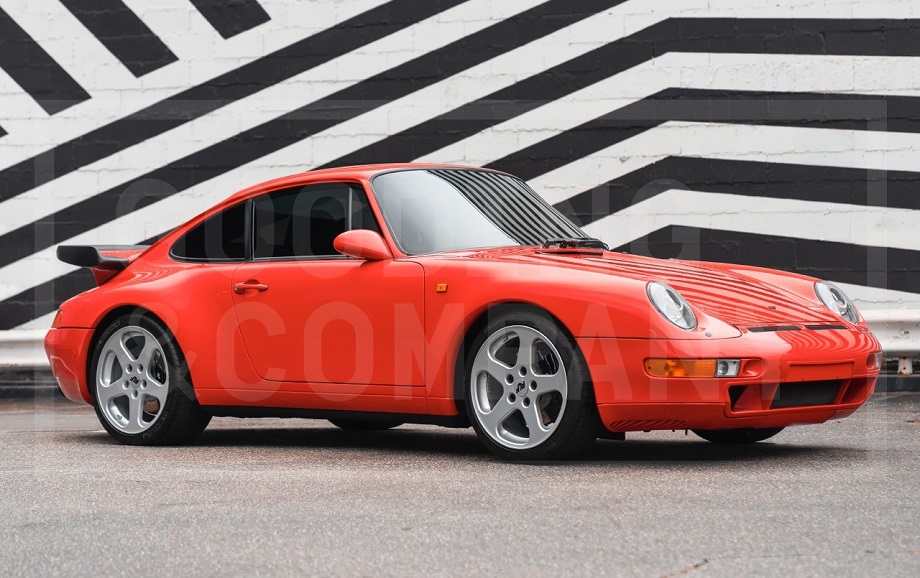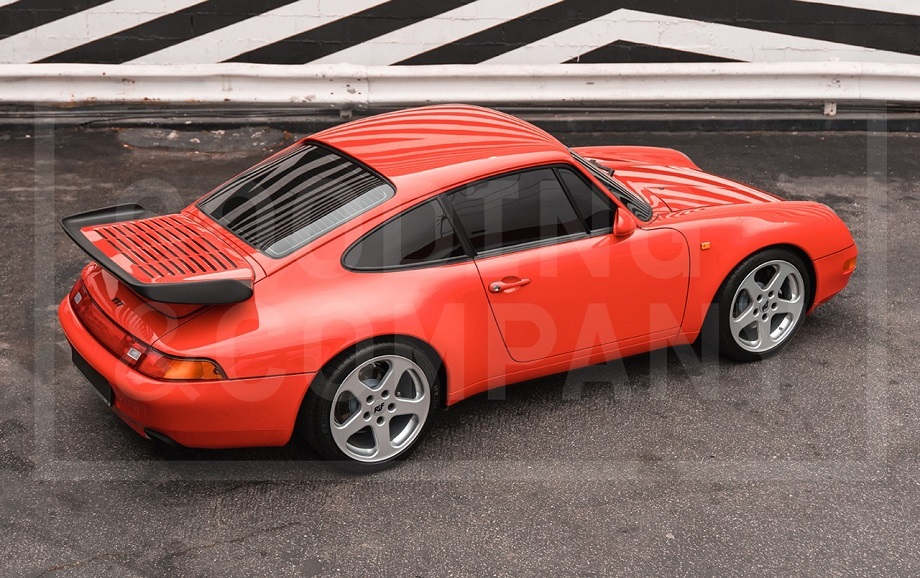 Year: 1994
Model: BTR2
Engine: 3.6 liter turbocharged flat-6
Transmission: 6-speed manual
Mileage: 11,122 mi
Price: Auction
PROVENANCE
Rainer Hämmer, Ober-Ramstadt, Germany (acquired in 1996)
Current Owner (acquired from the above)

LITERATURE
Rallye Racing Autosport-Magazin, No. 6, June 1996, cover feature
Marc Bongers, Porsche and RUF-Sportscars, model discussed on pp. 310, 314, 329

THIS CAR
Pfaffenhausen, a small village west of Munich, is home to RUF Automobile GmbH, one of the most unique sports car manufacturers in the world.

The company's founder, Alois Ruf, developed a fascination with Porsche cars in the early 1960s; in the decades since, RUF has established a singular relationship with the marque. Beginning with sales and service of Porsches, the company has evolved into a boutique manufacturer of exotic, finely engineered supercars. While RUFs share many desirable qualities with their Porsche relatives, they possess an inimitable character and style.

RUF's history as a manufacturer can be traced to 1974, when Alois Ruf Jr. took over the company. In 1981, the German Federal Bureau of Motor Vehicles certified RUF Automobile GmbH as an independent manufacturer, and since then the company has continued to build extraordinary cars for discerning enthusiasts.

The first RUF to carry a W09-prefix chassis number was the BTR of 1983, a completely reengineered version of Porsche's 930. In 1994, RUF introduced the BTR2, a tribute to its first production model.

The BTR2 was based on the new Porsche 993 Carrera and was the first variant of the model to benefit from turbocharging. Unveiled before Porsche's own 993 Turbo, the BTR2 took a very different approach to high performance; the 993 Turbo featured twin turbochargers, wide bodywork, and all-wheel drive, while the BTR2 had a single turbocharger, narrow bodywork, and rearwheel drive. As a result, the RUF offered a more visceral driving experience. "The BTR echoes the raw no-nonsense driver's car," states Alois Ruf. "Good performance at any range, and the punch at 4,000 RPM was just amazing."

At the heart of the BTR2 was a 3.6-liter flat-six that had incorporated a turbocharger, intercooler, auxiliary oil cooler, revised camshafts, new exhaust system, and modifications to the Motronic management system. These changes resulted in a significant increase in power and torque – more than 400 bhp at 5,000 rpm and a maximum torque of 425 lb./ft.

A special RUF six-speed manual transaxle with 60% locking limited-slip differential delivered power to the rear wheels, while a carefully tuned suspension and larger brakes rounded out the mechanical upgrades. Contemporary road tests confirmed that the BTR2 could accelerate from a standstill to 62 mph in 4.1 seconds and reach a 191 mph top speed.

Visually, the BTR2 incorporated a 964-style rear wing and many RUF-specific features, including 18″ alloy wheels, special bucket seats, and a revised front valence, with larger air inlets and vents for the front-mounted oil cooler.

The BTR2 presented here is RUF's original prototype and the first of just three examples built by the factory. According to the accompanying RUF Zertifikat, this BTR2 was the only example built to lightweight specifications, which included aluminum door panels as well as the deletion of air-conditioning and power steering. These features kept the car's weight to just 1,320 kg (2,910 pounds).

Originally finished in vibrant Blutorange (Blood Orange) with black upholstery, this BTR2 was retained by RUF and served various testing, marketing, and press functions. In addition to appearing in a factory brochure, this car was featured on the cover of the June 1996 issue of Rallye Racing Autosport-Magazin in an article titled "Orange mit Schuss."

In 1996, this BTR2 was sold to its first private owner, Rainer Hämmer of Ober-Ramstadt, Germany. He retained the car for two decades, during which time it was regularly serviced by RUF. The current owner, an American collector with a passion for the finest Porsche and RUF sports cars, acquired the BTR2 from its original owner and had RUF carry out an extensive service before importing the car into the US. During this process, the suspension was rebuilt, new tires were installed, and the speedometer was changed to a US-specification unit, with the original 17,769 km reading converted to 11,041 miles.

Since arriving in the US, the BTR2 has been carefully prepared and detailed to show quality. The consignor states that the RUF presents today in highly original condition throughout and notes that it was built to comply with US specifications, making it accessible to American enthusiasts.

The BTR2 is offered with its original books and tools, as well as a file containing the RUF Certificate of Origin, original German Fahrzeugbrief, service records, and RUF Zertifikat.

RUF builds only 25 to 30 W09 cars annually, making them very rare and highly collectible. For the collector in search of a significant factory-built RUF, this one-of-a-kind Blood Orange BTR2 represents an extraordinary opportunity.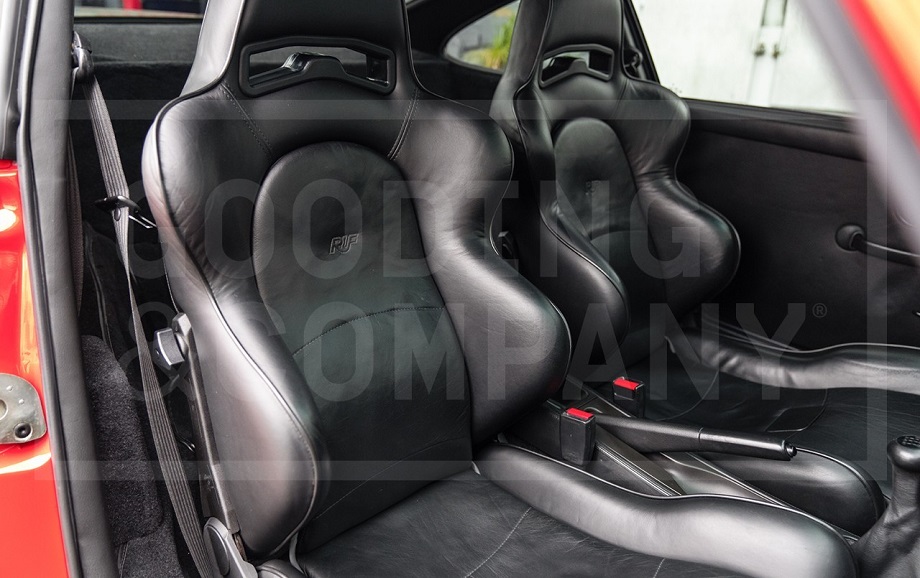 The 993-based Turbo R might be my favorite 911 to ever exist. Every aspect of its lines seem perfect. Nothing is disjointed or appears out of place. Every piece appears designed for a precise purpose. I think when you look at it next to the BTR2 you can really see RUF's evolution. The Turbo R lacks the wild flare of something like the GT2, but there's also nothing subtle about it. It's both aggressive and beautiful and I can think of few ways to improve on the 911's looks. Sure, it doesn't look too different from any other 993TT, but I do think those few differences really elevate the whole look. And with 620 hp and weighing under 3,000 lbs it's difficult to improve upon the performance either. Sadly, with only 7 built few of us will ever see one.
This BTR2 is a different animal altogether. It's RUF's prototype for one and while the Turbo R combines a bit of elegance with its ferocious performance, the BTR2 is all ferocity. With a single turbocharger, narrow rear, and rear-wheel drive, as opposed to the twin-turbo all-wheel drive wide-body 993TT and Turbo R, the BTR2 follows in the footsteps of the famous CTR we saw above. Like the other two cars here it presents in fantastic and original condition. It's also painted Blood Orange, one of my favorite historic Porsche colors.
3 RUFs. Each is phenomenal in its own way and all three are sure to reach a pretty high price at auction. RUF has been around for quite a while now and when we look at cars like these I think we can see why.
-Rob