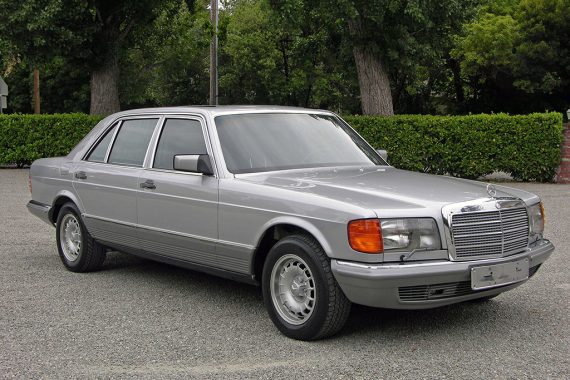 This site features a fair amount of W126 S-Class. Usually they are the frugal 300SE or the loaded up 560SEL that still make excellent drivers and offer a ton of value. Every once in a blue moon, I come across an S-Class that was a "money is no object" car. Usually these cars have options that you never seen let alone on a car manufactured 35 years ago. This 1981 500SEL located in the San Francisco area is one of those cars.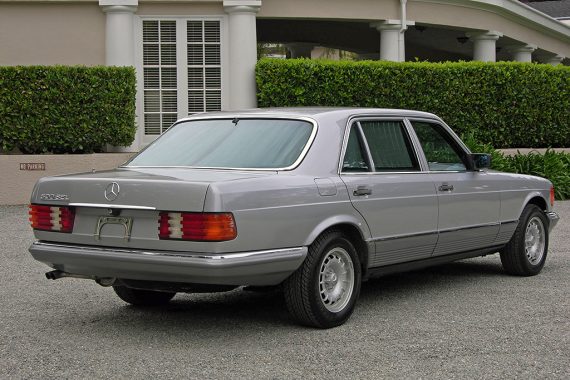 Year: 1981
Model: 500SEL
Engine: 5.0 liter V8
Transmission: 4-speed automatic
Mileage: 149,000 mi
Price: $15,900 Buy It Now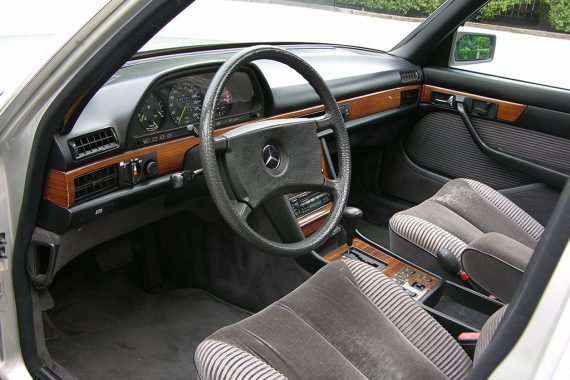 SEL European model – Astral Silver/Black velour – VIN: WDB12603712009463 – California car from new

Titled new in California on Oct 1981. A cost-no-object special ordered SEL fitted with the following factory options:

Limited slip differential.
Full hydro-pneumatic suspension (essentially a 6.9 system).
Privacy curtains.
Sunroof
Trunk mounted refrigerator(!)
Front and rear heated seats.
Orthopedic front seats.
ABS – Sunroof.
Cruise control.
Auxiliary engine heater (currently off the car)
Power antenna and more…
Power rear seat (inop)
Documentation includes: Original bill of sale. Factory order sheet – Original registration receipt. Handbook packet.

Many service records – Clean CarFax.

148k miles – Fitted with rare ATS 15″ Bundt style alloys. Plus: AMG front and rear spoilers (included but not on the car.)

This SEL retains its Euro short bumpers and Euro headlamps and is likely one of the most comprehensively equipped 126 series SELs in existence.

Never damaged – Older repaint still looking nice – Misc. interior velour wear – Spare driver's seatback velour cover included.

Clean inner wheel wells – Crisp clean undercarriage with original finishes.

Massive service included: fresh steering box, engine mounts, driveshaft support and flex disc, brake hoses.

new front and rear brake discs/pads, drive belts, spark plugs, radiator, motor mounts, driveshaft support, brake flush.

New OE rear exhaust – Timing chain inspected and noted as recently replaced – Transmission replaced 37k miles ago.

Perfect compression – 180 psi all cylinders – Suspension has not bled a millimeter since it arrived – Restored front and rear bumper covers.

Contact Roy Spencer @650-343-7980 for more details. This unique 500SEL can be inspected at my facility in Burlingame, CA – 5 minutes south of SFO.

Pre-purchase inspections available locally. Not available for a sale in California.

Have a look at the comprehensive photo essay below. Be sure to fully scroll to the bottom image.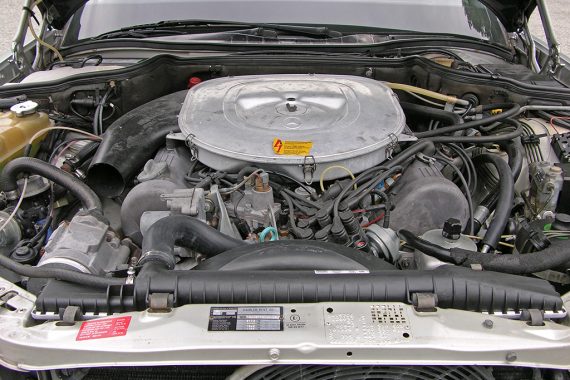 This is the laundry list W126. Start with a European 500SEL with the shorter bumpers, euro headlights, hydro-pneumatic suspension and velour interior and you already have a winner. But when you start checking the boxes with things like front and rear heated seat, privacy curtains, the pump-up orthopedic front seats and top it off with a truck refrigerator you are well into "this car is special". Just to pile on, the car comes with the 15 inch ATS 'Bundts' that are very valuable and always in high demand if they ever come up for sale as well as AMG front and rear spoilers. The seller also lists many major services and repairs that plague the W126 and even did a compression test to present to any future buyers.
At $15,900, this is on the higher end of the W126 price range with 149,000 miles. But given all the extras and almost every major service you could think of, it's fairly reasonable for anyone who adores the W126 and can justify the price.
-Andrew